Ram Australia will release its TRX super-ute in Australia at a price of $199,959 before on-road costs this month.
The TRX will be the the most hardcore super ute available on sale here in Australia and boasts total outputs of 523kW/882Nm and can sprint to 100km/h in 4.5 seconds – an impressive feat considering the car's total kerb weight of 3033kg.
Fully loaded with all the performance goodies, the Ram TRX will only have one optional extra – a $10,000 panoramic sunroof. Everything else is standard – with the TRX packing a higher degree of opulence than most utes, reflective of its huge cost.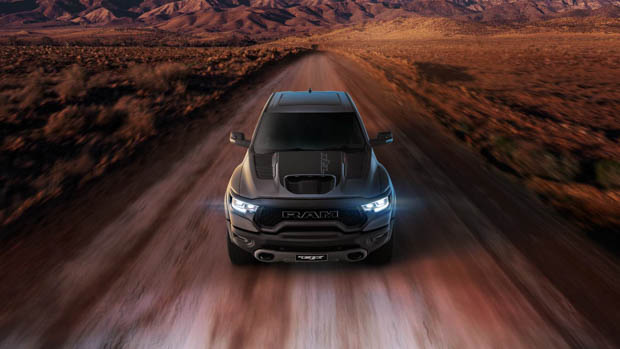 The TRX could cost more than $220,000 driveaway here in Australia once luxury car tax and other factors such as registration, stamp duty and insurance are added.
What's standard in the $200K Ram TRX?
Quite a lot, actually, which makes sense for a performance ute as special as this one!
First off, a 6.2-litre, 532kW/882Nm supercharged 'Hemi' V8 petrol engine is mated to an eight-speed 'TorqueFlite' automatic transmission which sends power to either all four wheels or just the rear wheels if need be in. .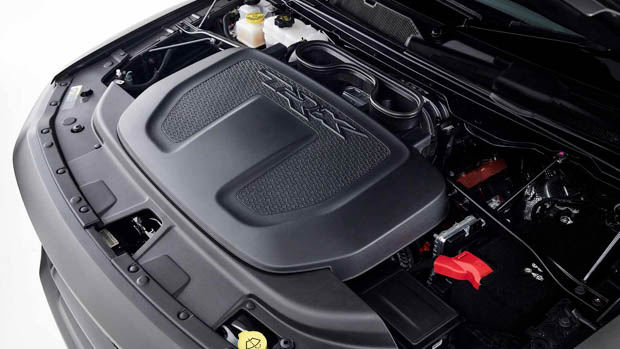 Air is fed through an "innovative dual-path air induction system" that Ram claims to deliver maximum output from the engine.
A heavier-duty suspension package inspired by desert off-road racers features aluminium front upper and lower control arms, with new independent front suspension with active damping to maintain overall strength and durability.
On the rear axle, a locking differential is standard fitment, as are the 2.6-inch front and rear Bilstein Black Hawk adaptive dampers. Rear suspension features a coil-sprung setup rather than leaf-springs common on many Australian-delivered dual-cab utes. This means that the TRX should ride much better and smoother than a traditional ute.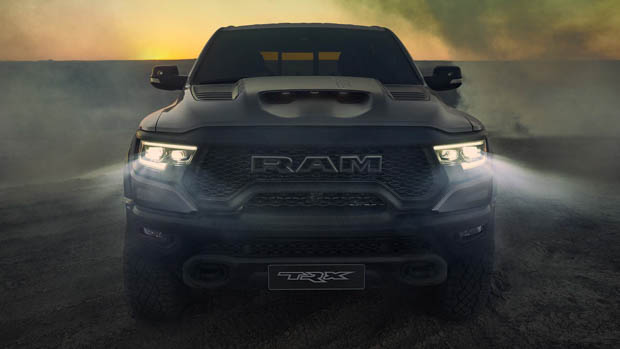 Much like the upcoming Ford Ranger Raptor, the TRX will come fitted with a Baja mode for super fast desert and off-road driving situations. Whether you ever drive your $200,000 in such a situation is another question – but the mode will be there just in case.
The Ram TRX will be fitted with larger Goodyear Wrangler Territory All-terrain 35-inch tyres which will also aid ride and handling off the beaten track.
Inside the TRX, the interior will be well equipped with features such as wireless charging, USB C and A ports, a portrait 12-inch touchscreen and a massive 19-speaker Harman Kardon sound system.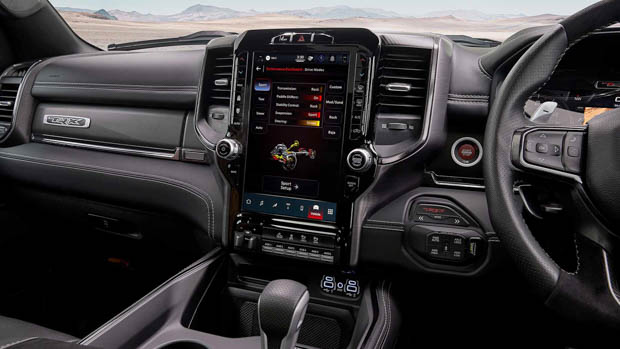 Where has this V8 engine been used before?
The mighty 6.2-litre V8 engine in the TRX might seem familiar, and that is because it has also been used in the Dodge-branded 'Hellcat' models sold exclusively in the United States.
The Dodge Charger, Challenger and Jeep Grand Cherokee Trackhawk have all been fitted with this engine in the past, as well as the Dodge Durango. An uprated version was used in the Dodge Demon which could produce as much as 840 metric horsepower (617kW) on 100-octane race fuel. 
In TRX form, this could be the last time that this Hellcat engine is used in a production car, as Stellantis and most other global car manufacturers work toward an electric future.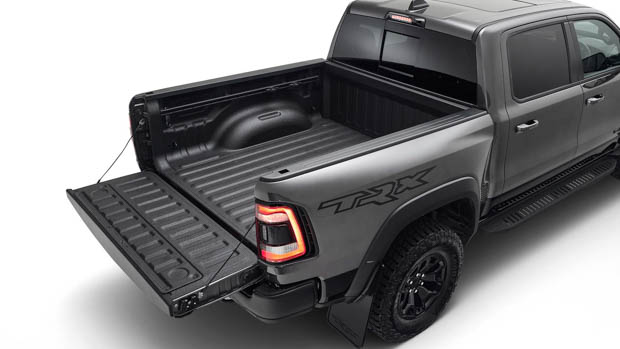 Will the TRX be safe?
Both active and passive safety systems will be standard on the TRX including a rear-facing backup camera, blind spot monitoring, adaptive cruise control, full-speed collision warning and autonomous emergency braking.
The TRX will have six airbags as standard but it has not yet been tested by ANCAP.
Ram 1500 2023: prices in Australia
All prices listed are before on-road costs.
1500 Express quad cab: $82,950
1500 Express crew cab: $95,950
1500 Express Rambox: $100,450
1500 Warlock II Rambox: $111,950
1500 Warlock II: $106,950