The 2022 Nissan Navara PRO-4X Warrior is shaping up to be the second instalment of Australian-honed Ford Ranger Raptor competitor.
Nissan unveiled the new Navara ute late last year with a new PRO-4X grade to replace the N-Trek nameplate.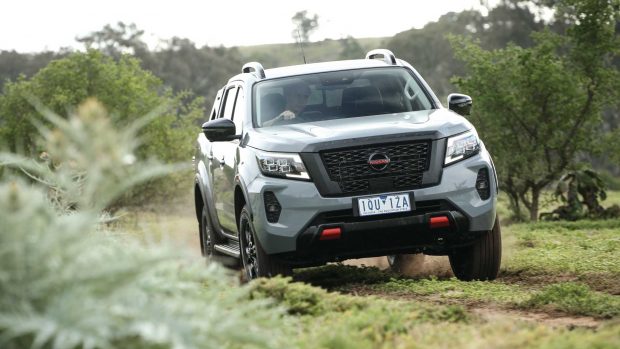 The PRO-4X looked tough from the outside thanks to Ken Lee's 'unbreakable' design language. Though the normal PRO-4X lacks the off-road substance that Australian owners demand.
When Chasing Cars asked whether the Warrior program would continue, the resounding answer was yes. Nissan Australia Managing Director Stephen Lester confirmed that "a study program for the next generation of Warrior" was already underway.  
Although the full reveal is still some time away, Premcar has given us an idea of what to expect. Mark Doody, Premcar's Principal Engineer of Body Systems, is pictured in front of a Warrior render that looks close to a finished product.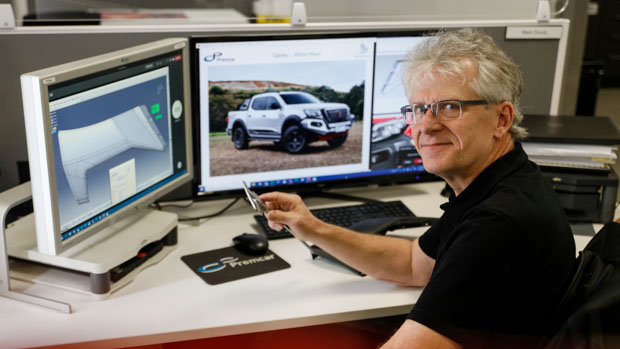 Even in the out-of-focus images on the computer screen behind Mr Doody, the Warrior clearly sits higher off the ground than the regular PRO-4X.
If the new car is like the first N-Trek Warrior, it will feature bespoke springs and dampers designed with off-road use in mind. The new Warrior will retain the Navara's coil-spring rear end instead of the leaf springs employed by competitors like the Mitsubishi Triton.
The front bumper also calls back to the first Warrior, seen here only slightly obscured. Premcar have integrated a light bar and pair of LED foglights neatly into the front bumper. The black plastic jounce protectors look familiar, too. There also appears to be a yellow bash plate beneath the bumper.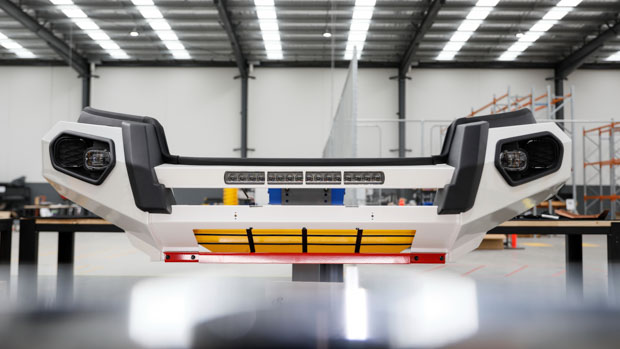 Like the original, the new PRO-4X Warrior will bring manufacturing and development jobs back to Australia.
Based in Epping, Victoria, Premcar has employed a workforce tasked with, as Mr Doody puts it, creating the "toughest and most capable (Navara) in Australia and the world". 
After working in the field for 38 years, Mr Doody confirmed the Warrior program had renewed his enthusiasm. Describing the project as "hands-on" and "all-encompassing, from inception to design completion and manufacturing".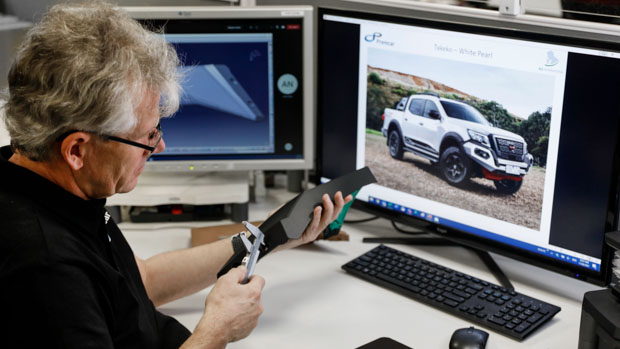 That is set to be the case as, like the first N-Trek Warrior, the PRO-4X Warrior package is not only designed and tested in Australia but also assembled.
Nissan is keeping exact details of the next-gen PRO-4X Warrior under wraps for now, but details of the new super-ute will be revealed shortly.