The new second-generation Mazda CX-5 has only just gone on sale in Australia, but the leading medium SUV has an incredible amount of pressure riding on its shoulders. For the past four years, it has been Australia's best-selling SUV, outselling competitors such as the Subaru Forester, Toyota RAV4 and Volkswagen Tiguan, as well as larger SUVs like the Toyota Prado and Subaru Outback. Mazda Australia is predicting close to 2,000 sales each month for the new CX-5, almost 24,000 sales per year.
"The first-generation car was one of the most successful model programmes I have been involved with" said Martin Benders, outgoing Managing Director of Mazda Australia.
"The CX-5 kicked off the total redesign and rebuild of Mazda's new vehicle range, plus the total overhaul of manufacturing and product development, KODO design and SKYACTIV engineering"
Over 115,000 CX-5s have found homes in Australia over its run, a huge success based on its many qualities. It ushered in the first generation of Mazda's SKYACTIV technology, aimed at reducing emissions and increasing performance and sportiness in keeping with Mazda's sporty reputation. It's a high-quality SUV, it drives very well, it's well equipped, has a high resale value and is reliable as well, something that Mazda was keen to improve, but not change the recipe this time around.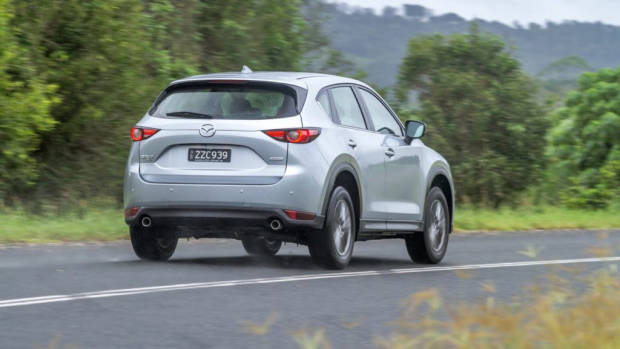 "Evolve and improve – this is the goal for the next-gen CX-5" said Mazda Australia Director of Marketing, Alastair Doak.
"In exterior design we have pursued a more simplistic, pure and premium design – one pure motion, not the chaos theory of some other makers."
The new generation CX-5 ushers in an evolutionary new look, focussing on a more aggressive and bold, yet familiar look for the car. Dimensionally, the new CX-5 has changed very little. The A-pillars have been moved rearward by 35mm, the whole length is 10mm longer (now 4,550mm long), width is identical at 1,840mm and the car's overall height has been lowered by 30mm to 1,675mm tall. The boot is larger than the old car as well, now at 442-litres (previously just 403-litres).
The interior of the next-generation CX-5 has seen significant improvements, which are certainly bolder than the exterior. The interior show's Mazda's significant level of attention to detail, including three-dimensional air vent louvers, a now-flock lined glove box and even a dedication to providing the same width of stitching throughout the cabin at eye level, as well as soft-touch materials at various touch points around the car.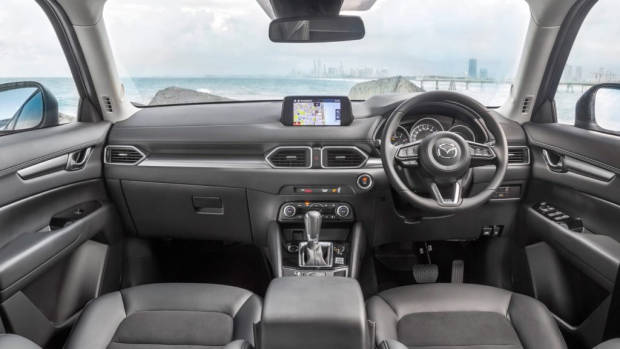 In the new CX-5's development, traditional competitors like the Forester and RAV4 were not targeted, however higher-end competitors like the Volkswagen Tiguan, Lexus NX and BMW X1 were, according to the CX-5 product development chief, Kodama-san. The previous model's cabin quality was good, but the new model takes it to a much higher level than before, something that Mazda focussed on. "The global goal was to make the CX-5 one class above" said Alastair Doak, Mazda Australia Marketing Director.
Mazda Australia product planners were reportedly unhappy with the $7,600 jump from mid-range Maxx Sport to higher-end GT, and have attempted to rectify this with the addition of a new Touring grade, which combines half-leather seating and other details from the GT range to a Maxx Sport, and is priced from $38,990 for the all-wheel drive 2.5-litre four-cylinder petrol engine – only $1,600 more. Mazda predicts that the Touring will account for 21% of CX-5 sales across the model's life cycle.
"We are adding more choice in grade and specifications to allow potential customers to choose exactly the right spec for their needs." Mazda Australia Managing Director Martin Benders said, regarding the addition of the Touring to the CX-5 range.
The biggest criticism of the old CX-5 was its noise, vibration and harshness levels, something that Mazda targeted with the new model. A number of technical changes were made, including a natural sound soother to reduce engine noise in the diesel, more sound insulation in the cabin, added seals around the doors, and a more aerodynamic design ensure that the car is much quieter this time around, equivalent to travelling 20km/h slower.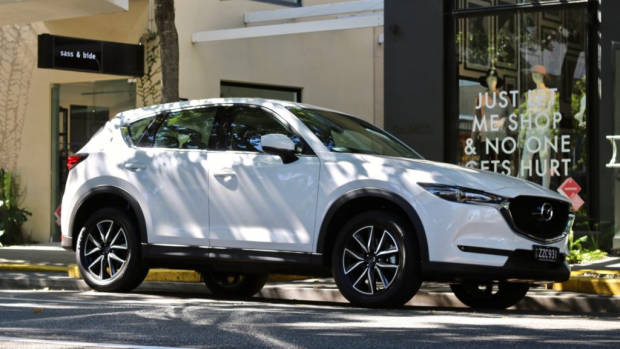 Mazda's new SKYACTIV-Vehicle Dynamics G-Vectoring Control (GVC) is also standard equipment on every new CX-5. G-Vectoring has been slowly rolled out on new Mazda products like the Mazda3 and Mazda6. GVC controls engine drive torque to generate deceleration the instant the driver begins turning the steering wheel, thereby shifting load to the front wheels. This increases front wheel tyre grip and enhances the vehicle's responsiveness. Thereafter, when the driver maintains a constant steering angle, GVC immediately recovers engine drive torque, transferring load to the rear wheels and enhancing vehicle stability. In simple terms, GVC uses engine torque to make the car more predictable when driving, giving the driver more confidence, and Mazda reports that it is particularly effective in SUVS given their higher centre of gravity.
Crucially for the medium SUV class, a wide range of active safety equipment is available as standard equipment on every new CX-5. Even the entry-level Maxx is equipped with autonomous emergency braking (in both forward and reverse), blind-spot monitoring, rear traffic alert, rear parking sensors, a rear-view camera, six airbags, automatic activation of the hazard lights under hard braking, LED headlights, hill-start assist and stability control. Disappointingly however, a buyer must step up to the $46,990 CX-5 Akera to gain further active safety equipment such as adaptive cruise control, lane departure warning, lane keep assist and adaptive LED headlights.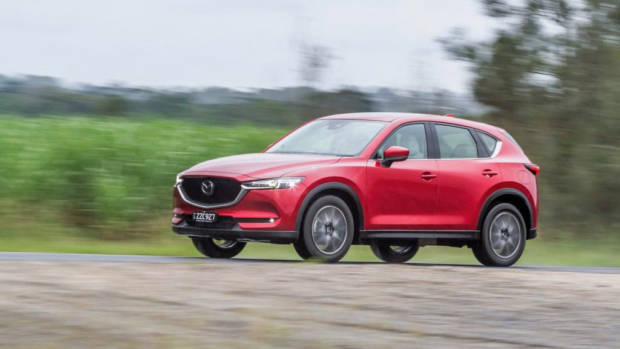 Where the new CX-5 hasn't changed much however, is with the drivetrains. Available are the same 2.0 and 2.5-litre four-cylinder petrol, and 2.2-litre four-cylinder turbo diesel, all from Mazda's SKYACTIV engineering family. Outputs have only changed on the 2.5-litre petrol, itself gaining 2kW of power and 1Nm of torque to climb to 140kW and 251Nm. Mazda aimed to achieve the greatest real-world efficiency numbers for the new CX-5, and by improving transmission response and reducing engine vibration and harshness, they claimed to improve it by four per cent – though didn't provide actual numbers.
Will the new CX-5 keep the strong sales momentum going for Mazda Australia? Well, it is on sale now priced from $28,690 plus on-road costs, and you can read and watch Chasing Cars' launch review of the 2017 Mazda CX-5 here.