The 2022 Mercedes-AMG SL will be the sixth-generation vehicle to wear the iconic Sports-Leicht badge that is central to the racing history of German marque Mercedes-Benz.
Internally known as the R232, the 2022 SL was engineered not in Benz's Stuttgart home, but in Affalterbach by its semi-independent performance arm Mercedes-AMG. There will be no standard Mercedes-Benz version.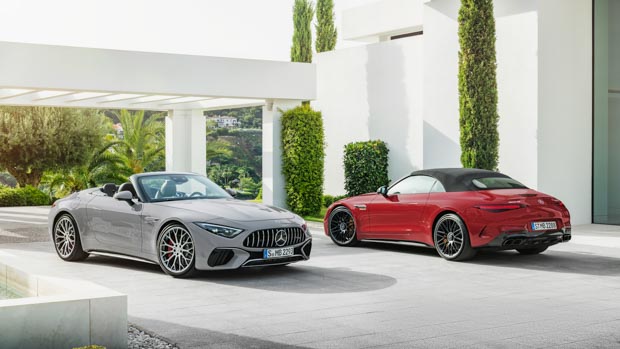 AMG chief technical officer Jochen Hermann beamed that his arm of the Benz brand considered it "a great honour to have had the privilege to develop the new edition of this sports car icon," and noted that AMG was given the opportunity "to start from scratch without building on an existing structure."
New SL debuts an all-new 2+2 platform
It is unusual for a new sports car to utilise a genuinely all-new platform, yet Mercedes-AMG claims that the underpinnings of the R232-chassis SL represent a truly clean-sheet design.
The "completely new" 2+2 vehicle architecture was developed by Mercedes-AMG for the new SL, but it's likely we will see this chassis used for future two-door designs from AMG.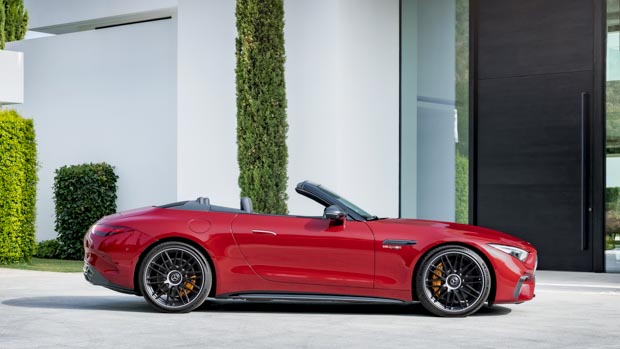 Rigidity improvements were judged not only on the previous-generation R231 SL that ran from 2012 to 2020, but also against the hardcore AMG GT supercar.
Transverse rigidity improves by a staggering 50 percent on the AMG GT, while torsional rigidity is up 18 percent on the outgoing SL.
A lightweight composite aluminium structure with an aluminium space frame underpins the new SL with the brand claiming "maximum rigidity" was the overriding principle.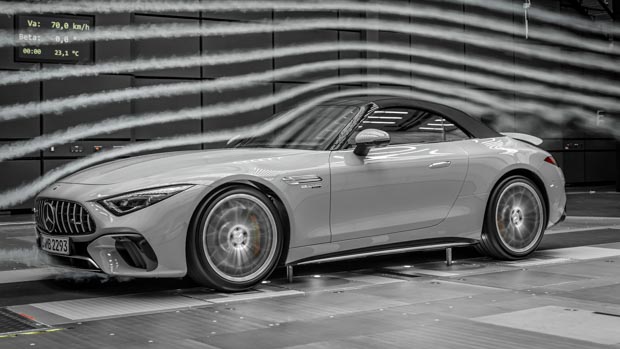 The decision was also made to return to a soft-top roof design, replacing the "metal vario" hardtop of the outgoing R231 SL. The 21kg-lighter ragtop can be lowered at speeds of up to 60km/h in 15sec.
Upper-tier models will be fitted with active hydraulic suspension elements, including active anti-roll stabilisation, but even the entry-level car gets a five-link multi-link independent suspension at the front end, with a similar arrangement at the rear.
Two tunes of V8 for launch, hybrid to follow
The new AMG SL will be offered with two tunes of the brand's famed four-litre twin-turbocharged V8 engine at launch dubbed the SL55 and SL63.
In a first for the SL badge, both V8 models will be fitted as standard with a "fully variable" all-wheel drive system called 4MATIC+ that enables maximum drive to be sent to the rear when required.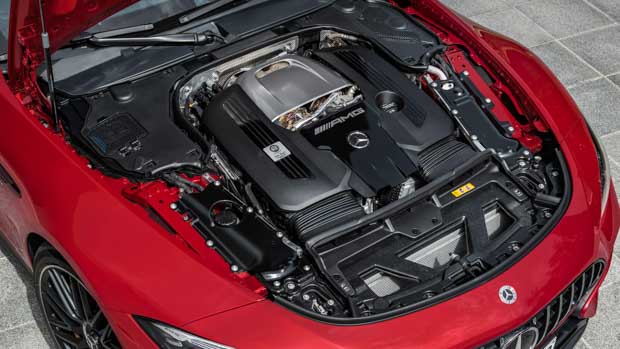 An AMG E Performance hybrid version of the SL will follow. The SL hybrid will likely follow the lead of the AMG GT63 S E Performance sedan, which uses a 150kW/320Nm electric motor to bolster the V8's outputs for combined power of 620kW and enormous combined torque of 1400Nm.
In a vote of confidence in combustion, though, the launch engines for the 2022 SL will both be non-hybrid.
The SL55 will produce 350kW/700Nm while offering a 0-100km/h sprint time of 3.9sec on the way to a 295km/h top speed. This version weighs 1950kg.
The full-fat SL63 makes an even more generous 430kW/800Nm, lowering the 0-100km/h benchmark sprint to 3.5sec (-0.4sec) while the top speed is 315km/h. The SL63 gains 20kg over the SL55, with AMG quoting a kerb weight of 1970kg.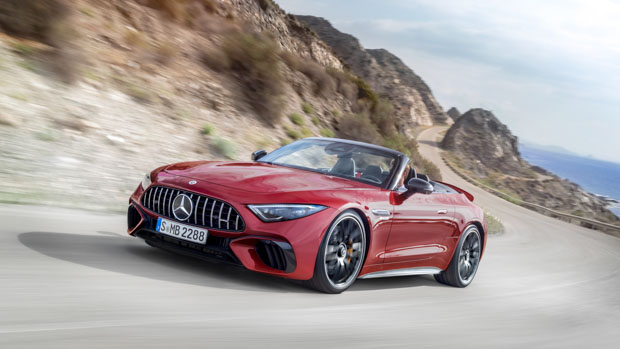 Both versions of the four-litre V8 utilise a nine-speed AMG Speedshift MCT multi-clutch automatic, with a wet start-off clutch replacing a traditional torque converter.
Perhaps more interesting is what Mercedes-AMG haven't said about the SL. AWD is quoted as "available" – but standard on the two V8 launch engines. We reckon this is a pretty clear hint that an AMG six-cylinder variant will follow with rear-wheel drive, possibly making that car the purist's choice of R232 SL.
When the new SL arrives in Australia it will compete with the Porsche 911, Jaguar F-Type and BMW 8 Series, among others.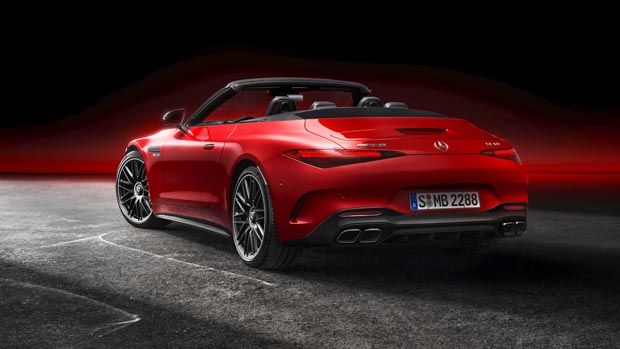 Australian release date locked in for 2022
A spokesperson for Mercedes-Benz Australia confirmed that the SL convertible was a sure thing for an Australian release next year.
"Mercedes-Benz Australia is excited to confirm a local market launch of the new Mercedes-AMG SL. Our first vehicles are expected to arrive in the second half of 2022.
"More information about the local line-up, including pricing and specifications, will be announced closer to that time."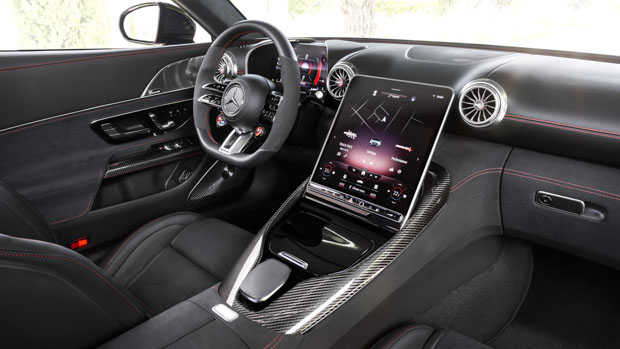 The R232 SL will arrive in Australia after a two-year hiatus for the SL Roadster. The outgoing R231-chassis was offered in its final year only as a Mercedes-Benz SL500 priced at $292,500, running a 4.7-litre twin-turbo V8 making 335kW/700Nm.
AMG most recently offered an SL in 2018, with the $373K SL63 using a twin-turbo 5.5-litre V8 to produce 430kW/900Nm – notably 200Nm higher than the new SL63.
However, in 2016, AMG also locally sold a V12-powered SL65 for $481,000. The twin-turbo, six-litre SL65 had outputs of 463kW/1000Nm – targets for a forthcoming hybrid SL, surely!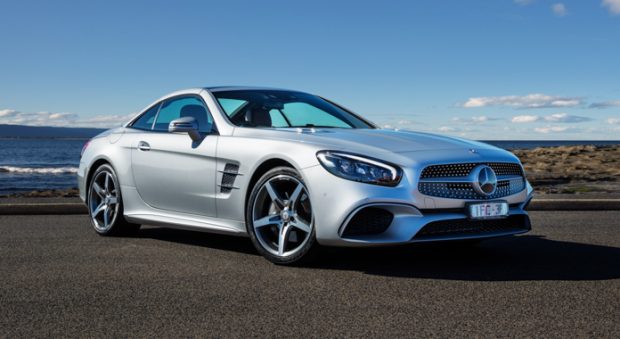 High specification expected priced around $300K
Now badged solely as an AMG, the luxury-sports SL is expected to be offered only in very high-specification form in Australia. It is possible that Daimler will choose only to import the SL63 to our market.
Coinciding pleasantly with the art-deco-inspired exterior, the luxe interior is based around 1930s-style air vents and two slate-style screens and "sculptural" AMG sports seats that are standard, with lighter Performance seats optional.
 12.3-inch digital driver display offering eight themes, plus an 11.9-inch portrait touchscreen featuring electric adjustment for viewing angle – between 12 and 32 degrees.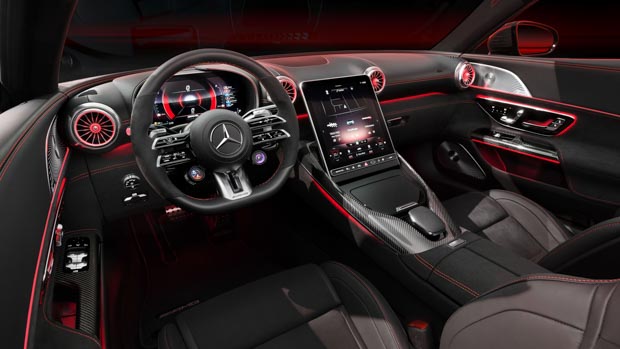 A variety of interior colours will be available alongside 12 exterior hues, including the SL-exclusive hyper blue and matte Monza grey – plus, SL customers can special order their own creation through the new AMG Manufaktur programme that replaces Benz's previous "Designo" factory order brand.
Globally, 12 wheel designs range between 19- and 21-inches with a mixture of silver and black colours.
Digital Light headlamp tech will be standard across the range, with the ability to use three powerful LED bulbs to project traffic signs and lane markings on worn-out streets – plus shining a spotlight at pedestrians walking into the road.
More sophisticated AEB that can prevent collisions with static objects when travelling at up to 100km/h will also be included, along with smarter lane keeping assistance with steering intervention. AMG says it's considerably better at handling bends on country roads.