Alongside confirmed plans to shift its N performance brand into full battery-electric vehicles from 2023, Hyundai has today given the nod to further development of N-badged hydrogen fuel-cell vehicles in a novel hybrid configuration.
Enter the Hyundai N Vision 74: a two-door nod to classic coupe designs of the 1970s that packs a hybrid battery electric-hydrogen fuel cell system that produces over 500kW of power, over 900Nm of torque and provides a driving range of over 600km – all with a five-minute refuelling time at a hydrogen bowser.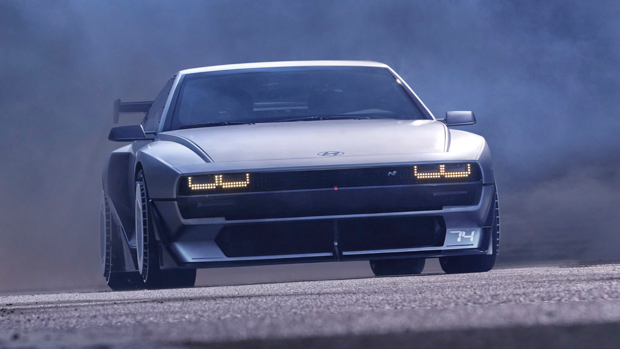 The hybrid system will sound like nirvana to driving enthusiasts, given the combination of high performance, long driving range and truly rapid refuelling continues to evade the battery electric concept, even if some EVs – like the Porsche Taycan and Hyundai's own Ioniq 5 – have cut recharging times to around 18 minutes.
An 85kW hydrogen fuel cell stack with 4.2kg of capacity for fuel works in series-parallel with a 62.4kWh battery and twin electric motors to allow the combined 500kW/900Nm outputs.
But the N Vision 74 is not a dual-motor EV in the classic sense of being all-wheel drive: instead, both rear motors are located on the rear axle, allowing true torque vectoring by motor, with the logic system able to divert torque immediately to the wheel with more grip.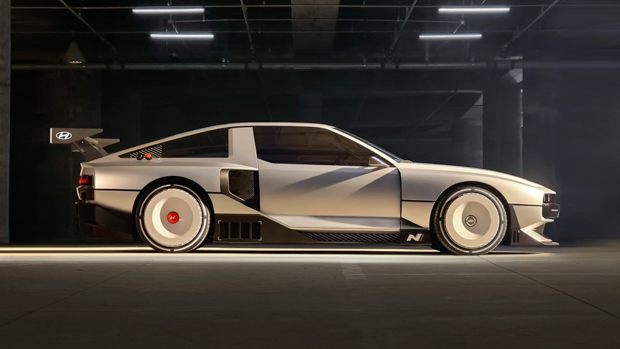 The N Vision 74 is a Hyundai "rolling lab" – prototypes in active development on road and track that inform the future course of Hyundai's high-performance – and regular – models.
Announced as part of Hyundai's 2022 "N Night" product showcase, the N Vision 74 has emerged alongside the RN22e battery-electric rolling lab – a super-sedan that indicates where Hyundai's N performance division will take future battery-electric vehicles, commencing with the confirmed Ioniq 5 N in 2023.
Measuring in at 4952mm in length and 1995mm in width, the N Vision 74 has a significant footprint on the road – as supercar concepts go, it's more of a grand tourer coupe in size. Its wheelbase is a significant 2905mm, while the 1331mm height keeps the silhouette very low.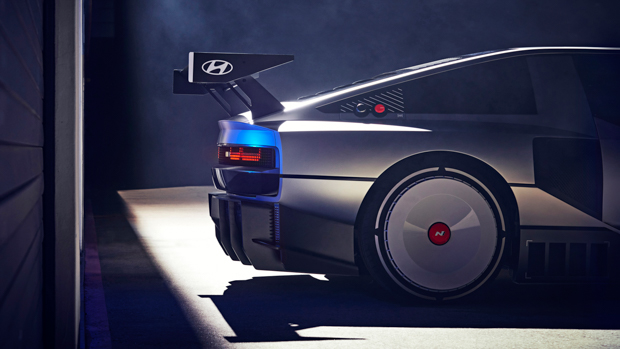 The seventies-style design evokes the "pure surfacing" of Giorgetto Giugiaro's 1974 Hyundai Pony Coupe concept – a two-door interpretation of the South Korean's contemporary family car that did not end up making production.
But it is also hard to avoid the hints of one of Giugiaro's other designs of the period – the BMW M1 – and other retro two-door like the Delorean. Parametric pixel lighting features prominently on the N Vision 74, linking the model in with Hyundai's Ioniq electric-vehicle line.
Hyundai says there is a prominent focus on cooling for the N Vision 74 prototype. The series-parallel hybrid operation of the fuel cell and battery-electric systems is said to afford a cooling advantage in performance driving, while a new three-channel cooling debuts with the vehicle.
In addition, the 62.4kWh battery is located in an all-new layout that is yet to be detailed, though Chasing Cars understands this is designed to better manage the unstated – yet likely significant – mass of the vehicle.