Genesis has revealed images of its G90 flagship luxury sedan which has been restyled and refreshed for its next generation but it won't be coming to Australia.
Replacing the outgoing G90 that has been available in overseas markets since 2016, the second-generation luxury sedan debuts a new appearance and increased comfort for those in the second row.
The G90 is the range-topping model in the Genesis range and has been available in overseas markets since 2016 and competes with rivals such as the Mercedes-Benz S Class, BMW 7 Series and Lexus LS.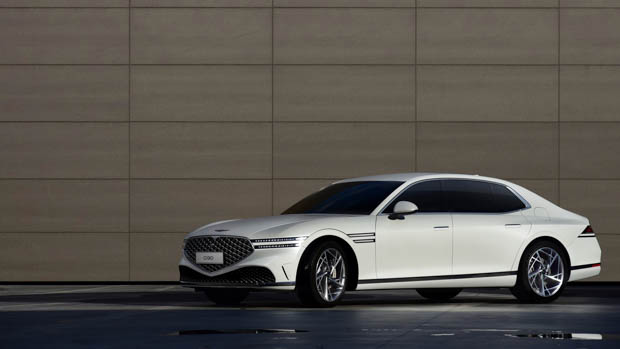 A sleek new design
While the interior is yet to be revealed, the exterior shows several enhancements over the current G90 sedan.
The next generation G90 features a more swept back look than the current version of the sedan, with clean lines running front to rear into a lower rear spoiler.
Key new elements include split level LED headlights and a new crest grille along with a clamshell bonnet that combines with the fenders in one piece.
Stylish spiderweb 20-inch wheels feature at each corner, along with a range of chrome trims that run along each side of the sedan.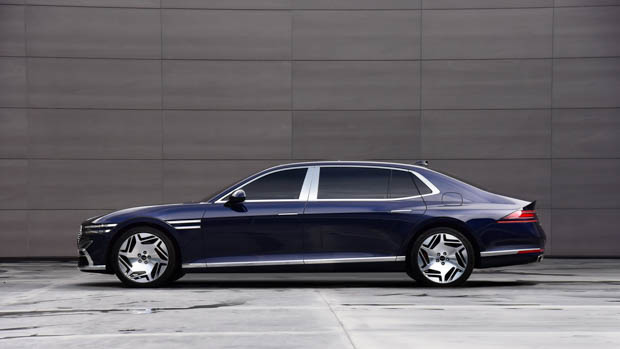 With thick C-pillars, second row passengers are treated to both a bigger cabin space while also gaining privacy. The long wheelbase version of the G90 offers further space and comfort for the second row.
What will power the G90?
Depending on which market, the G90 is currently available with either a 3.8-litre naturally aspirated V6, a twin turbocharged 3.3-litre V6 or a 5.0-litre V8.
With all electric models just around the corner, it is likely that the V6 and V8 options will be dropped in preference to a hybrid or fully electric drivetrain.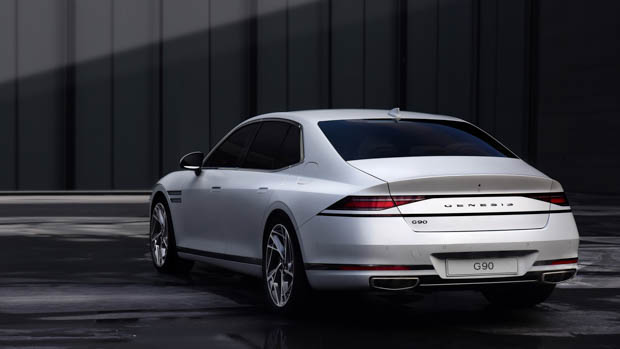 Why isn't it coming to Australia?
Genesis Australia public relations manager Guido Schenken said that a major focus on electrification has taken priority over the launch of a G90 model here in Australia.
"We have no current plans to bring the new G90 sedan to Australia, our focus will remain on our current model range which consists of two sedans (G70 & G80) and two SUVs (GV70 & GV80).
"However next year this focus will shift to our new portfolio of EVs, we plan to launch three all-electric cars locally in 2022 (GV60, Electrified GV70 and Electrified G80), with more to come," Mr Schenken said.
The large sedan market is a small one in Australia, with cars such as Lexus LS and BMW 7 Series only selling in very small numbers. Lexus has sold just 30 units of its LS flagship up to November this year, while BMW sold 69 units of the 7 Series in the same time frame.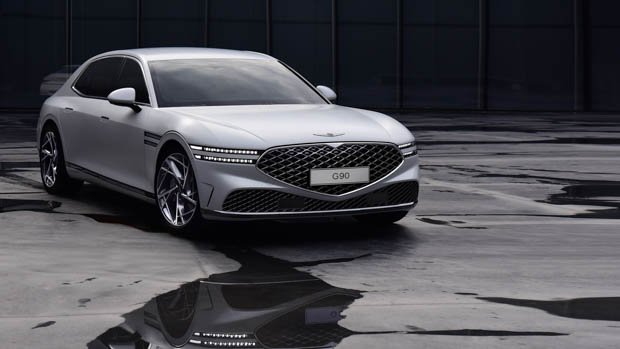 The biggest winner in this segment is the Mercedes-Benz S-Class which has sold a much more significant 194 cars so far in 2021.
So what is available in Australia instead?
The Genesis G80 is the current flagship in the range of products available here in Australia.
A new electrified version of the G80 is on its way, while the range currently consists of a turbocharged 2.5-litre four cylinder or a 3.5-litre twin turbocharged V6. The four cylinder produces 224kW of power and 422Nm of torque, while the V6 makes 279kW/ 530Nm.
Both variants are available to purchase now from any Genesis dealer in Australia.