Ford has confirmed that its Tesla Model Y-rivalling, all-electric Mustang Mach-E midsize SUV will be released in Australia later this year, with the first customer deliveries commencing between September and December 2023.
One of the world's most anticipated electric models, the electric Mach-E is a battery-powered, compact crossover SUV whose name is inspired by the legendary 1960s Mustang Mach-1 sports car.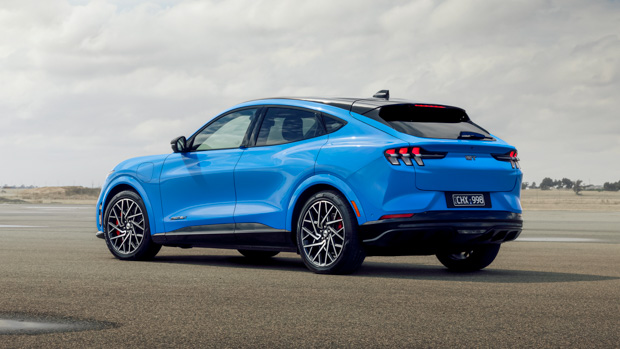 Ford Australia said the right-hand-drive Mustang Mach-E will be "available for purchase … from later this year" with a three-model line-up. Chasing Cars understands that an online Mach-E reservation system will open as soon as next month (April 2023).
The brand says it has secured a "decent" allocation of the Mach-E for Australian customers. Securing a reasonable supply of the EV will be key to chasing down its major rival, the Tesla Model Y, of which 1231 units were delivered in the first two months of 2023.
Three Mustang Mach-E trim grades for Australia, including GT
The local Mustang Mach-E range will begin with a base-model Select grade, then a mid-spec Premium before reaching to the top-shelf GT powered by a stonking 358kW/860Nm dual-motor powertrain.
It will be the first electric passenger car ever offered by Ford in Australia. Pricing is yet to be announced.
The entry-level Mustang Mach-E Select will be offered with a single, 198kW/430Nm motor offering rear-wheel-drive and a 71kWh battery providing about 470 km of driving range and efficiency of around 15.1kWh/100km.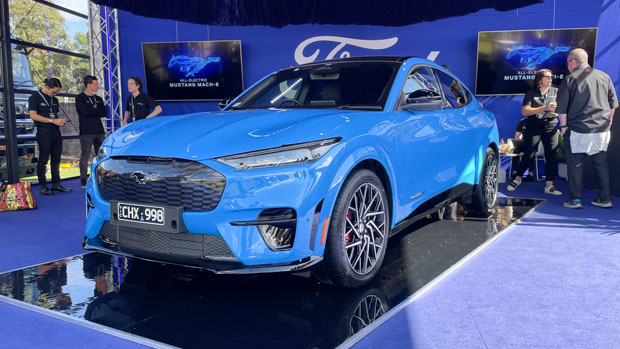 The mid-spec Mustang Mach-E Premium upgrades to a more powerful rear motor producing 216kW/430Nm and a larger, 91kWh-usable battery supplying around 600km of range – the longest of the line-up. Efficiency is identical to the Select.
Petrol-heads converting to volts will be drawn to the Mustang Mach-E GT, which gets the full-whack 358kW/860Nm dual-motor AWD powertrain paired with the 91kWh battery, offering around 490km of range.
Providing your right hoof isn't too heavy, the GT should deliver its claimed efficiency of 18.5kWh/100km.
Quick acceleration, big brakes and adaptive dampers for GT
The GT will be the fastest-accelerating vehicle ever sold by Ford Australia, able to nail 100km/h from rest in a silent-but-deadly 4.4 seconds.
Offering billiard-smooth, on-paper ride quality, the GT will come with MagneRide adaptive dampers – and the larger performance brakes.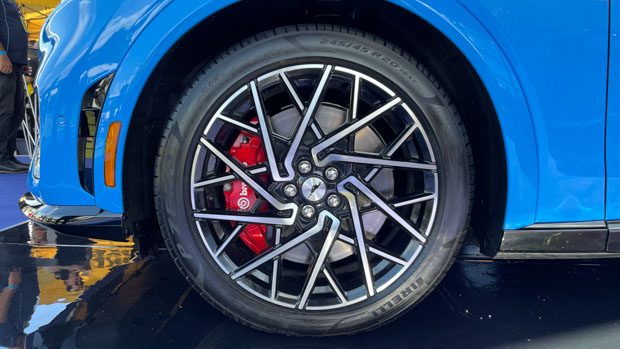 Australian Mach-E GTs score the track-focused Untame Plus mode, which "maximises fun and consistent lap times" by optimising the battery cooling and adapting the entire vehicle's calibration for maximum performance.
That includes weightier steering, wound-back stability control and more aggressive accelerator and brake pedal mapping.
Standard spec revealed for all grades
Every Australian Mustang Mach-E will be fitted with a panoramic sunroof as standard, while inside there's dual digital displays, a 15.5-inch central touchscreen containing infotainment including Ford's latest SYNC4 taking pride of place centrally in the dash; and a slim, 10.2-inch digital instrument cluster.
Mach-Es also get wireless phone charging and a 10-speaker B&O audio system.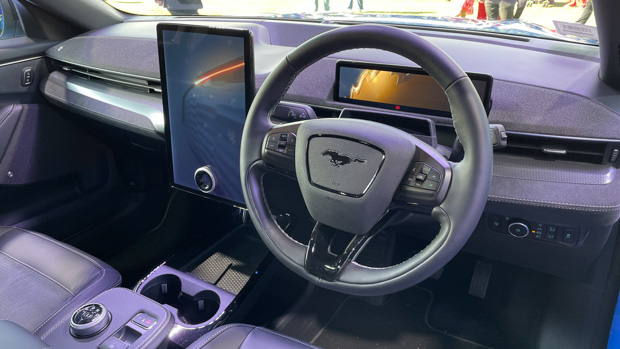 Made in Mexico and China, the five-seater Mach-E is built on Ford's GE1 electric architecture and supports up to 150kW DC fast-charging with the larger battery; or 115kW with the smaller.
It's not yet known from which country Australia will source the Mustang Mach-E.
The base, rear-drive single-motor Select weighs around 1958kg while the dual-motor GT is more like 2250kg.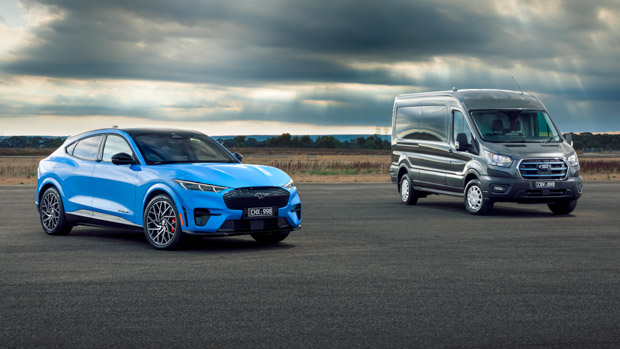 Ford Australia said customers will be able to reserve their Mustang Mach-E via its website "soon". By the time the Mach-E is released in Australia, 71 of Ford's local dealers will be able to deliver and service the model.
The Mach-E will follow the electric E-Transit commercial van as Ford Australia promises "at least five electrified" new models by the end of 2024 – careful wording meaning not necessarily all-electric vehicles, but also plug-in hybrids.
More to come.
Ford Mustang Mach-E 2024: prices in Australia
All prices listed are before on-road costs.
Select RWD 71kWh: TBA
Premium RWD 91kWh: TBA
GT AWD 91kWh: TBA