Already one of the best-looking forthcoming launches for 2015, the Alfa Romeo 4C is even sexier with the roof lopped off. In time of the North American International Auto Show, the Italian manufacturer has revealed the 4C Spider, which will make use of a removable soft-top roof when it launches in time for the next Australian summer.
This old-school Alfa Romeo convertible won't offer the convenience of a folding roof: instead, you'll be able to peel off the soft cover and store it later for when the rain hits. And trust us – you'll want to be driving the 4C Spider topless most of the time.
While it won't launch alongside the 4C coupe in March, it will share that car's angry, burbling 1.7-litre turbo petrol four producing 177kW and 350Nm. Both cars will sprint to 100 km/h in just 4.2 seconds, making the 4C range about much more than just image: both models will provide serious performance.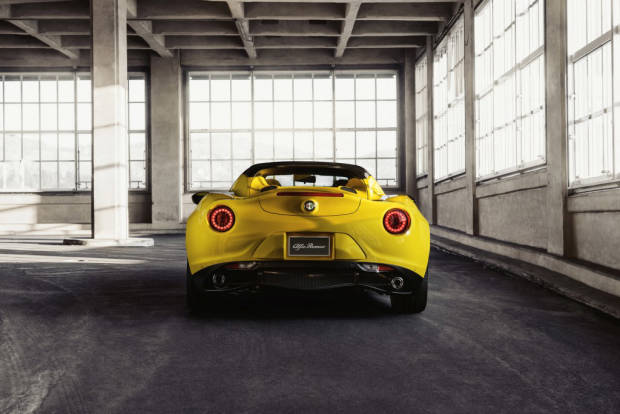 We anticipate it'll be a rough experience, of course, with a tightly-focussed double wishbone front suspension and MacPherson suspension at the rear; powerful Brembo brakes, and an available Track Package with bigger wheels and performance shocks.
The convertible model is a little heavier, but weighing in at just 10 kilograms more than the original 4C, there's not much in it.
A manual won't be offered, with both the coupé and Spider pairing the turbo motor exclusively to Alfa's twin-clutch automatic transmission, which can be driven with paddles.