Mitsubishi Australia has announced local pricing and specifications for their upcoming Eclipse Cross small SUV, ahead of the car's local on sale date of December 22nd. Priced from $30,500 for the entry level LS, the Eclipse Cross will target the upper end of the small SUV segment – the Toyota C-HR, Hyundai Kona and Mazda CX-3.
But unlike the smaller ASX and larger Outlander, Mitsubishi believes that the Eclipse Cross will appeal to a different type of buyer in this country, one searching for a more premium vehicle with more available technology – a direct contrast to the bargain basement pricing that Mitsubishi currently offers on its products.
The release of Eclipse Cross pricing follows our Eclipse Cross preview drive in Kakadu National Park earlier this year, which you can watch through the link.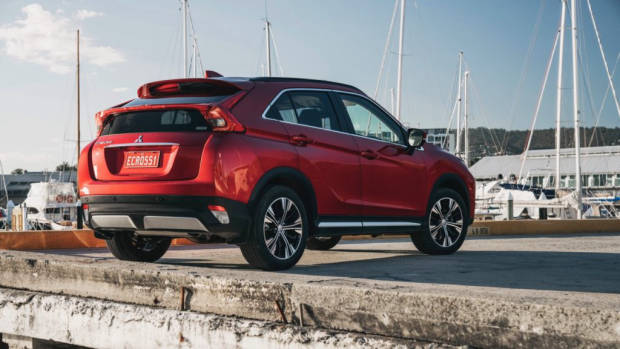 Like alliance partner Nissan, Mitsubishi's lineup is heavily SUV-focused, with just the Mirage and Lancer offered as Mitsubishi's only passenger cars. Speaking at an early media preview of the Eclipse Cross, Mitsubishi's product planning manager James Tol told Chasing Cars that the company's strong SUV heritage is just one of the reasons why the company is so successful in this country.
"We have a very, very strong SUV lineup: ASX, Outlander, Eclipse Cross between those two products all having v diff characteristic/jobs to do; PHEV, very strong tech platform of ours, really actually starting to see it move more and more in govt/corporate in particular."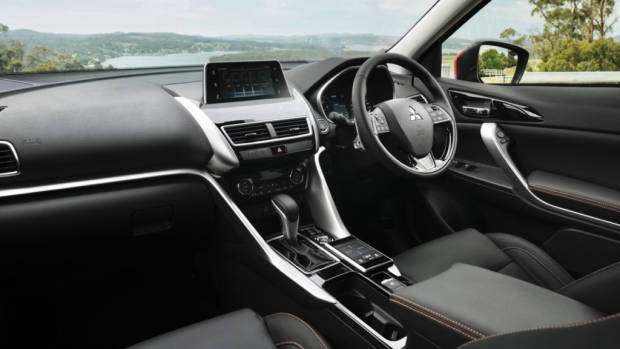 But why launch a car that sits in a similar space to the ASX? Mitsubishi are hungry for more sales and are opening their range to a slightly different small SUV customer – one that likes the size of the ASX but wants a product that offers more.
"The small SUV segment which only really got going around 2010, and as more products have come into market, it has expanded very quickly and is quite busy but ASX right now is the top selling small SUV. We have a lot of momentum behind our SUV credibility."
"We're in there at #3 in small SUVs, a key battle area of the market, and are about to put on a vehicle that will help push us further in that space … It's not often we get to put an all new car into the market; we're not replacing anything but the Eclipse Cross will be taking us into a new space", Mr Tol told media.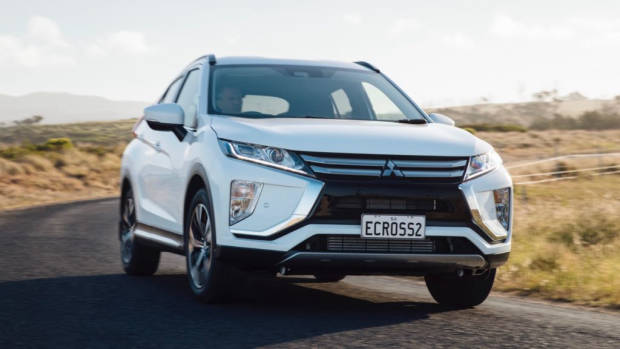 Sitting on the same platform as both the ASX and Outlander, the Eclipse Cross sits between the two in both pricing and size. All three share a 1,810mm width, yet its 1,668mm height is 28mm higher than ASX and 42mm shorter than Outlander. Its 4,405mm length is 50mm longer than ASX and a massive 290mm shorter than Outlander, yet all three share the same 2,670mm length wheelbase.
According to Mr Tol, the closeness of each won't sabotage each model's sales ability, with each model appealing to different customers.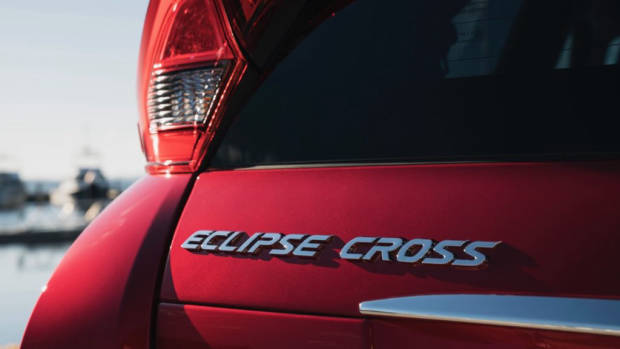 "Each talks to a different area of the market. Outlander is a more family friendly, a big load carrier with 7 seat capacity, ASX is for customers with urban needs and Eclipse Cross is for those seeking more technology and style."
Bootspace is healthy for the small SUV class, with 341-litres on offer. Thanks to the versatility of the rear seats, which slide fore and aft 200mm, it can be maximised to 448-litres of space with them slid fully forward.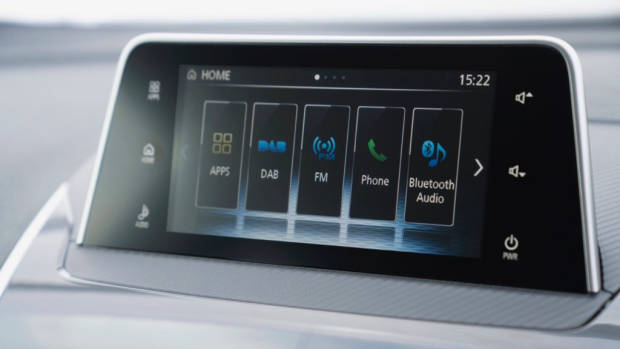 The centre of the Eclipse Cross interior is a new infotainment system from Mitsubishi, one that uses both a mouse-like controller and unlike the similar Lexus system, a touchscreen that is standard across the range. Mitsubishi says that the new infotainment system is easy to use, and is available with features such as inbuilt satellite navigation, Apple CarPlay smartphone mirroring and DAB+ digital radio.
"The screen itself is much higher up than in our other models and is much easier for the customer to visualise, helping to keep distraction down as much as possible."
Unlike the Lexus system, the touchpad itself has shortcuts for owners, such as two finger gestures – up/down for volume and left/right for changing the audio track. Mitsubishi also champions the system for its usability, with some customers preferring to use the touchscreen, some the touchpad but offering "as many ways as possible to comfortably utilise the controls."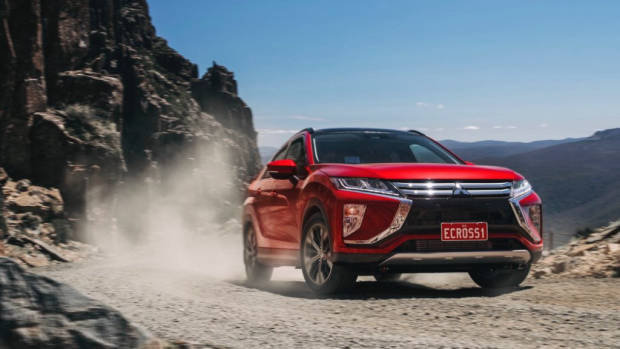 Just one drivetrain is offered across the Eclipse Cross range, a new 1.5-litre four-cylinder turbo petrol producing 110kW of power at 5,500rpm and a strong 250Nm of torque at just 1,800rpm. The Eclipse Cross is available in both front- and S-AWC all-wheel drive (from the Lancer Evolution X) formats, with a CVT automatic transmission with eight stepped ratios and paddle shifters standard across all models.
"We've been doing a lot of work to improve the driving character out of our CVTs, after a much more natural feeling; this stepped 8 speed feels much more like your traditional automatic. It gives you the best of both worlds – really good efficiency of CVT and also deliver a much more dynamic, natural feeling when driving it."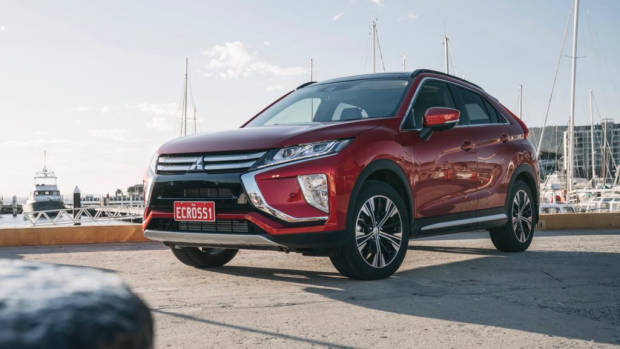 Mitsubishi lists combined fuel consumption for the Eclipse Cross as 7.3L/100km in front-wheel drive format, and 7.7L/100km with all-wheel drive, with CO2 emissions between 165-174g per km.
For now, there are just two Eclipse Cross models offered in Australia – an entry LS and the higher-end Exceed. Mitsubishi will expand the lineup later in 2018 with a lower spec ES. Launching just two models has allowed Mitsubishi Australia to launch the Eclipse Cross faster than firstly anticipated.
"We will further expand lineup into the new year, we have accelerated our launch to enter the market now and we've done it to get to the market quicker."
Priced from $30,500 plus on-road costs, the entry (for now) Eclipse Cross LS is well equipped, with 18-inch alloy wheels, keyless entry and start, seven airbags, DAB+ digital radio, Bluetooth and a 7-inch touchscreen infotainment system with Apple CarPlay and inbuilt satellite navigation.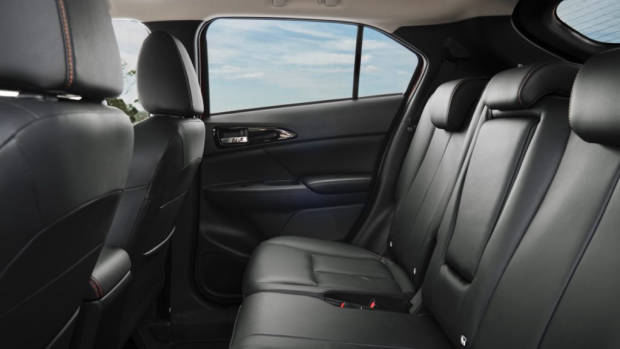 The Eclipse Cross LS is well equipped with active safety technology, including autonomous emergency braking, radar cruise control, lane departure warning and automatic high beam.
The Eclipse Cross Exceed ($36,000 2WD, $38,500 AWD) then introduces leather upholstery with heated and electric front seats, dual-zone climate control, LED headlights, a heads-up display and a dual-pane panoramic sunroof.
The Eclipse Cross Exceed also offers blind spot warning, lane change assist, rear traffic alert, a 360-degree camera and Mitsubishi's 'ultrasonic misacceleration mitigation system', which basically prevents accidental throttle inputs at lower speeds.
The 2018 Mitsubishi Eclipse Cross will hit local showrooms on December 22nd. Stay tuned to Chasing Cars for our first proper launch review of the Eclipse Cross, coming in late January.