The Eclipse Cross presents an interesting conundrum for Mitsubishi Motors. Originally intended to replace the circa-2009 ASX while reviving a nameplate from a popular US-market coupe (the 1989-2011 Mitsubishi Eclipse), the Eclipse Cross instead became a supplementary small SUV for the brand as ASX sales continued to defy gravity.
Strong as the ASX remains, however – particularly in Australia and North America – the Eclipse Cross hasn't quite achieved the same level of success. So it should come as no surprise that just three years after launch, the Eclipse Cross is already sporting a substantially different look in an attempt to better-position it between the ancient ASX and the forthcoming new-gen Outlander.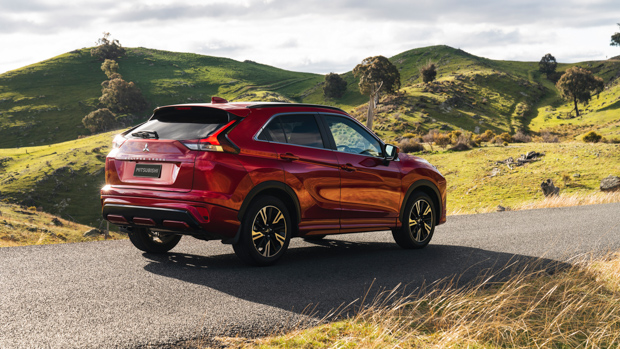 The visual vibe with the 2021 Eclipse Cross is all about fleshing out its proportion. Gone is the Honda CRX-style split tailgate glass and slightly stubby appearance of the previous model, replaced by a longer, more elegantly sculpted SUV. The old Eclipse Cross was only 110mm longer than an ASX, but the '21 model expands that gap by another 140mm, moving the Eclipse Cross closer to an Outlander in size (4545mm versus 4695mm).
At the front, the look is much more angular, with blade-like LED daytime running lights on all models and full-LED headlights on the flagship Exceed (as pictured here) with rather fussy, oval-shaped chrome surrounds.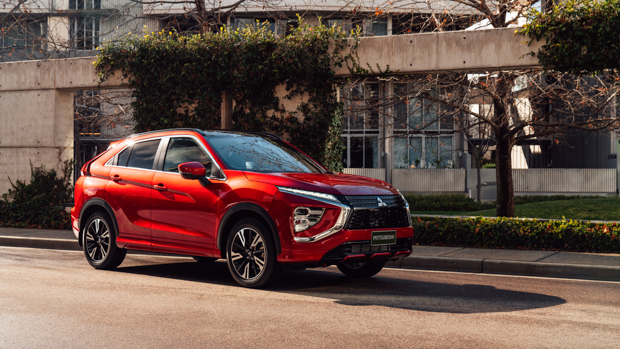 Wearing the same 18-inch alloys as the base front-drive ES, the Exceed asserts it hierarchical dominance by adding full colour-coding to its front bumper and side skirts, and a gloss-black roof. All models share the same new tailgate – a slightly protruding affair (with one-piece screen) that's meant to evoke an old-school spare wheel cover hanging off the rear. It definitely looks better than it sounds, though even when the tailgate is opened to maximum height, there's barely enough clearance for a six-footer's head.
Inside, the Eclipse Cross was always the most consistently appealing Mitsubishi in terms of design cohesion and the 2021 model enhances that feeling. Aside from the dash and door tops, the plastics are mostly hard and inexpensive in their look and feel but the general layout works well – especially the classy new matte-finished 8.0-inch multimedia touchscreen (with embedded sat-nav, a 510-watt amp and eight grunty speakers in Exceed).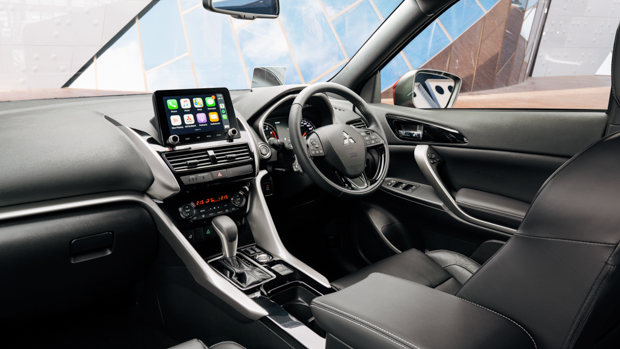 The centre screen has been moved right to the dashboard edge, negating the need for the crappo touchpad that used to lurk down between the gearlever and handbrake. In its place, Mitsubishi has moved the electric park brake forward and centred the cupholders for a more ergonomic look. And there have been a few trim changes, too, though our test 'Red Diamond' Exceed sported all-black leather-faced upholstery (with black headlining), not the new light-grey leather alternative.
Speaking of paint colours, our test Eclipse Cross was the second red Mitsubishi in a row to suffer from poor colour matching on different surfaces. Like the Outlander PHEV before it, the side panels were covered in 'orange-peel', which was a different texture to the more lustrous bonnet, both of which were a different shade of red to the plastic front bumper.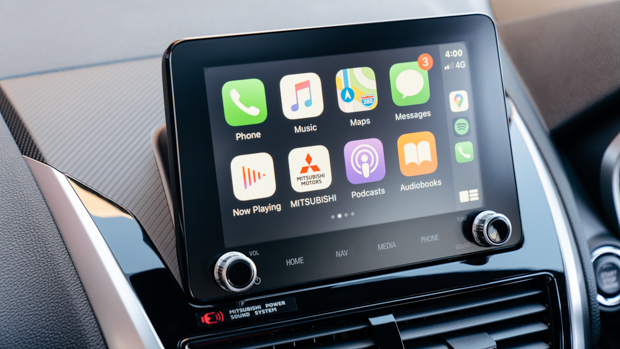 As for equipment, all facelifted Eclipse Cross models are competitive – particularly the new $34,990 mid-range Aspire model with its micro-suede seat trim, heated front seats (electric for the driver), dual-zone climate, premium audio, adaptive cruise, 360-degree surround view monitor, front parking sensors, blind-spot warning, lane-change assist and rear cross-traffic alert, though it crucially lacks AWD availability. If you want all four wheels transferring power (and trust us, you do), your only options are the lesser-equipped LS AWD ($35,090) or the Exceed AWD tested here (a steep $40,790).
While the Exceed does feature a tonne of gear on paper, in practice it doesn't feel plush. There are fancy overheads like a heated steering wheel and rear seat, a dual-pane sunroof and a head-up display but I'd reckon that rear USB ports would've been smarter than seat heaters (and just a 12-volt outlet), and likewise a large single-pane glass sunroof like its best competitors. While the head-up display is fairly basic (think circa-2014 Mazda CX-3), at least its controls are ergonomically located to the right of the driver on the dash, not buried in a sub-menu somewhere.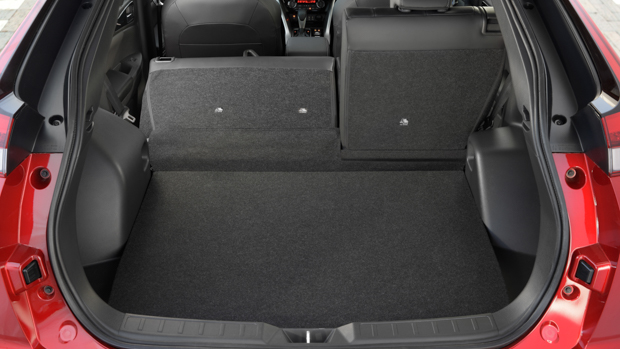 What the Eclipse Cross does do well is package passengers. The Exceed's eight-way electric front seats are mounted high, which many buyers will love, yet there's still a theatre-style view from the rear seat, with loads of leg- and toe-room back there, decent comfort, a centre armrest and a multi-position reclinable backrest.
Mitsubishi says there's more legroom and boot space than before (now 405 litres), though the decision to turf the outgoing model's fore-aft rear cushion adjustment means this isn't really a like-for-like comparison. There's now little in the way of rear-seat cleverness – just a 60/40 split backrest that flops onto the cushion at an angle – though the seat-up space is undoubtedly generous.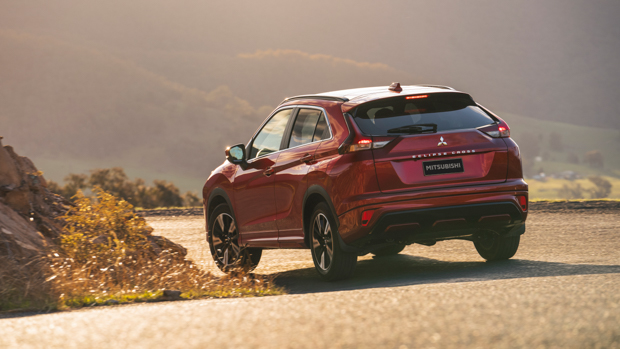 On the move, little has changed. Alterations to the electric steering assistance have made it more linear, and there's been some minor tweaking of the AWD system, with a rigidly connected rear suspension crossmember enhancing its level of dynamism over the front-drive Eclipse Cross. But this is not a performance car.
Riding on the same 15-year-old 'GS' platform as the ASX and Outlander, the Eclipse Cross does a better job than those two SUVs in balancing its ride and handling qualities, though it still lacks sophistication.
Up to a point, the Eclipse Cross steers accurately, corners competently and rides reasonably, but its body control starts to wilt on challenging roads, exposing the lack of finesse in its spring and damper tune. It's the sort of car that mostly does what it's told but never feels encouraging in its personality, if it has any.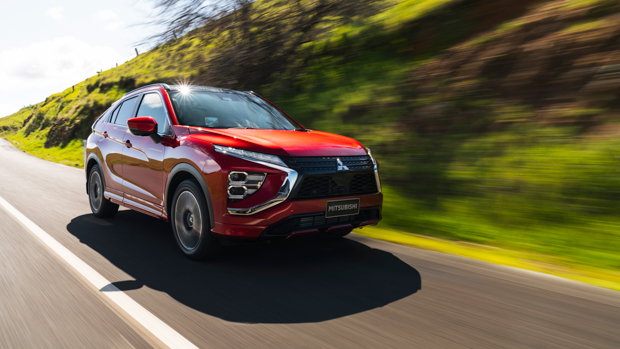 The AWD is more polished than the front-drive models because even with the 1.5-litre turbo-petrol four-cylinder engine in a relatively low state of tune, there's often too much torque (250Nm from 2000-3500rpm) for just the front wheels to adequately deal with.
At 110kW, Australia's Eclipse Cross is 10kW down on the Euro version (perhaps because it's tuned for 91RON regular unleaded) and is only offered with a CVT automatic transmission, not a six-speed manual. It's a pleasant engine – more refined than I remember – with an impressive spread of torque and decent driveability, though the slightly tubby (1555kg) Exceed AWD could use more grunt. The 0-100km/h claim for the perkier, Euro-spec Exceed AWD is 10.4 seconds, which kinda says it all.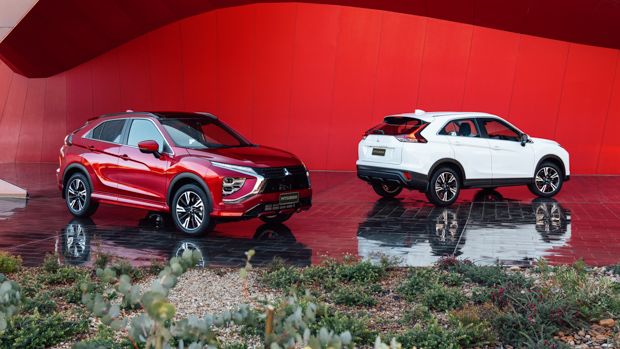 When you floor the right pedal, the Mitsubishi's continuously variable transmission inserts a bunch of fixed ratios to make it sound more 'conventional' instead of just nailing a rev point. Floor the Eclipse Cross from a standing start, however, and it takes too long to muster all its accelerative urges before committing to maximum thrust, though at least it avoids the wheelspin of front-drive models.
If you think all of this is starting to sound like middling affection for the Eclipse Cross AWD, that's exactly what it is.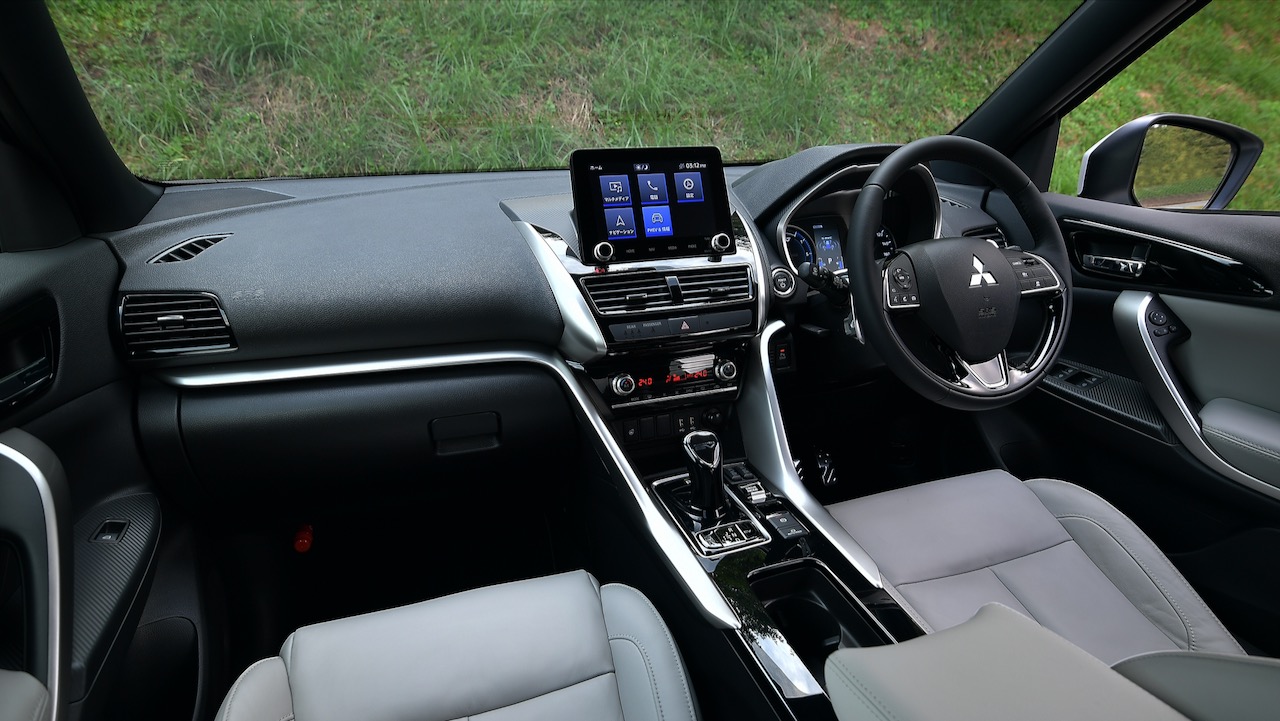 Even in facelifted form, it's a middle-of-the-road car that works best when your demands are least. Yet it's a better all-rounder than the SUVs it shares its wheelbase length and showroom space with, and even though limited ground clearance (175mm) means it will never be an off-roader, there's an all-weather appeal to the Eclipse Cross that you can't buy in an ASX, or many of its small SUV competitors.
The forthcoming Eclipse Cross plug-in hybrid will only add to that unique appeal, however there's no escaping the fact that this is an old car at its core, trying to escape mediocrity.
In its most basic form (the ES is currently $30,490 drive-away), there's a degree of appeal to this slightly left-of-centre small SUV. But Mitsubishi charges a pretty penny for a variant like the Exceed AWD ($43,990 drive-away), and it has neither the quality of appearance nor the sophistication to carry off a sticker that deep into medium SUV territory.