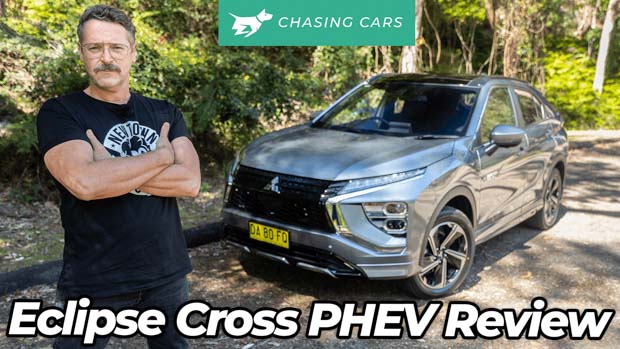 It's been eight years since Mitsubishi became the first manufacturer in its class to offer an affordable plug-in hybrid SUV (the oddly named Outlander PHEV) which is the same amount of time it has taken for this drivetrain to migrate to another model in Mitsubishi's range – that being the facelifted 2021 Eclipse Cross, which we covered in detail earlier this year.
With the current Outlander about to make way for a brand new, fourth-generation model (due to launch here in early 2022), the arrival of the Eclipse Cross Plug-in Hybrid couldn't be better-timed.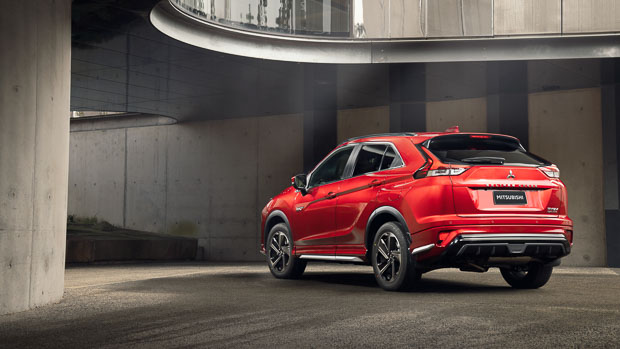 What's on the surface might look quite different – a more pert, more modern body shape that essentially straddles the small and midsize SUV categories – but what's underneath the Eclipse Cross Plug-in-Hybrid is identical to what resides under the outgoing Outlander PHEV.
It's worth noting that Mitsubishi has decided to dump its 'PHEV' nomenclature (it stands for 'Plug-in Hybrid Electric Vehicle') for a simpler 'Plug-in Hybrid' name, purely for marketing purposes. On the Eclipse Cross's front door is the same oversized 'Plug-in Hybrid Electric Vehicle' badge as worn by the Outlander (though with slightly classier colouring), and there's a huge chrome 'PHEV' badge on the tailgate…
… all of which neatly aligns with the fact that the Eclipse Cross Plug-in Hybrid is the Outlander PHEV's twin in a different skin.
How does the Eclipse Cross plug-in hybrid drive?
For all intents and purposes – which in the Eclipse Cross Plug-in's case is efficient urban motoring – there's much to like about the way this Mitsubishi eco-warrior drives.
Compared to the last Outlander PHEV we tested (the Bilstein-suspended, new-for-2021 GSR), the Eclipse Cross Plug-in is much more comfortable to drive, with a surprisingly pleasant and absorbent urban ride.
And compared to the regular Eclipse Cross turbo-petrol, which we tested in facelifted Exceed AWD form earlier in 2021, the Plug-in Hybrid seems to offer a genuine reason for being, beyond being a relatively simple, unpretentious small-ish SUV that's been stuffed to the eyeballs with equipment.
The standard Eclipse Cross Exceed AWD is pleasant enough to drive (up to a point), with respectable engine torque and superior traction to lesser front-drive versions, but the Plug-in Hybrid Exceed is way more soothing to scoot about town in.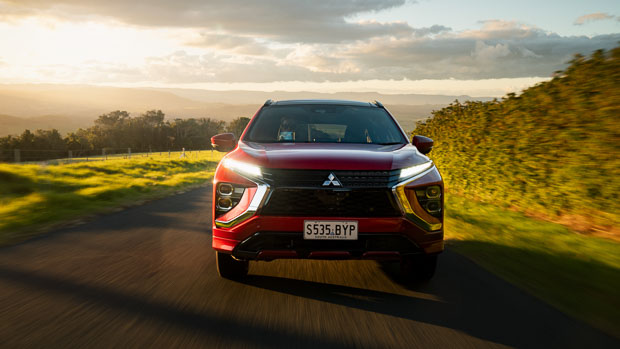 Its combination of a 13.8kWh lithium-ion battery, a 60kW electric motor on the front axle and a 70kW motor on the rear axle seems to be predominantly responsible for most city-based driving, with the 94kW/199Nm 2.4-litre 'Atkinson Cycle' four-cylinder petrol engine lurking in the background, ready to add some performance filler, if necessary.
Much of the time, it's the silky battery torque that does the talking, which makes the Eclipse Cross feel effortlessly responsive, even with the Drive Mode toggle flicked to 'Eco'. And when the petrol engine needs to chime in, it quietly makes itself known in the background as a sort of acceleration support act.
Only when you require every ounce of performance does the Eclipse Cross Plug-in expose its inadequacies. At 1895kg, it's a porker – 400kg heavier than the non-hybrid Exceed AWD – and Mitsubishi's 15-year-old '4B12' 2.4-litre engine feels insipid, especially when the CVT transmission increases engine revs (and, therefore, performance) in such a leisurely fashion.
The slightly less powerful European-market Eclipse Cross Plug-in Hybrid has a 0-100km/h claim of 10.9 seconds, and there's little doubt the Aussie version is barely any quicker. But providing it stays in its comfort zone – urban commuting mixed with cruise-controlled highway motoring, carrying no more than two passengers – the plug-in Mitsubishi is pleasantly unobtrusive.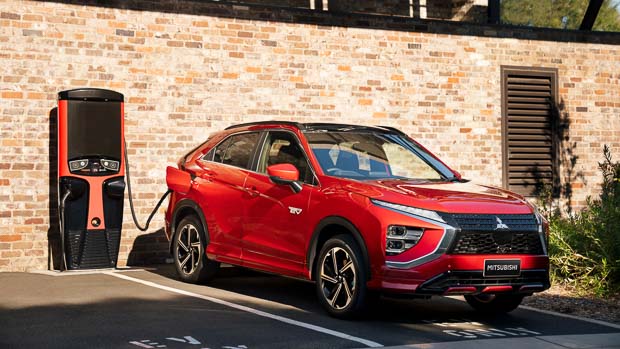 Same goes for its impressive ride quality – especially at sub-80km/h urban speeds – on new-design 18-inch alloys, though road-noise suppression is only average and lumpy country roads aren't so kind to its body control.
There's a fair amount of mass to discipline here, despite much of it being sited fairly low in the chassis, and the Eclipse Cross tends to loll and rock around quite a bit. Big heaves will see it kiss its rear suspension bump stops, though providing you don't explore its dynamic ability too aggressively, there's plenty to admire in its flat, balanced handling … on smooth-ish roads.
The Eclipse Cross also steers faithfully, with a bit of extra weighting muscle when the Drive Mode is in Tarmac (as opposed to Normal), and its brakes feel surprisingly natural in their response, despite the regenerative-energy trickery going on behind the scenes.
While the Exceed is clearly the pinnacle of the Eclipse Cross stable, its average level of active-safety features does expose the underlying age of its hardware, and the car's relative simplicity.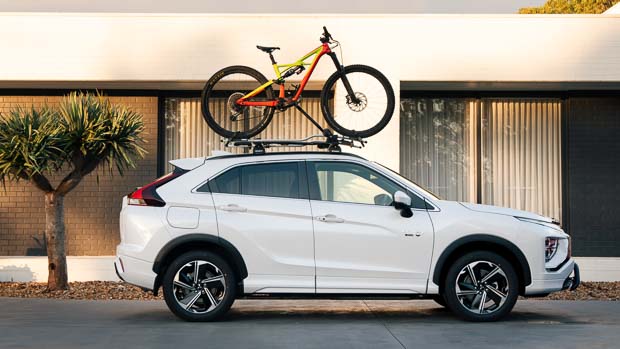 Like the Aspire Plug-in Hybrid below it, the Exceed's safety highlights include adaptive cruise control, blind-spot monitoring, lane-change assistance, lane-departure warning, rear cross-traffic alert, front and rear parking sensors and a reversing camera.
Most work reasonably well, however the adaptive cruise is slow to regain speed and the forward collision warning can be annoyingly over-sensitive.
How is the Eclipse Cross plug-in hybrid's interior?
The facelifted Eclipse Cross's interior isn't radically different to the previous model – mainly centred around a new matte-finished 8.0-inch multimedia touchscreen with navigation, Apple CarPlay/Android Auto, and in the Exceed (as well as the Aspire Plug-in), a 510-watt amp powering eight speakers.
With the screen positioned closer to the driver, there's no longer a need for a clumsy touchpad, and Mitsubishi has repositioned the electric handbrake to improve centre cupholder placement.
In addition to that, the Plug-in Hybrid version adds the Outlander PHEV's neat little gearlever with its smooth pulsing action when selecting gears, along with various associated switchgear such as 'EV' mode, which forces the Eclipse Cross to solely rely on its battery for propulsion.
Other differences between the regular Eclipse Cross and the Plug-in Hybrid version include a charge-meter (instead of a tachometer) that displays where power is coming from, and some extra screens in the multimedia display to geek out on if you love watching where energy is flowing, as well as various consumption highlights.
All of which means that the Exceed Plug-in follows its turbo-petrol sibling in not really being that fancy. The eight-way electric front seats are comfy, trimmed in leather and feature heating, as do the outer rear seat positions and the steering wheel, but this is an inexpensive car with extra gear, not a holistic attempt at luxury.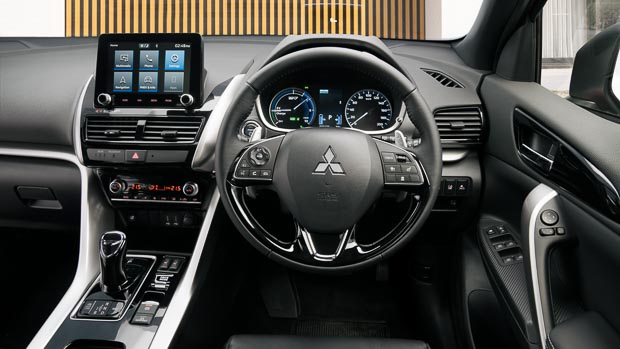 A standard dual-pane sunroof lightens the dark-coloured interior effectively but the folding head-up display seems rather antique (and is the only digital speedo in the cabin), though its adjustment controls are clearly sited on the dash to the driver's right.
There's also no rear USB outlets – just a pair in the front, and 12-volt outlets front and back – and the rear doors are near-useless for holding drinks. Lucky the fold-down centre armrest has cupholders.
The rear seat isn't amazing either – merely average, both for comfort and for headroom. It's no longer on runners, which is no big deal seeing there's so much legroom and foot room, but the flat cushion could use more under-thigh support. At least the rear backrest rake is adjustable in multiple positions.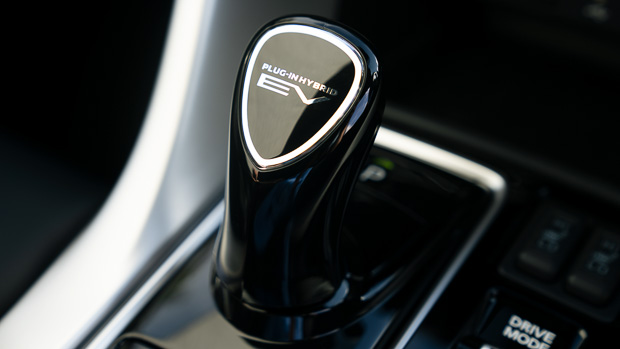 Finally to the boot, which shrinks in size from 405 litres to 359 in the Eclipse Cross Plug-in because there's no under-floor storage, merely a space to store the charging cords, though the luggage space it offers is still quite usable.
Pity the tailgate is so heavy – electric operation isn't available – and anyone taller than 180cm will need to be careful not to clock their head on it.
What are the Eclipse Cross plug-in hybrid's running costs?
Mitsubishi quotes two figures for the Eclipse Cross Plug-in Hybrid – 55km of pure electric range and 1.9L/100km on the official ADR81/02 government combined fuel cycle. But the truer EV figure is 45km of electric-only range, measured to more realistic WLTP standards.
We locked the Eclipse Cross into EV mode and managed 42km of electric driving before the petrol engine intervened, which is impressive. Then with the electrics still adding a small amount of assistance in the background – even showing zero range, the EV gauge still shows a small amount of charge – the Eclipse Cross Plug-in averaged 6.4L/100km on our relatively modest launch drive.
Using the supplied AC Mode 2 charger, plugged into a regular household socket, the Eclipse Cross Plug-in Hybrid takes 6.5 hours to fully charge its battery. With a dedicated AC Mode 3 charger, that time can be slashed to 3.5 hours.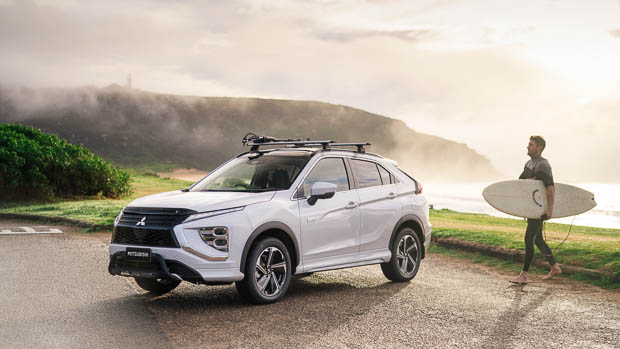 Like the Outlander that donated the electric motors and battery, the Eclipse Cross is a rare plug-in hybrid that offers DC fast-charging capability averaging speeds of 27kW, allowing the 13.8kWh battery to be charged to 80 percent in 25 minutes. Keep in mind that Mitsubishi has retained a Japanese-market Chademo charge port. Newer Type 2/CCS ports common to most American and European electric vehicles are not found here.
You can also hit 'save' in the car to preserve battery power (for powering coffee machines and the like once you reach a camping, beach or barbie destination), or recharge it from the engine itself, if you have to.
Recommended servicing is every 12 months or 15,000km, and if you keep getting this done at a Mitsubishi dealer you also get 10 years capped-price servicing – the five-year total of which is $1695.
Servicing at a Mitsubishi dealer at the proper intervals can also unlock extended warranty coverage.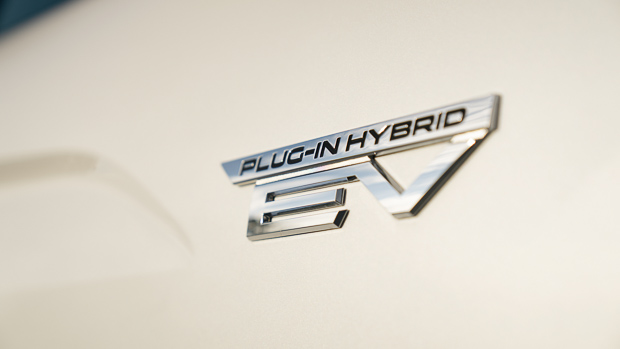 The standard warranty is a modest five years/100,000km, however the warranty may be extended to 10 years/200,000km if you stick to the service schedule and look after your car.
There's also an eight year/160,000km warranty for the Plug-in Hybrid's lithium-ion battery, and a five-year perforation and corrosion warranty for the body.
The final verdict
The standard Eclipse Cross Exceed AWD is positioned at just under $45K driveaway, which seems like a lot of money for a well-stocked but relatively simple small-ish SUV. The Plug-in Hybrid Exceed isn't cheap either with a $53,990 list price (before on-road costs), meaning close to $58,000 driveaway. But it does have a genuine USP.
With its Teflon-smooth battery torque, excellent efficiency and generally amenable driving manners, it's really quite a pleasant and satisfying car around town. Combine that with decent front seat comfort, plenty of passenger space and a workable boot – not to mention zero range anxiety – and the Eclipse Cross Plug-in Hybrid is a respectable machine.
But as with almost all current Mitsubishis, the less you spend, the closer you are to its spiritual home. With that in mind, we'd be aiming more towards the ES Plug-in (at $49,990 driveaway), or perhaps the Aspire, rather than the bells-and-whistles Exceed.