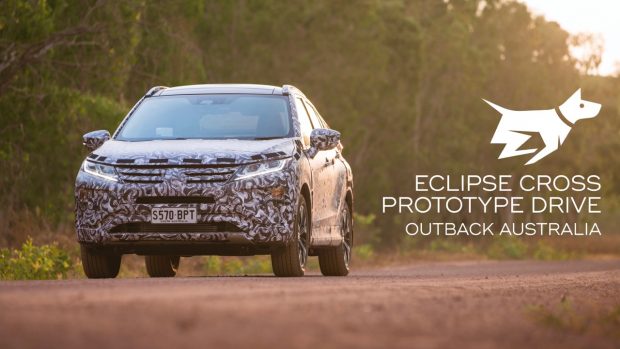 Mitsubishi SUVs. They've got a reputation for being dependable, inexpensive, and no fuss – and the sales charts prove that Australians genuinely like these vehicles. But ask a motoring journalist, and we'll talk about the fact that Mitsi's off-roaders and crossovers are far from the newest or most innovative in the market. However, that's about to change: on a recent trip to Kakadu National Park, where we'd travelled to grab a refresher on Mitsubishi's high-riding range, we were given a sneak peek and preview drive of the triple-diamond's newest product: a small SUV called the 2018 Mitsubishi Eclipse Cross.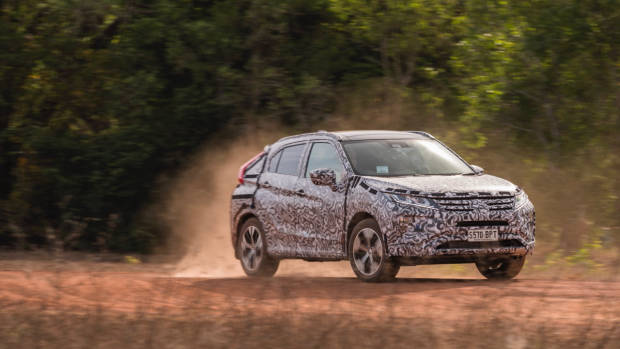 Despite wearing a familiar Mitsubishi badge – the last Eclipse was a two-door sports car – the Eclipse Cross will be a smaller brother to the Outlander medium SUV, and the tougher, larger Pajero Sport and Pajero models. But what about the ASX? Despite being similar in size, the Eclipse Cross isn't displacing that car. Instead, an all-new, downsized ASX will arrive next year: think Holden Trax size. That'll give Mitsubishi, a brand now wholly focussed on SUVs, three road-focussed crossovers and two larger workhorses.
The fastback-styled Eclipse Cross is aimed to give Mitsubishi a fresh rival to small SUVs like the Mazda CX-3 and Toyota C-HR – and until the new ASX arrives, there'll be some internal competition, too. But Mitsubishi doesn't see an overlap: the ASX is most popular in entry-level, $25,000 LS form – it's a popular fleet car. Meanwhile, Mitsubishi expect the Eclipse Cross to occupy the same premium end of the small SUV market as Toyota's funky new C-HR. But as for sales expectations, especially once the Eclipse Cross is freed up by the ASX's downsizing? Local execs weren't willing to say anything about that – or much else relating to product – citing that much more will be revealed at the Australian launch of the Eclipse Cross in December.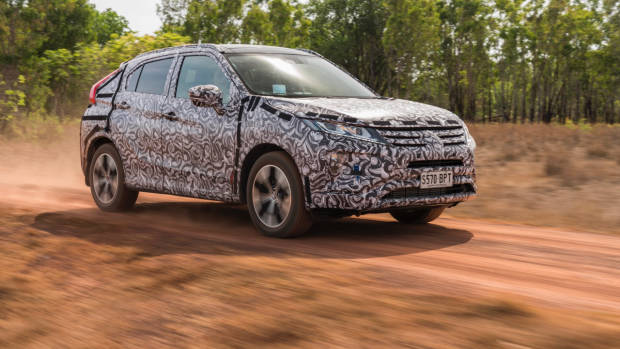 Lips were also sealed on any substantial detail about Eclipse Cross specifications – including equipment levels, engines details, or pricing, though our pre-production model appeared to be a range-topper with everything Mitsubishi could throw at it. The prototype sported heated leather seats, LED headlights with automatic high beam, a heads-up display, dual glass sunroofs and active safety equipment such as AEB, radar cruise control, active lane watch and blind-spot monitoring. When the Eclipse Cross does land down under, we predict three equipment levels, starting from around $28,000 for the entry-level model. As usual with Mitsubishi, the proposition will likely involve highly competitive standard equipment, decent value for money, a five-year warranty and a capped price servicing deal.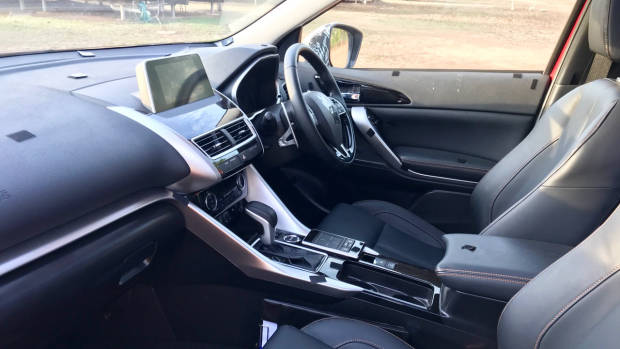 It may have been a heavily camouflaged prototype, but our Eclipse Cross had completely functional interior equipment, giving us a chance to test Mitsubishi's new seven-inch infotainment system. Employing a mouse pad-like touch interface next to the gear shifter – similar to the system used in Lexus models – the new system is vastly more modern than that currently found in Mitsubishi's other SUVs. Like the Lexus hardware it seemingly apes, the mousepad takes getting used to – but unlike a Lexus, this is also a touchscreen, making it much easier to use at speed.
Instead of being built into the dashboard, the screen itself sits on top of it like a tablet – and while the whole dashboard layout is eerily similar to that of the Lexus NX, it's much more modern and attractive than the cabins found in the other Mitsubishis that were also on offer, including the second-newest product here, the Pajero Sport. Even our pre-production model featured equipment such as DAB+ digital radio, Apple CarPlay smartphone mirroring and integrated satellite navigation, which makes a return: oddly, navigation is missing from other high-spec Mitsubishi models.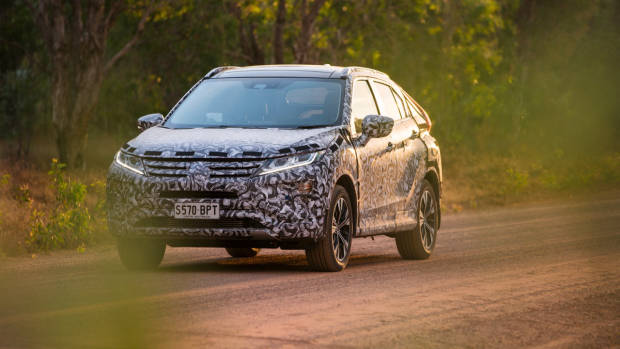 Even the interior quality of this prototype was up-to-scratch, and a big improvement over today's Mitsubishi standard. Expanses of soft touch materials cover the front doors and the dashboard, and the leather used on the seats and steering wheel also appeared to be much less vinyl-like than other Mitsubishis, especially with its funky contrast orange stitching – though local Mitsubishi execs warned this trim might not be exactly replicated on the Australian version. We hope it does, however.
The roominess at play in the Eclipse Cross is notable. This isn't an all-new platform derived from Mitsubishi's new owners – the Renault-Nissan group; instead, it rides on an updated version of the ASX's 'GS' platform, the Eclipse Cross is 40mm longer than that car, at 4,405mm. For reference, the Eclipse Cross is 290mm shorter than the seven-seater Outlander. Headroom in both rows in the Eclipse, despite the dual-pane sunroof fitted to the car, was plentiful. Rear seat space is also superior to the ASX, particularly legroom. With its sliding and reclining rear seats, occupants are bound to find the space much airier and more pleasant than an ASX – but the lack of rear air vents is a misstep on a family car, though Mitsubishi is hardly alone in omitting this feature.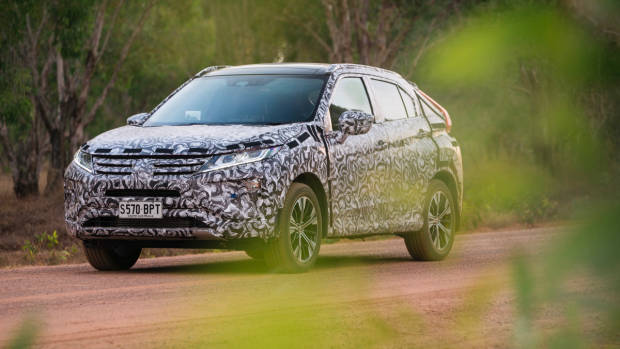 To our eyes, the boot appears larger to that on an ASX despite the impact of the Eclipse Cross's sloping roofline. An exact measurement of Australian-market boot space is yet to be confirmed: in the European market, the boot offers between 341L and 448L of space depending on the positioning of the rear seat. Notably, this prototype featured a full-size alloy spare wheel. If brought into production, this would no doubt appeal against the majority of its competitors, which are largely equipped with space saver spares.
Australian-market engines for the Eclipse Cross are also yet to be confirmed. Overseas, a new 120kW/250Nm 1.5-litre turbo petrol four-cylinder is available – as is the familiar 110kW/360Nm 2.2-litre turbo diesel used in the ASX and Outlander. Our pre-production drive was in the turbo petrol with a CVT automatic gearbox, and the likely-optional S-AWC all-wheel-drive system derived from the Lancer Evolution. Overseas, the diesel is freed from the CVT and is, instead, offered with an eight-speed torque converter automatic – a drivetrain option we hope makes it to Australia later this year.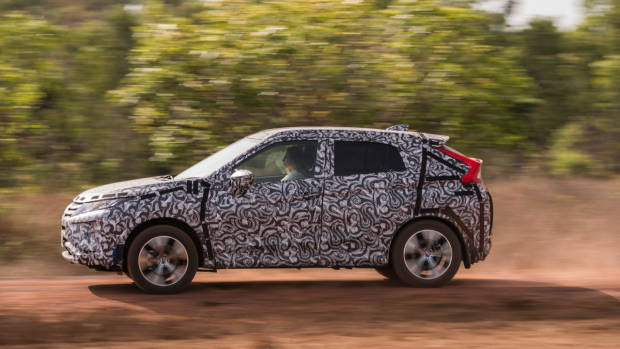 The new 1.5-litre turbo petrol is a sweet little engine. In overseas spec, it produces around 120kW of power and 250Nm of torque – Australian outputs won't change dramatically. A six-speed manual might be offered as a price-leader, but a CVT automatic will be the most popular gearbox and will be the only transmission on all-wheel-drive petrol versions.
Like most modern small-capacity turbo engines, the Eclipse Cross' peak torque comes in low in the rev range, which provides satisfying around-town punch. Even with three guys and heavy camera gear as I experienced, the Eclipse Cross has more than enough punch for everyday use. The CVT gearbox of the pre-production car felt just like the CVTs used in other Mitsubishi products – a jumpy throttle was the only weak link in otherwise-smooth sailing from the gearbox. The Eclipse Cross features paddle shifters mounted behind the steering wheel to access eight simulated ratios, although its buyers are unlikely to actually use them.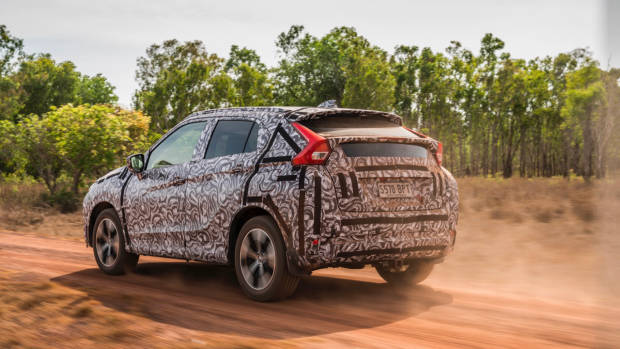 Dynamically, the Eclipse Cross is definitely superior to other Mitsubishi products, though it isn't as sporty as the C-HR or CX-3. Like the HR-V, it provides a middle ground between soft and sharp dynamics, which will suit many buyers. In particular, the company's famed S-AWC system is excellent and in more spirited driving, you can feel the power and torque being distributed around the car's wheels. The Eclipse Cross' ride quality is also superior to the ASX, particularly with low speed bump absorption.
On first impressions, this Eclipse Cross was not the last word in refinement – though pre-production prototypes rarely are. We'll assess the production version when we drive it later this year. Despite its prototype status, the improvement over the fairly loud ASX is instantly noticeable, however. In overall plushness, it's certainly closer to the Outlander than ASX. Thankfully, the Eclipse Cross' steering is more feelsome and weighty compared with the too-light Outlander tiller, though a Mazda CX-3 is much more engaging again.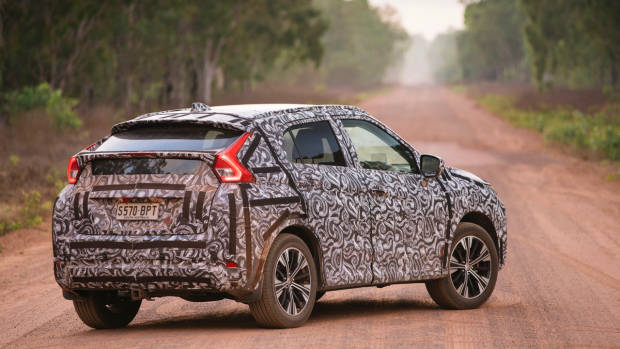 While our drive of the Eclipse Cross was brief and not necessarily reflective of the final production model, it proved that there is still life in Mitsubishi, a company that has long been drawn the ire of online commenters, if not (as the sales figures demonstrate) from Australian buyers. That the Eclipse Cross was developed solely in-house before any Renault-Nissan Group interaction is even more positive. The new alliance will mean Mitsubishi's product development should only get faster from here. Will there be a future Pajero or Lancer? We're not currently sure, but regardless, the Eclipse Cross proves that the brand can make a solid car. Get the pricing right, and keep the value equation strong, and there's no reason the Eclipse Cross won't win over many Australians. Let's hope that its lifecycle lasts less than ten years though – we're looking at you, Lancer.