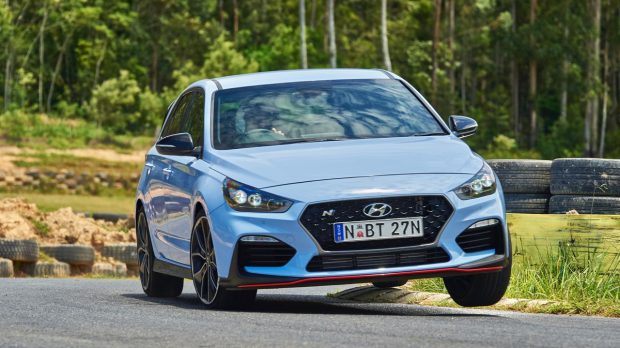 The most hotly-anticipated hot hatch of 2018 – the Hyundai i30 N – arrives in Australia next month, and we've now got a price on it, ending months of speculation about whether the sporty i30 would undercut the Volkswagen Golf GTI, despite having outputs closer to the Golf R. And the answer is yes: only the high-end i30 N Performance will be offered in Australia, sneaking in under forty grand at $39,990 before on-road costs, offering a 202kW/353Nm 2.0-litre turbocharged four-cylinder petrol, a manual gearbox (only), a limited slip differential, a sports exhaust, and i30 N-specific Pirelli P Zero tyres.
A lower-end 184kW tune of the i30 N exists in other world markets and when Chasing Cars drove both Hyundai i30 N tunes in Australia last November, it was about a fifty-fifty chance as to whether Hyundai's local arm would take both versions. Reflecting the upscale tastes of Australian buyers, though, only the Performance model will be offered in this market – and given the relatively low price point of this 202kW version, it's not hard to see why this became the ultimate preference.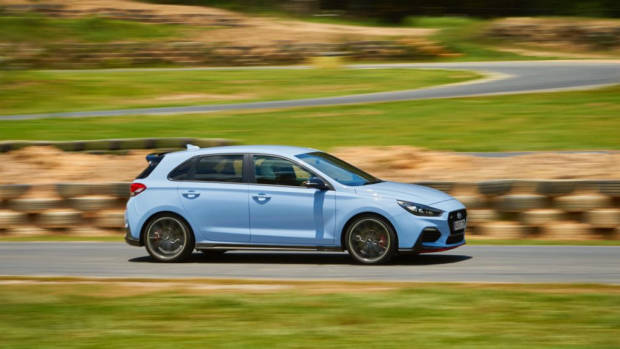 The $39,990 version is well-specified but the i30 N Performance can also be optioned with a $3,000 Luxury Pack.
That basic price buys the 202kW/353Nm engine and six-speed manual with switchable rev-matching – a dual-clutch automatic is still at least a year off – plus a significant amount of standard kit. This includes a variable exhaust (hear it growl on our early i30 N video review), adjustable drive modes with adaptive dampers, an LSD on the front axle, launch control, and beefier performance brakes. There are 19-inch wheels shod in unique Pirelli P-Zero HN tyres co-developed with Hyundai, and an aggressive N body kit that includes black sills, red highlights around the car and a triangular high-mounted brake light.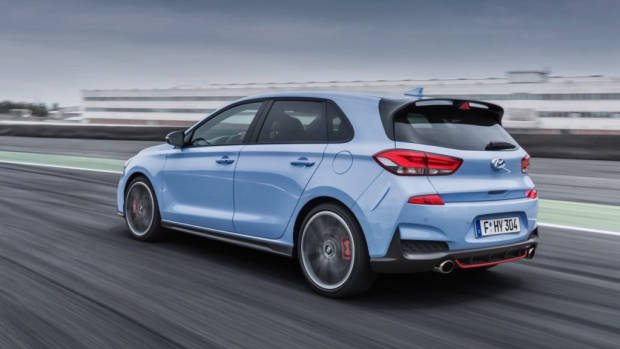 Inside, the $39,990 i30 N Performance isn't hugely differentiated from an i30 SR but it does stitching in Performance Blue, including on the heavily-bolstered cloth sports seats with four-way power lumbar and a manually-adjustable leg extender, a black headliner, and dark-painted metal trim inserts. Otherwise, the i30 N shares the standard i30's 8-inch touchscreen with navigation, DAB+ digital radio, Apple CarPlay and Android Auto. There's also dual-zone climate control, and a fold-down armrest in the back seats, plus rear air vents.
The standard car packs a few adaptive safety features in the form of city-speed autonomous emergency braking with forward collision alert, lane keep assist, and driver fatigue detection.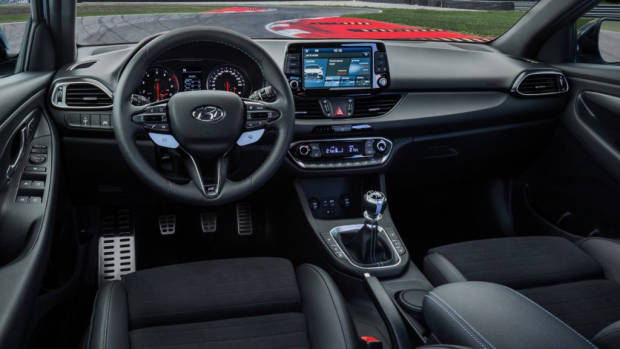 However, we anticipate many will opt for the $42,990 i30 N Performance with Luxury Pack, which adds a number of desirable features for the $3,000 upgrade: the seats are upgraded to heated, 12-way electrically-adjustable leather/suede sports pews with memory for the driver; the Luxury Pack also adds keyless entry and start, a heated steering wheel, a Qi wireless smartphone charging pad, power folding mirrors, auto wipers, front parking sensors, a solar windscreen and rear privacy glass.
If you tick the box for the Luxury Pack, you can further option a panoramic sunroof for $2,000, taking the price of a loaded-out i30 N Performance to $44,990 – a price that is $2,500 less than a similarly-optioned Volkswagen Golf GTI manual, fitted with its own Luxury and Driver Assistance packages. Hyundai Australia's local chief JW Lee believes the i30 N will punch well above its attainable price positioning, however, telling media "given the way i30 N looks, sounds and drives, we believe it will make a compelling case against its strongest competitors, regardless of price."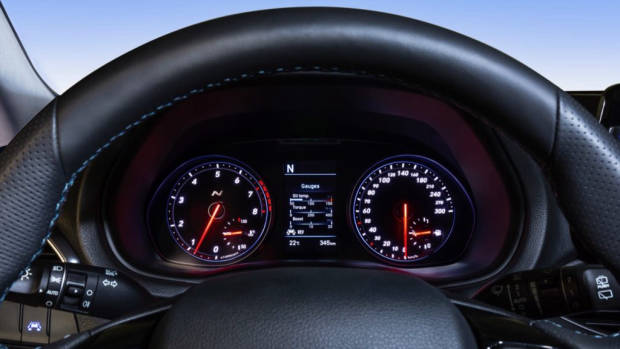 While the Hyundai's 2.0-litre engine pushes out 202kW/353Nm, which is closer to the all-paw Golf R's 213kW/370Nm than the front-wheel-drive Golf GTI's 169kW/350Nm, the Hyundai is in reality not that much quicker than the Golf GTI in a straight line, with the i30 N Performance's 6.2-second 0-100km/h sprint besting the GTI by 0.2 seconds. And the AWD Golf R manual is a full second ahead with a 5.2-second sprint.
But straight-line times obscure the true character of the i30 N, which we experienced last year and will drive in a fuller capacity next month. The standard fitment of an LSD on the front axle means that, like the Honda Civic Type R, the Hyundai is a remarkably adept corner-carver, able to put down most of its power immediately on corner exit with traditional front-drive scrabbling at the unladen inside wheel.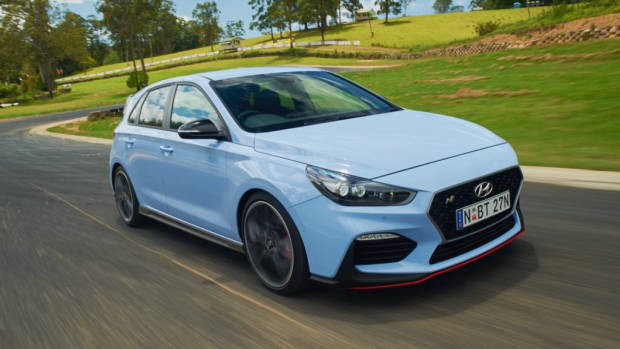 The first 300 examples of the i30 N Performance offered to Australian buyers arrive in April, with Hyundai's local arm anticipating that they won't last long – and they're encouraging interested parties to sign up via the Hyundai Australia website or in-person at Hyundai dealerships.
We'll be driving the i30 N extensively on road and track next month. Make sure to subscribe to the Chasing Cars YouTube channel, and bookmark Chasing Cars to make sure you get that content when our review drops on 29 March.