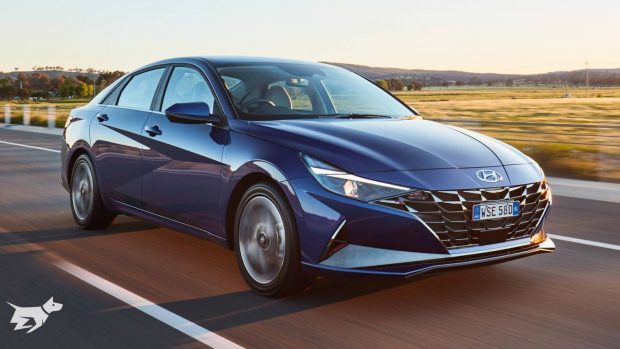 Hyundai kicked off the Australian launch of the new i30 Sedan – a model formerly known as the Elantra – by noting that the last five years has been witness to a remarkable downturn in small car sales. From lofty heights approaching 50 per cent of the market, small cars now account for just 25 per cent. That's still the third most popular segment in Australia, but the shifting of preferences towards SUVs is now totally undeniable. And within the small car sales that remain, just one in four buyers wants a sedan.
All of that makes the amount of effort poured into the new 'CN7', as the 2021 Hyundai i30 Sedan is known internally, something of a surprise. With only modest volume expectations compared to the still uber-popular i30 hatchback with which this three-boxer now shares a badge, the i30 Sedan is certainly better than it needs to be in a niche part of the market that is home to players like the Mazda 3 and Toyota Corolla sedans.
In fact, given that the aforementioned Mazda and Toyota are also remarkably competent cars, Australia's relative sliver of small sedan-oriented buyers are spoilt for choice. That's because this set of more traditional customers benefit from the fact that small and medium sedans are still pretty popular in the United States. Their future locally is far from guaranteed, though, with senior Hyundai execs at pains to note that Australia is the sole significant right-hand-drive market for this vehicle.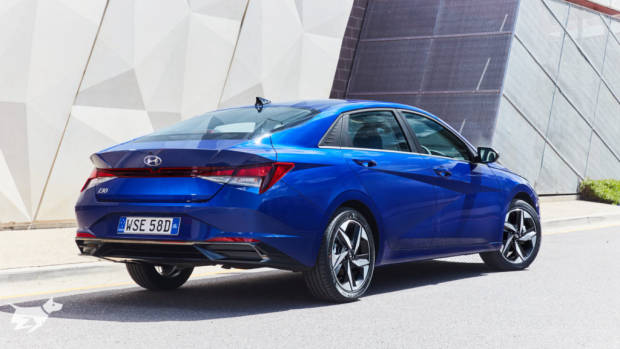 So, what is it? An i30 in name only, essentially. Still called Elantra in almost every other overseas market, the i30 Sedan sits on a newer platform than its hatchback cousin. The new 'K3' chassis is stiffer, making greater use of high-strength steel, and a little lighter, with the i30 Sedan in Active trim tipping the scales at 1,252kg compared to 1,276kg for the five-door. Given the size of the sedan – obviously a size larger than the hatch – that's a surprise. And that is quite light when compared to the outgoing Elantra, which weighed 1,355kg in similar form.
The i30 Sedan lineup closely resembles that of the outgoing Elantra-badged generation. First to arrive in Australia are two mainstream variants – a base Active and higher-spec Elite – sharing a two-litre naturally aspirated four-cylinder petrol engine. Like the Elantra, the new 'Smartstream' unit makes do without direct injection and produces relatively modest outputs of 117kW of power and 191Nm of torque – with both figures made high in the rev range.
Production commences imminently on a more desirable pair of i30 Sedan N-Line variants – a standard car and luxo Premium – that use the company's now very familiar 1.6-litre turbocharged four-cylinder petrol. Also revised and in receipt of 'Smartstream' branding, the force-fed 1.6 echoes the Elantra Sport in making 150kW of power and 265Nm of torque, with that twist brought in far closer to idle.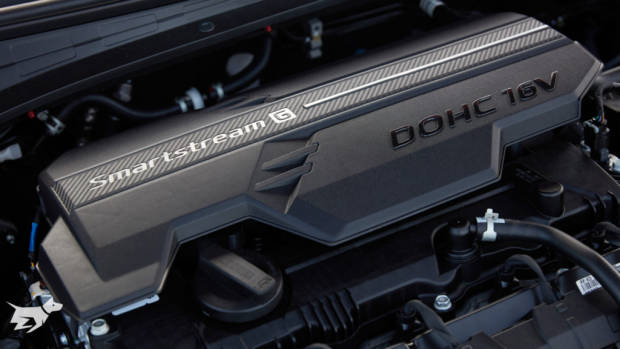 Later on, a full-fat i30 Sedan N, expected to produce the same 206kW of power as the i30 N hot hatch, is likely to be revealed and if that comes to pass, expect to see that car in Australia in 2021.
Of the regular, confirmed i30 Sedan grades, the turbo N-Line set are the most desirable and driveable and we look forward to driving them later this year – because the modest two-litre introduced this week for the Active and Elite grades doesn't come close to troubling the competent chassis underneath this four-door.
Progress in the circa-$25,000 Active and circa-$31,000 Elite is gradual. There is an acceptable turn of speed if you wind it right out – for example when overtaking, which is possible but requires some planning. In town, the two-litre is fine, and at all speeds it is refined and doesn't cause too much of a din. It's just that keener drivers will be left wanting for a more effortless motor with the kind of low-end torque that is standard in the rival Skoda Octavia, which offers 250Nm at low RPMs.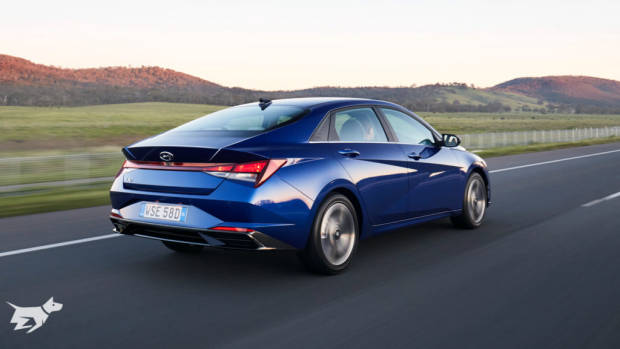 We note that the two-litre will be serviceable for most, and it is a good pairing for the six-speed torque converter automatic which selects ratios seamlessly most of the time. The gearbox got a bit confused on a long hill on the F3 motorway outside Sydney, but for the most part it was a helpful companion.
The two-litre petrol is rated for 7L/100km in combined driving. Our launch drive was outside of the city, and we managed 7.5L/100km in spirited backroad driving, and 6.3L/100km when exclusively on the highway. Expect in-town consumption to be 10L/100km or a bit more. That's on the high side for the small sedan class, especially compared to the ultra-frugal Toyota Corolla Hybrid.
Hyundai chose to launch the new i30 Sedan on the sinuous and very pockmarked Wisemans Ferry Road, northwest of Sydney. This is a route that pulls apart suspension tunes and body control very quickly – perfect environs to demonstrate the fruits of one of this brand's prized possessions: their local ride and handling adjustment team based at the company's Ryde head office.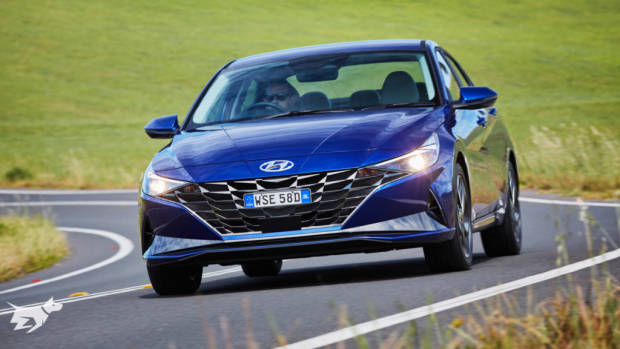 The fact that it is now unsurprising that the i30 Sedan copes very well with a fast, bumpy, unpredictable backroad is a real credit to Hyundai, who are evidence that generous, directed spend into R&D with a laser focus on local conditions gets results.
Basically, the company's Australian ride-handling experts search for a balance between good body control and in-town compliance, often landing on a tune that slightly biases country road stability over urban softness. That is also the result for the i30 Sedan. Riding on standard 17-inch alloys, those who never leave the confines of the city may find the rear springs are a little stiff – and that the simple torsion beam rear suspension setup jars a little over imperfections.
But those that like country touring will note that the i30 Sedan is set up very well for roads like Wisemans, with the suspension tune making total sense at speeds above 80km/h. This sedan deals with mid-corner bumps with aplomb – the suspension is a little noisy here but the body stays true to the line you've chosen. Over straight, vertical bumps, the body settles quickly and does not pogo like some overly-soft rivals.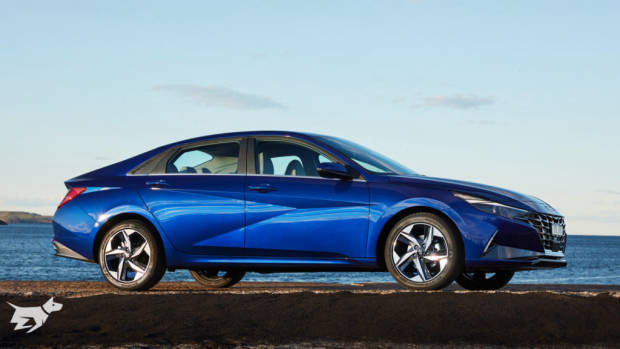 Even these mainstream two-litre models offer something special to the keen driver in that the i30 Sedan likes to move around beneath you when cornering particularly hard. The ESC tune is subtle and well calibrated, allowing you to turn in and keep turning, with some enjoyable rear-end float in small, controlled bouts of lift-off oversteer – unexpected in a car like this! Partially, that's also down to the Kumho Ecsta tyres … which admittedly offer only average grip in the wet.
All of these characteristics should be enhanced further in the i30 Sedan N-Line, which will not only bring a level of speed commensurate with the excellence in the chassis, but also a more sophisticated, quieter, more adept multi-link independent rear suspension arrangement. There is a similar split in the i30 hatch lineup between the torsion bar-equipped lower models and the IRS-equipped N-Line, and it is the latter there that impresses the most. Still, the bar has been set higher than expected by the new Active and Elite grades.
The bar is also set high in terms of safety technology – especially considering the price of an i30 Sedan Active auto is actually a bit lower than the outgoing Elantra. AEB with full braking capability to 85km/h and partial braking to 180km/h is standard, as is driver attention warning, adaptive cruise control with stop-and-go, and lane keeping assistance with strong lane centering. The Elite steps up further, offering reverse-gear rear AEB, rear cross traffic alert with braking intervention, and blind spot monitoring with braking intervention.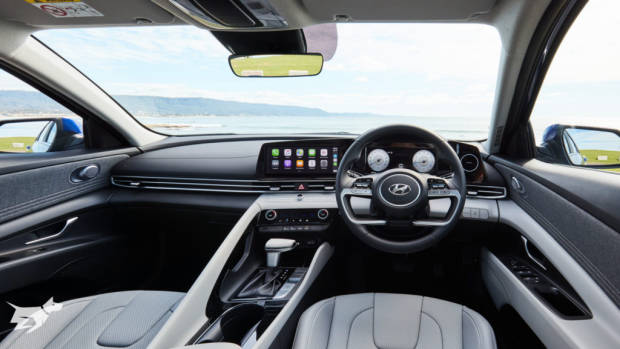 Interestingly, the i30 Sedan launches in Australia without a crash rating and there will not be an imminent ANCAP score for this vehicle. Because the i30 Sedan is not sold in Europe, there is no carryover test from Euro NCAP, with whom ANCAP share results. And despite this car's bevy of semi-autonomous safety features, because the i30 Sedan arrives without a centre airbag, it would not be awarded a five-star rating on that fact alone if it was tested today.
What will matter most to many buyers is the interior of the new i30 Sedan, which in many ways steps up beyond the outgoing Elantra with a really pleasant, cockpit-inspired design that looks rich and lush with the Elite model's pale grey leather. The effect is still there with the Active's standard black leather-appointed trim, though it isn't as eye-catching.
Visually, it's on another level to the old car, with a prominent grab handle bisecting the cabin, creating a driving environment that feels focussed and yet slightly whimsical. The lower driving position is appreciated, as is the pretty effortlessly integrated technology. Not so much are the harsher materials on the doors, which step back from the solid if stoic Elantra, whose cabin wasn't exciting to look at but was actually more plush to the touch.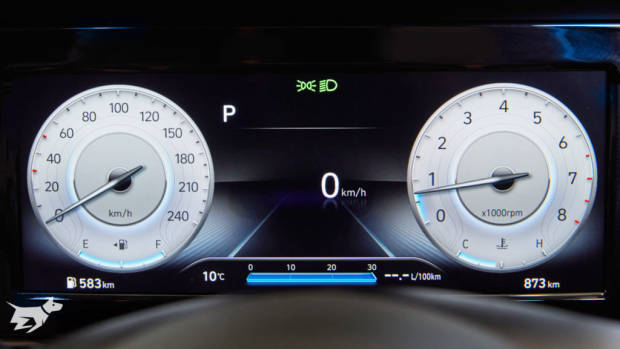 The base Active wears traditional gauges ahead of the driver with a digital screen displaying a speedo, trip computer and safety tech info. To the left of this there's a small eight-inch touchscreen that looks dwarfed by the black mould it sits in – a mould occupied by dual 10.25-inch screens in the up-spec Elite. There's some real wow-factor to this, even if it feels like a setup we've seen before in Mercedes-Benz product.
Oddly, the dinky base setup offers wireless Apple CarPlay but the higher-grade 'Elite' dual-screen arrangement requires you to plug an iPhone in to get your apps mirrored on screen. Hyundai say they're working on that discrepancy, but it's unlikely to be changed imminently. The Elite model also benefits from a Bose stereo that renders sound quite crisply.
Wireless smartphone charging is standard, as are pleasant touches like dual-height cupholders and a felt-floored centre storage bin. Buyers of the Elite will like the inclusion of remote engine start to get the cabin to temperature as well as dual-zone climate control.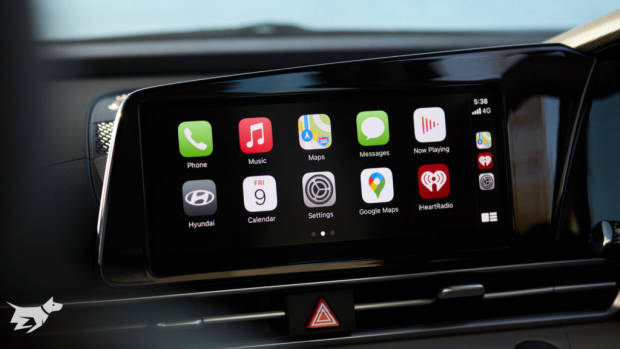 What's missing in here? Apart from the aforementioned cushy door materials, you'll miss electric seat adjustment (meanly only offered in the $37,290 i30 Sedan N-Line Premium, alongside driver's memory, heating and cooling), as well as integrated navigation in the base Active.
Those riding in the back will find that the i30 Sedan is extremely generous for a small car – which itself is arguably a misnomer. At 4.68mm in length, this is really a 'medium' car, especially when compared to the compact 4.34m-long hatch. Either way, what this means is legroom – and lots of it. 58mm more spacious for knees than the outgoing Elantra, people over six foot will be comfortable back here even if the roofline is fairly coupe-esque. We appreciate that rear air vents are standard across the i30 Sedan range, though there are no USB or other power sockets back here.
Equally, the boot, which measures 474 litres, is a little larger than the old Elantra's. Deep and long, there are easy toggles to lower the back seats in a 60/40 configuration for carrying long items, maximising the sedan's practicality. Oddly, the base Active has no button for opening the boot on the car itself – this is relegated to the key or the driver compartment. That mistake is fixed on the Elite, which has proximity entry. Country buyers, though, will appreciate that both of these grades have a full-size spare wheel underneath the boot floor.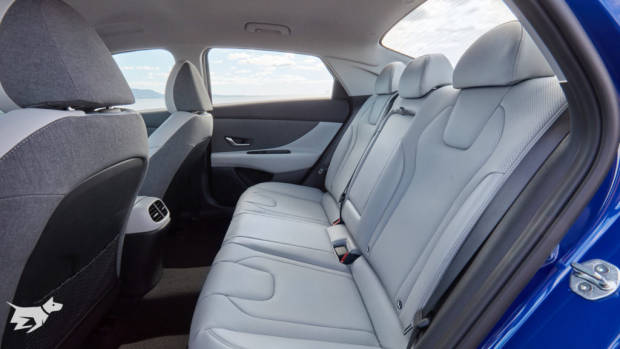 The ownership proposition takes in a five year, unlimited kilometre warranty, matching rivals such as the Mazda 3 and Toyota Corolla. The service intervals for the two-litre engine are the first of: annual, or every 15,000km and are priced at $259, $259, $259, $359 and $259 for the first five visits – that's $777 over three years or $1,395 over five years.
So, that's a look at the 2021 Hyundai i30 Sedan. If the 'basic' models are this good, things certainly bode well for the quicker versions: the imminently-arriving i30 Sedan N-Line, and the hypothetical – but very much firming – i30 Sedan N-proper. But even the two-litre impresses: it's a lot of car for the money.