The partnership of Jeep's parent company Chrysler with Fiat is paying proper dividends. Launching this week is the first Jeep to be born from the partnership. The 2016 Jeep Renegade is a mini-SUV that makes broad use of European engine technology while maintaining Jeep competence off-road.
Jeep Australia are calling this the first truly 'global Jeep', and have told Australian media that the Renegade is a sign of things to come.
The Renegade range starts just below $30,000 for a basic manual, before heading north to $41,500 for a Trailhawk model.
Yes, Jeep will be offering a Renegade Trailhawk—and they promise it will be properly useful off-road. Trailhawk models are raised 30mm allowing them to ford 480mm of water. They bundle an adaptive four-wheel-drive system with a terrain-selection mode to Jeep Active Drive Low, a new system that provides the Renegade with a 20:1 crawl ratio.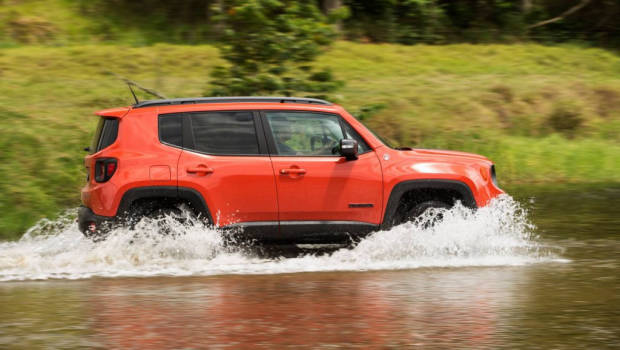 Though it won't be negotiating boulders like a Wrangler, the Trailhawk will easily be the best in its class off the beaten track.
Most sales, though, will go to one of the three road-focussed grades which fall at price points in the $30,000s range.
Three engines will be available. The most basic model, the Sport manual, is the only car to use a 1.6-litre aspirated four making 81kW.
The mid-range models use a Fiat-developed 103kW turbocharged 1.4-litre making 230Nm of torque. It's paired to a six-speed double clutch automatic.
Turbo models include the auto Sport ($32,500), the Longitude ($34,500), and the Limited ($38,500).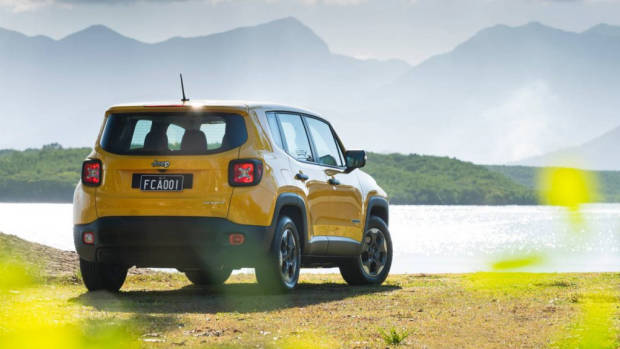 The toughened aesthetic outside carries over inside, too. Themes of Wrangler and Cherokee are modernised. The design concept, which Jeep are calling Tek-Tonic, is focussed on softening touch points while maintaining rugged elements expected of the brand—stuff like the prominent grab handles. Optional will be a 'My Sky' opening roof system.
The brand's decent Uconnect infotainment system will be available in either 5- or 6.5-inch guises. In an impressive move, the Grand Cherokee's digital gauge cluster carries over as an option on the Renegade, allowing analogue gauges to be replaced by a customisable 7-inch screen behind the steering wheel. You'll be able to option up the digital gauges on the Limited and Trailhawk grades.
2016 Jeep Renegade: Australian price
Renegade Sport 1.6L manual: $29,500
Renegade Sport 1.4L turbo automatic: $32,500
Renegade Longitude 1.4L turbo automatic: $34,500
Renegade Limited 1.4L turbo automatic: $38,500
Renegade Trailhawk 2.4L automatic: $41,500