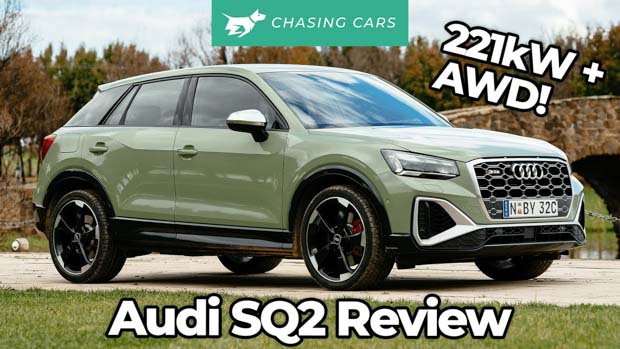 It wasn't a sure thing that the 2021 Audi SQ2 sports SUV would come to Australia, with a range of engine homologation issues initially clouding the chances that the hot Q2 would land down under.
Audi Australia prevailed, though, predicting strong demand for a halo version of the Q2 with a hotted-up two-litre turbo petrol engine slotted under the bonnet, working in concert with a slick wet dual-clutch auto and AWD system.
Basically, this is a pumped-up small SUV with oily bits from the Audi S3 and Volkswagen Golf R hot hatches. But the SQ2 gets the feistiest engine tune of the lot, for now at least, with 221kW of power and 400Nm of torque produced by the 'EA888' motor.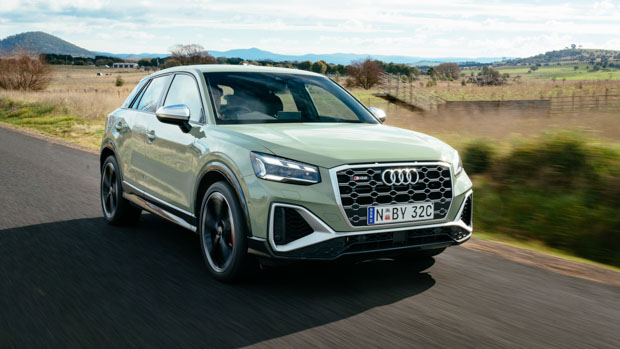 In line with early indications of buyer preferences, the SQ2 arrives in Australia in one fully-loaded $64,400 specification with virtually everything standard.
The SQ2 slots between the $49,900 Q2 40 TFSI, which makes 140kW/320Nm, and the much dearer $89,900 Audi RS Q3 (review), which upgrades to Audi's classic 2.5-litre five-cylinder engine to produce 294kW/480Nm.
That positioning bodes well for the SQ2, with power closer to the bigger RS, but a price more closely aligned to a mainstream Q2 model. So, does the SQ2 represent strong value for money?
How does the SQ2 drive?
The Audi SQ2 joins good company in mixing the Volkswagen Group's expensively-developed MQB platform with a powerful two-litre turbocharged engine and all-wheel-drive.
It is a formula that has worked to great effect in the Golf R, S3, and in several new Cupra models that are confirmed to be on their way to Australia.
The SQ2 represents the first time this combination has been bestowed on an SUV, though. Judging this car by its running gear, it is easy to write it off as a hot hatch jacked up by a few centimetres and sporting token rugged styling cues.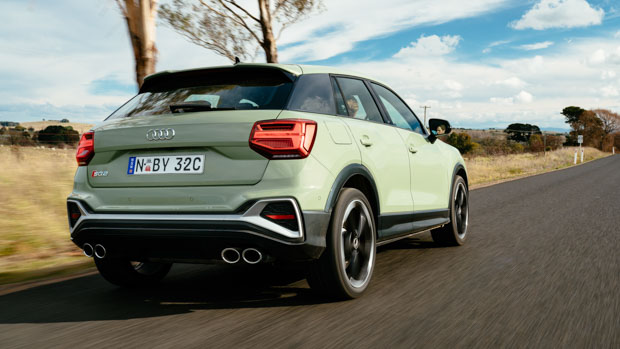 That would be to undersell the SQ2, which turns out to have a character all of its own. No doubt, the engine and gearbox response evoke strong memories of R-rated Golfs and Audi S3 hatchbacks and sedans, but most of the other dynamic attributes are quite unique.
For starters, the SQ2's suspension isn't found in any of its cousins. The Audi Sport-specific ride runs on fixed dampers, without any adjustment of firmness or softness. The adaptive dampers commonly found on the S3 and Golf R are globally unavailable for the SQ2.
There's one setting, rather than the usual choice of firm/soft. This is the ride quality Audi's suspension engineers settled on as being the 'right' one.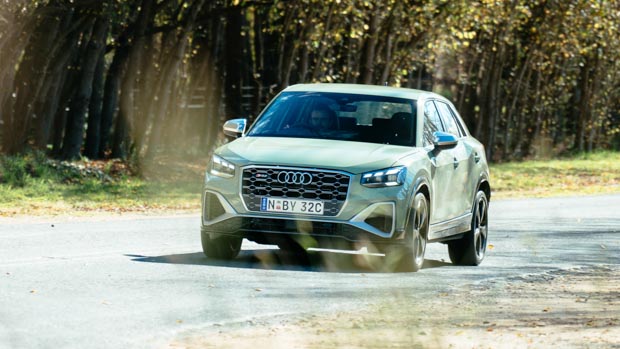 Audi Australia have influenced this in their own way by exclusively choosing 19-inch wheels and low-profile Bridgestone tyres. This selection was made because design – and big wheels – are a dominant factor in the choice of a Q2 for Australian buyers, the brand says.
As expected, then, the result is a firm suspension that allows for total commitment on the right kind of country road – but one that is also less comfortable than you might expect on pockmarked suburban streets.
The SQ2's fixed dampers provide for a superbly controlled ride that is perfectly suited to smooth to moderately well surfaced country roads. Punting the car towards its limits on a recently resurfaced section of uphill hairpin roads was a glimpse of nirvana – really.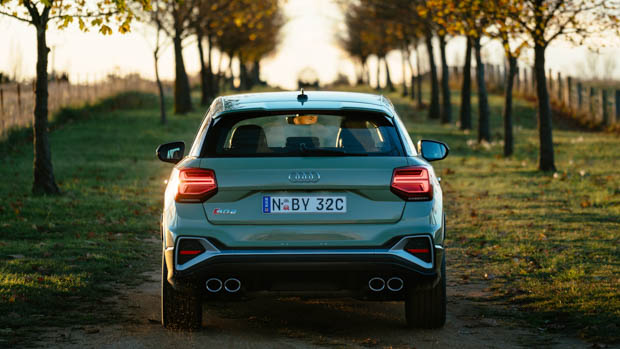 With the SQ2 happily settling on its outside tyres, which have plenty of grip, pinning the throttle sends torque very perceptibly rearwards for genuine shut out of corners – rather than the kind of understeering pull you get from a front-drive hot hatch in the same situation.
But if you never get the SQ2 out onto fast Australian country roads, the firm and fairly busy ride might grate on you – making Audi's softer-sprung and slightly larger Q3 40 TFSI (review) a better option in those circumstances.
We like the SQ2's steering, particularly in meaty Dynamic mode. There is quite a bit of heft to the tiller but the effect avoids feeling artificial. Instead, it feels unusually appropriate for the brawny, muscly nature of this hottest of Q2s.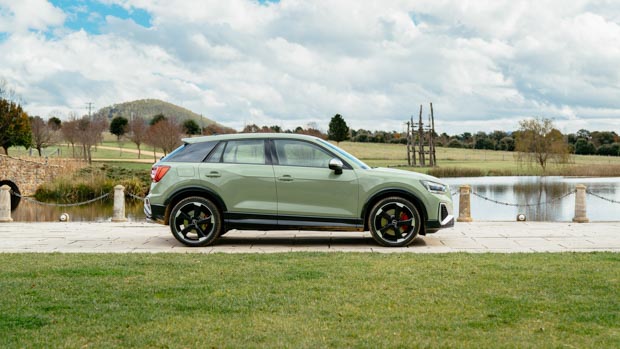 Dynamic mode also provides sharper throttle response, a more athletic map for the snappy and crisp seven-speed wet dual-clutch automatic, and a more pronounced exhaust note.
Thankfully, while the SQ2 is equipped with a petrol particulate filter in Australia, the menacing thunder from the exhaust on throttle lift is still very much evident – but only in Dynamic. In the other modes, the exhaust becomes unobtrusive.
The brakes feel up to the job though there is some noticeable pitching forward under very aggressive applications of the stoppers.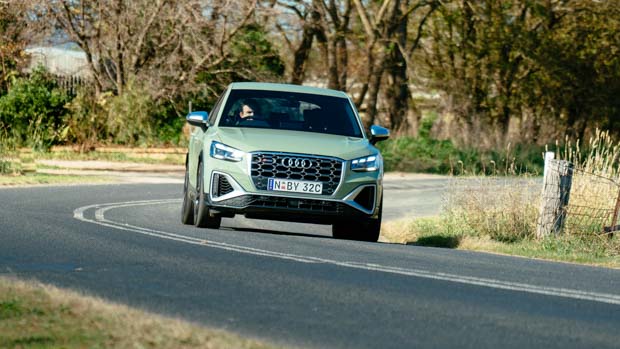 Safety-wise, the Q2 is starting to date, with important features like reversing AEB and rear cross-traffic alert unavailable, even on the pricey SQ2.
That said, forwards AEB, adaptive cruise control, front and rear parking sensors and lane keep assist are all standard, as is a reversing camera.
How is the SQ2's interior?
Even though the SQ2 is Audi's entry-level performance SUV, it still feels distinctly like a four-ringed machine in the cabin.
While there are some lower-rent surfaces, like the mostly hard door skins and lack of padding around the centre console, Audi have ensured most of the interior trim feels suitably expensive.
That means soft, perforated leather on the (round, not flat-bottom) steering wheel, leather on the gear shifter, cold knurled metal on many of the knobs and dials, and yielding plastic on the expanse of the dashboard.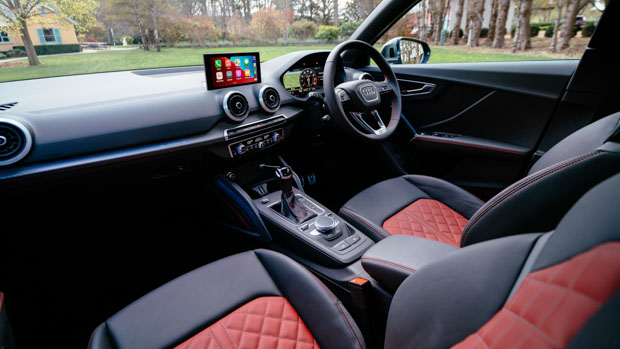 We think the Q2's cabin design is ageing very gracefully, with its aviation-inspired air vents that carried over from the old A3, to the ultrathin central screen, which, like the other Q2 models, now measures 8.3 inches in size compared to 7" in the pre-facelift version.
The SQ2 will probably be the last new Audi to launch with the brand's superb MMI rotary hardware dial to control its cabin tech. Every other new vehicle from this brand has ditched the dial in favour of touchscreens only – and on bumpy, poorly maintained Australian country roads, it's the redundant hardware controls that we prefer.
A large Virtual Cockpit sits ahead of the driver, capable of displaying satellite mapping from Google if you feed the car a data-enabled SIM card. Doing that also brings Google search results to the navigation system.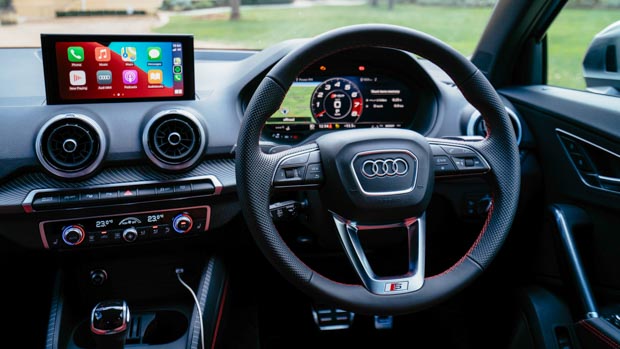 The fact the Q2's infotainment system is a generation behind newer Audis becomes obvious when you realise that unlike the Q5, facelifted Q5, and the upcoming A3, it goes without wireless smartphone mirroring.
You do get Apple CarPlay and Android Auto, but you have to plug your phone in via USB cable. It isn't wireless and thus, it's more of a faff.
But once your phone is connected by USB or Bluetooth to the sound system, you can enjoy the high-quality 14-speaker Bang & Olufsen premium stereo that rendered our tracks very clearly – and loudly.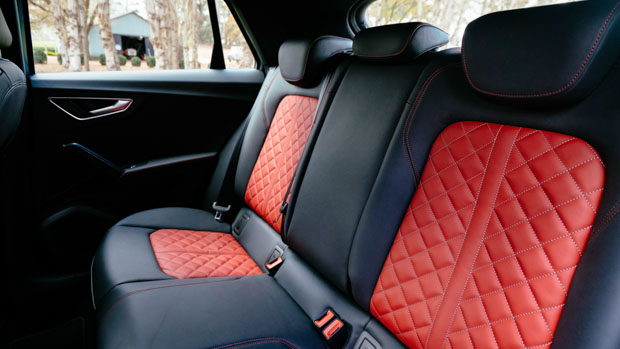 We like the nappa leather seating that is standard in the Q2. A bold red-black two-tone colour scheme is standard, with diamond quilting, though Audi's dealers have ordered mostly the alternative selection – a more conservative black with minimal grey panels.
Electric adjustment continues to elude the Audi Q2 and SQ2, making this car quite annoying for two drivers. At least the four-way lumbar is electrically operated, and seat heating is also standard up front.
Audi offers six SUVs and the Q2 range is the smallest, so there are no great expectations of roominess here, but the SQ2 manages to surprise.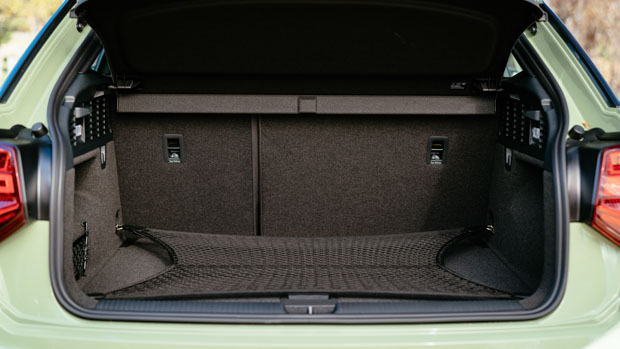 Six-footers do fit in the back row behind adults of a similar size up front, with decent headroom and legroom. Just don't try and squeeze a fifth person onto the middle perch in Row 2.
There's also no centre armrest and no air vents in the back seat, making the SQ2 an inferior choice to, say, a Q3 (or a Mercedes-AMG GLA 35) for hot summer road trips with four people aboard.
You do get reasonable boot space, though, with 355 litres of cargo room sitting behind a standard electric tailgate. Keep in mind, though, there is no spare wheel beneath the boot floor – just a tyre inflation kit.
What are the SQ2's running costs?
If you purchase a service pack up front when you buy an Audi SQ2, routine maintenance costs for this sporty SUV are actually quite reasonable.
Five years of cover (transferrable to new owners) will set you back $2,540 at the time of purchase. At $508 a pop for services required every year or 15,000km – whichever comes first – that's not bad, especially considering there is an AWD system requiring maintenance.
If you don't buy the service pack up front then costs are uncapped, so we think it pays in peace of mind to lock in these costs.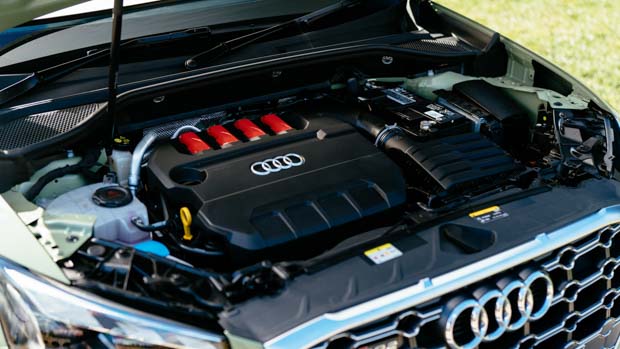 Fuel economy is good for the two-litre turbo. If you drive the SQ2 moderately you'll get about 8.5L/100km in combined driving – better on the highway. Tap into the performance, of course, and you'll send the numbers up into the teens.
Where Audi seriously lags behind rivals, and cousin Volkswagen, is in the warranty department. At three years, it's no longer competitive with the five years of coverage offered by VW and even luxury brands like Mercedes-Benz.
The final verdict
The Audi SQ2 is a fantastic addition to the pumped-up sporty SUV space. Sure, it isn't a pure hot hatch, but the incoming S3 will take care of that. The SQ2 opens up a flank for spicy small crossovers at Audi, and we like the results very much.
Great to drive, good to look at and quite luxurious to sit in, the SQ2 really does feel like seventy grand well spent once on-road costs are factored into the equation.
You'll just want to bargain hard and get Audi to throw in the longer warranty you'd score on this car's close cousins.