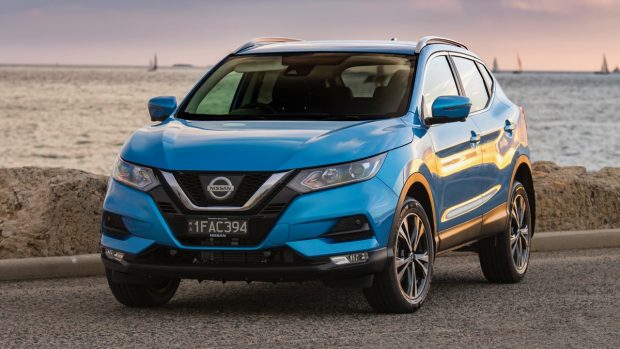 Small SUVs: there's little doubt that in 2017, this segment of the market – essentially, high-riding hatchbacks with rugged, masculine styling – became the recurring flavour of the month. In fact, the world owes the first-generation Nissan Qashqai (sold in Australia as the Dualis) for kick-starting the small SUV segment back into action in 2006. Rewarded for their efforts, Nissan have sold over 3.3 million Qashqais worldwide – and this model is a regular top 5 seller in Europe. On home turf, almost 40,000 of these little trucks have found homes – and while that hasn't been enough to trouble cars like the Mitsubishi ASX and Mazda CX-3, it's still earned the Qashqai a loyal following down under.
Fast forward to 2018 and it's now time for a mid-life refresh of the current, second-generation Qashqai. Nissan's British-built crossover has been a little exposed in 2017 by the arrival of impressive new SUVs like the Toyota C-HR, updates to the CX-3, and a facelift and new engine for the Peugeot 2008. Nissan neede to improve the Qashqai, especially in the realm of value and equipment. Some work has been done in this area, and there's a new face – plus, under the skin, Nissan have altered the suspension and noise levels of the Qashqai. But the proof is in the driving – so does the Qashqai's mid-life facelift keep it competitive?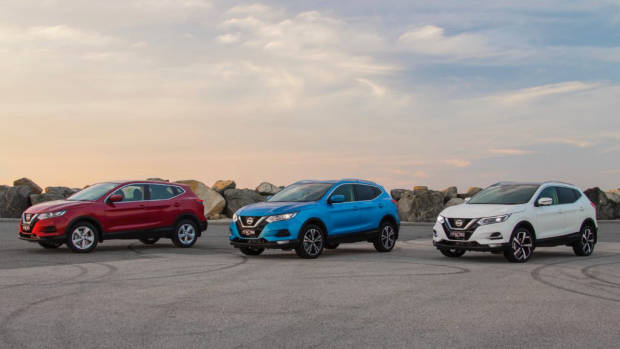 The Qashqai's range structure has been shuffled around for 2018, and you can find a detailed breakdown below. However, the engine remains familiar. The turbo diesel has been eliminated, leaving just one naturally aspirated petrol. It's a 2.0-litre petrol engine that debuted in the Dualis in 2008, producing 106kW of power and 200Nm of torque, with both peak figures produced high in the rev range – 6,000rpm and 4,400rpm respectively. Nissan's sweet six-speed manual transmission is now limited to merely the entry level ST, with all other variants packing a CVT automatic. The Qashqai also remains only available with front-wheel drive and five seats. More exciting engine options, such as the 120kW 1.6-litre turbo petrol sold in Europe appear not to be on Nissan Australia's Qashqai wishlist for now.
The naturally aspirated petrol's peak power and torque figures, which occur high in the rev range, mean that the engine needs to be worked hard to stay on the boil – and you do hear the mill working away. Rapid progress means having to floor the throttle, which sees plenty of noise enter the otherwise quiet cabin. Coupled to that, the 106kW petrol feels undercooked and slow – slower than the Mazda CX-3's equally modest two-litre and much slower than the Hyundai Kona with its 1.6-litre turbo petrol. In fact, even the Toyota C-HR's tiny 85kW 1.2-litre turbo petrol is stronger and quieter, even if the Toyota is slower to 100km/h than the Nissan. The need to work the Qashqai hard sees a penalty at the bowser, too: on rural Victorian roads we recorded figures of just under 9L/100km, which is not brilliant for out-of-town duty.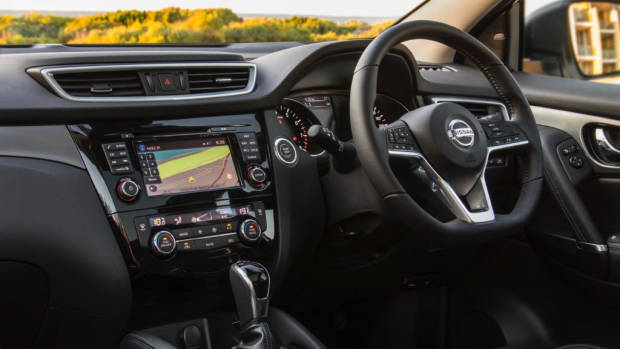 The Qashqai goes some way to redeeming itself thanks to its well-judged CVT automatic transmission, which a staggering 97% of Qashqai buyers are expected to choose. The CVT does still convey a slightly elastic feel, but Nissan's gearbox is superior transmission to most CVTs thanks to its stepped 'ratios'. These make the CVT behave more like a conventional automatic, and make it much more liveable. The transmission's ability to engage engine braking whilst travelling downhill helps the car's drivability further – it keeps any speed and makes the car feel safer, something that many other autos of all types are yet to be capable of. It will also subtly raise the revs travelling uphill with medium throttle input, ridding the CVT of the usual rev spiking nature of such transmissions in similar situations.
Most other aspects of the updated Qashqai's driving experience are merely average. The suspension has been retuned, with dampers fettled to provide 'calmer body motion, and improved impact absorption', according to Nissan. In reality, the decision to stiffen the Qashqai's chassis for improved dynamics has made this car worse. Even on the 17-inch wheels of the ST, the Qashqai's ride never settles properly and even small imperfections are felt throughout the cabin. Choose a larger-wheeled ST-L or N-Tec/Ti and the ride quality deteriorates further. Despite this, the Qashqai is not sporty, and features so-so body control and light but largely feel-free steering, though it is more evenly weighted than the X-Trail. It's by no means not a poorly handling car, but the Toyota C-HR rides, steers and handles better.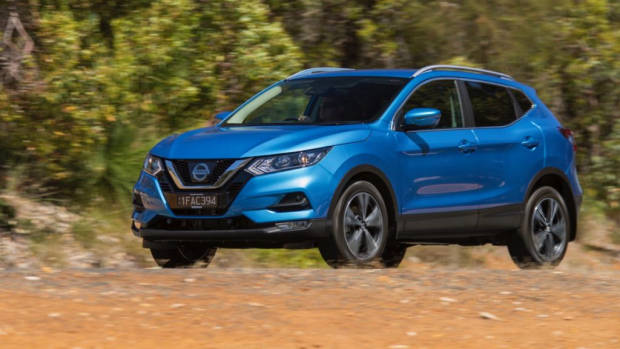 Like the drivetrain, Nissan left the Qashqai's cabin largely untouched – save for some different trims and the inclusion of faux-leather door pulls on high-spec models. However, the Qashqai's interior remains one of its strengths: the quality is better than most Nissan products, with soft touch materials lining most surfaces. The new three-spoke leather steering wheel is supple, and feels like a quality item. The Qashqai's seat trims are appealing as well, with a high quality cloth on the ST, a cloth/leather mix on ST-L and N-Tec models, and an attractive watchstrap Nappa leather on Ti models, à la Peugeot 3008. It's a practical cabin as well, with a huge centre box with an armrest, reasonable door bins, large cupholders, a small tray next to the handbrake and a large glovebox.
Cabin quality may be competitive with the segment, but the Qashqai's infotainment is not. ST models get a tiny 5-inch display that includes a reversing camera, while models above earn a larger 7-inch touchscreen unit with inbuilt satellite navigation, DAB+ digital radio and a 360-degree parking camera.
The systems are intuitive, but they are slow and lack Apple CarPlay and Android Auto smartphone mirroring tech. Their graphics are basic, and it's strange that Nissan hasn't included the updated infotainment screen from the Micra supermini and Leaf electric car (from other markets) into the Qashqai, given this system includes CarPlay and Android Auto, and looks much more modern.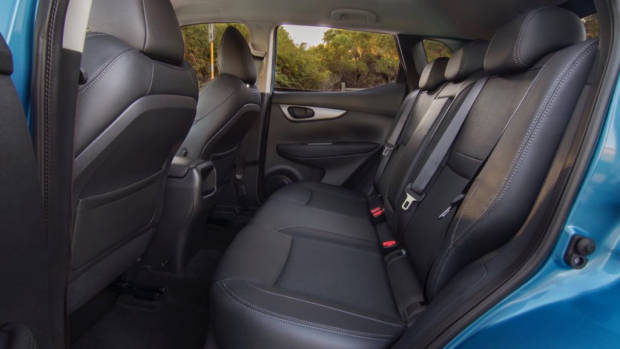 Both front and rear seats of the Qashqai are relatively spacious places to spend time. Back seat space is good, with enough legroom, headroom and toe room for six-footers. There are also smallish door bins for aft passengers, plus map pockets and a rear centre armrest with cupholders – though rear air vents are missing despite a conspicuous cutout where they should be, in the rear centre console. The Qashqai's boot is also one of the better thought-out cargo spaces among small SUVs.
The Qashqai's 430L/1598L seats up/down capacity are among the highest in the segment, and more than enough for small families. The boot space itself features side storage with bottle holders on each side, shopping bag hooks and if you choose an N-Tec or Ti model, Nissan's Divide n' Hide flexible boot system, which has a dual boot floor with two main sections that can be placed vertically to limit luggage from moving.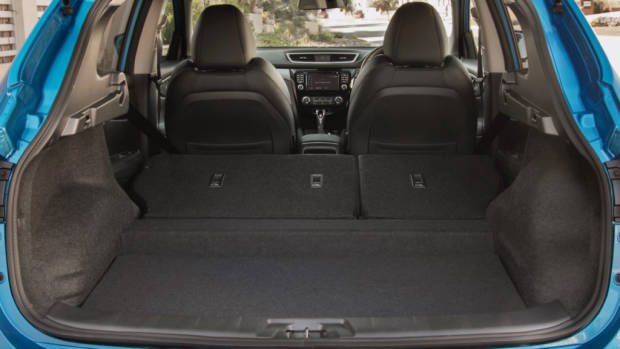 As before, the entry point to the Qashqai range is the ST, available as a six-speed manual ($26,490, up $500) or CVT automatic ($28,990, up $500). The half-grand increases are the result of Nissan adding a raft of new features that up the value on this base model. The ST gains big ticket items like autonomous emergency braking and lane departure warning, keyless entry and start, and lumbar adjustment on the front seats. These features complement the already-standard 17-inch wheels, six-speaker stereo and small five-inch infotainment screen. The base model is the only Qashqai to feature the manual gearbox.
Move up the Qashqai range to the new ST-L grade ($32,990) and specification improves to include bigger 18-inch wheels, roof rails, a more generous 7-inch touchscreen with navigation and digital radio, and a 360-degree parking camera. Inside, there's mix cloth-leather seats with heating and six-way adjustment for the driver. Casting an eye down the Qashqai range, it's this ST-L grade that stands out as the value star: it's $1,000 cheaper than the former TS diesel it replaces, but it packs in much more equipment. That said, we find it incredulous that a $33,000 car would lack automatic headlights in 2017, and the missing automatic wipers and dual-zone climate also lead to a raised eyebrow.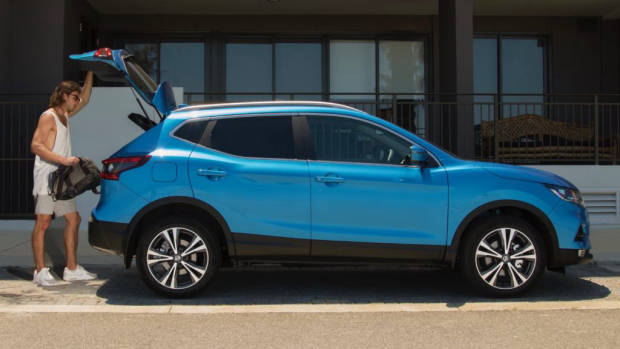 Next up is the N-Tec model ($36,490, down $500), which sees blingier 19-inch wheels and a panoramic glass sunroof added. The safety proposition sees blind spot monitoring, rear cross-traffic alert and LED headlights added in. Finally, automatic headlights and wipers arrive on the N-Tec grade, too. In 2018, a higher Ti specification ($37,990) will arrive packing nappa leather, active cruise control and lane keep assist.
With such high pricing, the Qashqai confuses with its positioning in the Australian market. It's much more expensive than similarly-sized hatchbacks (a high-end Volkswagen Golf is $34,490). The high price is a product of the Qashqai's British production, but also of the 'SUV tax' that isn't unique to Nissan: many small cars marketed as SUVs see an obligatory fifteen to twenty per cent added to their cost. That said, Toyota's C-HR represents much better value: an entry-level C-HR ($26,990) packs dual-zone climate control, blind spot monitoring, rear cross-traffic alert, automatic lights and wipers, and radar cruise control – all features that the Nissan doesn't provide until at least the $36,490 N-Tec.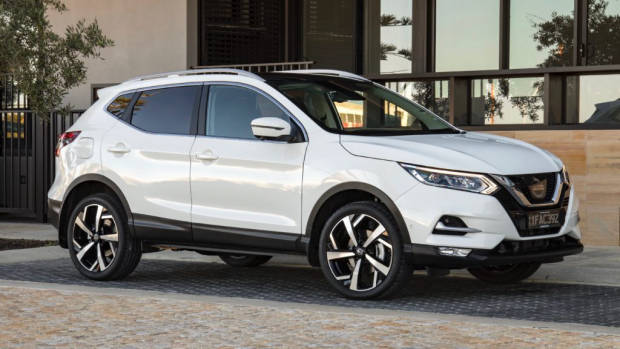 Overall, the Nissan Qashqai's positioning within the small SUV segment grates a little, given the presence of more dynamic, value-laden options – new cars like the Toyota C-HR, and updated models like the refreshed Mazda CX-3. The Qashqai is priced higher than these vehicles, but it offers little or no advantage across key metrics in terms of comfort, dynamics, value, or safety technology. And the Qashqai's rivalries aren't even limited to external players: Nissan's own X-Trail is about $2,000 more but is much more spacious and practical again, making us question where the Qashqai's unique selling points really are.
If the Nissan Qashqai was priced more sharply, or equipped more generously at each trim level, we'd more easily understand the appeal of an otherwise solid small SUV. Particular improvements would be found by adding a punchier turbo engine, a superior infotainment system, and a more supple ride – these changes would see the car sit near the top of the SUV class. Until then, a cheaper, superior hatchback (or splashing a bit more cash on a larger X-Trail from Nissan's SUV range) would be the logical decision.