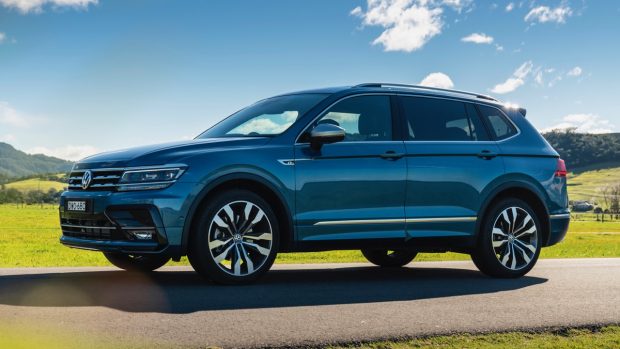 It's hard to believe that until now, Volkswagen have not sold a seven-seater SUV in Australia. Sure, you've been able to buy a box-shaped Multivan or Caravelle – but who wants to buy a van to transport their family? Unless you're taking nine off to church, the answer is very few. The competition got their act together years ago – and smartly-sized cars like the Hyundai Santa Fe, Kia Sorento and Mazda CX-9 are well-known and popular. Well, they're about to be joined by a new badge that will likely become a common sight on local roads. Enter Wolfsburg's maiden entrant to the seven-seat SUV segment: the 2018 Volkswagen Tiguan Allspace.
Based on the badge and the familiar looks, it will surprise few that the Allspace is heavily based on VW's five-seat Tiguan Mk 2 that launched in Australia two years ago. Longer rear doors and a chamfered bonnet edge are the key visual giveaways – but this new shape wasn't cobbled together to meet unexpected demand. The five-seat and seven-seat versions were conceived at the same time; it's just taken a little while for production to gear up at the Allspace plant in Puebla, Mexico. The five-seat Tiguan range – which has been trimmed from six to just two for 2019 – is German-made.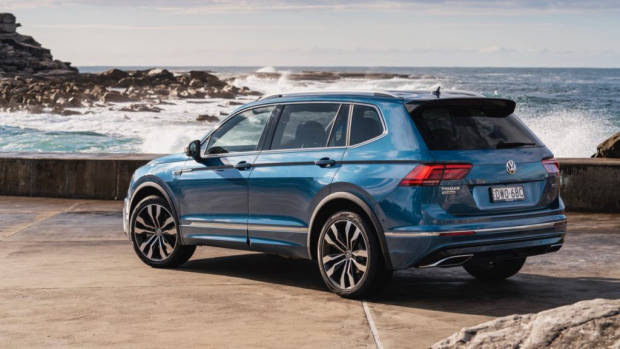 Don't worry – there are no discernible differences between German and Mexican Tiguans, inside or out. Fit and finish was as solid as Volkswagen are known for, and there were no rattles in any of the five Allspace examples we sampled. That said, the Tiguan – in five or seven seat form – does not sport one of VW's best interiors. It's perfectly presentable and key surfaces, like the steering wheel and gear shifter, are covered in high-quality, creamy leather, but look below the dash beltline and you'll find too many scratchy plastics. This stands in contrast to the more plush Skoda Kodiaq – another seven-seater cousin of the Tiguan – a vehicle worth a close look if you're considering the big Tiguan.
Thankfully, aside from some more 'durable' plastics than expected, there is little to complain about in any regard when it comes to the Tiguan Allspace. Quite the opposite: this is a right-sized, smartly-packaged, good-value family car. Available in five clearly differentiated variations starting at $40,490, the Tiguan Allspace is late to the three-row party but it arrives prepared. Inside, there is generous space despite a relatively compact footprint on the road. This Volkswagen also looks good – if a little conservative – and it's very pleasant to drive. The greater length and additional 130kg of mass has softened the five-seat Tiguan's dynamics only slightly; the Allspace is one of the best seven-seaters to drive.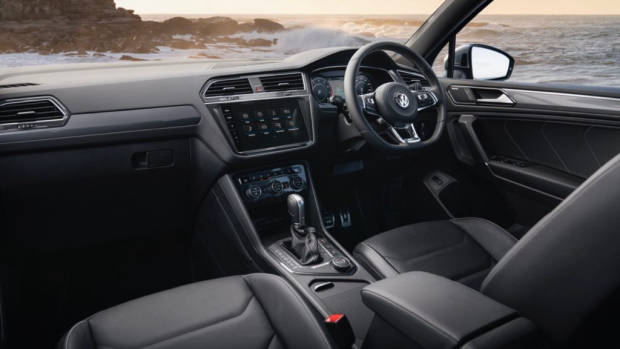 In the first two rows of the Allspace, there's a real feeling of space. The cabin is light and airy, with plenty of storage space to stash the clutter of everyday life. The seats are comfortable and the driving position is pretty good – though the minivan-like angle of the dash and steering wheel isn't to our tastes. The simple centre stack includes a generous touchscreen that are clear and easy to operate, especially in the Comfortline, which has proper volume and tuning dials.
There is plenty of tech on offer. The Comfortline's 8-inch screen is increased to a very crisp (but fingerprint-attracting) 9.2-inch version in the Highline, though the volume control is replaced by frustrating touchpads. Analogue driver dials are standard, but Volkswagen's impressive Active Info Display digital gauges are available as part of a Sound and Vision Package that also replaces the standard speakers with a more intense Dynaudio stereo.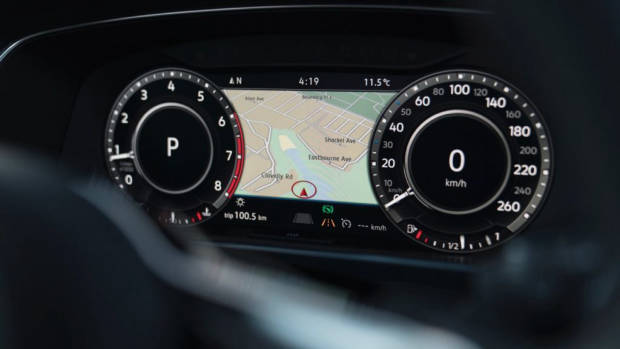 The second row of the Allspace reclines and is on rails, so you can maximise space as a five-seater or give people in the third row more legroom, or find a setting in between. Impressively, you can fit a six-foot adult in the second row and a pre-teen in the back without issue, though the Skoda Kodiaq – and also the new Hyundai Santa Fe – have larger third rows. It's just a shame that the kerb-side access requires pushing two heavy seats out of the way – an unconverted aspect of the Allspace's left-hand-drive origins. But this is an occasional seven-seater, more of a 5+2. For now, Volkswagen do not offer a larger three-row SUV, which is a missed opportunity.
The second row seats are relatively comfortable and have their own air vents, though the third row does not have its own ventilation. There are airbags covering all seven seats, though, which is not always the case in this class. All Allspace grades have airline-style tray tables in the second row and the Highline brings heated seats for passengers three and four, though material quality takes a big dip behind the front seats, with soft plastics replaced by the hard variety on the doors.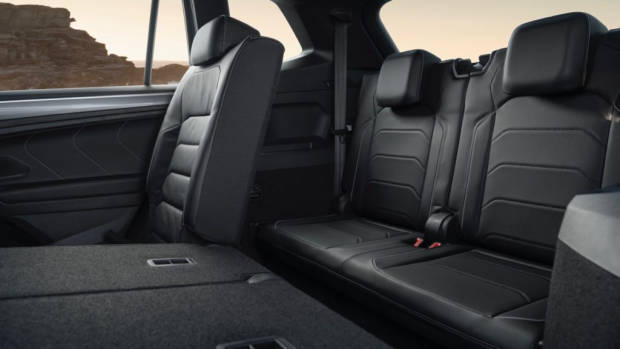 The extended wheelbase means you also score a bigger boot, measuring in at 700 litres in five-seat mode – about 14% bigger than the standard Tiguan. More impressive is the 230 litres of available space when all seven seats are in place, which equals the far-larger Mazda CX-9 – Volkswagen tend to be very intelligent with interior packaging, and the Allspace is no exception. There are shopping bag hooks and a detachable torch in the boot, and an electric tailgate with kick-to-open and 'easy closing' – where you can walk away and have the boot close automatically – is standard on both grades.
The Tiguan Allspace range is made up of five engines which are each tied to a trim grade. There are two diesels and three petrols, and we've seen all of these engines before in the five-seater lineup and elsewhere in the Volkswagen stable. While each of these four-cylinders are punchy and smooth, there are some clear standouts – the strongest petrol and diesel respectively, which automatically include the most desirable features and partner well to an SUV designed to carry seven. But we'll get to that.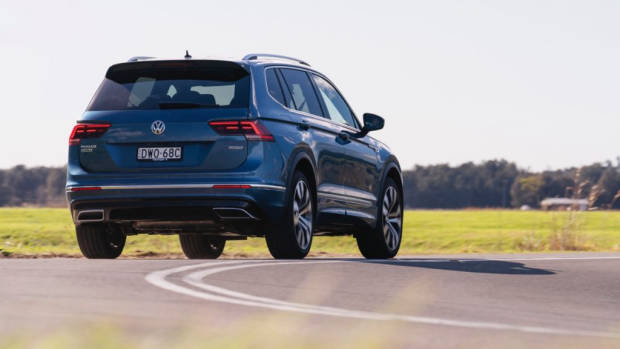 The range kicks off with the mid-range Comfortline grade: the five-seater Trendline base model will not feature on the bigger Allspace. Three engines can be paired to the Comfortline, starting with the sole front-driver, the $40,490 110kW/250Nm 1.4-litre 110TSI petrol is a sweetie, at least with two aboard, free-revving and able use just two cylinders on a light load. However, the Allspace isn't really meant for light loads, and if you intend to use the passenger capacity we'd suggest looking to at least the 132kW/320Nm 2.0-litre 132TSI petrol ($45,490) or 110kW/340Nm 110TDI diesel ($46,990), both of which offer sufficient if not scintillating motivation for a fuller complement.
Comfortline models have a decent spread of equipment, with standard kit including an active electric tailgate, three-zone climate control, an 8-inch touchscreen with navigation, Apple CarPlay and Android Auto, and 18-inch alloys. On the safety front, the Comfortline arrives with high-speed autonomous emergency braking, lane keep assist, all-round parking sensors and a reversing camera, auto wipers and auto LED headlights (replacing the ugly halogens of the five-seater).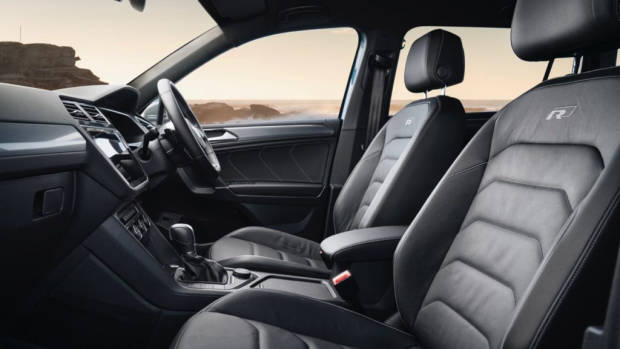 You can add to the Comfortline's specification with option packages: the $4,000 Luxury Package adds leather seats – heated in the front, and with electric adjustment and memory for the driver, plus a sunroof. The $3,200 Sound and Vision Package brings the Active Info digital driver display, a nine-speaker Dynaudio stereo and a 360-degree parking camera. Finally, the $1,600 Driver Assistance Package adds adaptive cruise control, blind spot monitoring and rear cross-traffic alert.
So there are some desirable features relegated to those options lists – and that is why the two Allspace Highline grades make more sense. The Highline models are a $7,500 step up, but they use significantly stronger engines and essentially throw in the Luxury and Driver Assistance packages from the Comfortline (totalling $5,600), which ends up in a bargain, near-luxury family vehicle. Highline grades lose the Luxury Package's sunroof (it costs $2,000 standalone), but gain an electric passenger seat with memory, and heated outboard second-row seats. That sounds pretty fair.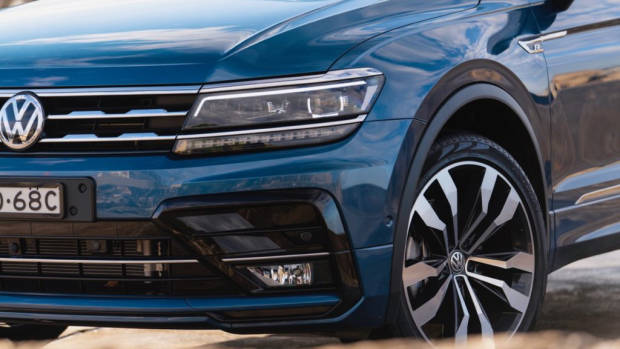 The Highline grades also exclusively gain 19-inch wheels plus adaptive dampers, which do much to discipline the Allspace's ride quality. Plus, these versions also bring tinted rear glass and a larger touchscreen.
The petrol Highline 162TSI ($52,990) uses a previous Golf GTI's 162kW/350Nm two-litre and is a seriously entertaining drive, with strong motivation off the line and genuine shove in the mid range, with a 6.8s 0-100km/h sprint. Fuel economy is about the only problem, as we recorded about 11L/100km on our country touring loop. That's where the diesel Highline 140TDI ($54,490) comes into its own, with its 140kW/400Nm two-litre using just 7L/100km on the same loop. There is some diesel clatter and the DSG occasionally steps off awkwardly from rest, but the big Allspace diesel is muscular and very frugal.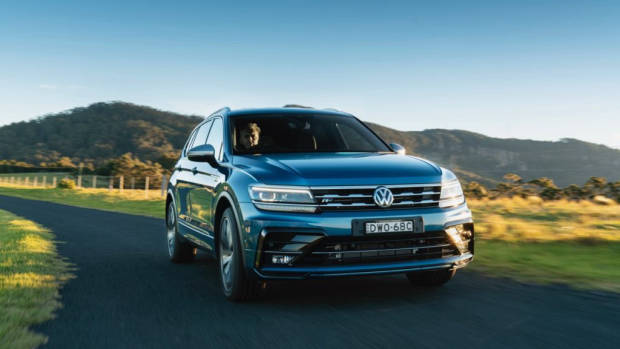 Engines aside, how does the Tiguan Allspace drive? Considering its approachable pricing and significant interior space, this SUV drives very well. Only the Skoda Kodiaq – a very similar vehicle to the Tiguan, built on the same MQB chassis pips the Allspace at the post at this price point.
Nice steering and predictable, enjoyable handling characterise the Allspace driving experience. The small leather steering wheel feeds plenty of feedback from the front wheels to the driver and the Allspace rotates smartly and pleasantly, even when pushed. A firm, slightly lumpy ride quality on the Comfortline's fixed dampers is about the only issue, and this tendency is eliminated with the adaptive dampers found in Highline specification, which offers distinct Comfort, Normal and Sport modes – from which we preferred the loping Comfort which avoids the 'seasick' pitching sometimes found in softer suspension modes.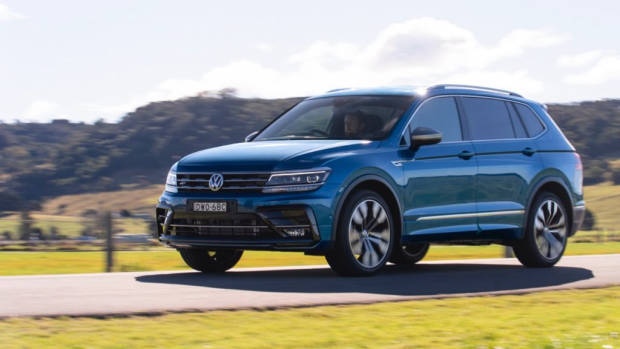 It can be hard to quantify, but the way the Tiguan – and the Kodiaq – drive feels a little more special than many of their competitors. To generalise, it's a European thing: the controls feel a little heavier, a little more refined. There is a deliberate weighting to the steering wheel, throttle and brake. Like its five-seat sibling, the Tiguan Allspace feels a cut above its Japanese and Korean competition in how it makes you feel, and that counts.
But once again the Highline grades show their superiority by exclusively offering an R-Line Package as a great-value $2,900 option. The R-Line additions transform the already-competent Allspace into a seriously excellent seven-seater to pilot down a backroad. Larger, grippier 20-inch wheels and more tied-down body control improve the dynamics noticeably, and aesthetically, the R-Line wheels and body kit look fantastic. It's easy to believe why 80% of Highline customers tick this package. It takes the Tiguan from slightly pedestrian-looking to being pretty sexy.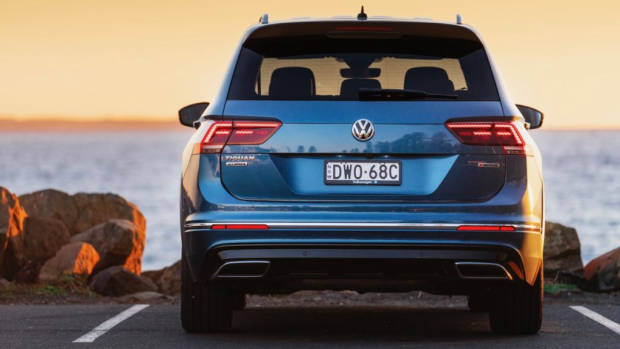 When it comes to maintenance, the Tiguan is still one of the more expensive vehicles in its class to service – though Volkswagen servicing costs have come under control in the last few years thanks to the introduction of capped price servicing for 5 years or 75,000km. A Tiguan must be serviced annually or every 15,000km; over three years or 45,000km, the Tiguan 110TSI petrol costs $1,373; the two diesels cost $1,513 and the 132TSI and 162TSI petrols cost $1,712. By contrast, a turbo petrol Hyundai Tucson would cost $1,290, while the diesel would cost $1,155.
But that's the way with European cars. They are not always as straightforward and inexpensive to own as their Asian rivals – it's basically a given. But you put up with little niggles like more costly servicing and even slightly finicky DSG automatic behaviour, because the Tiguan Allspace, like other Volkswagen products, adds up to more than the sum of its parts. This is a handsome, sensible family SUV – not too big and not too expensive, but the Allspace drives well and, aside from a few average plastics inside, it has luxurious vibes for not a lot of coin. As seven-seaters go, this one is a job well done – just make sure to check out the Kodiaq, new Santa Fe and Mazda CX-8 before making a final decision.