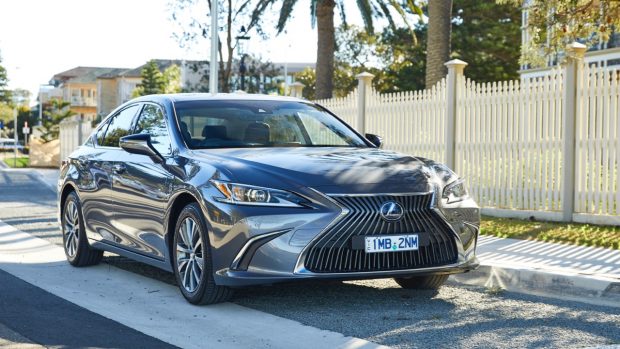 A sophisticated new platform brings a much-needed dynamic lift to the Lexus ES – a premium midsize sedan that wears this Japanese brand's second-oldest badge.
This year marks the thirtieth anniversary of the launch of Lexus. The luxury offshoot of Toyota cannonballed into the North American market in 1989 with two stately sedans – the LS, which targetted the Mercedes-Benz S-Class, and the ES, which eyed off Benz's smaller E-Class.
In the intervening years, the flagship LS has loomed large over the history of the brand while the ES has taken something of a back seat. Long based on the Toyota Camry, several forgettable generations of ES have marginalised this midsizer to popularity mainly among ageing Americans and with Australia's chauffeur-driven market.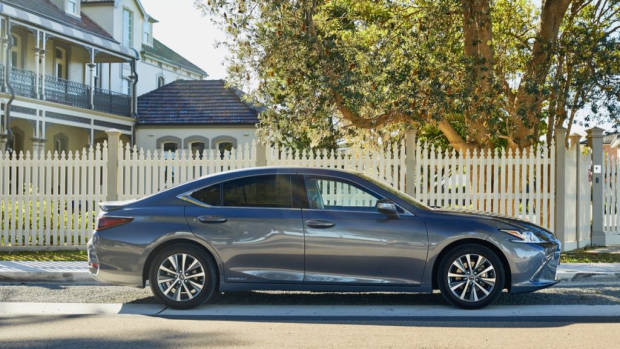 But like so many of the brand's cars in recent years, a comprehensive generational change has seen the ES throw off the shackles of mediocrity and conservatism, adopting not only a more memorable design outside and a higher-quality interior, but also a genuinely impressive chassis underneath.
The new Lexus ES might still share some of its front-driven links with the Toyota Camry, but that's no longer a blight. The new Camry, which shares its expensively-made TNGA platform with this latest ES, is objectively pretty excellent. In other words, Lexus had a much better foundation this time around to build off to create a luxury product.
The pair share a hybrid drivetrain – a 2.5-litre Atkinson cycle four-cylinder petrol paired with two electric motors on the front axle – but that is essentially where the recognisable similarities end.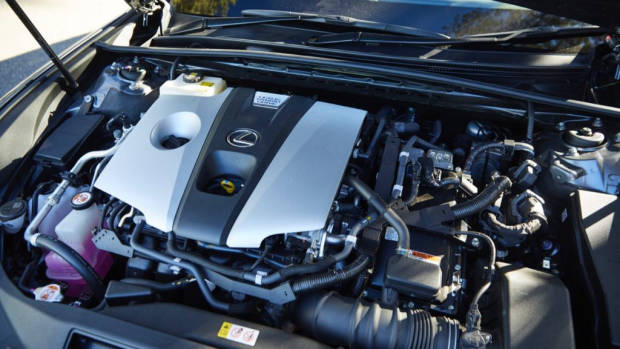 Producing a combined 160kW of power working in tandem, the hybrid 2.5-litre is presently the only engine offered for the Lexus ES in Australia. Though a torque figure is not disclosed by Lexus, it feels around 300Nm through the seat of the pants. The ES pulls away with electric propulsion for all but pedal-to-the-metal stuff and the flowing current delivers instant, low-end torque.
The powertrain's refinement is fairly good if driven gently, with a barely-noticeable transition from the initial electric pull to the cranking of the petrol engine. Push the four-banger on, though, and you'll hear the atmospheric engine gasping for revs. Take things a little easier, though, and little disrupts the serene silence of this car.
In the States a creamy 3.5-litre V6 is available on the ES, which would probably fit the character of this car well – though our experience of the six-cylinder in the Camry shows that this engine does not deliver frugal economy.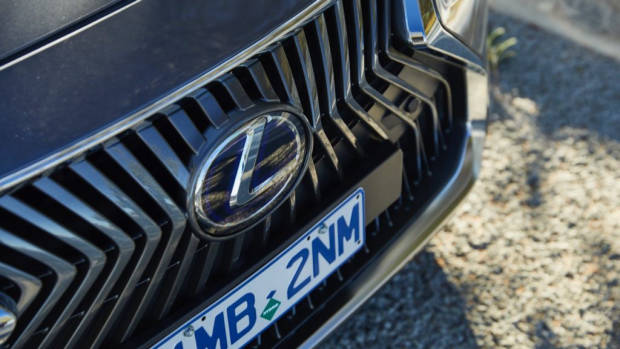 By contrast, the four-cylinder hybrid ES 300h Luxury on test ($59,888, $67,279 driveaway) delivers stellar consumption figures. Driving fairly sensibly, we managed to get in-town fuel economy down to 5.1L/100km. For those currently driving big sedans with big engines, the ongoing running costs savings of stepping into an ES hybrid could be considerable.
If the ES's powertrain is remarkable for its economy, this sedan's chassis is remarkable for its driver engagement. A firm but pretty compliant suspension teams with great body control and quick steering with an intuitive rack ratio. The occasional big Sydney pothole does jar the cabin but speed bumps and other imperfections are soaked up well.
There will soon be an F Sport grade added to the ES range which will pair more athletic styling inside and out to some minor dynamic changes – the most critical of which is the addition of adaptive dampers, which may help to further iron out urban bumps.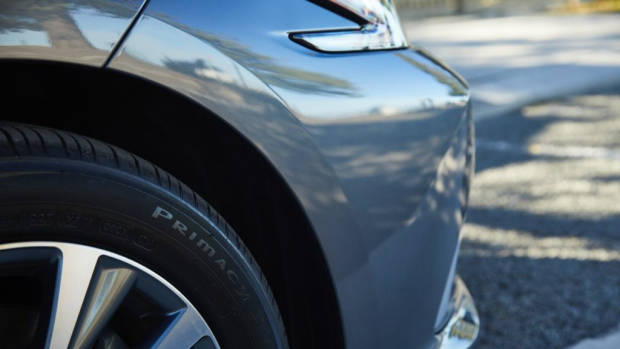 The ES is low-slung and as a result, it copes much better with athletic driving than an SUV – but well beyond that fairly low bar, the Lexus ES is surprisingly fun to drive with intent. A rear-wheel-drive BMW 5 Series is more engaging still, but while the Bavarian motor is similarly-sized it is far more expensive, kicking off at ninety grand.
Without dwelling on comparisons with more expensive German saloons, we do note that it's hard to pigeon-hole the Lexus ES into a defined segment these days. Priced at its entry point like a 3 Series but offering more space than a 5 Series, the ES is pitched somewhere between those cars on specification. In simple terms, it's a lot of car for the money.
Stepping inside the ES reveals an interior that is very spacious and fairly plush. You'll need to fork out for the upper-spec Sports Luxury grade ($83,819 driveaway) if you want an interior that is truly Lexus-like, though. That car sports supple semi-aniline leather, tasteful wood trim and more generous interior amenities.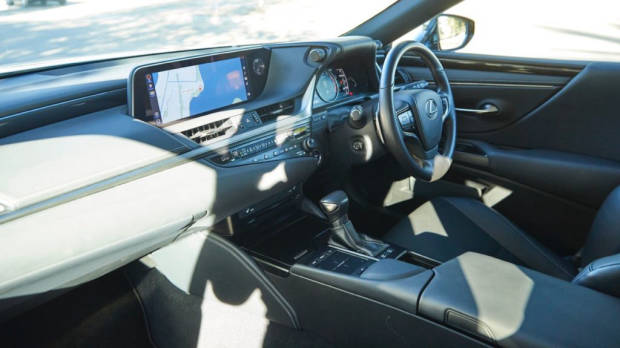 The Luxury we drove has a fine interior but the default black leather, silver trim configuration feels drab and geared toward the fleet market, which constitutes about half of Lexus ES sales in Australia. It'd be easy to take care of if you'll be carrying passengers regularly.
The standard seats are firm but supportive, with a good range of electric adjustment, though the quality of the standard leather is good, not great. The driving position is excellent, however: it's low-set behind a small steering wheel that can be positioned just-so.
Infotainment comes by way of a standard widescreen controlled by a touchpad between the seats. It's a little frustrating compared to the rotary dials or touchscreens of some rivals but once you've mastered it, it's fine.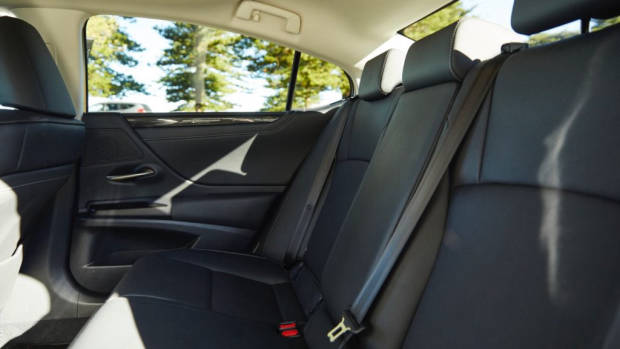 Navigation and digital radio are standard but Apple CarPlay and Android Auto will be fitted only from October as part of a slate of small changes to the ES lineup for the 2020 model year.
While the front cabin of the ES is good enough, the best is reserved for the second row, which is just enormous. The rear bench is inclined upward and comfortable to sit in, and six-footers enjoy very generous headroom and limo-like legroom. A separate climate zone allows the conditions in the back to be tailored.
Even more rear-seat comfort is added in the flagship Sports Luxury, which adds power recline to the rear bench along with a third climate control zone and an array of controls to the centre armrest.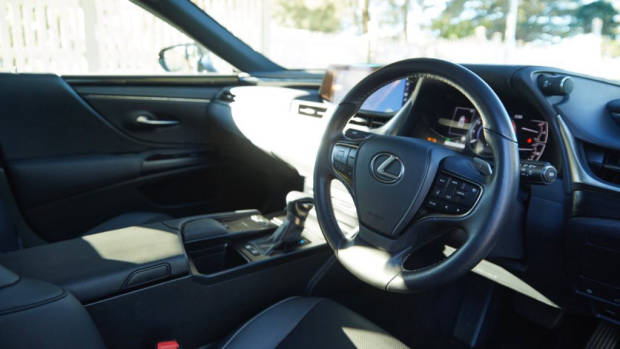 Standard specification on the Luxury grade is pretty good, with autonomous emergency braking, lane keep assist and adaptive cruise control fitted. Range-wide the ES also includes LED headlights, navigation, digital radio, power front seats, and dual-zone climate control.
That said, the forthcoming F Sport grade could be something of a sweet spot in the range, depending on pricing, which is not currently known. We do know that the F Sport will add several features currently reserved for the eighty-grand-plus Sports Luxury, including cooling and memory functions for the front seats, plus blind spot monitoring, rear cross traffic alert, and a 360-degree camera.
It's also worth considering this brand's famed reputation for after-sales support. Like with other Lexus products, servicing the ES can be a breeze with the car collected and returned to your address. Servicing is annual or every 15,000km; the first is free, while the second and third cost $569 and $530 respectively. The warranty is a little better than most luxury brands at four years or 100,000km.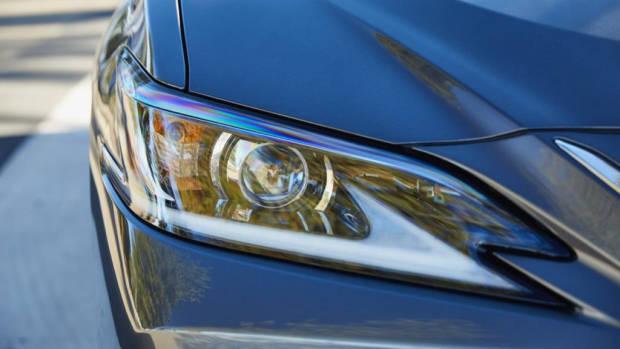 In sum, the Lexus ES shows why there's still plenty of life left in the luxury sedan. Sedans are almost always less expensive than their SUV counterparts – the ES is at least $14,000 cheaper than this brand's RX crossover – and, thanks to the laws of physics, low-slung four doors are still considerably better to drive.
With almost all of the luxury brands offering up high-quality sedans to discerning Australian buyers, it's a good thing for Lexus that the ES can compete on more than just price. It's now really competent to drive as well. Plus, the advantage of offering a refined hybrid system that delivers exceptional fuel economy is a benefit rivals simply cannot match.