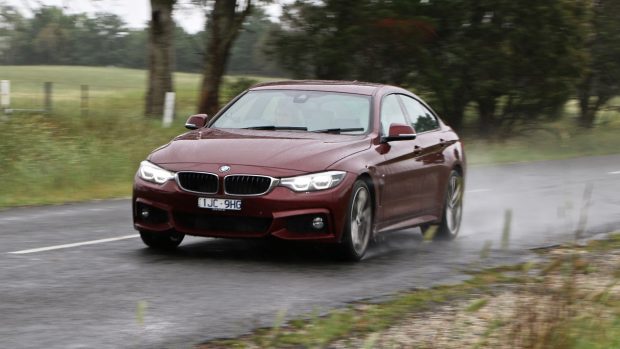 The beauty of modern car engineering is that the development of a car chassis has become a modular exercise, not unlike a very complicated version of building IKEA furniture. Modular car platforms allow a manufacturer – say BMW – to start with a solid foundation, and easily add different body styles and configurations without substantial cost. This is why we have seen an explosion in the number of models offered by the BMWs and Volkswagens of the world – and why it's possible for a car like the 2018 BMW 440i Gran Coupe to exist.
The 4 Series Gran Coupe is one of our favourite motoring oddities. A brief look at history tells this car's interesting story. In 2012, when the current BMW 3 Series was launched, it was announced that the two-door versions would be henceforth badged 4 Series, establishing an even-number coupe/convertible, odd-number sedan/wagon convention from the Munich brand. But modular platform engineering meant BMW could do better than just four body styles from this F3X chassis: in 2014, the 4 Series Gran Coupe – a four-door version of the two-door coupe, was announced.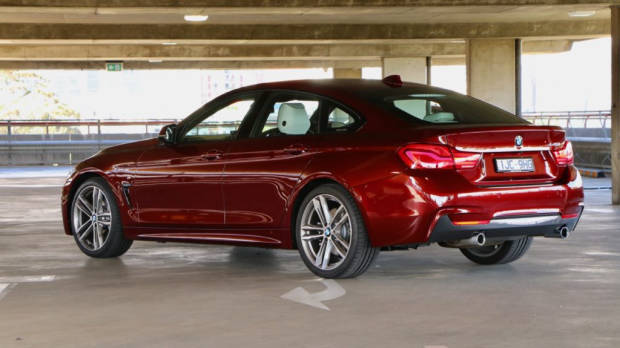 A four-door coupe might seem like an odd proposition, but it's a form factor that has been slowly proliferating in the market over the last decade – and it makes sense. In the BMW's case, combining the practicality of the 3 Series sedan with the sexier aesthetic of the 4 Series coupe has worked: this is a good looking car. Four-door coupes sell reasonably well, too; cars like the Mercedes-Benz CLS and the Volkswagen Arteon (née Passat CC) have carved out niches, and in its three years on sale here, the 4 Series Gran Coupe has done the same for BMW. In 2017, local sales tallied 697 cars – or about 15% of the entire 3 and 4 Series range.
The 440i M Sport on test here is the flagship of the Gran Coupe range. Sadly, there is no M4 Gran Coupe; if you want a small four-door M car, you'll be buying the conventional M3. Not that it really matters; the 440i is one of the great cars that combines reasonable comfort with very high levels of performance. The long bonnet conceals a BMW hallmark – a straight six-cylinder engine displacing 3.0 litres of capacity. A single turbocharger sees power reach 240kW at 5,500rpm, while the 440i surfs on a wave of 450Nm of torque across a plateau that commences barely above idle, lasting from 1,380rpm to 5,000rpm. It's enough to dispatch 0-100km/h in 5.1 seconds, and for no cost difference you can opt for a six-speed manual or an eight-speed, torque converter automatic.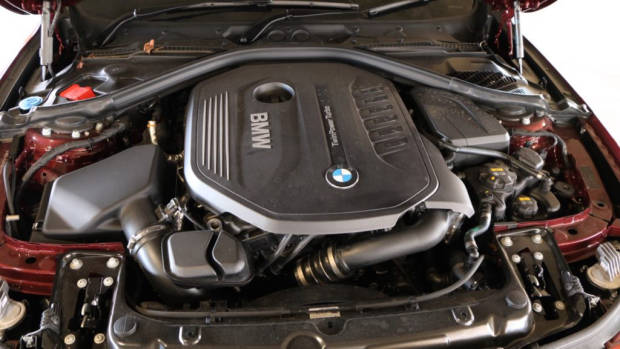 At $99,900, the 440i Gran Coupe is pegged on price to the two-door 440i coupe with which it shares an engine, and many other components. The Gran Coupe is, however, $8,700 dearer than the 340i sedan which sports a conventional three-box shape, but also shares the sonorous B58 six-cylinder. Close to ten grand more for the four-door two-door is a lot – you'd have to love the look to justify it. However, the 440i is merely the fastest Gran Coupe: two four-cylinder versions bring the cost down substantially.
In fact, the four-cylinders, which are not saddled with the bulk of a six-cylinder donk over the front axle, offer a noticeably different driving feel that some may prefer. And even the 420i Gran Coupe, which is affordable at $70,900, is fun enough, with a 135kW/270Nm turbo petrol four that sprints to 100km/h in 7.7 seconds. But the best-seller – the $82,900 430i Gran Coupe, which uses the same basic B48 engine as the 20i, albeit with a 185kW/350Nm tune that gets to 100km/h in 5.9 seconds, is an excellent compromise if stretching the final $17,000 to the six-cylinder 440i is, understandably, a bridge too far. However, where money is no object the snarling, singing 440i will be the way to go, planting you in fast, desirable BMW territory with $10 change from a hundred grand.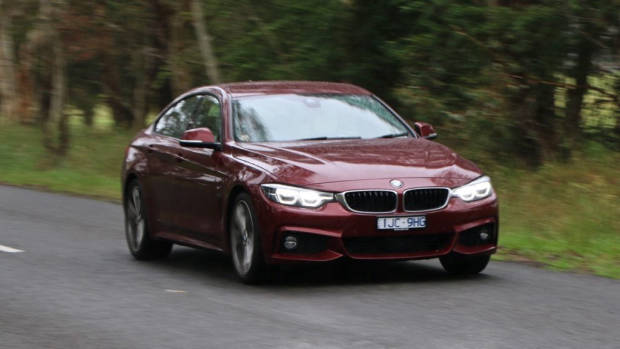 Justifying the additional ask for six cylinders is the 440i's good level of standard specification. Cylinders aside, over a 430i the 40i adds a desirable leather dashboard, front seat heating, a 16-speaker Harmon Kardon stereo, digital driver gauges, adaptive cruise control (with traffic jam stop and go), automated parking, and adaptive LED headlights with automatic high beam.
However, no matter the engine, BMW have equipped the 4 Series Gran Coupe generously. At $70,900, the 420i offers a level of luxury that would have been limited to six-figure BMWs just a few years ago. All 4 Series GCs are fitted with a heads-up display, automatic LED headlights, at least 19-inch wheels, leather sports seats, an electric tailgate, and BMW's higher-end 8.8-inch 'Professional' iDrive 6 infotainment with navigation and DAB+ digital radio. The $82,900 430i then goes on to add keyless entry and start, beefed-up seat lumbar, and a 9-speaker stereo in addition to its considerable performance upgrade from the 20i tune.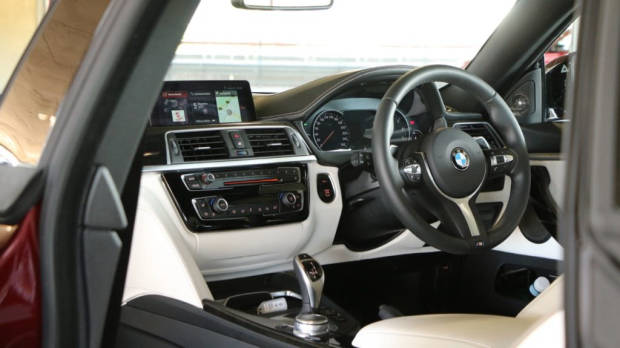 While it is actually BMW's least-expensive rear-wheel-drive models – the 1 Series hatch and 2 Series coupe/convertible – that provide the best steering and overall handling of the brand's current lineup, the 3 Series and 4 Series aren't too far behind. Notably, the 440i Gran Coupe has more natural steering feel than that found in the considerably more focussed M4 coupe. An acceptable level of feedback from the grippy, Bridgestone Potenza S001-shod front tyres can be felt through the wheel. That wheel is the much-loved M Sport tiller (the 440i is only available in M Sport guise – the 420i and 430i can be had in more relaxed Luxury Line form). In our view, the M Sport wheel is too large in diameter; thankfully, more recent BMW steering wheels are becoming a little smaller.
The Bridgestone tyres offer excellent roadholding grip – along with trademark Potenza levels of road noise, which are too intrusive in this $100,000 vehicle, and borderline loud on coarse chip surfacing. However, like other 3 and 4 Series models, the Gran Coupe is not a car driven hard through sticky front tyres. Instead, the 440i is perfectly placed to exploit the F3X platform's delightful rear-biased balance.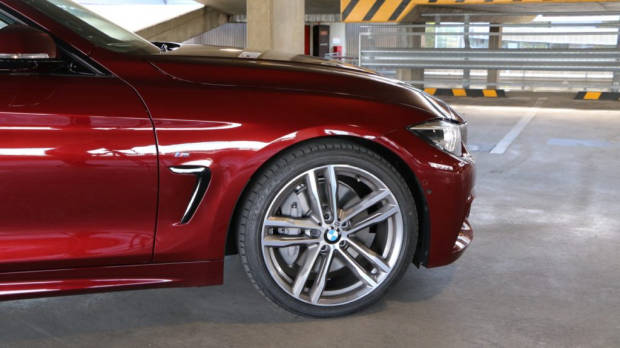 Moderate levels of throttle steer are easy to achieve without getting into trouble, with a well-calibrated stability control system allowing skilled drivers to gently trim the Gran Coupe's line in corners by blending in power, pivoting the rear end delicately. Combined with reasonably fast steering and decent road feedback, the 4 Series makes stringing corners together easy.
While the attractive wheels are kept to a modest 18-inches in size, the 440i's standard-fit adaptive M Sport dampers do not provide a particularly compliant ride. The slow-speed urban ride is choppier than expected, with the 440i crashing through bad potholes. The ride is more supple at higher speeds, but even in Comfort mode, the 440i is not as relaxed a tourer as we would hope. For those seeking a more pillowy ride, the 430i Gran Coupe, in Luxury Line form, would offer a softer ride.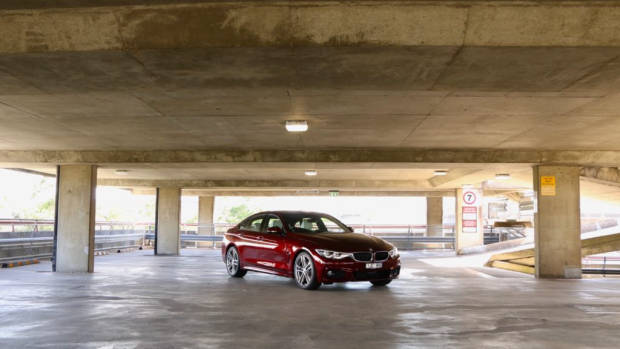 Design is subjective, but we think the 4 Series Gran Coupe is the best-looking shape among the 3 and 4 Series family. The 440i on test is particularly attractive, painted in a luxe shade of burgundy called Aventurine Red; a BMW Individual colour from the 7 Series palette which cost $5,700. Most colours are more reasonable at about $2,000.
The long and low roofline, shapely haunches and tidy rear all please the eye – and it only adds to the appeal that the backside conceals a well-integrated hatchback that opens to reveal 445 litres of cargo space.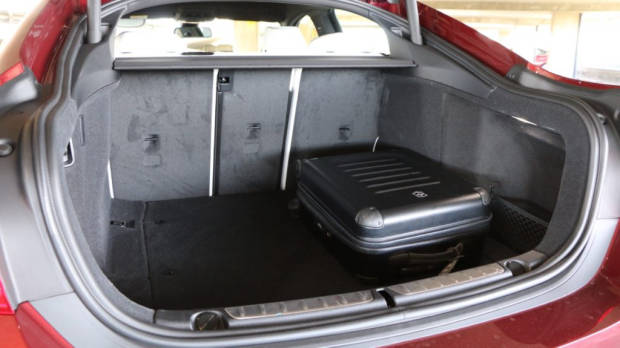 Sure, a 3 Series is easier to get into the back seat of – the Gran Coupe's rear doors don't open that wide, and the roofline is low, but if you need semi-regular back seats, the Gran Coupe certainly makes more sense than the conventional two-door.
And, once you're in the back, you'd think you were in a 3 Series, with reasonable head and legroom for six-footers, though the middle seat is tight.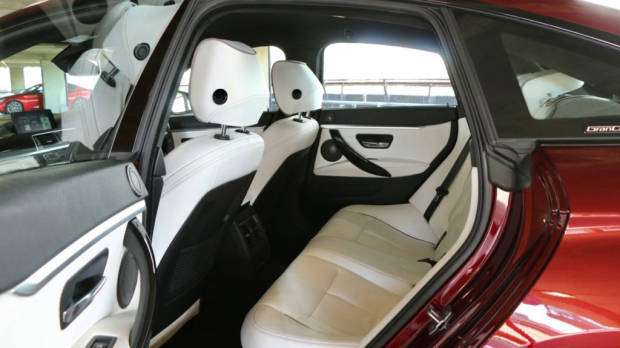 Accommodation in the front seat is generous, with ample room for full-size adults, and plenty of electric seat adjustment to find a low and sporty driving position. Aesthetically, the 4 Series Gran Coupe is ageing well; this is the sixth year that the 3 Series platform interior has existed, but because it is simple and functional, this cabin doesn't look old. The centre stack is based around an updated iDrive infotainment system: it's now a touch-enabled 8.8-inch screen, though the intuitive rotary dial between the seats has been retained.
Many leather colours are available; our tester's oyster grey merino looked expensive but was ultimately difficult to keep clean. A selection of woods, aluminium, or piano black, can be selected to complement the upholstery. In the 440i, a leather dashboard lifts the perception of quality considerably. Other materials are mostly good throughout.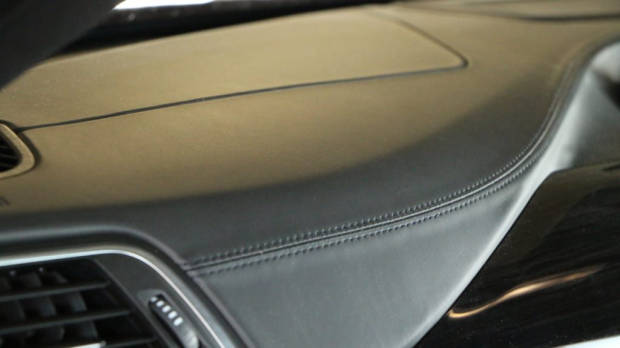 The BMW 4 Series Gran Coupe might have started life as an oddity, but as this generation of 3 and 4 Series nears the end of their lifespan, the Gran Coupe has matured to become the considered choice of the bunch. Aesthetically, it is highly convincing with a sexy shape; the hatchback rear-end is practical and the cabin, which has aged well and benefitted from incremental technology upgrades, remains functional and adequately luxurious in 440i form. Combine those attributes with the 440i's desirable six-cylinder engine – not that the four-cylinders are anything to sneeze at – and you have quite the peach in the 4 Series Gran Coupe. It's an easy car to like, and an easy one to recommend.