2017 Land Rover Discovery Review: First Australian Drive
SD4 HSE
| $93,550
| Ancap : 5/5
Pros
Much lighter, and more agile
Comfortable for 7 people
Smooth, capable engines
cons
Long, complicated options list
Most safety tech is not standard
It's a big car, and it feels like it
Land Rover have faced a conundrum in recent years. How do you honour your hard-earned reputation for out-and-out off-roading capability, while providing the levels of suppleness and luxury that modern buyers demand? The British brand's upmarket Range Rover vehicles have satisfied this question for decades – with the trade-off being high prices. Combining serious capability with genuine luxury into a mainstream, sub-$100,000 Land Rover has been more of a challenge. Yet that's what the 2017 Land Rover Discovery sets out to do – and from first impressions on the Discovery's launch in outback Australia, it looks like the effort has been a success.

The result is a fifth-generation Discovery that is more like a Range Rover than ever. The visual similarities inside and out with the Discovery's platform-sharing cousin, the Range Rover Sport, are obvious. So too is the way the Discovery feels behind the wheel. Immediately, it's clear that the days of basic, agricultural Land Rovers are behind us. That's particularly interesting given the Discovery's place in the Land Rover range. With the hardcore Defender now gone – and a replacement now slated for 2020 or later – the Discovery will be marketed as the most serious off-roader of the group. But the overwhelming feeling is that the new Discovery has been designed chiefly to please its family buyers with true comfort on-road, and strong practicality for the Discovery's everyday duties as a vehicle for the school run.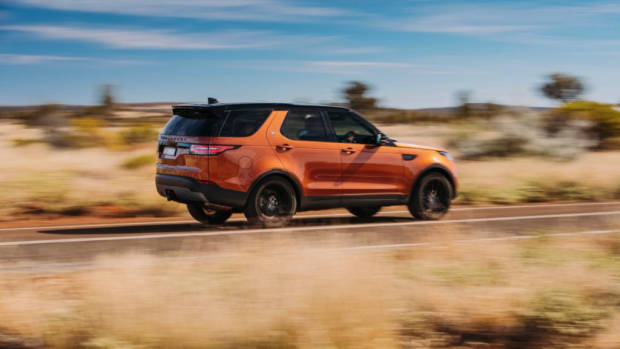 However, while the new Discovery's focus is the realistic stuff families will use it for – ferrying kids, commuting, and occasional road-trips – Land Rover convincingly shot down any notion that the Discovery 5's capability off the black top has been softened. In fact, the majority of our seat time on the vehicle's national launch was staged off-road, including on a difficult artificial course constructed by the brand's off-roading Land Rover Experience experts. Severe corrugations, deep wading through mud, negotiating moguls and steep ascents and descents were all present. Pleasantly, the most luxurious Discovery ever is also the most capable factory-fresh Discovery ever, too.

The British brand's local product planners are confident that the Land Rover badge increasingly stands for guaranteed off-roading capability combined with high levels of interior luxury. That is a conscious move away from basic, utilitarian, not-luxurious off-roaders like the Defender and earlier Discovery iterations – and Land Rover accepts this characterisation. It is a move precipitated by rapidly changing consumer preferences towards luxury – and in Land Rover's case, that includes the luxury of knowing that you own a vehicle that can tackle hard outback terrain, even if you never attempt it yourself. That is what the new Discovery is all about.

But like most modern Jaguar and Land Rover products, the Discovery is afflicted by a complicated range that makes identifying the ideal specification difficult, and spending a lot of money too easy. Five trim levels, three engines and over 80 options sees the range span from a rather sparsely-equipped Td4 S ($65,960) to the lavish Td6 First Edition ($132,160). For those that are lost in the extensive choice, a good starting point is the mid-range HSE model, with either the Sd4 ($93,550) or Td6 ($100,550) engine.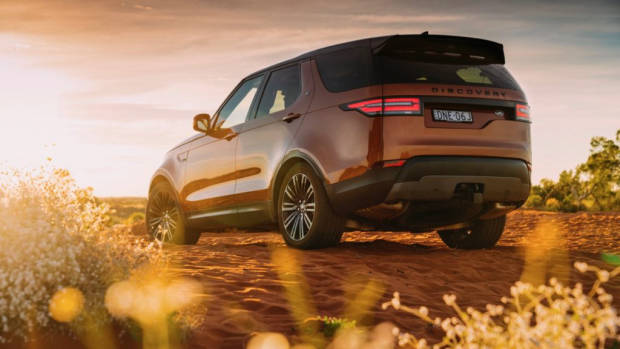 DRIVE
The Discovery can be specified with three engines from launch – though only two were available to drive at the car's national launch in Uluru. A familiar 190kW and 600Nm diesel V6 returns, badged Td6 (from $78,560), which Land Rover's local product planners expect to sell strongly, particularly initially, as existing Discovery owners look to upgrade.
However, it's the two four-cylinders that are being pushed. Only the high-powered twin-turbo Sd4 (from $71,560) was on hand to sample. Producing 177kW of power and 500Nm of torque, it isn't far off the six-cylinder on paper, nor is it much slower. The Sd4 adds just 0.2 seconds to the Td6's 8.1 second 0-100km/h sprint, because its all-new Ingenium engine, developed in-house, weighs over 100 kilograms less than the older, PSA-built Td6.
The Td4, a lower output, single-turbo tune of the Sd4's two-litre, was not on hand but we look forward to sampling this 132kW, 430Nm engine at a later date.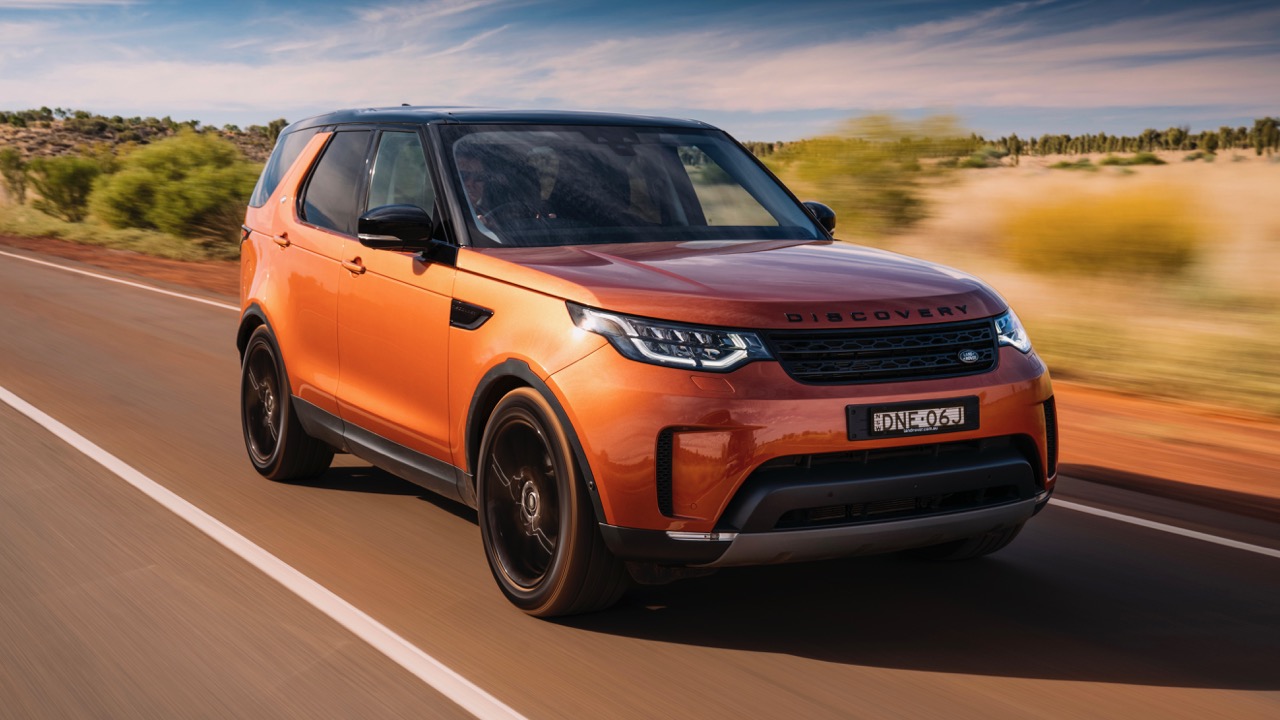 While the Td6 and Sd4 are fairly evenly-matched in pace, the way they go about their business is where you can split the difference, and where you can find reasons to justify spending an additional $7,000 on the six-cylinder.
Although the Sd4 is remarkably quiet and smooth for a diesel four-cylinder, clatter noise is still plainly audible in the cabin under harder acceleration. By comparison, the Td6 is luxuriously silent at idle before building to a hushed but appealing roar under heavier loads. But it is the lazy, effortless feel of the Td6 that confirms its edge – simply breathing on the throttle elicits quick forward progress.
But the Sd4 is quick enough, and with twin-turbocharging it is pretty lag-free off the line, too. It's simply that the less refined nature of a four-cylinder is hard to entirely mask. Those that appreciate the lush refinement of a big six will appreciate the reasonable $7,000 charge to upgrade from the four. But for most – who will use the Discovery on school run duties – the Sd4 is more than adequate. Helpfully, the four-cylinder also delivers 10 per cent better fuel economy. Land Rover optimistically claim 6.4L/100km. An eight-speed ZF automatic transmission is standard and fuss-free.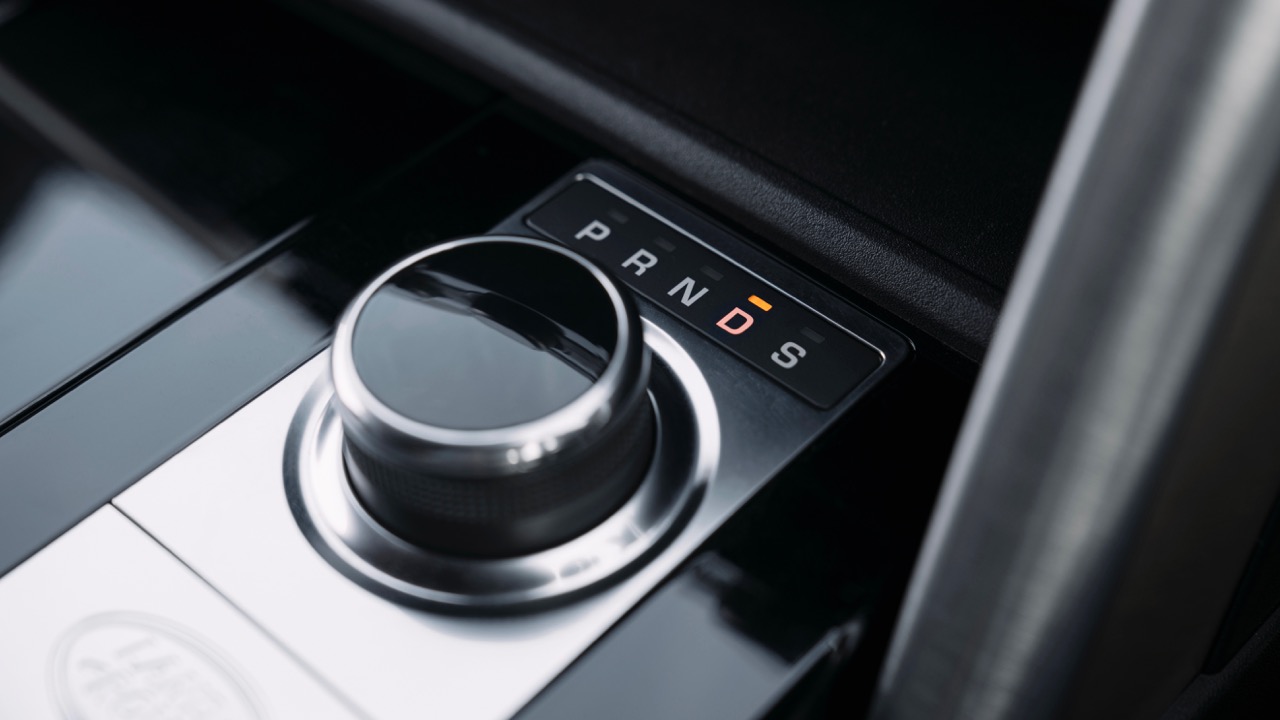 So the Discovery isn't troubled in a straight line, but it's in the corners that the Discovery's orientation towards practicality and comfort – and not sport – is obvious. With seemingly every SUV now marketed as a sports car on stilts, it was almost refreshing to drive an honest truck with slower steering, and more noticeable body motion in the corners. The new Discovery isn't a car that rewards hard dynamic driving – if you want that, a dealer will be happy to point you in the direction of a Jaguar F-Pace, or towards the incoming Range Rover Velar.
That said, the handling does represent an improvement over the outgoing Discovery 4. The steering is predictable and progressive, and the tiller's lazier response assists off-road, though the dead centre is less than ideal on the highway. But the Discovery lumbers much less through corners due to dramatic weight loss. In its fifth generation, the Discovery has finally shifted to a limber unibody chassis which makes extensive use of aluminium – bringing the mass down nearly 500 kilograms on the outgoing vehicle.
What is the new Discovery like off-road?
A turn to monocoque has opened the Discovery to criticism that its off-road credentials have been softened – though the Range Rover's shift to a one-piece structure in 2012 did not hinder that vehicle's superb capability on difficult terrain, and likewise, it doesn't slow down the Discovery on moguls, in deep mud baths and up and down steep grades. In these environments, the new Discovery's capability is either maintained over the fourth-generation vehicle, or it has been enhanced.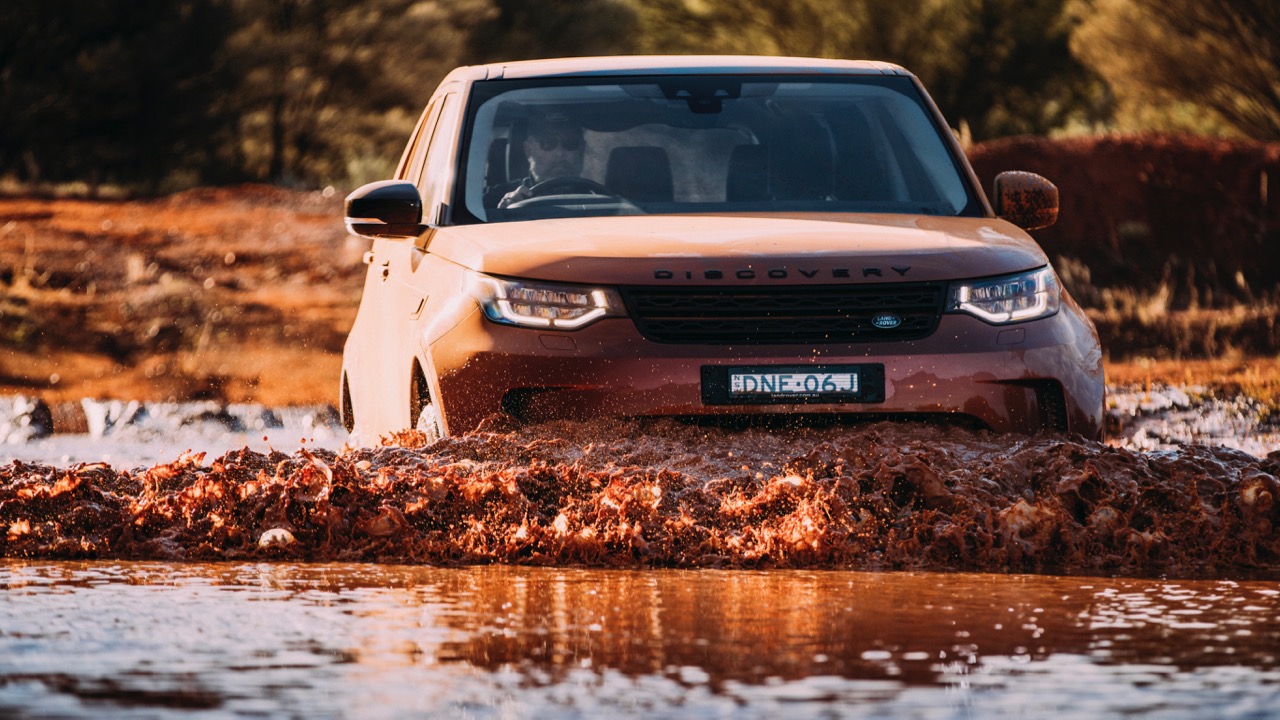 On the Discovery's national launch, Land Rover's off-road Experience team had constructed a difficult course in the red dirt involving sharp ascents, breakovers, and descents; a 600 mm wade through 80,000 litres of muddy water; high-degree inclined corners; and a long section of severely undulating moguls. Land Rover's upgraded Terrain Response 2 system is available and now has an automatic mode to detect the ground underfoot but the familiar grass, gravel/snow, mud/ruts, sand, and rock crawl modes can be individually selected. This can be added with the Capability Plus Pack ($3,200) that also adds a locking rear differential and All Terrain Progress Control – off-road cruise control – to make life even easier.
Though the standard approach angle of 34 degrees, breakover angle of 27.5 degrees and departure angle of 30 degrees are impressive, the Discovery's capability is really opened up by choosing the SE model or above which add the air suspension as standard. This allows on-the-fly lifting of the vehicle from the ordinary ride height of 148 mm to an off-road setting of 223 mm (which is itself higher than the coil-sprung S's 220 mm clearance), to a super-off-road setting of 253 mm, to a final 'I'm stuck' setting of 283 mm. This clearance allows for wheel articulation of 500 mm, and wading capability of 900 mm.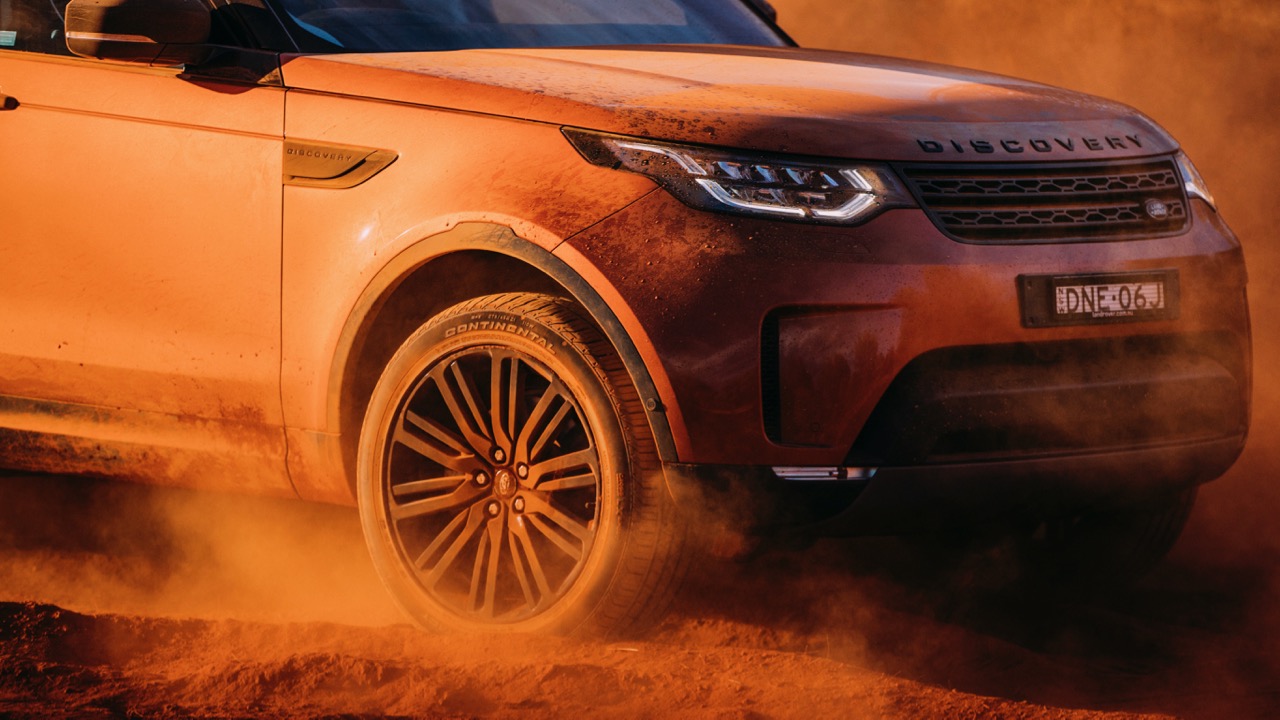 Perhaps surprisingly, low range is not standard. Opt for the Td4 engine and the Discovery is a single-range off-roader. Both the Sd4 and Td6 engines have low range, though, which is switchable on the fly by entering neutral below 60km/h. If you plan to go off road, go for low range. Plus,
Back on the bitumen, the Discovery's air suspension supports a premium but not perfect ride. Road imperfections can still be subtly felt entering the cabin and tiny vibrations in the steering wheel indicate that the 20-inch or 21-inch wheels are quite busy in ironing out chips in a coarse road. I'm not sure the air-sprung Discovery is as settled as a Volvo XC90 that rides on a similar setup.
Jaguar and Land Rover have long been recalcitrant with adding adaptive safety technologies as standard equipment, and unfortunately, this trend continues with the new Discovery. Autonomous emergency braking is standard, but most other tech isn't. Blind spot monitoring with rear cross-traffic alert are a $500 option. Or, in the enormously costly, $4,800 'Drive Pro Pack', those systems are thrown in along with active cruise control with traffic jam assist, lane keep assist, and driver fatigue detection. They ought to be standard – or at least more affordable.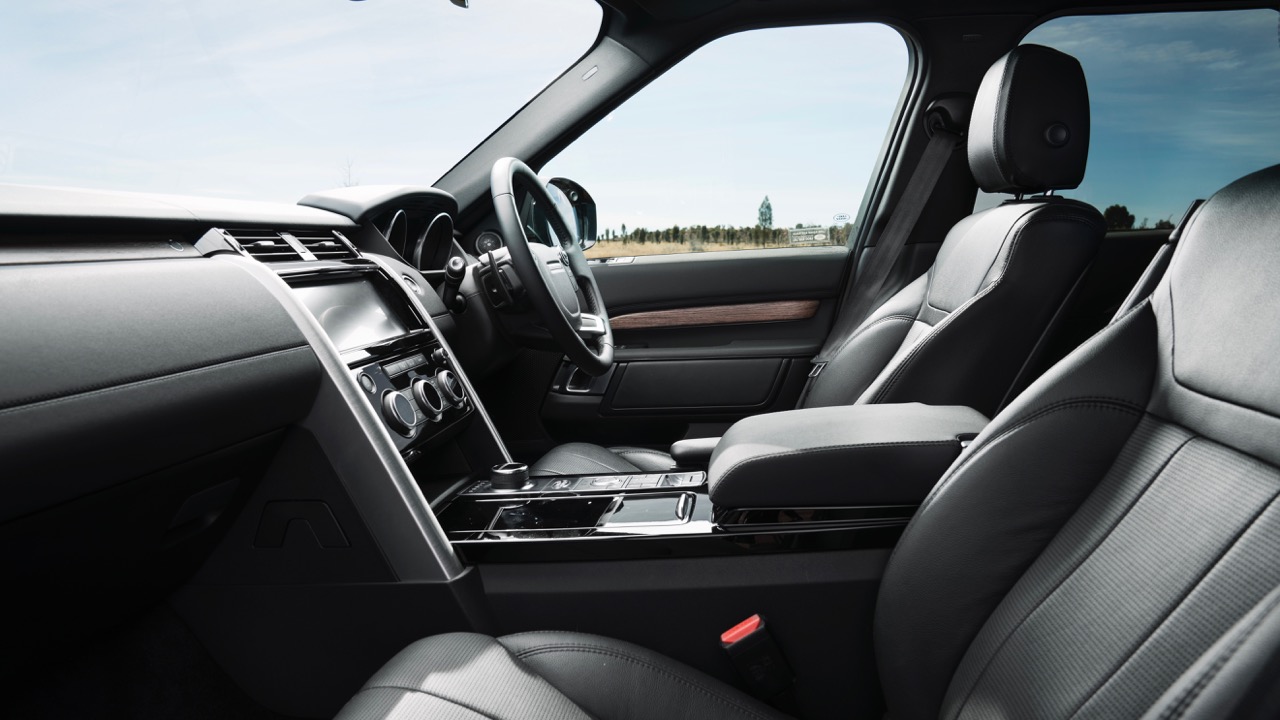 COMFORT
Step inside the new Discovery, and you'll find the environment more reminiscent of a current Range Rover than workhorse Land Rovers of old. While the previous Discovery 4 could be fitted with sumptuous leathers it felt like a basic car made luxurious; perhaps the biggest change on the new model is that the Discovery now feels like a luxury car from the ground up.
Design-wise, the Range Rover Sport inspiration is obvious, with the steering wheel carrying over nearly identically, while the handsome slab-like dash, which houses two gloveboxes, is a more practical cousin of that found in the more expensive Range Rover. The centre console is more like the smaller and popular Discovery Sport model, though the optional, wide-aspect InControl touchscreen looks more at home here. However, the screen remains too low-set in the dash to use safely while the vehicle is moving.
The Discovery's theoretically more humble aspirations are conveyed by the fact that a digital driver screen – like the 12-inch display in the Range Rover Sport – is not available here, though Land Rover product manager Brett Lewis-Driver told us it may well be added in a future update. And some small touches, like the Range Rover's cool pull-out door storage compartments, are missing, despite the mechanism looking like it is present. Have to draw a few clear lines between the products, I suppose.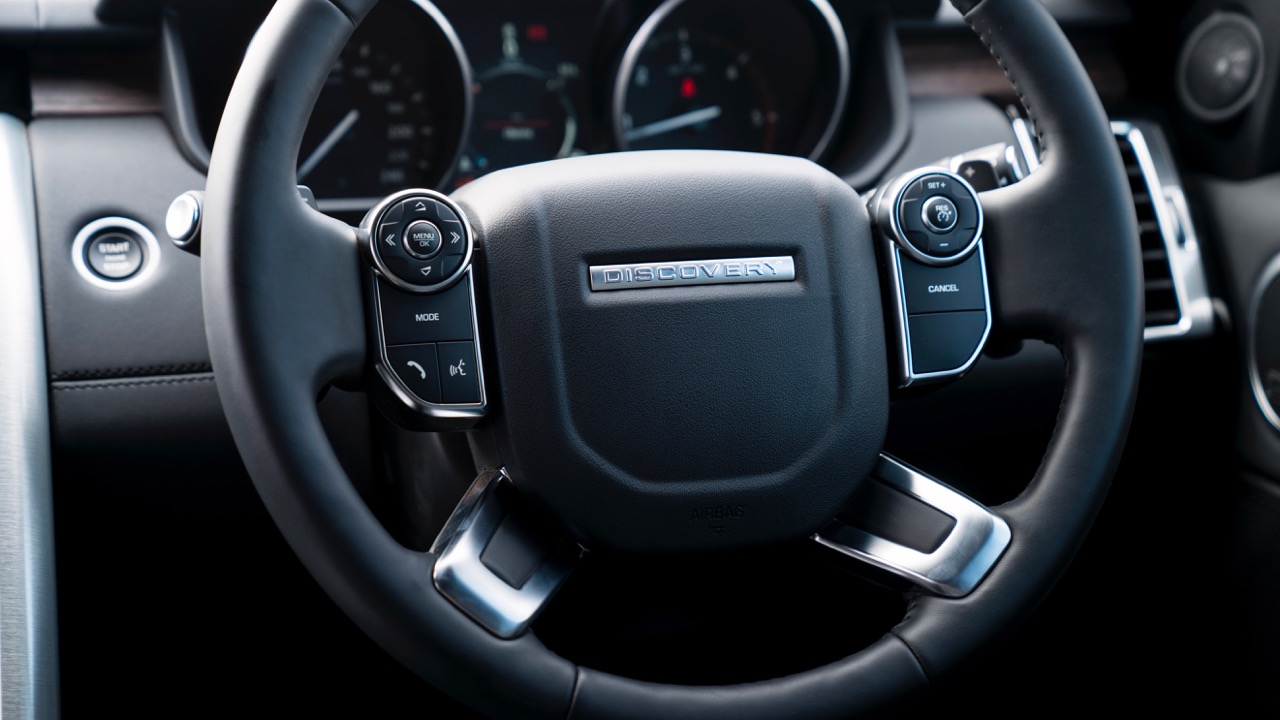 Another one of those lines is the quality of the materials used inside the Discovery, which on the volume-selling models are good, not great. Cloth seats are standard on the second-tier SE. Hard-wearing grained leather becomes standard on the mid-spec HSE – though it is teamed with rather unusual soft-touch materials on surfaces like the dash, door sills and centre console lid that feels like neoprene – rather than the leather you get in the Range Rover Sport.
The materials are upgraded once you splurge on the HSE Luxury or First Edition trims, though, which have plush Windsor leather on the seats, and the aforementioned touch points. That's when the Discovery starts getting expensive, though – the HSE to HSE Luxury jump is nearly $14,000. That said, the seats themselves, regardless of the material, are very comfortable, with good adjustment and a superb, high driving position. There is lumbar for the driver's back which makes longer trips easier.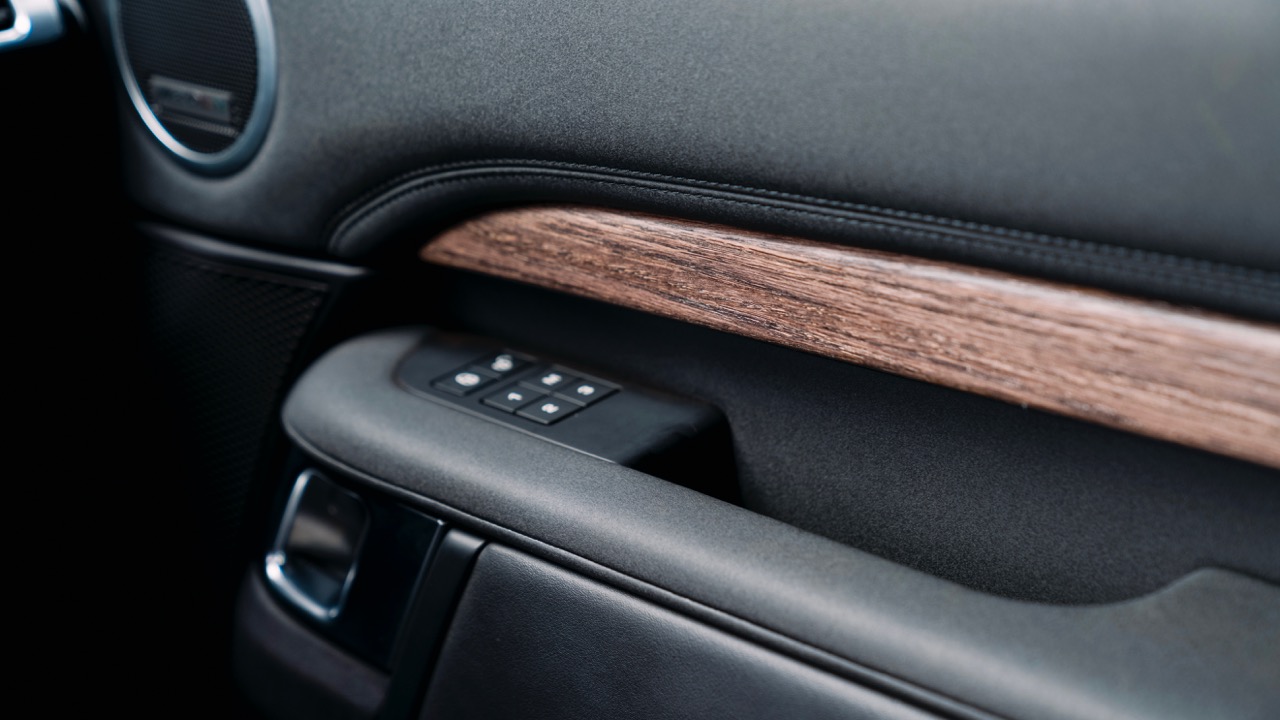 The new Discovery sees the addition of Jaguar Land Rover's latest infotainment proposition. The lower models receive the 8-inch version, which is just okay, while the HSE and above feature the much stronger 10-inch InControl Pro system. The Pro system has a proper video card backing it, which makes the screen very responsive to the touch and the graphics far more visually immersive. And it's quite simple to use, with large touch controls for moving between navigation, audio, and the like. Speaking of audio, the stereo gets better with each step up the range, with HSE adding premium Meridian sound.
Though the second row is slightly tighter on legroom than expected, it's still easily roomy enough for adults – and three of them, due to a nearly flat floor. The bench is comfortable, and features a fold-down armrest and air vents across the range. It slides and reclines, too, allowing you to trade-off between more room for middle-row passengers, or greater legroom in the third row. And the third row, thanks to the high roofline, is large and comfortable but optional and expensive, at $3,400.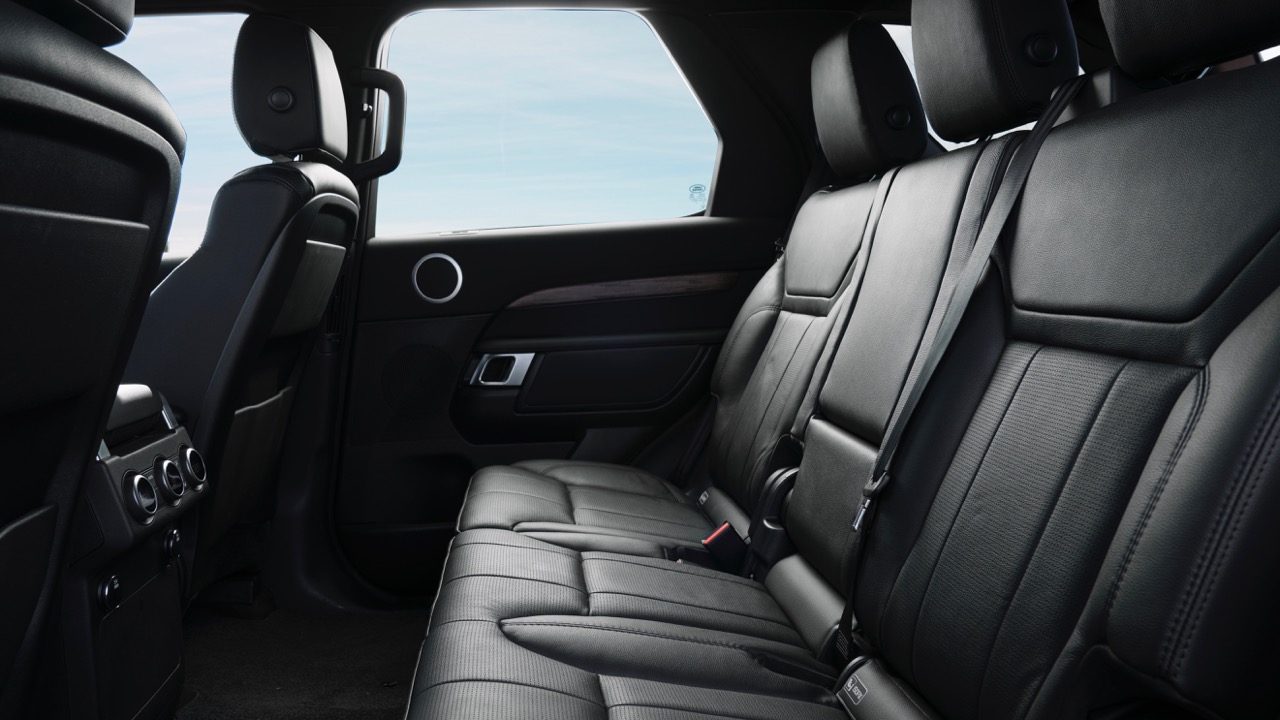 PRACTICALITY
In a nod to the Land Rover's utilitarian origins, everything has a place in the new Discovery, and everything is in its place. The layout is immediately logical, with large, clear controls, a comfortable seat with old-school touchses like an adjustable armrest – great for touring – and excellent outward visibility. Storage is a real focus, with 45 litres of space spread throughout a large number of intelligent cubbies, including a dual-floor console in the cupholder space which can swallow up and hide 4 iPads.
The clever solutions continue with a the split glove box, large door bins, and a deep compartment behind the climate control vents. It's marketed as a 'secret' cubby, though printing the word 'Open' on the frontage access button isn't particularly 007. Ignoring that, what is clear is that Land Rover really understood the Discovery's contemporary market – mums, dads and families, and all the stuff that they need on a regular basis. That stuff includes technology, and the availability of up to 9 USB ports throughout the car is very impressive.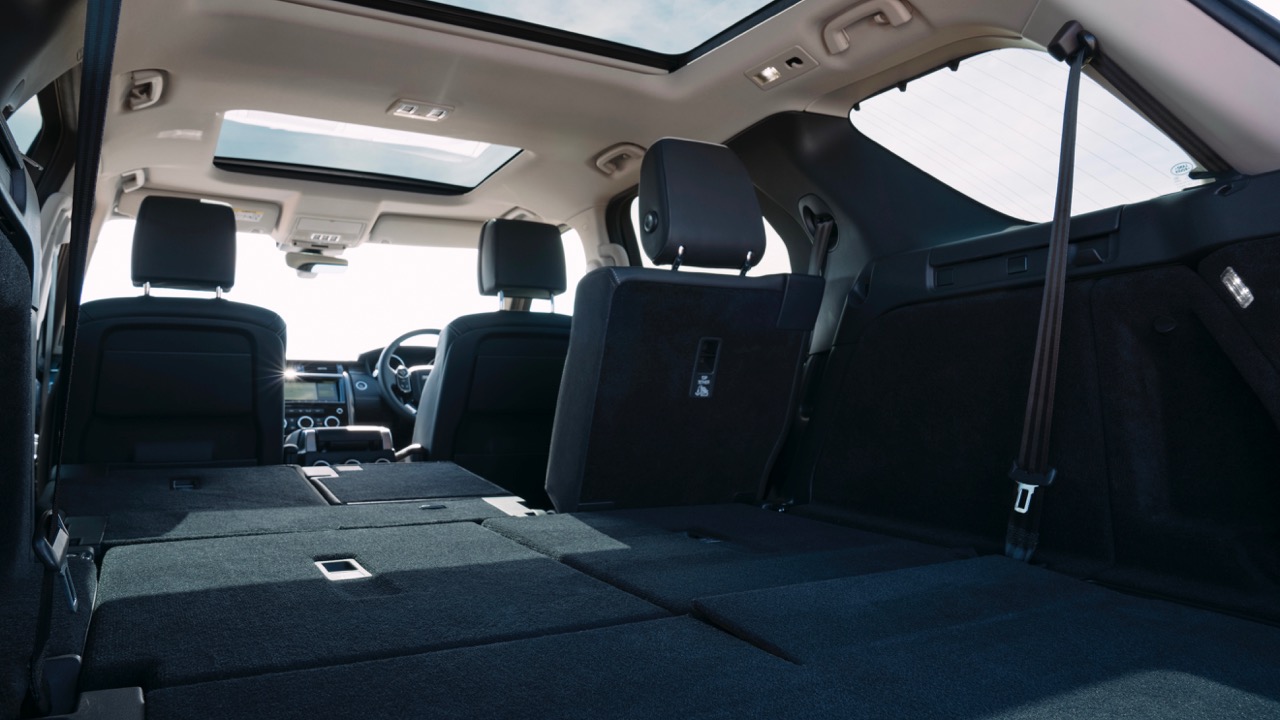 But the flagship technological feature of the car – an intelligent seat-folding mechanism accessible through a smartphone app – is interesting. The app allows the user to preconfigure the Discovery's seats with up to 21 different arrangements. I can imagine the system being useful while shopping at Bunnings wanting the seats flat before returning to the car. But this headline feature is very costly, at $4,800. Though Land Rover has a temporary monopoly on this technology, we wonder how much buyer takeup there will be at this price.
You will also need to note that the third row, which is usable for adults thanks to the Discovery's boxy shape, is a cost option, priced at $3,400. Also of importance is how much space there is when you are using the sixth and seventh seats – 258 litres, or about as much as a Mazda 2 – enough for the school bags and not much else. With the third row folded away, the boot expands to a large 698 litres, or enough for the whole family's suitcases on a road trip for 5 people. With both back rows folded the Discovery offers about 2,500 litres of space, which is enormous. There's also good potential for roof storage.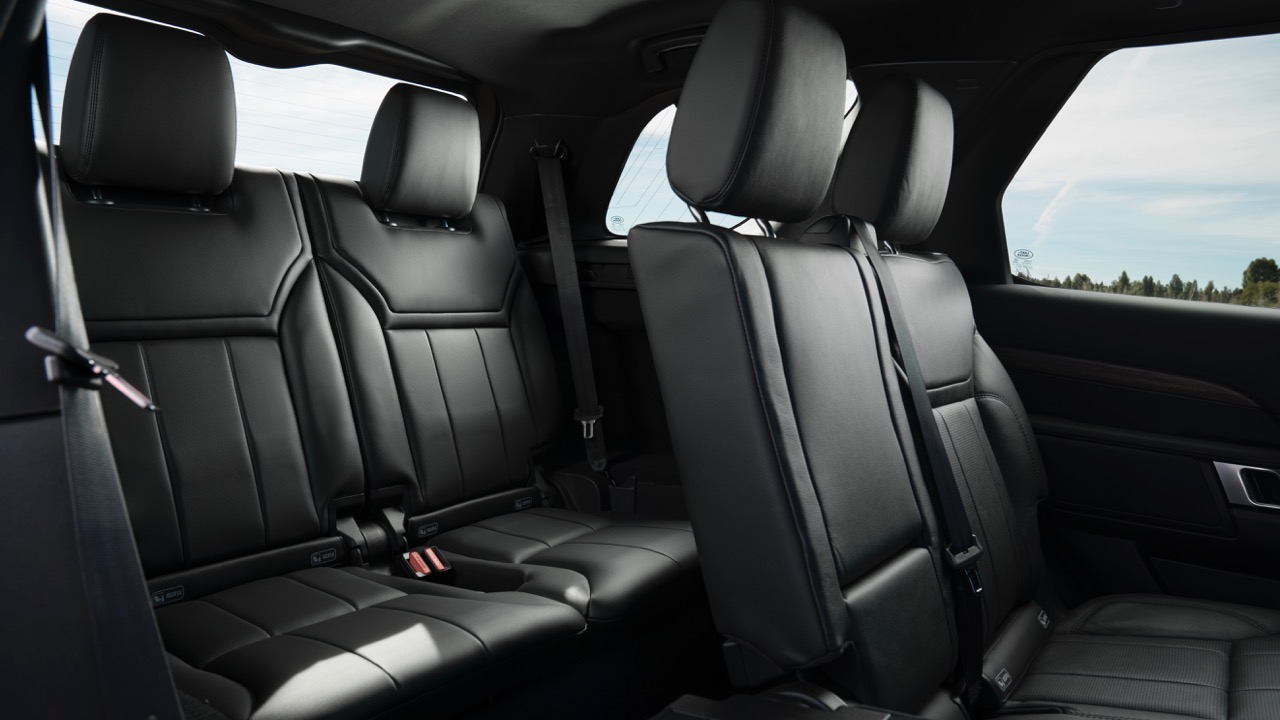 We like the little touches in the boot like heavier-duty shopping bag hooks, and the groove for storing the cargo cover – although underfloor storage for the cargo cover would be even more convenient. Land Rover have also recreated a 'virtual' split tailgate, with a powered 'inner tailgate' standard on the HSE grade and above. It's moderately useful – it stops things from falling out if you're parked on a hill, and it functions as a bench seat, holding up to 300 kilograms.
Those who will actually use the Discovery in pursuit of an active lifestyle – like those in the forthcoming ad campaign for the vehicle – will appreciate the Activity Key, which we first saw on the Jaguar F-Pace SUV. It's a waterproof Fitbit-esque wristband that allows you to leave the traditional key in the car while locking the vehicle wirelessly with the wristband, which can then be taken surfing, for example. It is $940, but it's a great solution that will make sense immediately to those that would get use out of it.
RELIABILITY & RUNNING COSTS
Land Rover Discovery servicing costs
No matter which engine you choose, the new Discovery needs to be serviced annually or every 26,000 kilometres. That's a generous mileage allowance, but 12 months is standard among the competition, as time limits go.
Land Rover offers a five year servicing plan which is paid up-front or at any point up until the first service is completed on the vehicle. At a 'reduced cost' compared to paying service-by-service, the plan is transferrable to new owners and covers normal maintenance – including oil, the oil filter, air filter, fuel filter, pollen and particulate filters, and brake fluid.
The Discovery has a 3 year, 100,000 kilometre warranty and comes with 3 years of roadside assist.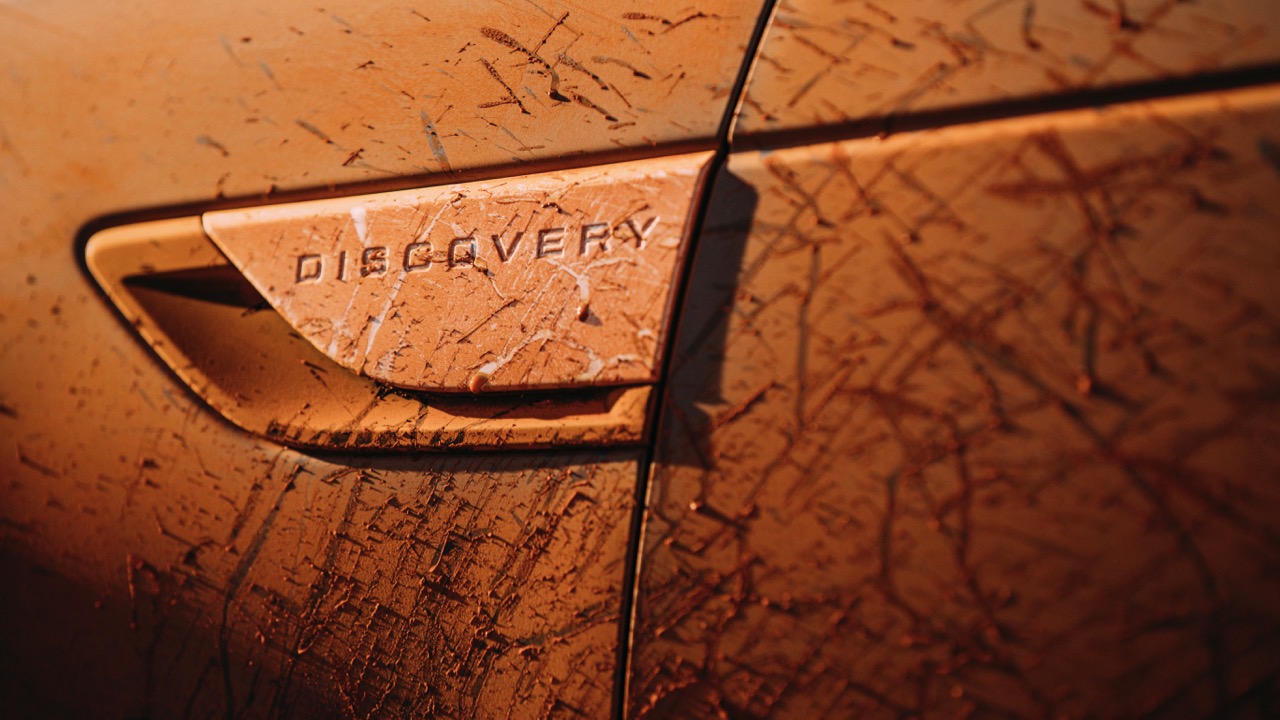 Land Rover Discovery fuel economy
Land Rover claim that the all-diesel Discovery lineup will achieve attractive fuel economy. They say the Td4 will do 6.2L/100km on the combined cycle; the Sd4 will do 6.4L/100km; and the Td6 will achieve 7.2L/100km.
Those claims sound optimistic given the size and weight of these vehicles – as most manufacturer claims do – and we will test them rigorously in Sydney at a later date. The off-road outback conditions on launch didn't provide an accurate figure.
Land Rover Discovery depreciation
If you keep a new Discovery Sd4 HSE ($93,550) for three years and 40,000 kilometres – about average Australian mileage – Glass's Guide data indicates that it should retain about 65.1% of its value, returning you about $60,900 on sale. That's about average for this class of car.
The Discovery is predicted to lose value at about the same rate as the equally capable Toyota Prado Kakadu, and a bit faster than the Volkswagen Touareg V6 TDI or Volvo XC90 D5 Momentum, which keep about 67% of their value over the same period.
VALUE FOR MONEY
With three engines, five trim levels and over 80 discrete options, approaching the Discovery range and making a decision is pretty daunting, so we've simplified the structure here.
The three engines are all diesel. Two of them are four-cylinder – a 132kW turbo called Td4, and a 177kW twin-turbo called Sd4. One is a V6 – the 190kW Td6.
Four regular trim levels follow the standard Land Rover structure of S, SE, HSE, and HSE Luxury. There is also a limited run trim called First Edition, which is only available with the V6 and is $132,160.
Apart from the First Edition, any engine can be matched to any trim level. First, choose an engine: upgrading from the Td4 to the Sd4 is $6,400. From the Sd4 to the Td6 it's a $7,000 jump.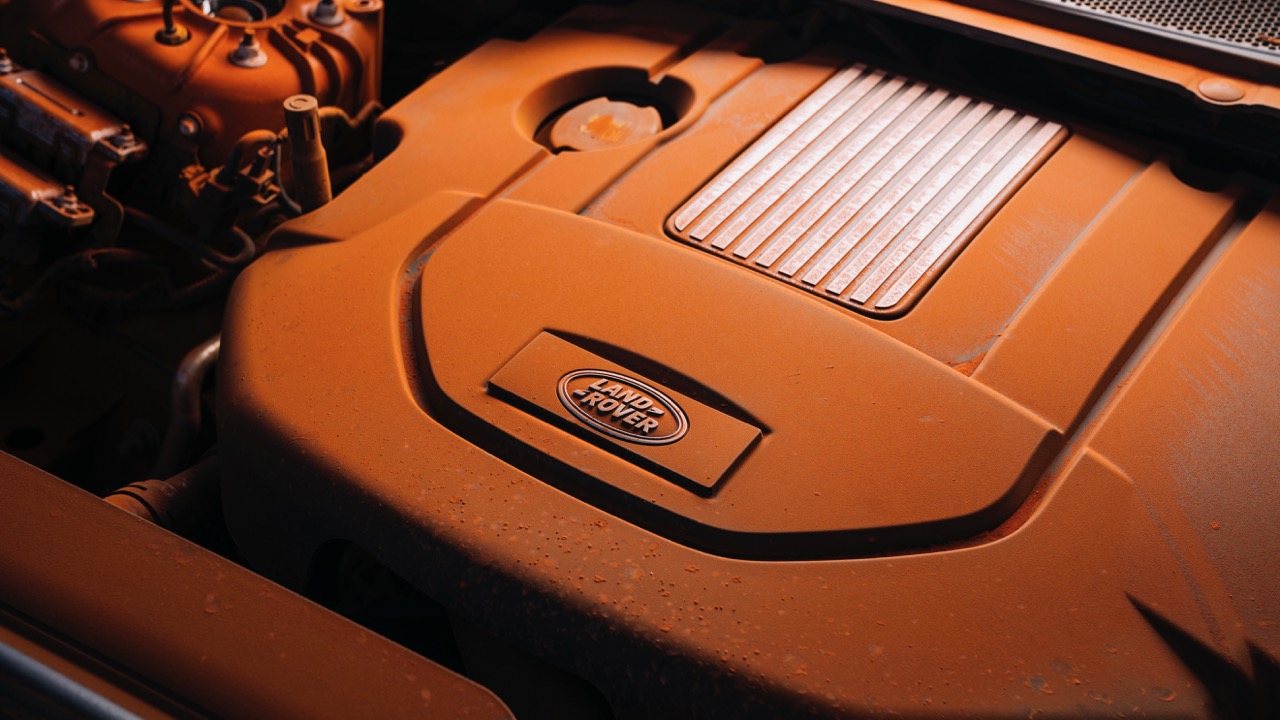 Then you pick the features you want. The Discovery S (from $65,960 for a Td4) is a pretty basic vehicle; it misses out on air suspension in favour of coil springs. It has manual cloth seats inside and dual-zone climate control, but it does not have satellite navigation. Outside, there are 19-inch wheels, halogen headlights, rear parking sensors, and a rear view camera – but no front sensors.
It's then a $11,090 step up to the Discovery SE. The SE adds LED headlights, automatic wipers, front parking sensors, 12-way powered leather front seats, a 250-watt 10-speaker sound system, navigation, and air suspension, which improves the ride quality and makes the vehicle seriously useful off-road.
Next, the mid-range HSE is a $10,100 jump. The sweet-spot HSE brings 20-inch wheels, keyless entry and push-button start, a power tailgate, a 380-watt premium Meridian stereo, the upgraded 10-inch navigation system, and tri-zone climate control.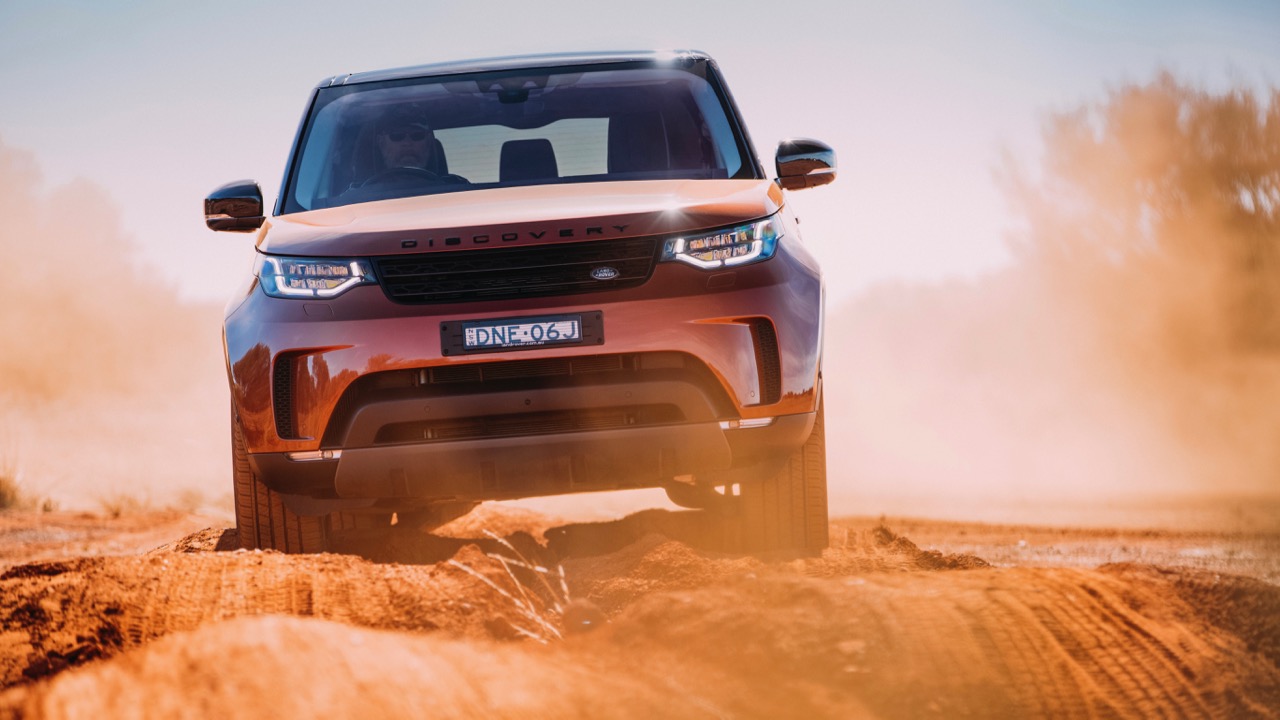 Another $13,800 buys the HSE Luxury, which adds a surround camera system, a kick-to-open or close tailgate, an electric sunroof with a back seat glass panel, 16-way powered front seats that are heated and cooled, a digital TV tuner, and mood lighting.
The flagship Td6 First Edition ($132,160) adds key luxury options as standard, including seven seats, unique 21-inch alloy wheels, the Activity Key, Terrain Response 2, All Terrain Progress Control, an 825-watt Meridian stereo, and the intelligent seat fold system.
It's a complicated choice, as you can see. As a rule of thumb, the HSE grade has most of what most people would want. Pair it to the Sd4 engine and you'll likely be very pleased. That's $93,550, but you will need to consider a few options, including metallic paint ($2,010 or $4,020 depending on the shade); the third row seat ($3,400); the Drive Pro pack for active cruise control and lane keep assist, etc ($4,800), and Terrain Response 2 if you plan to go off-road a lot ($2,060).
COMPETITORS
Volvo XC90 D5 Momentum AWD ($91,900)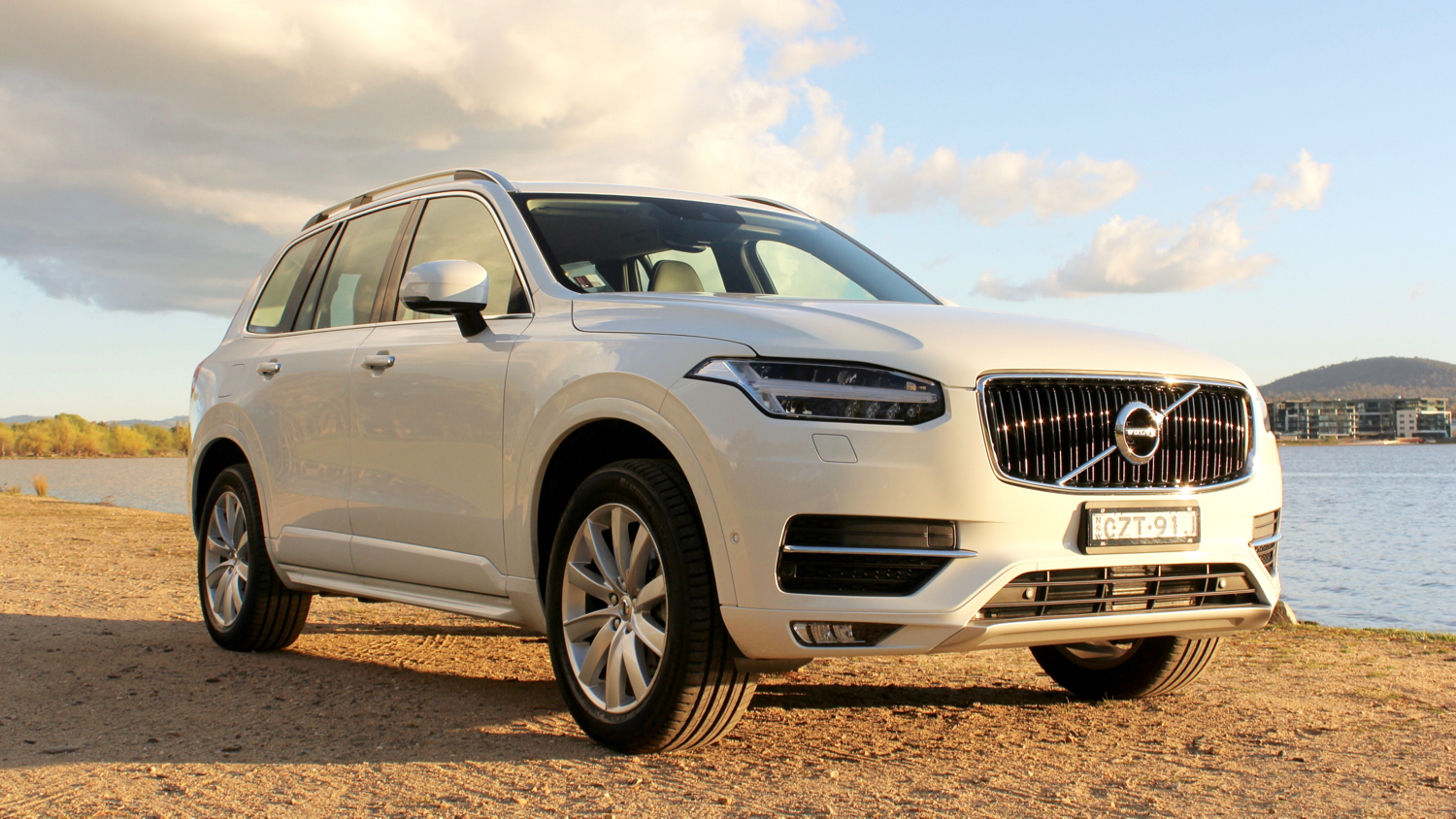 A proper family vehicle that will fit seven adults. The XC90 isn't a serious off-roader, but the Volvo's all-wheel-drive system dispatches Australian gravel roads and the deeper snow of its Scandinavian homeland with confidence. You'll need the air suspension option to make it ride like it should on road. Read our review of the Volvo XC90 Momentum here.
Toyota LandCruiser Prado Kakadu ($85,900)
Nearly matches the Discovery off-road and some prefer it there, as the Toyota retains a traditional body-on-frame chassis. Like its Range Rover sibling, the Discovery has now been given a more modern unibody aluminium chassis.
Volkswagen Touareg V6 TDI ($85,490)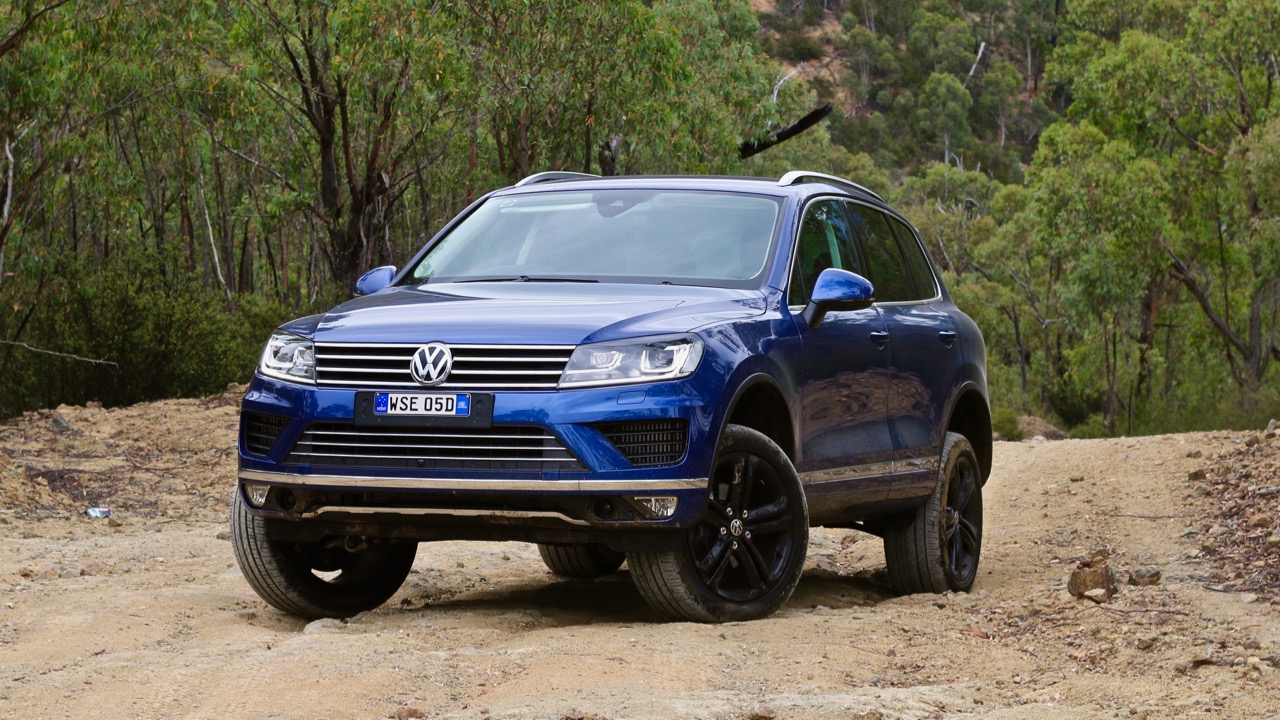 An old girl now, but the five-seat Touareg still feels dynamically modern, with a seriously strong six-cylinder diesel and a comfortable air-suspended ride delivering strong value for money. Read our review of the Volkswagen Touareg V6 TDI here.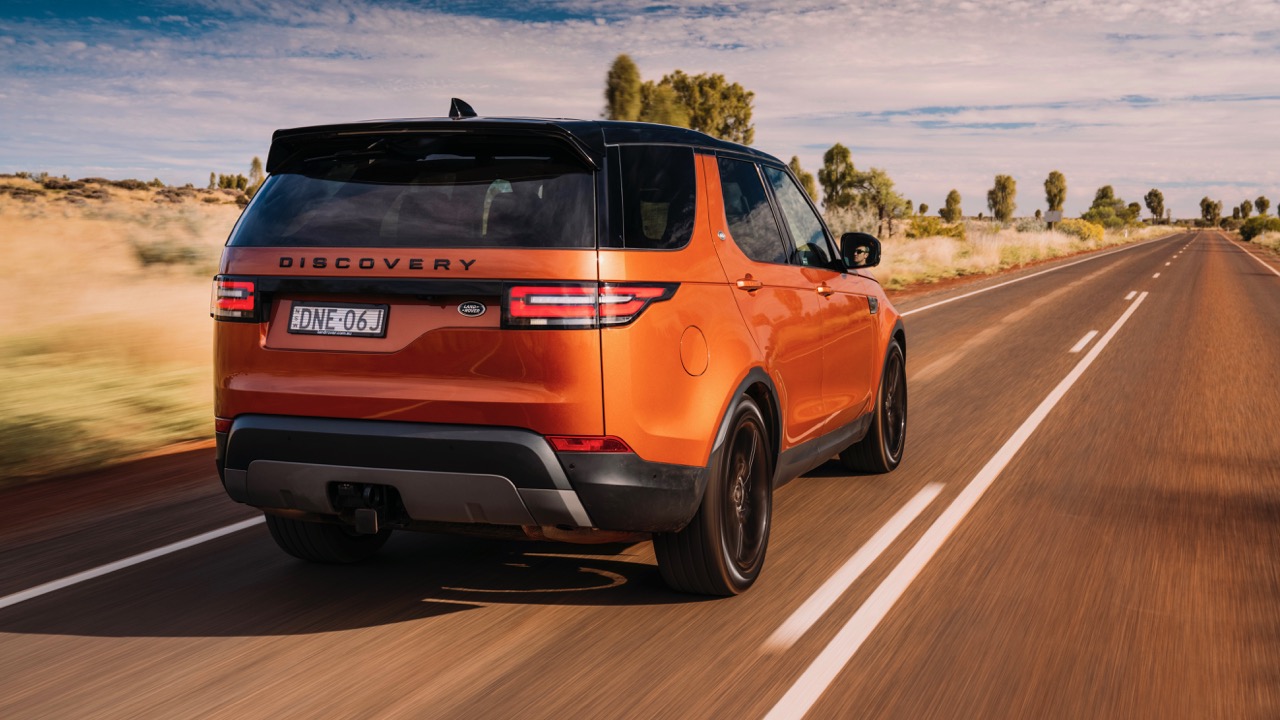 Engine
| | |
| --- | --- |
| Capacity | 2.0 litres (1999 cc) |
| Fueltype | Diesel |
| Cylinders | 4 |
| Configuration | In-line |
| Induction | Twin turbochargers |
| Power | 177kW at 4,000rpm |
| Torque | 500Nm between 1,500-2,500rpm |
| Power to weight ratio | 83.7kW / tonne |
| Fuel consumption (combined) | 6.4L/100km |
| Fuel capacity | 77 litres |
| Average range | 1,203 kilometres |
Transmission and Drivetrain
| | |
| --- | --- |
| Transmission | Automatic |
| Configuration | Torque converter |
| Gears | 8 |
| Drivetrain | Four wheel drive |
Dimensions and Weights
| | |
| --- | --- |
| Length | 4.97 metres |
| Width | 2.07 metres |
| Height | 1.89 metres |
| Unoccupied weight | 2,115 kilograms |
| Cargo space (seats up) | 698 litres |
| Cargo space (seats down) | 2,500 litres |