Even before Ford released its new-generation T6.2 Ranger earlier this year, it was clear to see that the Blue Oval had a winner on its hands, and with wait lists now stretching out as long as your arm, it's clear that Aussies have happily voted with their wallets.
In the other corner, Toyota has proudly proclaimed the Hilux as Australia's best-selling car for six years in a row, with fans historically flocking to – or at least frothing over – the highly-specified Rogue grade, which has now been given a serious update.
So which is more worth your coin? We won't know for sure until we can get both beasts in for a proper back-to-back comparison test but for now, here's how they shape up on paper.
Power and torque
It won't surprise you to learn that Toyota has left the engine bay of the Hilux alone, with any such talk of a bigger and more powerful engine likely reserved for the Ranger Raptor-fighting Hilux GR Sport – but this isn't such a bad thing in practice.
Fans have praised the dependability of Toyota's 2.8-litre turbo-diesel four pot, which was given an added boost in 2020, now spitting out a healthy 150kW of power and 500Nm of torque through a six-speed torque converter automatic to a part-time four-wheel-drive system.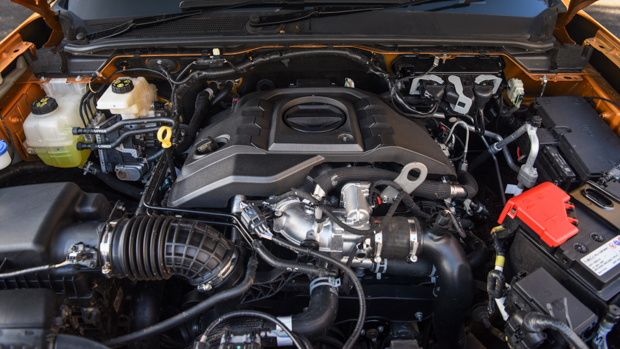 Ford gives Ranger buyers two options, with the mainstay 154kW/500Nm 2.0-litre twin-turbo-diesel four-cylinder serving as the more affordable of the pair while the 3.0-litre turbo-diesel V6 offers far beefier outputs at 184kW/600Nm.
Both make use of a 10-speed torque converter automatic but only the V6 scores a full-time 4WD system, while the 2.0-litre continues on with a part-time setup just like the previous generation.
Suspension and brakes
Ford's relationship with Volkswagen in the new Ranger/Amarok project meant that disc brakes were almost inevitable, with the new Ford ute wearing ventilated rotors front and rear, providing some additional piece of mind when towing in hilly areas.
Toyota only fits disc brakes on the top-spec Hilux Rogue but the fitment of ventilated rotors front and rear is a boon for buyers. Both utes draw even here.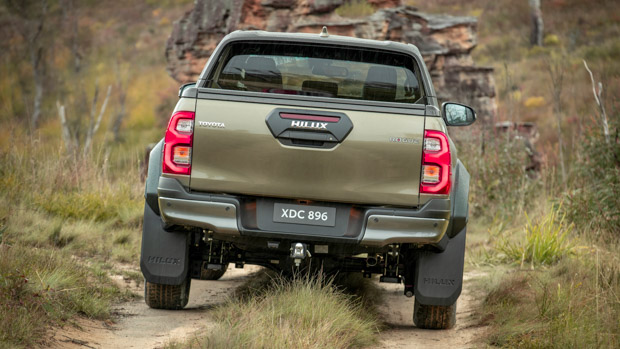 Ford has kept its strut-front and leaf-sprung rear-end setup in the new Ranger through all grades bar the Raptor, which scores coils in the rear at the cost of towing and payload capacity.
It's a similar formula for the Hilux, though it opts for double-wishbones at the front and retains leaf-springs on the rear axle across its entire line-up.
Off-road stats
The Ranger Wildtrak runs a standard track width of 1620mm across both axles while the Rogue has been fattened up with a staggered stance meaning 1670mm at the front and 1705mm at the rear.
Toyota's decision to give the new Hilux Rogue raised suspension has increased the ground clearance to 265mm and the approach and departure angles to 31 and 23 degrees.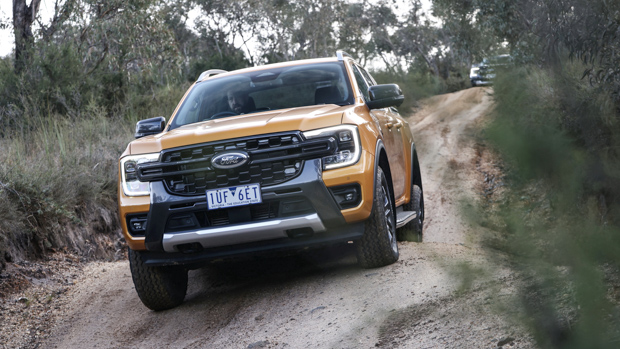 In comparison, the Ranger Wildtrak has a ground clearance of 234mm, and an approach and departure angle of 30 and 23 degrees, assuming a tow bar is fitted.
Payload and towing
Both of these utes are designed to give buyers all the features and luxury they need but with no compromise to everyday usability, and this is certainly true when it comes to payload and towing.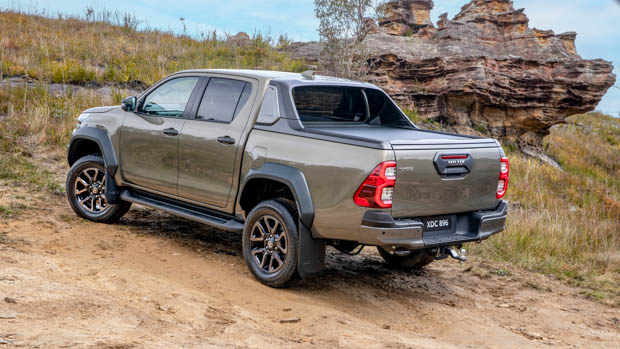 The Ranger Wildtrak and Hilux Rogue can both pull 3500kg with a braked trailer though their GCM ratings differ, with the Toyota limited to 5850kg while the Fords can handle 6350kg with a 2.0-litre engine and 6400kg with the 3.0-litre V6.
Payload also varies, with the Hilux rated for 794kg while the Ranger in both 2.0-litre and 3.0-litre options can carry notably more at 985kg and 997kg respectively.
What does each include?
Sitting at, or near, the top of their respective lineups means you won't be left wanting for features on these two utes.
It's worth noting from the outset that both of these utes are comparable on price, with the Hilux Rogue starting at $70,200 before on-road costs, while the Ranger Wildtrak is slightly cheaper, available from $67,190 with the 2.0-litre or $70,190 with the 3.0-litre V6.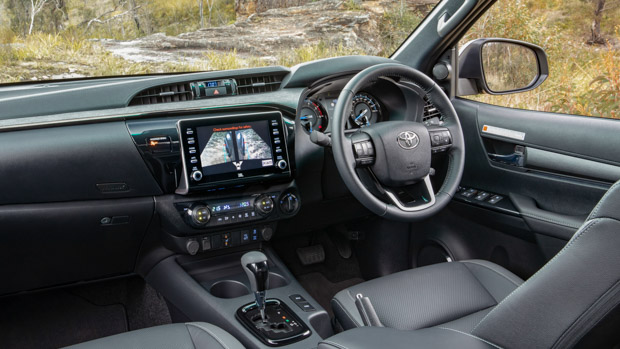 Kicking off with the Hilux Rogue, buyers net 18-inch alloys, LED headlights, beefy wheel arches and a standard-fit towbar on the outside.
On the inside, leather upholstery, heated front seats with power-adjustment for the driver as well as technology such as a six- or nine-speaker auto system, which is linked with an 8.0-inch touchscreen with wired Apple CarPlay and Android Auto.
The Aussie-developed Rogue features an array of safety aids including 360-degree camera, blind-spot monitoring, rear cross-traffic alert and adaptive cruise control along with front and rear parking sensors.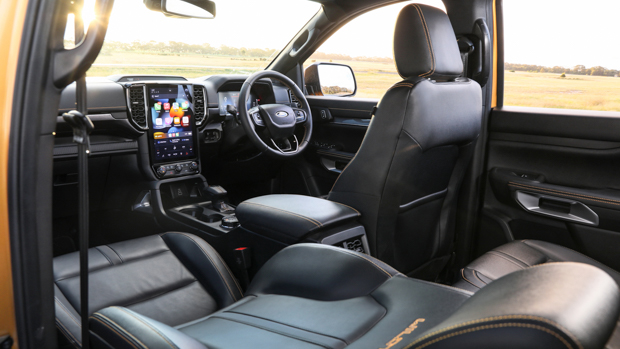 The Wildtrak matches its Toyota rival on a lot of fronts, with features such as standard LED headlights, 18-inch alloys, leather upholstery, heated front seats with adjustment for the driver and a 360-degree camera shared across both.
The Ranger one-ups the Hilux by adding a wireless phone charger, ambient lighting, a larger 12.0-inch touchscreen with wireless Apple CarPlay and Android Auto and an 8.0-inch digital instrument cluster.
Verdict
After delving so far into the details, it's become clear that the Ford Ranger Wildtrak and Toyota HIlux Rogue are two utes which are working hard for your money – and so they should, because they ask a lot of it; $70k and change is a lot of money.
The previous-generation Ford Ranger wowed us in our dual-cab megatest with its sheer breadth of ability, and our extensive testing of the new model has revealed more of the same qualities but in more modern capacity.
Toyota's new Hilux Rogue doesn't go as far as the Ranger Raptor ($86,790) when it comes to off-roading but it's also a lot cheaper, and upgrades such as a wider track and raised suspension makes for a no-brainer decision for anyone who wants to spend any amount of time pushing their ute to the limits.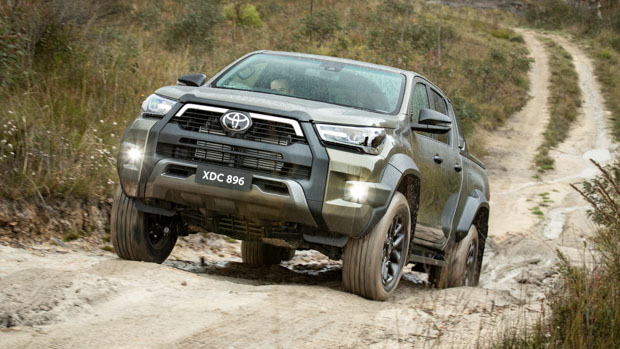 However at this price point we can demand more from what our utes give us, and the Ranger provides this with modern technology (not often found in Australia's aging fleet of utes) available early-on in the line-up, while the Wildtrak adds even more kit.
Therefore the Hilux Rogue and Ranger Wildtrak present themselves for slightly different buyers, with the Ford providing an 'everything but the kitchen sink' approach to its living room-like cabin, while the Toyota brings serious brawn and off-road chops to its tried-and-tested, if arguably aging ute.
Chasing Cars will be conducting a thorough analysis of the updated Hilux Rogue soon so stay tuned to the website and Youtube channel for our official review.