This week we're driving the 2017 Kia Rio Si, at $21,490 (plus on-road costs). The previous generation Rio was a huge step forward for the brand – it ushered in the first of its new age design, thanks to designers poached from Germany. It was also the first time that the Rio had mature driving dynamics. With the third-generation Rio hitting such high notes, is this fourth-generation model as good?
The 2017 Kia Rio Si we have is priced to compete with the Mazda 2 Genki and Volkswagen Polo 81TSI. All Rios are, for now, powered by the same 1.4-litre four-cylinder petrol engine and four-speed automatic combination, with a six-speed manual also available on the base Si. It produces 74kW of power and 133Nm of torque, and Kia claims a combined fuel consumption rating of 6.2L/100km.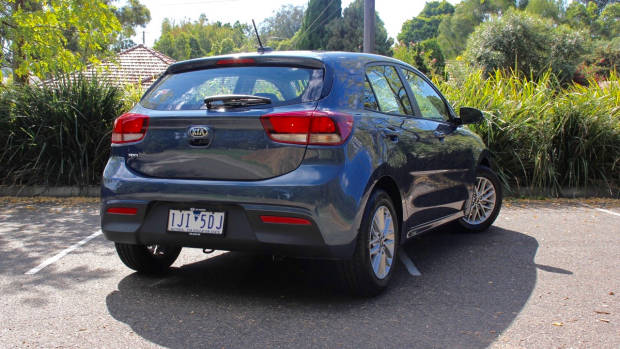 You may notice that those power/torque figures are less than the cars that the Rio competes with, yet its fuel consumption is higher. A Mazda 2 Genki ($22,690) utilises a 1.5-litre four-cylinder engine with 81kW/141Nm, and both the Skoda Fabia 81TSI ($19,490) and Volkswagen Polo 81TSI ($21,190) use a 81kW/175Nm 1.2-litre turbo four-cylinder – a Mazda 2 Genki officially uses 4.9L/100km and the Volkswagen Group twins 4.8L/100km – more than 20% superior to the Rio.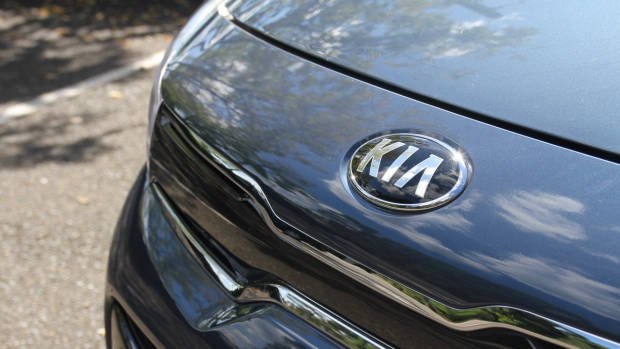 As the figures suggest, the 2017 Kia Rio does feel sluggish compared to those three rivals – the 1.4-litre engine does its best to get the 1,161kg Rio going but the four-speed auto hampers its progress with very wide ratio gaps. The first to second gear change can be particularly alarming – get the revs incorrect and progress is lost into second gear. The transmission changes into fourth gear as soon as it can, and can take an age to kickdown into strained 1.4-litre acceleration. The worst part? In our time with it, the Rio used above 10L/100km, almost double its claim.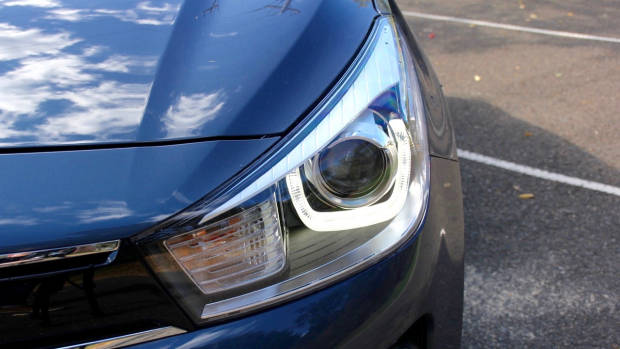 It's a shame that the engine is so lacklustre, because it spoils what is otherwise a very respectable light car. The Rio is certainly roomier and more practical than a Mazda 2. The boot measures at 325-litres – 75-litres more than the Mazda 2. There's proper room in the rear seat – at just over six foot, I've got enough head and legroom to sit comfortably behind myself. The rear seat also has reasonable door bins to put bottles and even a USB charging point, itself a light car class exclusive.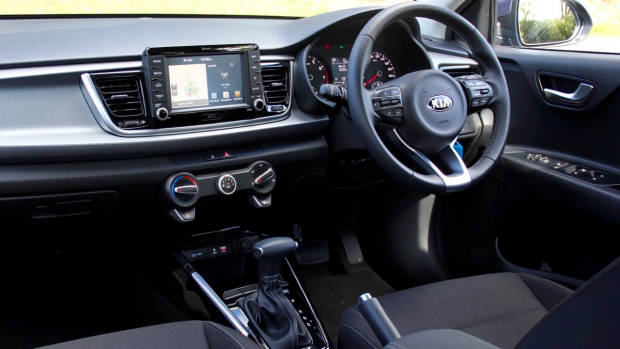 In the 2017 Kia Rio's cabin is where you'll notice the biggest improvement – the dashboard layout is modern, and while there are no soft-touch surfaces, it's still of good quality and appears built to last. Centrepiece to the Rio's interior is a new seven-inch touchscreen infotainment system, which is has crisper graphics and is easier to use at speed than both the Sportage and Sorento.
It comes across the local range as standard equipment and also arrives with a rear-view camera, Apple CarPlay and Android Auto smartphone integration. On this mid-spec Si and SLi above it, DAB+ digital radio and satellite navigation are standard as well.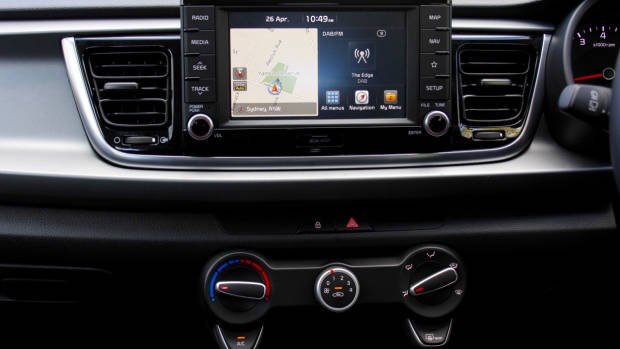 The front seat is also roomy and practical – centre console storage is excellent, the door bins are large and the glovebox is a decent size as well. The seats are comfortable and reasonably supportive, though they don't feature lumbar adjustment or side bolstering to keep you in place when cornering.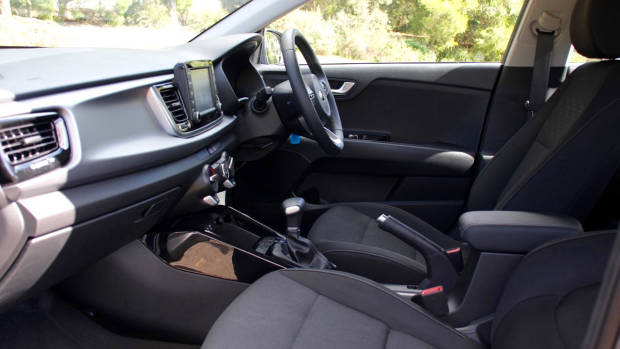 That's the surprising thing about the Rio though, it does actually love to corner. Thanks to Kia's Australian tuning division, which tunes each model specifically for our road conditions, the Rio is a fun car to drive. It tackles corners eagerly, with great turn-in and grip and reasonable feel through the light steering. The ride quality is great as well – it's rarely troubled by bumps. Despite the engine, you'd genuinely have a good time on a country road in the Rio.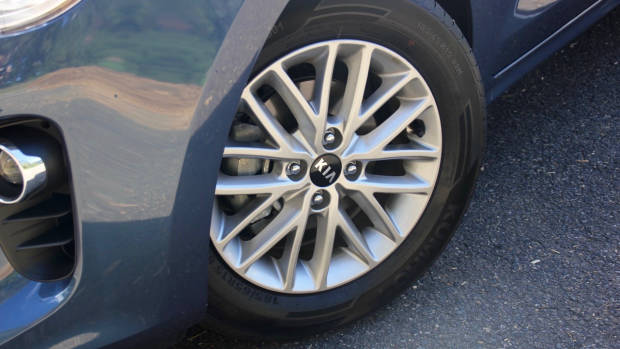 So if the 2017 Kia Rio's lacklustre drivetrain is matched with a great interior and genuinely good driving dynamics, what is pricing like? The base model Rio S starts from $16,990 for the manual ($19,090 for the auto) and for that you get auto lights, the fabulous seven-inch touchscreen with a rear camera, Apple CarPlay and Android Auto integration, electric mirrors and windows and air-conditioning. You can't forgot Kia's industry-leading seven-year warranty and seven-year capped price servicing as well.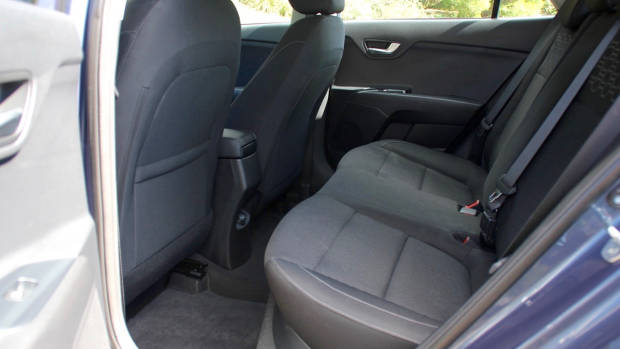 How about the model we're driving? The Rio Si is $21,490 plus on-road costs, and while you get more equipment for the money – 15-inch alloy wheels, sat-nav, projector headlights with LED daytime running lights and heated/electric-folding mirrors – it still costs very close to the Mazda 2 Genki, and you earn significantly more equipment with that. On-road and including metallic paint, you're looking at almost $26,000 for a Rio.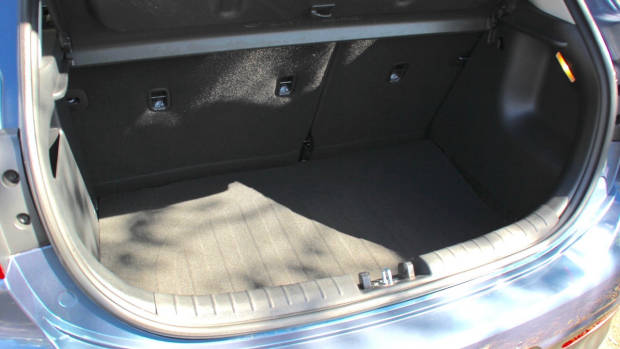 Yet somehow, there is a model above the Rio Si. The $22,990 (plus on-road costs) Rio SLi adds more luxurious touches – fake leather seats, auto wipers, 16-inch alloy wheels, an electric sunroof and climate control.
Furthermore, no matter which 2017 Kia Rio you chose, no form of active safety technology is available. No autonomous emergency braking, blind-spot monitoring, heads-up display or rear traffic alert, all of which is standard on the Mazda 2 Genki. Even a $16,990 Mazda 2 Neo comes equipped with AEB.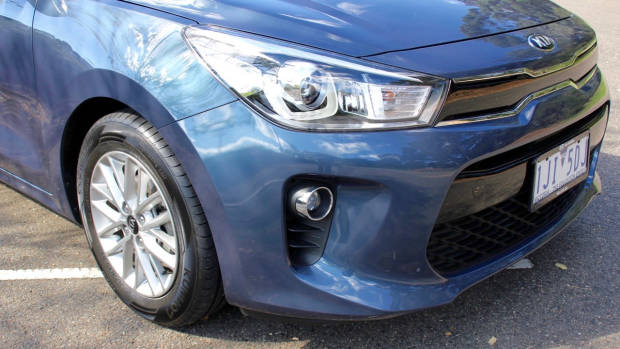 And that's the 2017 Kia Rio. There's a characterful car hiding underneath a substandard drivetrain, at a price that's just too high – the larger Hyundai i30 Active is priced lower. We hope the rumoured 1.0-litre turbo three-cylinder petrol engine comes soon to the Australian Rio range, because it's a good car that would be a lot more polished with a better engine. Until then however, the Mazda 2, Skoda Fabia and Volkswagen Polo remain superior light car purchases – despite offering lesser warranties, they combine superior drivetrains into better value packages.