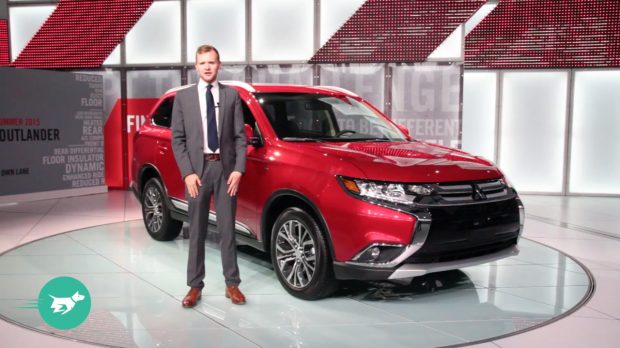 Click the video above for our footage of the new Outlander at the 2015 New York Auto Show.
The third-generation Mitsubishi Outlander may be just two years old, but the Japanese manufacturer has brought forward its mid-life refresh to this year. The Outlander has been competitive in Australia, but praise has been limited over the current car's conservative, slab-like design and lack of flair behind the wheel.
We were present for the updated SUV's debut at the 2015 New York Auto Show. While it's certainly a refresh, rather than a new model as the marketing hype will have you believe, the second-series Outlander is undoubtedly better-off. The new face and behind are certainly more memorable (if not entirely handsome), with classic Pajero lines particularly notable at the rear. The interior remains largely the same – there are softer trims at various contact points indoors, though, so the Mitsubishi will be a more comfortable place to be.
Dynamically, we're told that 'numerous engineering improvements' have been made to the suspension and steering. This should tick up both the engagement meter and the car's refinement levels. Both of those were in need of attention – a finding we came to in our reviews of both the petrol Outlander, and the plug-in hybrid model.
While work has been done to the chassis, the engines carry over: the 2- and 2.4-litre aspirated petrols, the two-litre + electric PHEV, and the 2.2-litre turbodiesel will be present with no major changes.
Notably, the revised Outlander reveals Mitsubishi's forthcoming aesthetic, labelled 'Dynamic Shield'. The company's Australian marketing director Tony Principe calls the car the standard-bearer of the 'style rebirth' taking place within Mitsubishi's walls, so we can expect to see the Outlander's face on its siblings in the range in future.
Mitsubishi has declared that its focus going forward will be squarely on SUVs. They do know a thing or two about performance – sadly, the Lancer Evolution sedan departs the range this year – and we hope that some of that dynamic know-how is starting to bleed into their crossovers. We'll know for sure when we drive the revised Outlander at its local launch in Sydney this week.