Nissan has this week revealed an all-new JUKE for 2020. The first generation JUKE was released in 2010 and was a big hit in Europe with Nissan claiming over one million sold globally. Sales have never been as strong in Australia though, with Juke sales falling dramatically over the last two years despite the growing popularity of the small SUV segment in general. The second-generation Juke will compete in a busy class against the quirky but fun Toyota C-HR, Mazda's excellent CX-3 and CX-30, Nissan's own larger bodied Qashqai, the Honda HR-V, and the recently announced Kia Seltos.
Nissan has emphasised the new JUKE is the "most connected Nissan ever" and it will arrive with an impressive array of technology. Notably Nissan's ProPILOT autonomous system which includes active cruise and automatic lane holding, AEB with pedestrian and cyclist recognition, rear cross-traffic assist, and blind-spot assist which Nissan claim is a first for the segment.
The second-gen Juke is also equipped with NissanConnect infotainment system that packs Apple carplay and Android auto, TomTom maps for navigation, In-car wifi, with automatically updating software and firmware. NissanConnect infotainment system also gives the driver the ability to monitor tyre pressure, oil levels, lock and unlock the Juke from their smartphone, the sort of technology usually seen on Teslas and other more premium brands.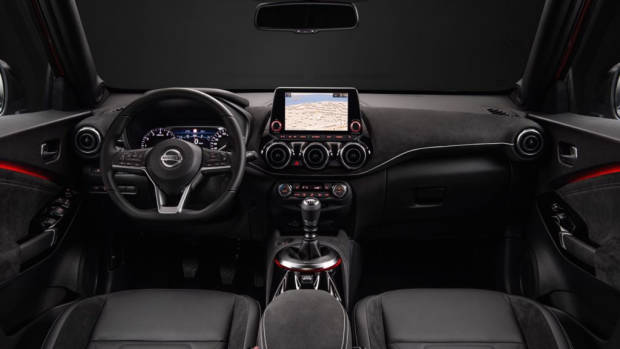 The JUKE features a fairly tame interior design that belies its out-there exterior. The JUKE is equipped with a centrally mounted eight-inch touch-screen and digital digital gauge cluster along with a flat-bottomed steering wheel – not something everyone will get along with – and separate HVAC controls, which are good to see in a modern interior. The JUKE pictured is equipped with leather and alcantara with sporty looking bucket seats that look up to the task of holding passengers in.
Pictured here in striking Fuji Sunset red, the face is unmistakably JUKE, with the more aggressive front-end giving a striking and more modern appearance than the outgoing JUKE, which thanks to its fussy styling was beginning to look quite dated. The sleeker coupe lines with hidden rear door handles give the JUKE a more refined appearance than often blockier competitors, though we will have to see one in the metal before passing proper judgement.
Despite the low-slung aesthetic Nissan has kept the JUKE practical, managing to achieve an impressive 422L boot space, only 8L shy of its much larger Qashqai sibling, with significantly more room than the 377L boot in Toyota's C-HR.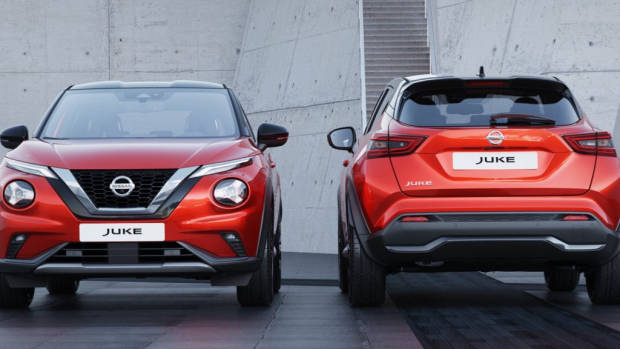 The JUKE will be available with 16-inch wheels as standard, with optional N-Design package adding the large 19-inch wheels pictured here that fill out the guards but will undoubtedly lead to a compromised ride around town.
Available with both seven-speed dual-clutch transmission and – enthusiasts rejoice – a six-speed manual, Nissan claims the second-generation JUKE has remained a sporty crossover with an "emphasis on fun".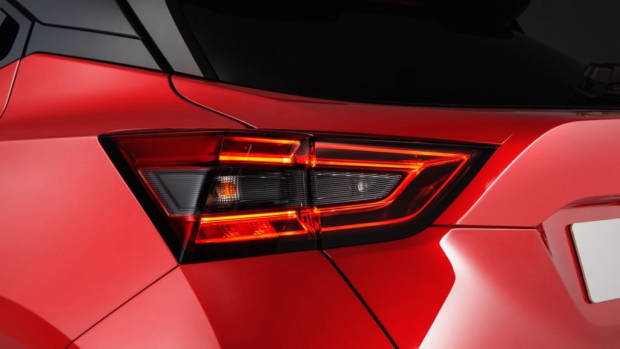 Nissan has only confirmed one engine variant for the second-generation JUKE, a one-litre three-cylinder turbo producing 86kW/180Nm with 200Nm available with an overboost function. A claimed 0-100km/h time of 10.4 seconds is certainly not going to set the world on fire. Worry not though, if the first generation JUKE is anything to go by we can expect hotter versions along the lines of a NISMO tuned version, or the manic (but short-lived) JUKE GT-R.
The second generation JUKE will be arriving in European markets at the end of November. Nissan Australia have confirmed their interest in the JUKE, but there is no confirmation yet on pricing or availability for the Australian market.