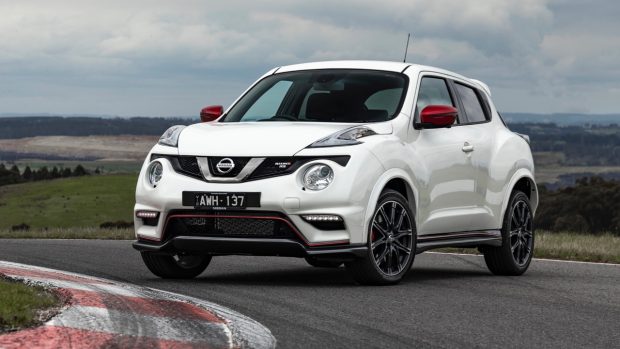 Settle in and hit play on Semisonic's classic nineties hit 'Closing Time': pretty soon, the run of one of the earliest – and quirkiest – small SUVs will come to an end. The Nissan Juke, which debuted seven years ago, is one of the most unique-looking crossovers on the market and though it distantly trails its brand and segment sibling, the Qashqai, we still have something of a soft spot for the funky Juke that dared to do things a little differently.
But the Juke isn't finished just yet, and it isn't bowing out without a performance special. Staying true to Nissan Australia's philosophy that its NISMO sub-brand involves big mechanical changes, not just the sticker packs found in some foreign markets, the Juke has come in for some significant late-in-life fettling by Nissan's performance maestros. Enter the 2019 Nissan Juke NISMO, a faster and sharper variant that dials down the cute, and dials in some aggression.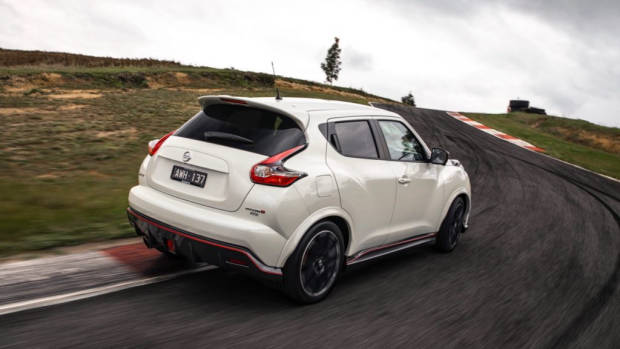 We drove the Juke NISMO – fairly briefly – at its national launch this week outside Adelaide, South Australia. Though a 45 minute blast left us wanting a little more, the fact that drive took place in the narrow and winding roads of the Adelaide Hills, in teeming rain no less, kept us on our toes.
The Juke NISMO is the third addition to the high-performance Nissan sub-brand in Australia, following the two-seater 370Z and the GT-R supercar.
Beneath some obvious aesthetic enhancement that includes unique front and rear bumpers, gloss black 18-inch wheels and liberal red highlighting sits a set of mechanicals based on the now mid-range Juke Ti-S but with significant changes to befit the NISMO brand. Just 240 Juke NISMOs are coming to Australia; these should account for about one-third of Juke volume locally until they are sold out.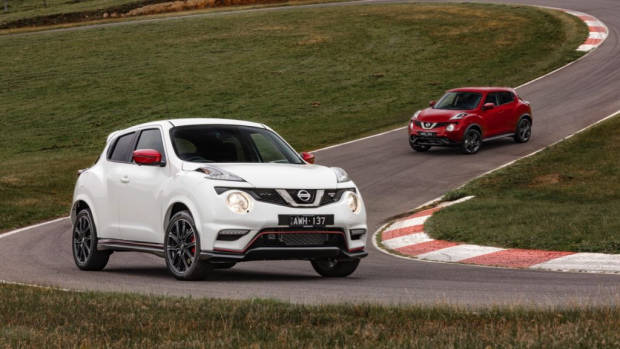 Australia only receives what is known globally as the Juke NISMO RS – not the R model, which falls into the NISMO-looks-but-not-extra-go camp that Nissan Australia are rejecting outright. Instead, the RS takes the oily bits from the Ti-S and turns up the wick – in return for an additional $7,650.
That starts with a 1.6-litre turbocharged four-cylinder petrol engine that produces 160kW/280Nm as a six-speed manual with front-wheel-drive, or a more modest 157kW/250Nm with a CVT automatic and all-wheel-drive. The Ti-S, meanwhile, makes 140kW/240Nm with either gearbox.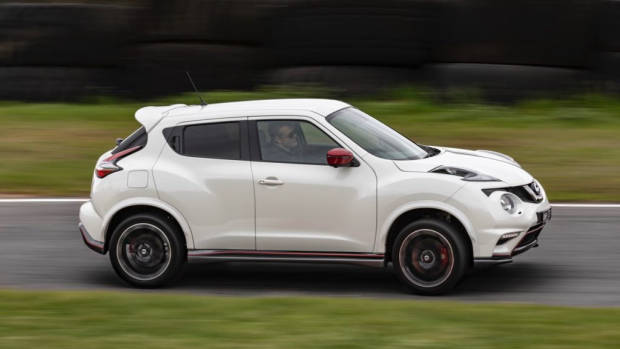 Only the $37,790 NISMO RS manual was available to sample in South Australia, but the stick-shift is expected to account for 70% of sales. That's heartening to hear, reflecting that hotter models retain a good manual following even where the mainstream range sells far more strongly with an auto.
The 1.6-litre turbo and manual partnership is one of the better Nissan drivetrains going. No thrashy naturally aspirated petrol action going on here: the 160kW unit in the NISMO manual has generous low- and mid-range pull, only running out of puff toward the top of the rev range. Short shifting with the moderately satisfying manual, is the way to go.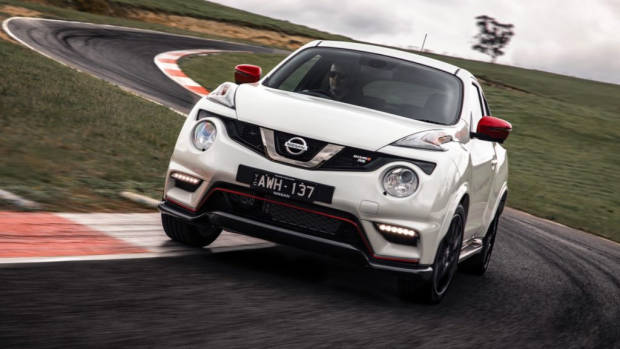 Opting for the $3,700-cheaper manual requires foregoing all-wheel-drive, but that doesn't really matter. Sending torque only to the front wheels imbues the Juke NISMO with something of an old-school hot hatch character, replete with big bursts of torque steer (on sodden roads – dry tarmac performance will need to be assessed at a later date). An open diff means needing to temper throttle inputs, but honestly, it's fun. If only the engine produced more exhaust grumble – the aural experience is mostly one of fizzy induction noise.
But the goodness doesn't stop there – the Juke's ride and handling appear to be decently sorted in NISMO guise. The spring rate is shorter and and damping has been considerably firmed up and the result is decently-controlled body roll. The NISMO corners flatly and while road imperfections are clearly felt, bumps don't crash or reverberate. That said, the roads we drove were coarse-chipped but free of major bumps. A proper test on difficult New South Wales roads is in order.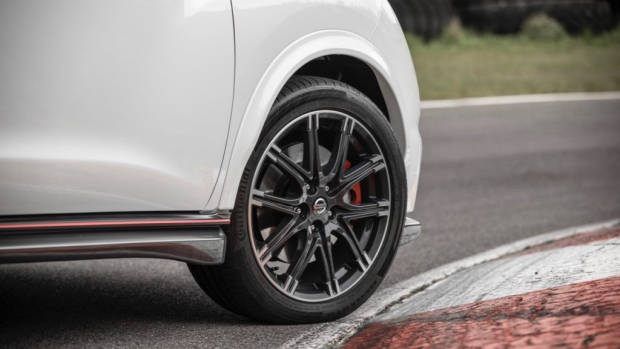 Manual cars have a torsion beam rear suspension; spending more on the all-wheel-drive model does mean less power and torque (and a dull CVT 'box), but it does add multi-link rear suspension and true torque vectoring.
The Juke NISMO's electric power steering sees considerably more weight added in – some will find the meaty weighting a little overbearing, but for us, it's a much better solution to the breed of overly light, uncommunicative steering racks seen in some of Nissan's other SUVs – notably the X-Trail. Alcantara 9-and-3 grips and a red stripe at 0º add character to the steering wheel.
So, the dynamics are pretty enjoyable, if a little old school. Driving-wise, the Juke NISMO is a bit of fun.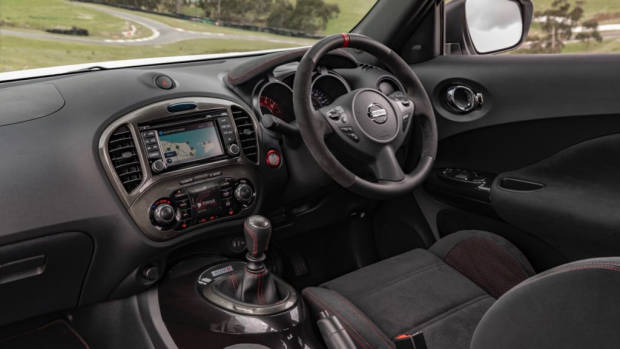 Unfortunately, the rest of the experience is starting to feel dated. Nissan say the Juke NISMO is pitched at a younger audience, but this car's cabin is old and it's looking tired. Acres of hard plastic are bad enough when you're asked to cough up $40,000 on road – or more. The dramatically out-of-date touchscreen software, ancient map graphics and a total lack of Apple CarPlay and Android Auto support are big problems.
The Juke's diminutive length means the back seat is pretty tight and there are no air vents back there for rear seat passengers. The boot, however, is decently sized if you go for the manual, measuring in at 354 litres, though this falls to a paltry 207 litres in the auto due to its independent rear suspension and additional running gear.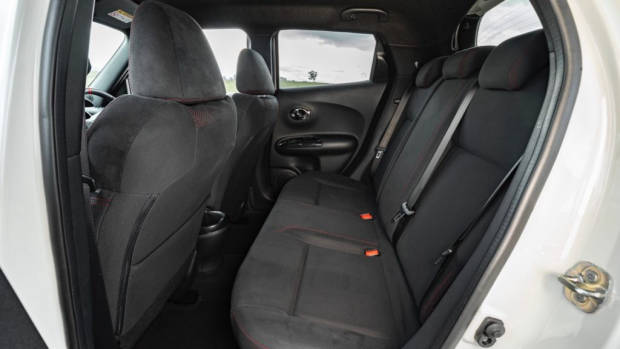 Like most Nissans, the Juke's cabin feels like it has been screwed together meticulously, and that does count – it's just a shame that the actual materials being put together are unwelcoming and the tech is behind the times. And the technology problem isn't just the Juke – most of Nissan's portfolio needs a substantial infotainment upgrade. The brand's second-gen LEAF electric car – arriving in about eight months – will be the first Nissan to have CarPlay, so at least times appear to be changing.
What we certainly cannot complain about are the Juke NISMO's excellent seats, decent ergonomics, nice steering wheel and good shifter – and, truth be told, while the touchscreen looks old, it is easy to use and the standard inclusion of a 360-degree parking camera is impressive.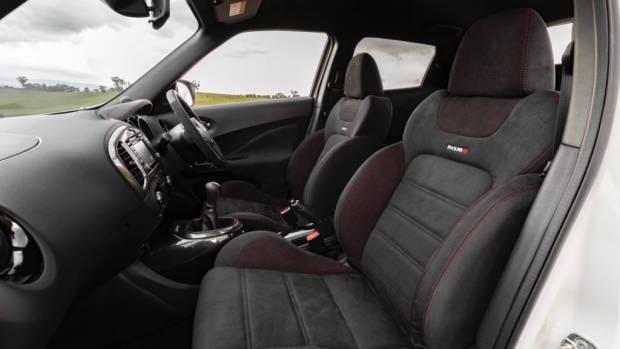 Keep in mind, though, AEB, active cruise control, and lane keep assist are all off the menu due to the age of the Juke platform. You will find blind spot monitoring and rear cross-traffic alert, though – technologies that are very welcome.
Price-wise, the Juke NISMO is in a difficult spot. Priced north of $35,000 – up to pretty much $45,000 on the road for an auto – the hot Juke is right in the jaws of better-known small peformance cars like Volkswagen's 147kW/320Nm Polo GTI and 180kW/370Nm Golf GTI duo.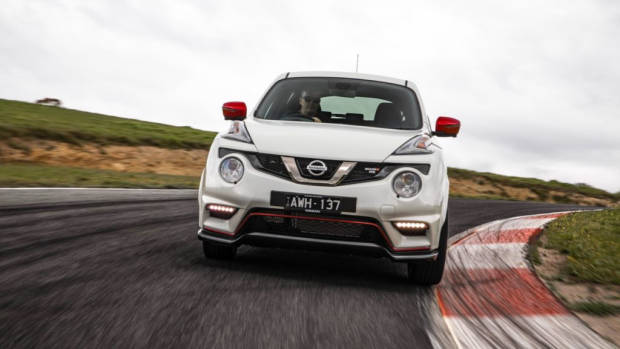 Nissan accurately points out that the Juke NISMO is a hot hatch blended with an SUV, and in this regard it is relatively unique. One alternative to consider is the turbocharged Hyundai Kona, which is cheaper and has much more cabin and safety tech, though the tradeoff is merely warm, not hot, performance from its 130kW/265Nm 1.6-litre.
Presently, Nissan say they are comfortable sticking to a three-year, 100,000km warranty, and this is what will apply to the Juke NISMO. Rival brands are rapidly adopting five year arrangements. That said, the 1.6-litre turbocharged Juke is reasonably inexpensive to service, costing $1,412 over the 40,000km travelled in an average three years of motoring in Australia.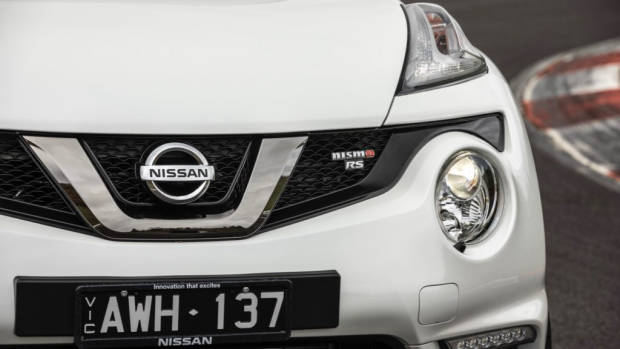 We think that the Juke NISMO – like the underlying Juke – is a fundamentally likeable car. It's an SUV that looks very different to something mainstream and vanilla-flavoured. Engine-wise, the turbo Juke goes a lot better than a Qashqai and other naturally-aspirated small SUVs (which is most of them). And the NISMO is meaningfully altered be harder and sharper.
So, if driving a fast, quirky and distinctive little truck appeals to you – or if you're a NISMO diehard seeking something you can actually put kids into (unlike this car's NISMO stablemates, the 370Z and GT-R), the Juke NISMO may well be an answer to a long-unanswered question.
But for those looking for a little extra edge in an SUV that needs to have the latest in cabin and safety tech – others now do it better.