The updated Ford Ranger ute will be priced from $27,390 when it launches in the third-quarter of this year. At the high-end, a Ranger Wildtrak with an automatic gearbox will set you back $60,090.
Ford have drip-fed information about the new Ranger, starting with photos of the updated PX Mark II model, then detailed specifications which we revealed a fortnight ago. With the Ranger's 2015 prices now available, interested buyers have just a couple of months to wait until the new look Ranger launches to compete with the Nissan Navara NP300 (read more here), the new Toyota HiLux (read more here), and the new Mitsubishi Triton (watch our review here).
Ford are aggressively pitching the Ranger ute as the premium option in the increasingly competitive utility segment. This marketing has already started, with runout marketing for the current PX Ranger claiming 'you can buy a best-seller or a cheaper alternative, but nothing is as good as the Ford Ranger.'
Expect this to reach fever pitch as the new-look truck arrives later this year.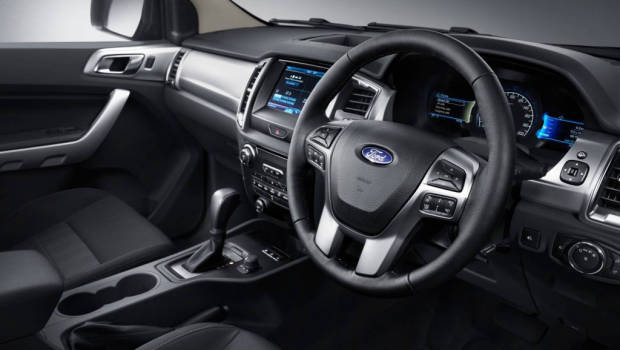 Ranger will continue to be available in both 4×2 and 4×4 drivetrains, in single cab, super cab, and double cab configurations. Both a 2.2-litre turbodiesel four-cylinder (118kW/385Nm) and a 3.2-litre turbodiesel five-cylinder (147kW/470Nm) will return in the new shape.
The basic XL model is available in the most significant number of configurations, with the higher-end XLT and Wildtrak trims confined to the Double Cab style.
Ford Ranger 2015: Australian price
4×2 models
Ford Ranger XL Single Cab Chassis manual 2.2L: $27,390
Ford Ranger XL Single Cab Chassis Hi-Rider 2.2L manual: $30,890
Ford Ranger XL Single Cab Chassis Hi-Rider 2.2L automatic: $33,090
Ford Ranger XL Single Cab Pick-up 2.2L manual: $28,390
Ford Ranger XL Super Cab Chassis Hi-Rider 2.2L automatic: $35,590
Ford Ranger XL Super Cab Pick-up Hi-Rider 3.2L automatic: $46,690
Ford Ranger XL Double Cab Chassis Hi-Rider 3.2L automatic: $37,590
Ford Ranger XL Double Cab Pick-up Hi-Rider 2.2L manual: $36,390
Ford Ranger XL Double Cab Pick-up Hi-Rider 2.2L automatic: $38,590
Ford Ranger XLT Double Cab Pick-up Hi-Rider 3.2L manual: $46,490
Ford Ranger XLT Double Cab Pick-up Hi-Rider 3.2L automatic: $48,690
4×4 models
Ford Ranger XL Single Cab Chassis 2.2L manual: $38,790
Ford Ranger XL Single Cab Chassis 3.2L manual: $41,290
Ford Ranger XL Single Cab Chassis 3.2L automatic: $43,490
Ford Ranger XL Plus Single Cab Chassis 3.2L automatic: $46,480
Ford Ranger XL Super Cab Chassis 3.2L manual: $43,790
Ford Ranger XL Super Cab Pick-up 3.2L manual: $44,790
Ford Ranger XLT Super Cab Pick-up 3.2L manual: $52,390
Ford Ranger XLT Super Cab Pick-up 3.2L automatic: $54,590
Ford Ranger XL Double Cab Chassis 2.2L manual: $43,290
Ford Ranger XL Double Cab Chassis 2.2L automatic: $45,490
Ford Ranger XL Double Cab Pick-up 2.2L manual: $44,290
Ford Ranger XL Double Cab Pick-up 2.2L automatic: $46,490
Ford Ranger XL Double Cab Chassis 3.2L manual: $45,790
Ford Ranger XL Double Cab Chassis 3.2L automatic: $47,990
Ford Ranger XL Plus Double Cab Chassis 3.2L automatic: $51,960
Ford Ranger XL Double Cab Pick-up 3.2L manual: $46,790
Ford Ranger XL Double Cab Pick-up 3.2L automatic: $48,990
Ford Ranger XL Plus Double Cab Pick-up 3.2L automatic: $52,960
Ford Ranger XLS Double Cab Pick-up 2.2L manual $45,590
Ford Ranger XLS Double Cab Pick-up 2.2L automatic: $47,790
Ford Ranger XLS Double Cab Pick-up 3.2L manual: $48,090
Ford Ranger XLS Double Cab Pick-up 3.2L automatic: $50,290
Ford Ranger XLT Double Cab Pick-up 3.2L manual: $54,390
Ford Ranger XLT Double Cab Pick-up 3.2L automatic: $56,590
Ford Ranger Wildtrak Double Cab Pick-up 3.2L manual: $57,890
Ford Ranger Wildtrak Double Cab Pick-up 3.2L automatic: $60,090
Key options
XLT Tech Pack (reversing camera plus advanced safety technology): $1,100
Wildtrak Tech Pack (advanced safety technology): $600