The 2024 Polestar 5 is edging closer to production, with the latest evolution from Precept concept being a confirmation that the four-door electric car will use a bespoke, lightweight bonded aluminium chassis.
It was previously expected the Polestar 5 would use Volvo/Polestar's SPA2 platform – to be shared by the forthcoming third-generation XC90 large SUV – but the Geely Group EV specialist has since confirmed that the four-door electric sports car will utilise a bespoke chassis made from bonded aluminium – much like a Lotus Elise sports car.
The Polestar 5's underpinnings are taking shape at Polestar's research and development centre in Coventry, in close proximity to the UK's 'motorsport valley' that is a hub for Formula 1 teams and is located about two hours from Lotus' Hethel headquarters.
This location choice will certainly make finding high quality engineers that bit easier – there is already a 280-strong team at Polestar's R&D hub – to advance Polestar's sports car development. 
The Polestar 5 will be a rival for the Porsche Taycan and Tesla Model S electric sedans and will become the fourth model in Polestar's range. It will sit alongside the already-launched Polestar 2 midsize sedan, plus the Polestar 3 large SUV and Polestar 4 coupe SUV that are gearing up to launch before 2025.
Polestar's stated business goal is to increase global sales tenfold from the 29,000 units it managed in 2021 to 290,000 in 2025 with these four models.
Why is an all-new, bespoke platform a big deal?
The Polestar 1 was a bespoke supercar that worked as a proof of concept for the brand with its 447kW/1000Nm plug-in hybrid powertrain. However, its Scalable Product Architecture (SPA) underpinnings were shared with the familiar Volvo XC60 and XC90 crossovers. 
Fast forward to the fully-electric Polestar 2 which (priced from $59,900 before on-road costs) which is a more attainable vehicle based on the marque's more affordable CMA platform shared with the Volvo XC40 and a host of Chinese-market vehicles from Lynk & Co and Geely (Polestar's owners).
Geely's CMA, SPA and the forthcoming SPA2 platforms are all based around a combustion engine, so maximising their construction and packaging for an all-electric car is ultimately a compromise.
The new Polestar-led bonded aluminium platform will be the group's first attempt at a ground-up dedicated electric vehicle architecture.
The new platform is based around a bonded aluminium construction – a process that refers to how each individual member is joined together. Typically this requires welding or riveting, both processes which mean adding material and weight.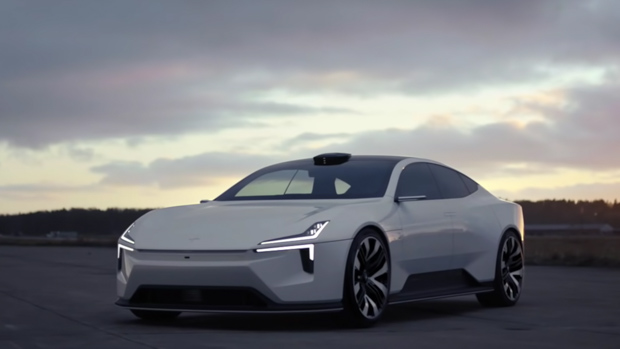 The Lotus Elise is one of the notable production cars to use this construction technique, though its low volumes were well-suited to the time intensive method.
Polestar claims that the new platform alone will offer "torsional rigidity superior to that of a traditional two-seat sports car" for the four-door Polestar 5 as well as "weigh less than that of cars in smaller segments."
Polestar will reportedly develop bonded aluminium construction methods to be suitable for mass-production, but exact details remain a long way from being confirmed.