Mitsubishi has unveiled the Vision Ralliart Concept as the Japanese brand lays the foundations to return its iconic sub-brand to its former glory.
The concept, unveiled at the Tokyo Auto Salon, is based on the new Outlander plug-in hybrid (PHEV) midsize SUV and while it remains a proof of concept for now, Mitsubishi says the learnings gained from this one-off hot SUV will be integrated into its future vehicles.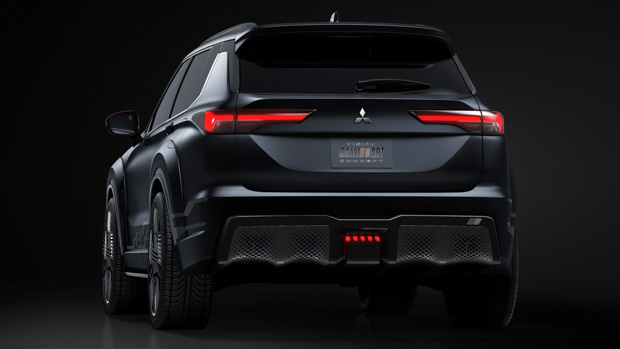 Pictured wearing a menacing black exterior the Vision Ralliart Concept pushes its Outlander underpinnings to the extreme with 22-inch wheels and beefier internal hardware.
While the exact specification of the drivetrain is not specified, Mitsubishi says the concept features a "higher motor output" matched with enhanced battery capacity.
To balance out the performance, designers have widened the stance of the Outlander and added some properly serious six-piston front brake calipers.
Mitsubishi also refers to the concept featuring 'sportier four-wheel control tuning' referring to the all-wheel-drive system, of which it poured significant effort into improving on the current Outlander prior to its 2021 launch in Australia.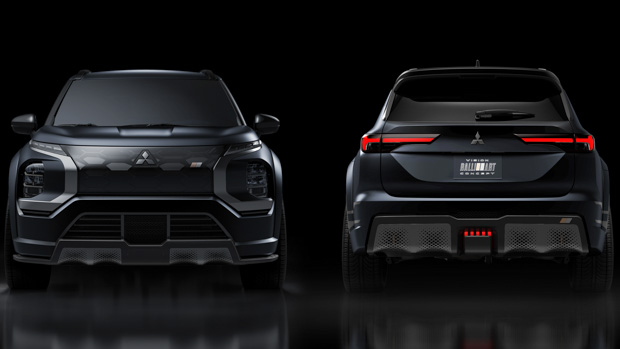 It's not known whether this four-wheel control refers to a true torque-splitting AWD system or a simpler torque vectoring by braking technology.
Designers have added a far more muscular exterior design to the concept, with the front grille now filled in with a single piece of clear material complete a discrete Ralliart badge mounted on the side.
The front bumper has been lowered significantly with what appears to be additional cooling vents mounted near the splitter.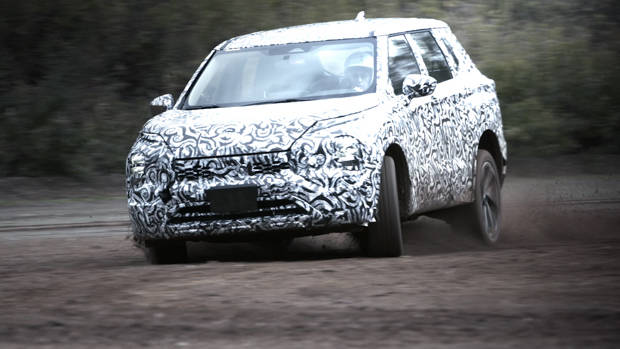 It's a similar story at the rear where it's hard to miss the F1-style rear diffuser with a low centre-mounted brake light and mesh covering the rear end.
The changes largely mirror what was forecasted in previous reports but we are yet to see the production version of the Outlander in Ralliart form.
After announcing the sub-brands revival in early 2021, Mitsubishi unveiled a 'Ralliart package' late last year for the Pajero large SUV and Triton ute in the Thailand market but these only focused on the aesthetics of the pair.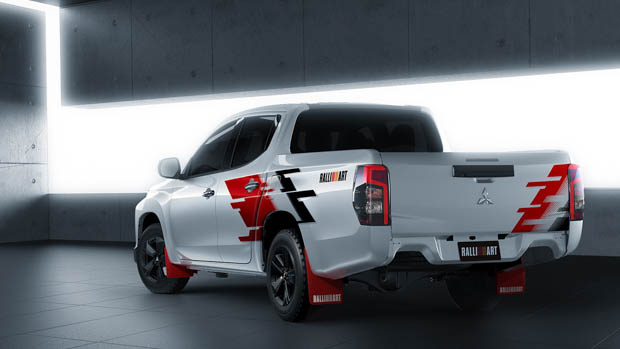 At the time, Mitsubishi Australia's public relations manager Josephine Wagstaff ruled out that particular package but told Chasing Cars the brand was open to the possibility of a performance product in the future.
"The Ralliart brand has strong heritage here in Australia, with the nameplate being associated with high performance and motorsports.
"Mitsubishi Motors is considering some exciting initiatives around the Ralliart, and we at MMAL can't wait to see what the future holds," she said.
Read more: Mitsubishi Outlander 2022 review
Mitsubishi Outlander 2022: prices in Australia
All prices listed are before on-road costs.
ES FWD (5 seat): $34,490 (up $2,000)
ES AWD (5 seat): $36,990
ES FWD (7 seat): $35,490
LS FWD (7 seat): $37,990
LS AWD (7 seat): $40,490
Aspire FWD (7 seat): $41,490
Aspire AWD (7 seat): $43,990
Exceed AWD (7 seat): $47,990
Exceed Tourer AWD (7 seat): $49,990