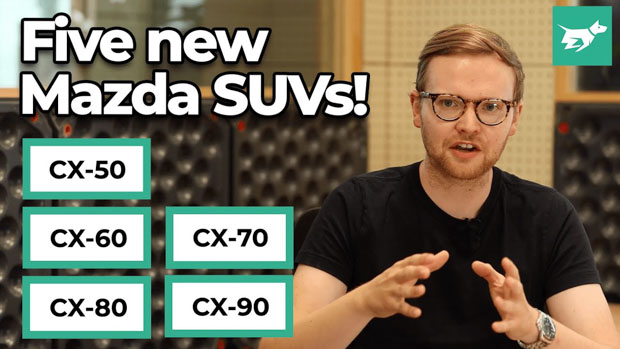 Mazda is going full steam ahead in the SUV market, offering five new models by the end of 2023.
Mazda will introduce the CX-50, CX-60, CX-70, CX-80 and CX-90 as what the company describes to be a "diverse choice of SUVs".
Full details of every new Mazda SUV
Four of the models are part of the brand's new Large Product Group, with the CX-50 being the sole product in the Small Product Group alongside already-launched Mazda Premium models, the Mazda 3 small car and CX-30 small SUV. 
The CX-50 is slated to be produced alongside a new Toyota product at the joint Mazda-Toyota production facility in Alabama, USA, where the new Toyota Corolla Cross is already being built.
Models in the Large Product Group will offer two body types with two seating arrangements: two rows and three rows, in wide body and narrow body.
It is not yet confirmed whether Australia will receive all new models.
The range will offer electrified powertrains. In Europe, the option for a plug-in hybrid with inline-four gasoline engines will be available, along with the new inline-six Skyactiv engine that will utilise a 48-volt mild hybrid system.
Mazda views North America as a high performance market and so the SUV lineup there will receive a turbocharged straight six petrol engine as an available option.
Japan will use a straight-six diesel engine with a 48-volt mild hybrid system and it is likely Australian buyers will also have the option to specify diesel power on some models.
It is unknown at this point in time which of these models will find their way into the Australian market, but it is likely with Mazda's success here that these models will be introduced.
More to come.