Set to be launched in production guise later this year in China, Kia has unveiled the Concept EV5. 
According to the Korean brand, the Concept EV5 has a smaller footprint than the EV9 of which it takes several design cues. 
As an all-electric midsize SUV, it's likely that this Kia Concept EV5, in its final production version, will face competition from the likes of the Tesla Model Y and the Hyundai Ioniq 5.
While Kia already has a fully electric midsize SUV on sale in the form of the EV6, the low-slung profile of this model, particularly in top-spec GT guise, could leave room for a more traditional SUV such as the EV5, once it reaches production form.
EV9 looks on a smaller scale
It's quite obvious that the Concept EV5 has been heavily influenced by the EV9, which was recently revealed in production guise.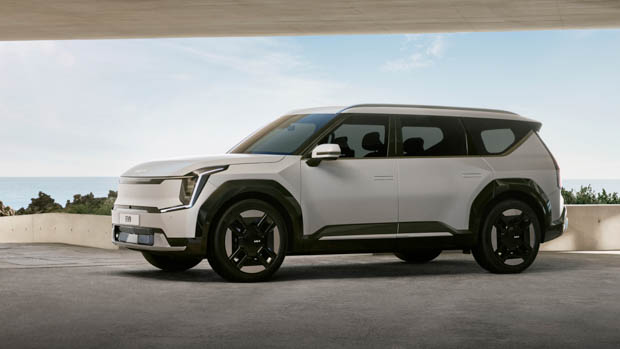 Kia claims that it builds upon this language with a "borderless philosophy" that gives the SUV a bold squared-off aesthetic, whilst retaining fluidity as a whole.
At the front, the Concept EV5 wears Kia's new "Tiger Face" grille – something that supposedly pays homage to the "Tiger Nose grille" that was worn by the much-loved Stinger sports sedan. 
Large box fenders house the 21-inch tri-spoke alloy wheels, and the same sqaure aesthetic is evident in the rear light design.
Lack of B-pillar leads to great indoor/outdoor flow
We can be pretty confident that the Concept EV5's exterior will reflect most of what we'll see on the final product, but it's likely to be a different story for the interior.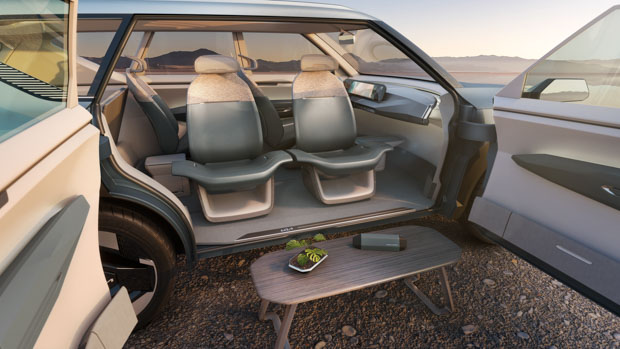 Kia claims that the interior of the Concept EV5 "blurs the boundaries between outdoor and indoor spaces", but in reality, a B-pillar is often vital for a vehicle's rigidity.
This was evident with the EV9 concept, which was also shown off without a B-pillar, but once the vehicle made its full debut in production guise, a B-pillar appeared.
Other highlights inside include the yoke-like steering wheel, front seats that can swivel, and a full-length glass roof that not only is made up of solar panels, but also "provides the perfect opportunity for occupants to enjoy the stars as they emerge in the sky above."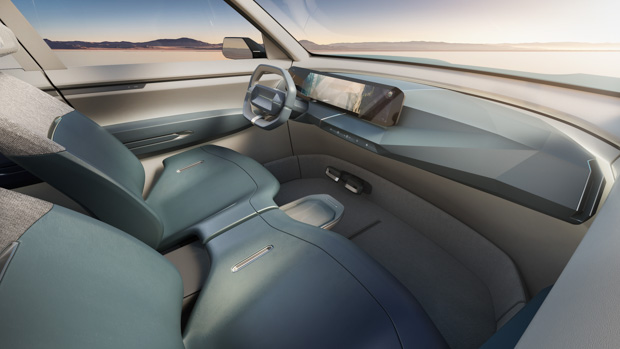 Finally, Kia notes that the interior is made up of "plant-based materials like seaweed extract and upcycled PET bottles" which allows the brand to retain a high level of luxury without using animal products.
EV5 likely to sit on e-GMP platform, see 500km of range
Though Kia is yet to reveal any details regarding the inner workings of this EV5 Concept, it's very likely that it will sit on the e-GMP platform.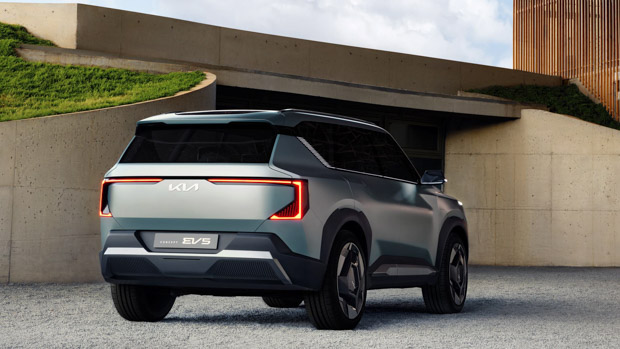 On this platform, the EV5 could be released in both single and dual-motor variants, with power figures ranging from 149kW to 298kW, depending on what level of performance Kia wants to pull from it.
As for a driving range, range-topping models could get up to 500km off a single charge.
Though Kia is only talking about a Chinese launch of the EV5 by the end of the year, it's very likely that this vehicle will get a global launch at a later date.