The Kia EV5 midsize electric SUV will be released in Australia in 2024 – and in a shock development, the Aussie-spec EV5 will be built in China with more affordable lithium-iron phosphate (LFP) batteries supplied by BYD.
That decision will make the EV5 more affordable than it would have been if Australia sourced its allocation from South Korea—where Kia will also produce the crossover with nickel manganese cobalt (NMC) batteries.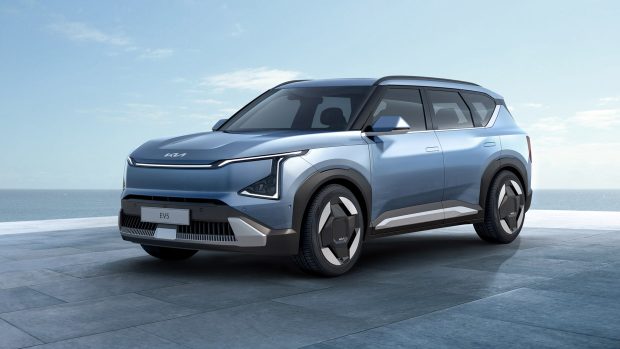 At 4.6 metres in length, the EV5 is about the size of the Kia Sportage SUV. A squared-off exterior aesthetic mimics the forthcoming EV9 large SUV. The interior mixes some of that car's premium cues with more austere surface materials in a bid to reduce costs.
Chinese sourcing means the EV5 will arrive considerably sooner to Australia, because South Korean production won't begin until early 2025 at the soonest.
As well as confirming the EV5 for Australia—as well as its release date—Kia also released initial specifications for the Tesla Model Y rival.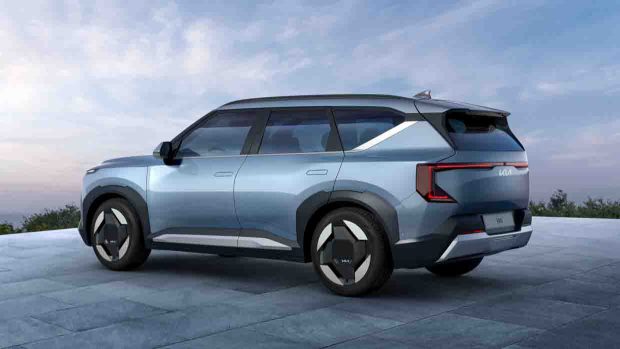 The Korean brand went even further by confirming that it was also working on a high-performance GT variant of the EV5, which will be revealed at a later date.
Sporting the latest iteration of Kia's 'opposites united' design language, the EV5 bears considerable resemblance to the larger EV9, both outside and in – though some of the EV5's cabin materials are noticeably more austere, such as hard-plastic door toppers.
Tesla currently sells the Model Y in Australia from $65,400 for a rear-wheel drive (RWD) model with 533km of range (WLTP). That vehicle will be a clear target for the EV5, along with the $76,990 Volvo XC40 Recharge Single Motor.
LFP batteries and cheaper version of e-GMP platform
Two battery sizes with LFP chemistry will be available: a 64kWh (gross) unit, and a larger 88kWh (gross) battery that should allow the China-built EV5 to exceed 600km driving range on the WLTP testing protocol.
Kia does not provide net (or usable) battery sizes, but they are expected to be about 60kW and 84kWh respectively.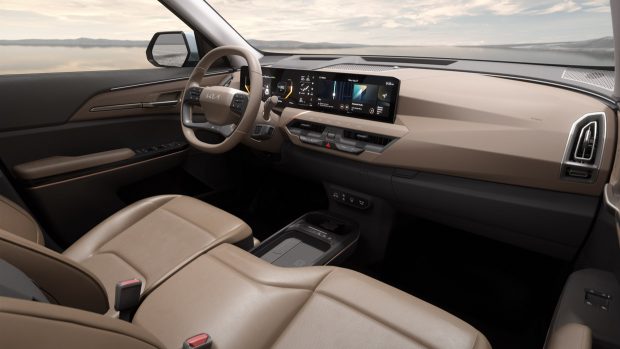 The EV5 will utilise a more affordable derivation of Kia's e-GMP platform, which dilutes the architecture's sophisticated 800-volt configuration to a more common 400-volt setup.
In a further distinction from its established sibling, the EV5 is designed around a dominant front motor. Single-engine versions will be front-wheel drive (FWD) while a weaker rear motor will allow buyers to specify all-wheel drive (AWD).
Kia EV5 range and efficiency: what to expect
It's not confirmed that Kia Australia will opt to bring all three powertrain combinations to our shores—but the EV5's position in Australia's burgeoning midsize SUV segment makes it more likely.
Only Chinese-market CLTC range figures have been released by Kia. Typcially, CLTC range projections are typically 20-25 percent more optimistic than Europe's WLTP protocol which provides closer guidance for how much range to expect in mixed driving.
We've provided some closer estimates on the EV5's real-world efficiency and possible WLTP range ratings here:
| | | | |
| --- | --- | --- | --- |
| EV5 variant | Usable battery | Efficiency (est.) | WLTP range (est.) |
| Standard range FWD | 60kWh (est.) | 12.8kWh/100km | 466km |
| Long range FWD | 84kWh (est.) | 13.2kWh/100km | 633km |
| Long range AWD | 84kWh (est.) | 14.6kWh/100km | 572km |
Later, a GT variant will join the range with all-wheel drive and increased power. It will not get a dominant rear motor, however.
Slower to charge than EV6, Model Y
The choice to downgrade the EV5 to a 400-volt platform cuts costs but it also lengthens charging speeds by 50 percent.
An EV6 can recoup around 52kWh of energy in just 18 minutes but the EV5 needs 27 minutes to recharge about 42kWh.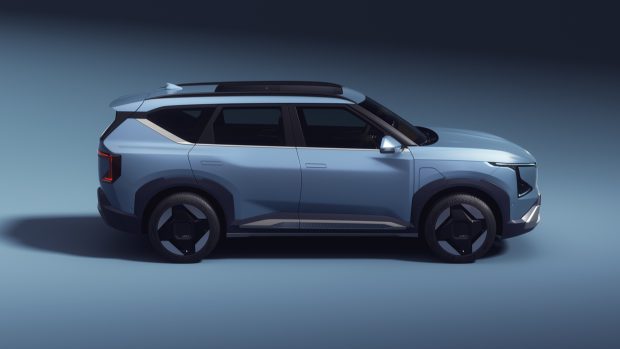 The reason is its peak charging speed of around 125kW is slower than the EV6's 800-volt-driven peak of about 230kW.
Even a 400-volt Tesla Model Y can manage a peak of 170kW, though the EV5 does best Kia's current affordable EV, the Niro, which tops out at 80kW.
EV5 will be joined by EV3 small SUV, EV4 sedan
Kia revealed these EV5 specifications at the brand's inaugural annual EV Day—an event at which it also announced its intention to sell 1 million electric cars each year by 2026.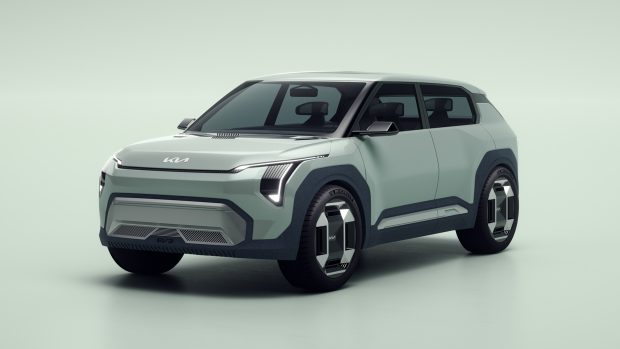 The EV5 will be pivotal to achieving that goal, but it won't be coming alone as Kia moves to dramatically expand its EV lineup in the coming years.
In 2024 it will also launch an EV3 small SUV while an EV4 electric sedan will follow in 2025. Both those models were previewed by concept cars this week with a focus on more sustainable interior materials.
In Australia, Kia currently offers the Niro EV from $66,590 before on-road costs and the 800-volt EV6 from $72,590. It will launch the three-row EV9 next month.