Cadillac has just announced its most powerful SUV ever – the Escalade-V.
Packing a supercharged 6.2-litre V8 engine, the first-ever V-series version of the Escalade produces a staggering 508kW of power and 885Nm of torque. It's mated to a 10-speed automatic transmission and a full-time all-wheel drive system.
With all that grunt, the Escalade-V can do the 0-97km/h (0-60mph) sprint in under 4.4 seconds and is capable of achieving a quarter-mile time of 12.74 seconds, according to internal GM testing, with a terminal speed of 177km/h. That's nothing to be sniffed at considering that Cadillac's beast weighs 2820kg (or more than 400 kilograms heavier than the Jeep Grand Cherokee Trackhawk's 2399kg weight).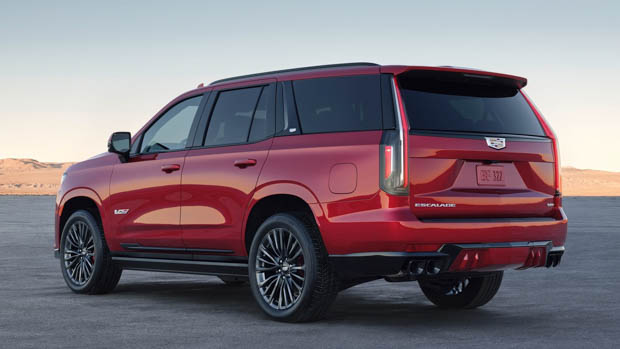 But for all Cadillac's chest-beating, the most powerful production SUV in the world is actually the Jeep Grand Cherokee Trackhawk which produces total outputs of 522kW/868Nm – slightly more power but slightly less torque than the Escalade-V.
What equipment do you get in an Escalade-V?
The 2023 Cadillac Escalade-V will feature unique front and rear design elements, quad exhaust outlets, six-piston Brembo front brake calipers, 22-inch alloy wheels, magnetic ride control, adaptive air suspension, selectable V drive modes including performance drive settings, lowered suspension, and active exhaust control.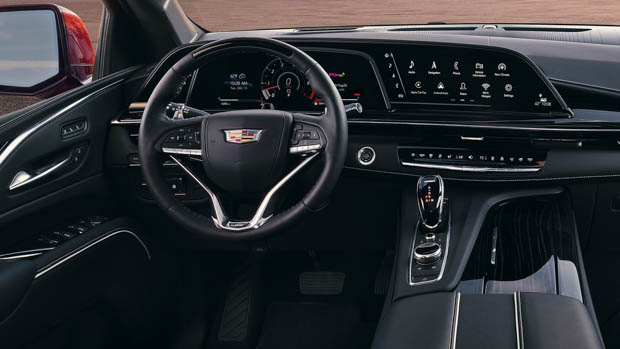 Inside, a curved 38-inch OLED display is a standout, along with a 36-speaker sound system and hands-free driver-assistance features.
The Escalade-V is also a big unit, measuring in at 5382mm long, 2059mm wide and 1948mm tall, with a wheelbase measuring in at 3071mm.
Engine specs for car nuts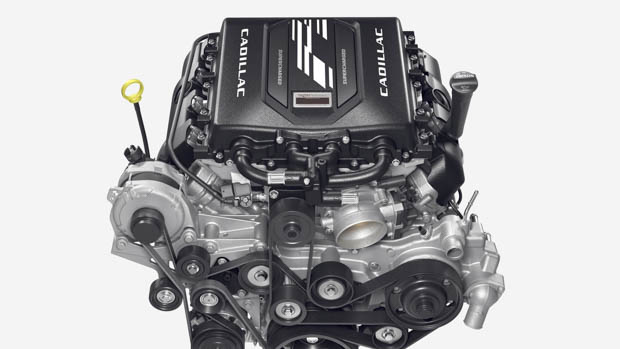 The Escalade-V's 6.2-litre V8 engine is fed a tonne of air from a 2.65-litre positive-displacement supercharger that features four-lobe, 160-degree rotors. Things are kept nice and cool thanks to a water-to-air charge-cooling system.
The engine features an alloy block and cylinder head, with a relatively old-school overhead-valve set-up with two valves per cylinder. The engine also features direct fuel injection and individual throttle control, along with continuously-variable valve timing.
Maximum revs for this engine is 6300rpm (peak power is at 6000rpm) which is relatively low compared to other American-made V8 engines such as the Shelby GT350 flat-plane crank unit and even the upcoming Corvette Z06's 5.5-litre naturally-aspirated V8 engine.