Fashionably late to the small SUV party and after a series of teaser images, the 2017 Hyundai Kona has finally been revealed in Europe, ahead of a third-quarter on sale date in Australia.
The Kona borrows elements from both of Hyundai's incredibly popular i30 and Tucson ranges – fitting then, that the car is halfway between the two. The Kona follows Hyundai's SUV naming structure from destinations in the US, this time the big island in Hawaii, and joins the Tucson and Santa Fe in the Korean brand's SUV lineup.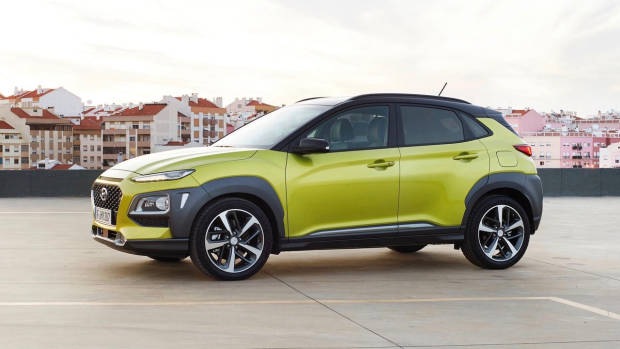 "With the Kona, we have created a stylish and highly functional compact SUV, perfectly suited to the needs of customers who pursue challenging, action-filled lifestyles," said Euisun Chung, Vice Chairman of Hyundai Motor Company.
"We aim to set new standards for the compact SUV segment, with appealing design, cutting-edge connectivity and class leading safety features."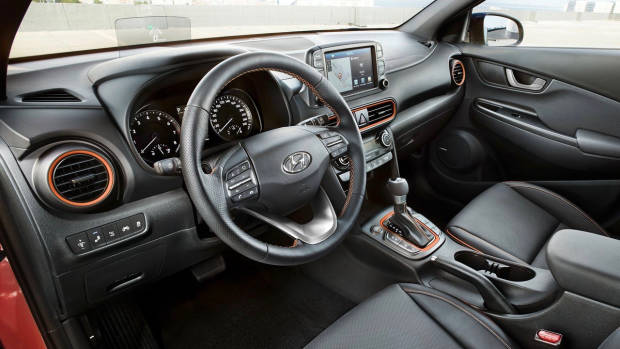 Entering one of the fastest growing segments globally, the 2017 Hyundai Kona will compete with everything from the incredibly popular Mazda CX-3, new Toyota C-HR, practical Honda HR-V, even the Peugeot 2008. The Kona joins those competitors in offering compact dimensions with reasonable practicality, and unlike some, will actually be offered with all-wheel drive drivetrains in two out of the three local model grades.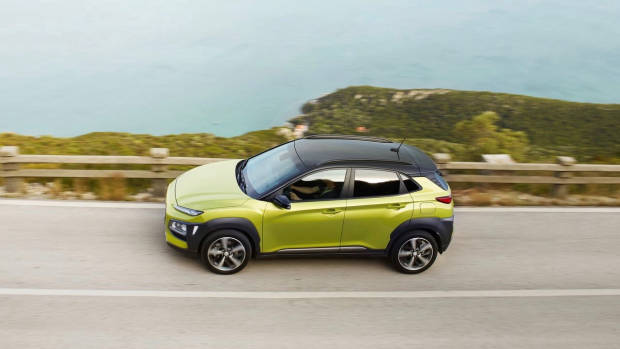 The 2017 Hyundai Kona measures 4,165mm long, 1,800mm wide, 1,550mm high and features a 2,600mm long wheelbase, making it slightly shorter, but the same height and slightly wider than the CX-3. Hyundai says that the "wide, long wheelbase and short overhangs create a planted stance that results in exceptional agility in busy urban environments and enhanced stability when driving at speed." We'll have to take their word for it. Like the CX-3, the Kona uses a dual-height boot, with flat-folding rear seats though Hyundai has not released available space just yet.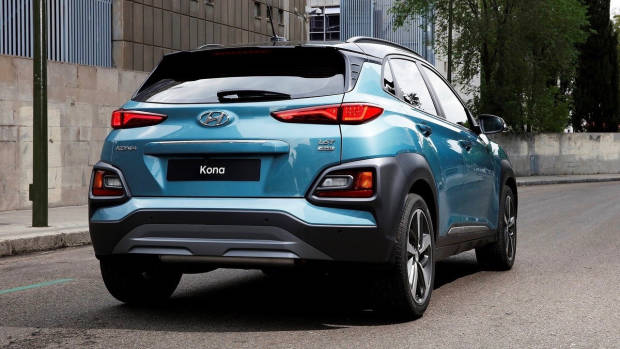 Like those competitors, the 2017 Hyundai Kona features suitably radical styling, with certain elements found elsewhere, such as the split headlight and daytime running light arrangement like a Citroen C4 Cactus or Nissan Juke. The side and rear end are reminiscent of the Mazda CX-3, which is certainly no coincidence. The 'cascading' grille seems to have made its way across from the 2018 Hyundai Sonata. Regardless, the Kona is certainly a striking car and appears to fit in well with its competition.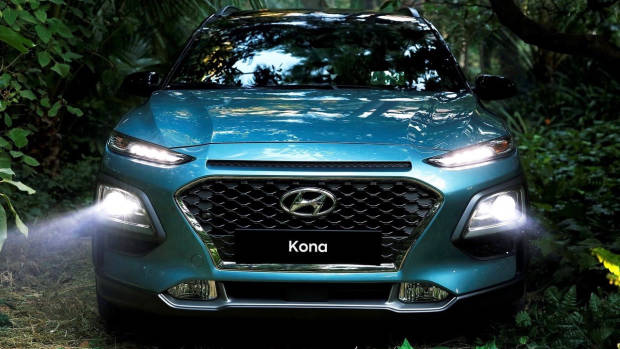 Konas that are sold in Australia will be available in three as yet unnamed trim levels – we're guessing Active, Elite and Highlander – with the same 110kW/179Nm 2.0-litre four-cylinder petrol engine from the i30 (albeit with less power) and front-wheel drive powering the entry model, with the Tucson's 130kW/265Nm 1.6-litre turbo four-cylinder petrol engine with all-wheel drive powering the mid- and high-spec models.
Both will be matched to an automatic transmission as standard – the 2.0-litre gets a six-speed torque converter, the 1.6-litre turbo gets a seven-speed dual-clutch unit from the Tucson. European Konas get further drivetrain choices, with a new 88kW/172Nm 1.0-litre turbo three-cylinder and 1.6-litre four-cylinder turbo diesel available as well, with both not offered for Australia. Konas with front-wheel drive get torsion beam rear suspension, with all-wheel drive models getting a more advanced independent multi-link system.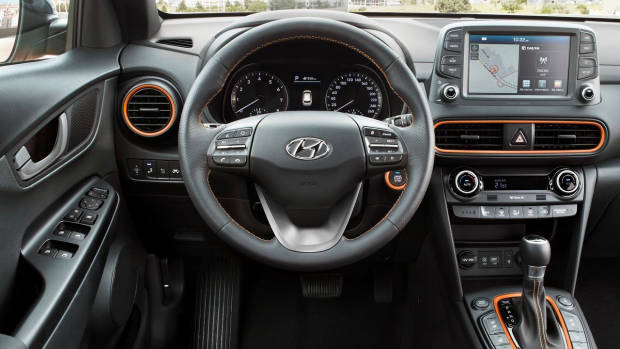 Inside the 2017 Hyundai Kona, we see the i30 and Tucson halfway point being met further. The dashboard layout is very similar to the new i30, with a tablet-style central infotainment system incorporating Apple CarPlay and Android Auto. The Kona also uses Hyundai's first heads-up display sitting atop the dashboard, and displaying speed and navigation information.
Worldwide, a choice of three different infotainment systems will be available, ranging from 5.5 to 8.0-inchs in diameter. Given that the all models in the new i30 range are equipped with the 8.0-inch system as standard, we'd bet that the Kona will follow the same trend and offer potentially class-leading infotainment.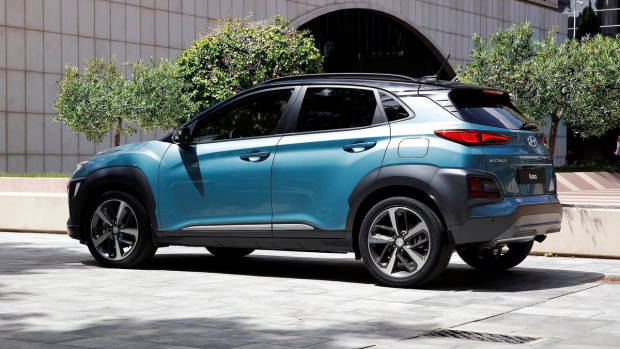 Hyundai is also boasting about the Kona's 'class-leading' active safety, with equipment such as autonomous emergency braking, lane keep assist, driver attention warning, automatic high beam headlamps, blind-spot monitoring and rear traffic alert all available on the Kona.
Hyundai Australia are yet to confirm specifications for the Kona, but have reported that "a comprehensive suite of active safety features, including Automatic Emergency Braking (AEB), will be available across the range", with only the top-spec Kona getting the heads-up display. Hyundai is also promising "competitive pricing and superb value against key competitors." Watch this space to see how the Kona is priced.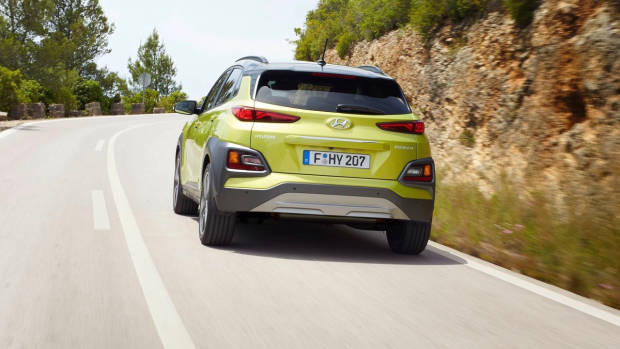 The 2017 Hyundai Kona will go in sale in Australia in the third quarter of 2017, with pricing and specifications to be announced before then. Chasing Cars will bring you more information regarding the Kona as soon as we have it.