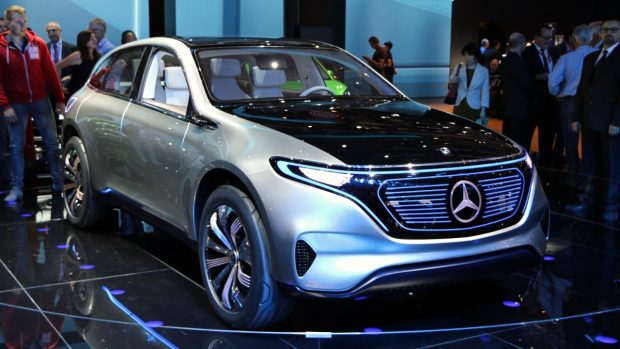 Volkswagen wasn't the only brand previewing an electric future at this year's 2016 Paris Motor Show, with the first of Mercedes-Benz's much-rumoured and crucial electric cars revealed in concept form – a 2019 model called the Mercedes-Benz Generation EQ.
Watch our first impressions of the Generation EQ live from the Paris Motor Show. Start the video by clicking on the picture above.
Unlike the Golf-sized Volkswagen I.D., Mercedes-Benz has, intelligently, gone for a bigger car first and unveiled an electric SUV concept in Paris. The Generation EQ concept car is sized like the brand's GLC medium SUV and is due to go into production in 2019 to rival cars like the Tesla Model X.
Speaking at the show, Mercedes boss Dieter Zetsche confirmed that the SUV would be the first of the brand's new electric sub-range: "By 2025 we'll have more than 10 fully electric vehicles on the market. We are developing a entirely new vehicle architecture. Our goal is to have electric vehicles make up between 15 and 25 per cent of our global sales by 2025."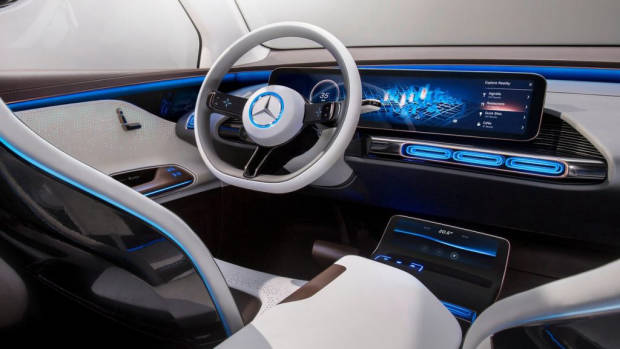 He also said that Mercedes-Benz is "investing 1 billion Euros in our global battery production – this includes 500 million Euros in our second battery plant in Germany".
While the Generation EQ has a somewhat conventional overall shape, the details of the car are quite different to the rest of the conventional Mercedes range. Gone is a physical grille, replaced with an LED-illuminated panel incorporating the three-pointed star and headlights.
The rear features similar treatment, again with a panel leaving LED impressions of the tailights. The EQ also features much less in the way of physical lines on the exterior of the car, with Mercedes' designers choosing surfacing instead to create a sleeker and more aerodynamic look.
The interior is also a significant point of difference for future Mercedes models, with a 24-inch high-definition monitor dominating the interior design. The monitor combines with a multi-function steering wheel with touch pads and OLED displays, as well as bands of LEDs running throughout the interior to create a more open interior experience.
The concept car features an over-70kWh lithium ion battery pack and two electric motors with a combined output of up to 300kW and 700Nm. The claimed range is up to 500 km, says Mercedes-Benz and charging improvements should allow the Generation EQ to acquire an extra 100 km of range in just five minutes of charging by the time it goes on sale by 2020.
Words by Jake Williams.