Audi has detailed the e-tron S Quattro, the brands first ever performance-oriented electric vehicle; it promises a whopping 973Nm of torque and a top speed of 210km/h.
Outside the S won't be mistaken for the cooking e-tron either, with swollen guards broadening its stance by 46mm, the e-tron S sits squat on the road like the blistered RS6.
While we think the wagon-bodied e-tron S looks stunning in practical wagon-body, it's difficult to deny the appeal of that slinky Sportback body-style. Luckily, Audi gives customers the power to choose.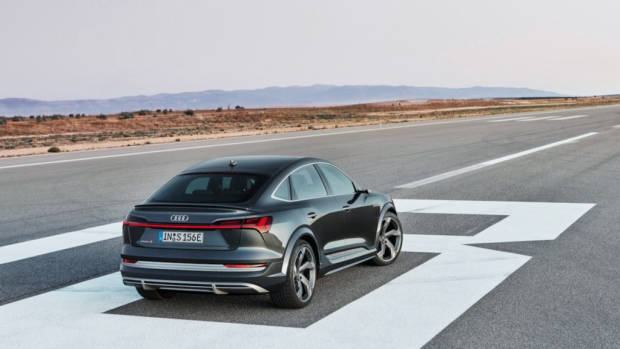 Naturally, the maximum range is down on the regular e-tron, but not by much. Audi claims the S reached 364km in the WLTP test, however, expect that to fall when driven with gusto.
Audi will launch the e-tron S in Germany in the third quarter of this year priced from €91,435 for the wagon-bodied vehicle, which equates to around AUD$149,000 at the current exchange rate.
So what do you get for the extra outlay? Well for a start, an additional motor. Audi was keen to point out that the e-tron S will be the first EV to market that employs three electric motors. It should give the big e-tron an advantage in the corners where the system will be able to vary torque levels between wheels infinitely.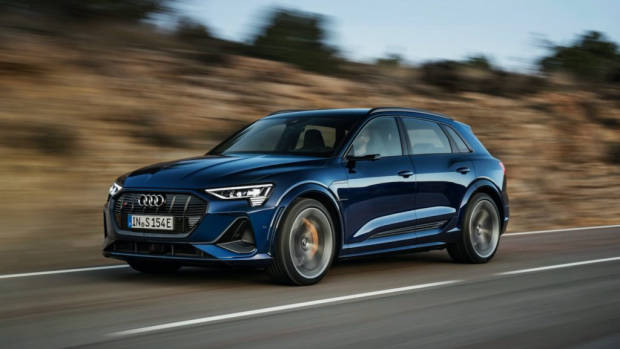 Audi claims this system creates less drivetrain drag and allows torque distribution within milliseconds, faster than a mechanical differential and with less wear than a brake-based torque-vectoring system.
That third motor adds some oomph too, the combined system power is now 370kW, up by 70kW compared to the e-tron 55. The torque figure is now truly monstrous, Audi claims a maximum twisting force of 973Nm for up to four seconds. If you're wondering, that's 313Nm more than the regular e-tron.
The front motor of the e-tron S is the rear motor of the e-tron 55 Quattro. All that adds up to a standard sprint time of just 4.5 seconds which we reckon is pretty respectable for a 2.5-tonne monster, though still adrift of the 3.4 second Tesla Model 3 Performance.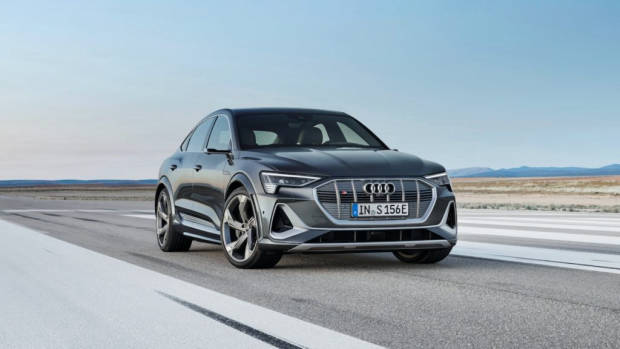 Battery capacity is rated at 86kWh usable from a total of 95kWh total. Charging won't be too onerous thanks to fast-charging speeds of up to 150kW.
Putting that power to the ground is a set of 285-series tyres which nestle those flared guards – they're 23mm broader on each side if you were wondering. Audi also claims they are optimised for aerodynamic flow, resulting in a drag coefficient of just 0.26 for the Sportback.
There is also a more advanced adaptive air suspension system in the e-tron S. In sport mode the vehicles reads the road ahead and can adjust its height by up to 76mm depending on the situation and cornering loads.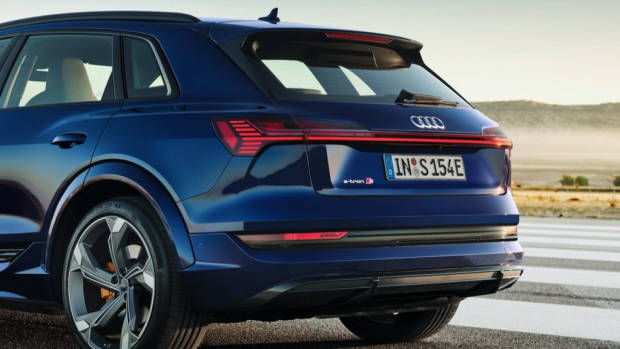 Standard wheel size is pretty generous at 20-inches, though 21-inch alloys are optional and pictured here. Audi says that massive 22-inch items will be an option down the track. These hide six-piston front callipers underneath them which are operated by a brake by wire system, allowing braking force to be applied in just 150 milliseconds.
Naturally, regen braking is present to recharge the battery, with three levels of aggressiveness from which to choose. The most powerful should allow for one-pedal driving maximum braking force around 0.3g, while the other two more closely simulate engine braking of an ICE car for highway use.
The cabin will be familiar to those who have spent time in contemporary Audis with dual MMI touchscreens – the top for infotainment and the bottom for cabin comfort setting like air conditioning. In front of the driver is a 12.3-inch digital driver's display with integrated navigation.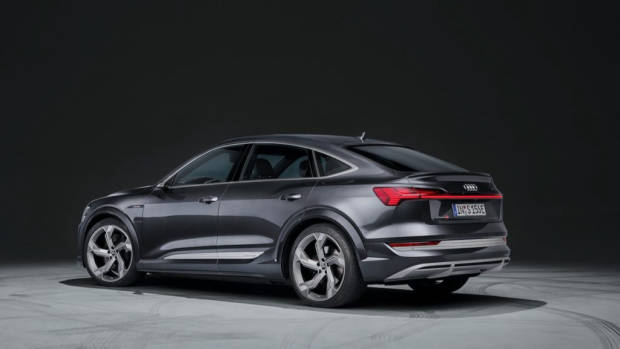 The e-tron S will go on sale in Europe soon, with Australian vehicles arriving in 2021.