Kia has announced its mission for the future in a roadmap presentation at the Hyundai Group's 2022 CEO-investor day. 
The Korean carmaker wants to encourage people to buy eco-friendly vehicles, so it will target 4 million annual vehicle sales by 2030, with 1.2 million of those to be battery electric vehicles.
14 electric vehicles will join the Kia lineup by 2027 according to the company. Starting in 2023, the company will launch "at least" two BEVs a year. Included in this is the plan to introduce two electric pickup trucks as well as an entry level electric model for those on a stricter budget.
EV9 SUV will lead the way, other new models later
The new Kia EV9 large SUV will kick off this master plan, with the three-row crossover set to be released sometime in 2023. Kia says the EV9, which is likely to come to Australia, boasts a 0-100km/h time of just five seconds along with a realistic range of approximately 540km.
While information is thin about Kia's electric pickup truck, what we do know is that it will ride on a dedicated platform of its own and not the e-GMP platform used for the Kia EV9, EV6 and Hyundai Ioniq 5. It is set to compete with rivals such as the Rivian R1T, Tesla Cybertruck, the Hummer ute and the Ford F-150 Lightning. The Kia pickup EV is likely to have a dual motor setup for smooth four-wheel driving. 
A smaller, more affordable electric car will also debut sometime between now and 2027. This is likely to be the Seltos-sized Kia EV4. Kia currently holds the trademark for EV1 through to EV9 so expect every size and shape to be on offer with an electric powertrain by 2027.
A boost in electric sales and new autonomous tech
Kia projects that over 80 percent of its total electric sales will come from markets such as Korea, North America, Europe and China. Kia expects for its BEV models to take a 45 percent share of total sales in these markets.
Kia has also said it wants to focus on four key areas: connected car services, performance, design and autonomous driving technology.
In 2025, it is expected that all new Kias will be fitted with OTA (over-the-air) software update capability and FoD (feature on demand) to keep vehicles up to date and relevant as time goes on.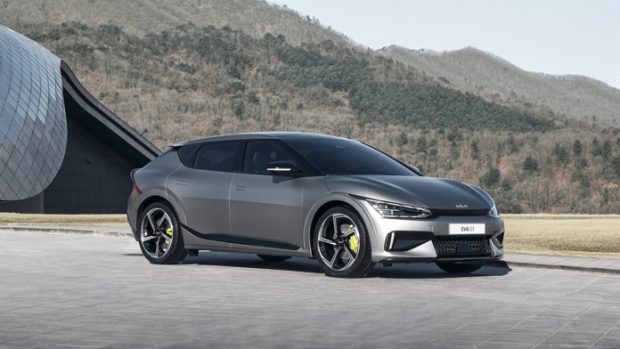 'Automode', Kia's autonomous driving technology, will expand throughout the lineup beginning with the new Kia EV9 SUV.
Like systems from rivals such as Tesla, 'Automode' will have the ability to drive on the highway without any driver intervention.
By 2026, all models will be available with Automode. With the capability of over-the-air updates, the autonomous service will become better and better with time, says Kia.
On the performance front, Kia plans to launch a GT version of every BEV model going forward. We will soon see the EV6 GT brought to Australia but it can be expected that even the large EV9 SUV will gain a performance offering as Kia has recognised the importance of such models in the range.