For most van operators in Australia, the need for all-wheel-drive likely hasn't been a front-of-mind consideration – but for those who need to transport large and bulky goods in cold places, or along long unsealed sections, the 2019 Volkswagen Crafter 4MOTION may be the solution to a long-unanswered question.
Volkswagen Commercial Vehicles launched an all-wheel-drive option into the large Crafter van range this month and gave Chasing Cars the chance to sample the 4MOTION system atop a mountain outside Queenstown, New Zealand.
We drove the extensive front-wheel-drive Crafter range when it was launched last year and came away with positive things to say about this modern van.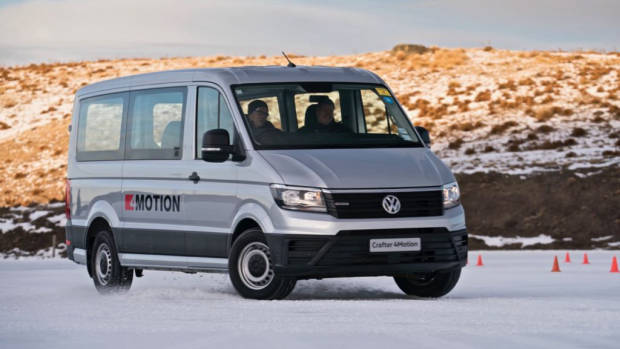 The totally slick surfaces of the Southern Hemisphere Proving Ground play host more often to high-powered sedans and hot hatches for winter driving experiences – and indeed, Golf Rs and Arteons sat alongside the Crafter.
However, there was something delightfully perverse (and educational!) about tackling some genuinely difficult winter terrain in the all-paw Crafter. We drove the medium wheelbase van that kicks off the 4MOTION range at $57,590 list, though you can also specify the LWB van and LWB single- or double-cab chassis variants with all-wheel-drive.
The long and short of the situation is that the Haldex-style 4MOTION all-wheel-drive system integrates seamlessly into the existing twin-turbocharged 130kW/410Nm diesel four-cylinder powertrain with an eight-speed torque converter automatic.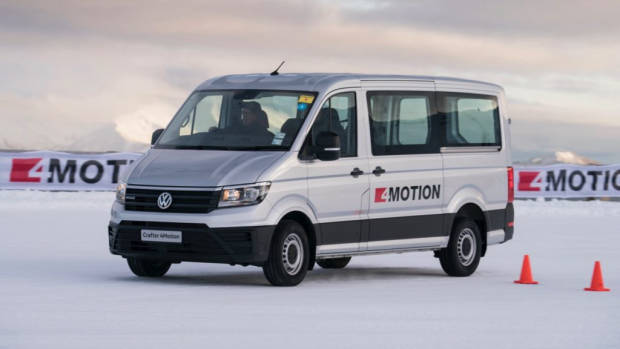 There is nothing for the driver to do other than to shift into drive and take advantage of the greater traction under acceleration, with the AWD system automatically diverting torque to the rear axle when the driven front wheels are detected to be slipping.
Customisation is not possible to the same extent as Volkswagen's passenger cars with AWD – for example, electronic stability control cannot be disabled in the Crafter, but given the height and mass of a loaded van, this is probably sensible.
Unladen aside from two in the cab, the AWD Crafter happily tracks a confident line in snow and ice – on winter tyres, that is, which do more for winter tractability than 4MOTION can in any case.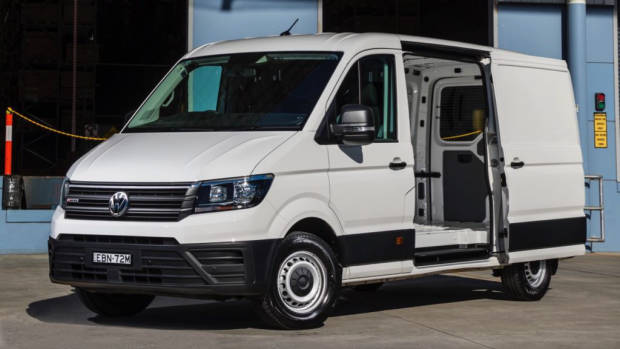 When combined, AWD and winter tyres make for a formidable cargo-transporting experience in the Crafter with the front wheels hewing to a predictable line fed in by the driver through the light and reasonably direct steering.
Get on the throttle early in slippery conditions and you can easily sense the rear wheels being driven, 'pushing' you out of the corner and limiting understeer to an effective degree.
It is almost entirely irrelevant but yank the handbrake around a tight icy circle and the big Crafter delicately rotates its hefty behind. It's rather impressive to behold.
Safety-wise, the 4MOTION retains the low-speed AEB, crosswind assist, fatigue detection and all-round parking sensors of the standard Crafter – and other advanced tech can be optioned in for a price.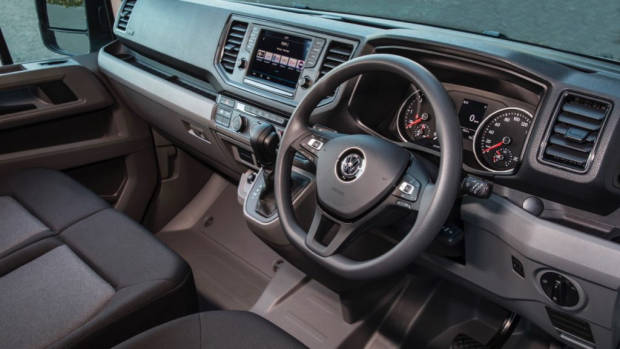 Otherwise, the experience here is standard Mk III Crafter, which is to say, about as car-like as a large van can get.
The interior resembles that of Volkswagen's passenger cars aside from a much greater use of hard-wearing plastic surfaces. You'll find a similar touchscreen to other VWs, the same steering wheel and dials, and similar interfaces. It is an easy to use cabin.
The seats are pretty firm but supportive enough and the highly variable seating position should mean almost everybody can see out of the thing.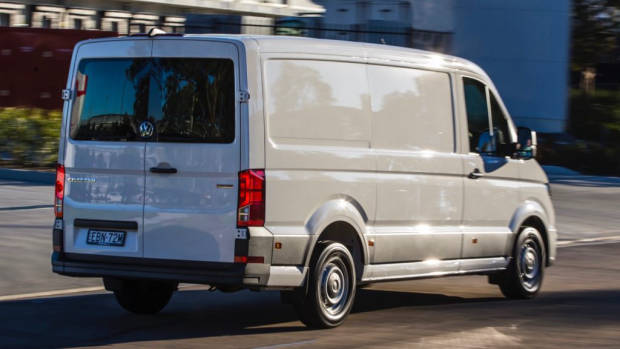 There is a heap of customisation possible behind the front seats with Volkswagen's own suppliers able to provide fit-outs, though naturally many operators have a custom cargo area built after purchase.
Impressively, Volkswagen's five-year unlimited kilometre warranty applies as equally to its commercial vehicles as it does to VW's passenger cars.
About the only issue is the additional expense of adding the 4MOTION system. At $4,500 over a front-driver, it's a decision that requires thought, and is only justified if the van will often be on snow, ice, or extended loose gravel.