It's rare for me to start a review with a personal anecdote – but in the case of my time driving the new 2018 Volkswagen Crafter van, it's appropriate. My favourite part of building up Chasing Cars has been the weird and wonderful vehicles I've had the chance to drive, often in interesting and far-flung locations. That said, it's safe to say that until now we've kept our ambit in the realm of passenger vehicles and utes. But when Volkswagen asked if we'd like to have a crack at driving the 59-strong range of new Crafter vans and cab chassis vehicles at their introduction in Auckland, New Zealand, I jumped at the chance. After all, a new Crafter only comes along once a decade.
I certainly don't profess to being an expert in serious commercial vehicles, and I'm aware of that. Instead, I've approached this review and our video on the 2018 Crafter from my own perspective – somebody that has plenty of experience assessing new cars and utes who is approaching vans for the first time. Perhaps you're an owner-operator of a small business – in gardening, joinery, floristry, et cetera – and you're needing to step up to a large van for the first time. You'll want something as familiar and car-like to drive as possible, while offering a large, practical load bay. That was my starting point in driving the set of new Crafters, which start from $48,490 in the van or $48,290 in cab-chassis form.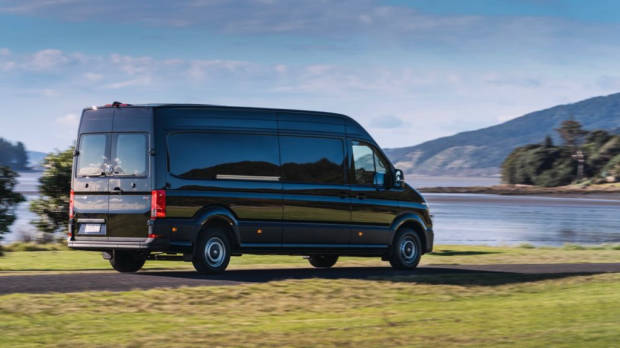 The Crafter is Volkswagen's largest vehicle. It's a range of large van and cab-chassis variants designed to compete with the Renault Master, Fiat Ducato, Ford Transit, and the Mercedes-Benz Sprinter – and until the last generation that this vehicle replaces, the Crafter and the Benz Sprinter were built on the same platform as part of a Mercedes-Volkswagen joint venture. That deal is no longer, and Volkswagen have made a ten billion euro investment in a new standalone large commercial vehicle plant in Poland to build the Crafter from scratch. It's a big deal: Regine Zschernig, product marketing manager at Volkswagen Australia's commercial vehicles division said of the outlay on the new Crafter programme "this is very unique – we don't do this very often".
Another thing Volkswagen doesn't do often is complexity – not in their passenger cars, or their best-selling commercial vehicle, the Amarok utility. "We often talk in passenger cars about the need to reduce complexity – in Crafter, it's quite the opposite", said Volkswagen Australia public relations manager Kurt McGuiness. By the end of Q1 2019, fifty-nine variants will be available in the Crafter line-up. The conventional rear-wheel-drive cab-chassis configurations will be the last to arrive, but the van's launch afforded the opportunity to drive the immediately available configurations. Available now are vans in medium, long and long extended-overhang wheelbases, along with single and double-cab chassis versions in medium and long wheelbase forms. For now, front-wheel-drive or 4MOTION all-wheel-drive configurations are available, with all-four traction attracting a modest $4,500 penalty.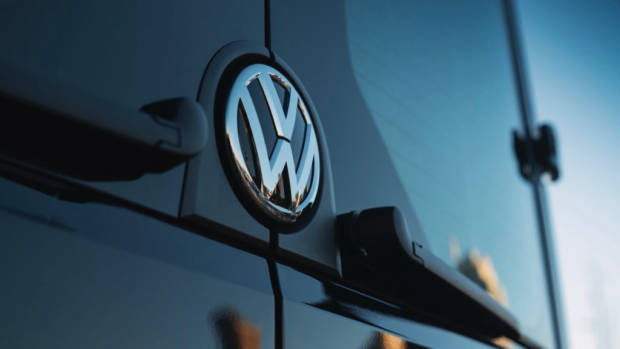 The level of customisation is extended further by the availability of two engines and two gearboxes. Both engines are 2.0-litre turbo diesel four-cylinder units from Volkswagen's EA888 TDI family. The base offer is the TDI340 with 103kW/340Nm, but most variants sport the higher-output bi-turbo TDI410 with 130kW/410Nm. While these engines are familiar, the TDI340 and TDI410 "have been specifically upgraded, tested and engineered for commercial use in the Crafter", Nicholas Reid, marketing manager of Volkswagen Australia's commercial vehicles division said. A choice of six-speed manual or an eight-speed torque converter automatic, built by ZF, also used in the Amarok ute.
On the road both engines feel relatively similar, though those looking to carry higher payloads – with GVMs ranging from 3.5t at the low end to 5.5t upgrades for dual rear-tyred variants – will prefer the stronger TDI410, where 20 per cent more torque will make the difference. On launch, we sampled only unladen and lightly-laden Crafters sporting a 500 kilogram load. In both situations, the TDI340 was sufficient. In both engines, the full serve of torque is available flatly at 2,000rpm – there's a noticeable shove at that point in the rev range and progress is mostly effortless and fairly quiet and refined.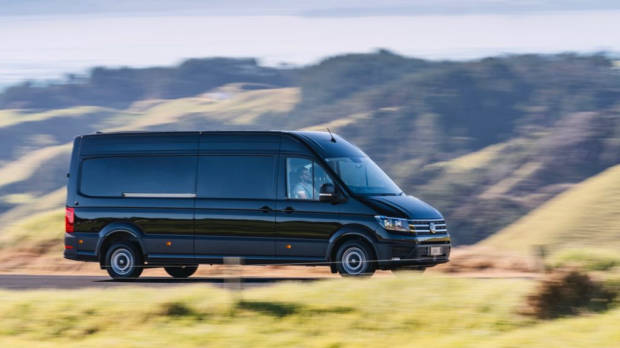 Gearbox-wise, either of the two options shine. We drove the six-speed manual in the entry-level Crafter van – the TDI340 Runner edition that has been available here for a few months – and it is easy to drive, with a light clutch and nice snicketty shifter shared with the Amarok ute. However, given the amount of time many Crafters will spend in city traffic, the $3,00-extra ZF-sourced eight-speed auto will be an investment that pays dividends for many operators. Slick, smooth and with none of that weird takeoff lag Volkswagen's own dual-clutch autos are known for, the tried-and-tested ZF is known as the industry's best torque converter self-shifter for a reason. In the Crafter, as in the Amarok and many other vehicles, the ZF eight-speed is a very good unit.
The surprise for me, as a driver mainly experienced in passenger cars, was how easy the Crafter's handling turned out to be. It starts with the perception that this big van is fundamentally a Volkswagen at heart – the cabin looks and works like that in the VW Amarok, which in turn, looks and works like that in a Golf hatchback. The small-diameter steering wheel identical to that in a Golf – aside from the durable plastic trim that replaces the supple leather found in other VWs – feeds into carlike steering and manageable handling. The turning circle is tighter than you expect and, once you've come to terms with the Crafter's length – which stretches from just under 6m to over 7.5m in the van – this is a simple, familiar car to drive around town. If you use a Caddy in your business currently, the step up to driving a Crafter is not a scary experience.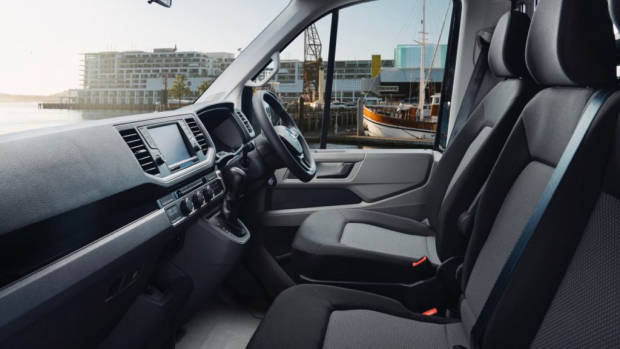 Also helping to make the Crafter an approachable thing to drive is the commendable availability of advanced safety technologies. Forward collision warning, city-speed autonomous emergency braking, driver fatigue detection, a reversing camera, and front-and-rear parking sensors are all standard-fit. From there, several assistance packages are optionally available that can add adaptive cruise control, lane keep assist, blind spot monitoring, rear cross-traffic alert, and side-protection radar for low speed manoeuvres. Even automated parking can be optioned due to the Crafter's transition to electric power steering. LED headlights, automatic wipers and lights, and electric folding mirrors are also on the options list.
Front- and all-wheel-drive variants ride on MacPherson strut front suspension and a rigid rear axle with leaf springs. The ride quality is naturally a little agricultural, with the front end cushioning bumps while the back end (if unladen) tends to crash through potholes with some noise. Pack the Crafter full of stuff – as it is designed to do – and this effect will be lessened. Driver's spines can also be taken care of well through two optionally-available seats approved by the German Campaign for Healthy Backs – one fixed unit, and another suspended seat like those found in large heavy vehicles and busses. The 'floating' seat worked remarkably well in actively cushioning the body and back further from road imperfections. If I was driving a Crafter all the time, I'd want the best seat.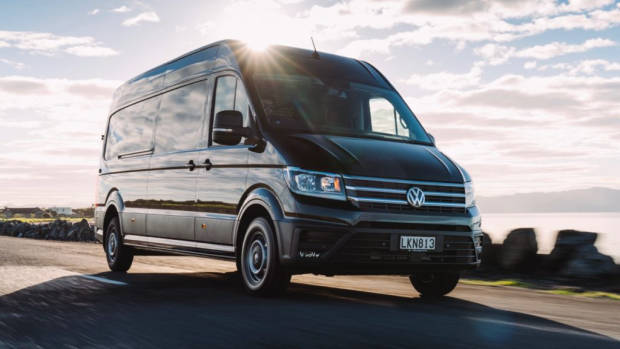 It's also quiet enough inside, especially with the stereo going. Impressively, Volkswagen include an eight-inch touchscreen lifted straight out of the Tiguan SUV, which packs Apple CarPlay and Android Auto. DAB radio is optional, as is integrated navigation. Other aspects of the cabin, like the HVAC controls, are also lifted from VW passenger cars and are very easy to operate while on the fly.
What's unlike the brand's wider range is the sheer amount of storage space available in the three-seat van cab (which extends to seven seats in the dual cab-chassis). A fold-down centre seat becomes a workshelf for a laptop, with two large cupholders. There are shelves and trays aplenty on the dash. There are overhead compartments and large door inserts. Tablets, computers, coffees, specialised equipment – there is a place for everything. Plus, the vehicle's electronics interface is modular, supporting the addition of specific control units: a demonstrator ambulance was outfitted with a lights-and-sirens panel that hooked right into the vehicle's electronic fitout.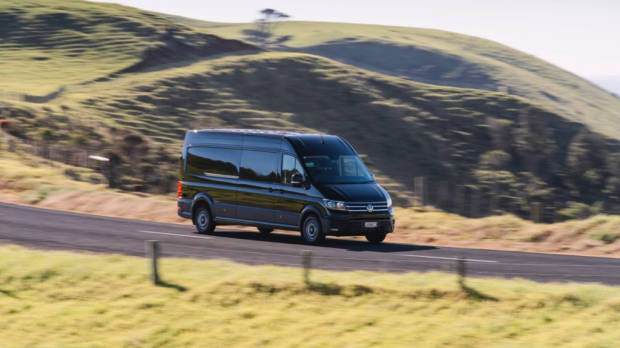 We spent most of our time with the van, and behind the cab is naturally a large separate cargo area. Rear barn doors, plus one sliding door on the (left) kerb side is standard; a right-side door is optional. The 'smallest' Crafter 35 MWB van (from $48,490) is hardly poky, with a 3450mm (l) x 1832mm (w) x 1726mm (h) cargo bay, with 1380mm between the rear wheel arches. From there, the long wheelbase with high roof version (from $51,990) increases bay length by 850mm and height by 235mm, while the long wheelbase with overhang (from $58,490) adds another 555mm of length. Dual rear tyred iterations cost another $2,500 and increase payload significantly to 4.49t or 5.5t, but they decrease between-arches width to 1030mm.
The vans can be prepared with a universal floor covering with rails running longitudinally or transversely, with specific appliances and fittings able to slot straight in and be slid fore and aft. Various floor and wall customisation is available. Many operators will want to convert the Crafter before delivery – and here, Volkswagen have opted to include approved conversions in the dealer delivery process: conversions by VW-okayed operators can be included in the cost and preparation of the vehicle. This process can be conducted through the 97 Volkswagen dealers nationwide that are specific Commercial Vehicles specialists.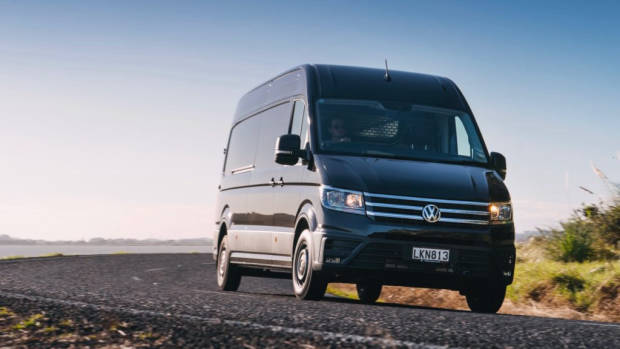 In the cab-chassis models, significant customisation is offered, including single or dual cab versions seating three or seven respectively. The single cab can be fitted with a 4300mm (l) x 2040mm (w) x 400mm (h) tray; the dual cab's optional tray is 3500mm (l). Single and double rear tyre versions are available in cab-chassis. In both van and cab-chassis versions, accessory upgrades include increased capacity and additional batteries, as well as an additional alternator.
So, the new Crafter: big, customisable, practical and pretty familiar to drive. All those things will be good for operators generally, but they also make the Crafter a great 'first big van' – which is really the only compass I had to approach my first experience of this segment. Surprisingly easy and even satisfying to drive, very comfortable if you opt for an ErgoActive suspended seat and full of VW creature comforts, the Crafter would make long days working congested roads a lot better than many of the significantly more agricultural vehicles in this crop.