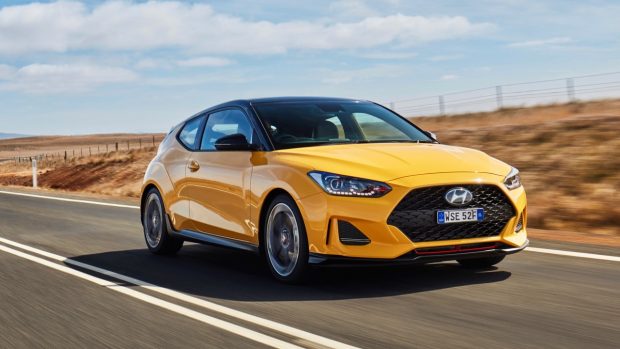 Hyundai's quirky Veloster, which hit Australian shores back in 2013, was something of a gamble for a usually straight-laced carmaker. A hatch-coupe crossover, the Veloster had two doors on the kerb side but one on the driver's side, perplexing some and delighting others. The bet paid off – what was weird to some enticed others: the first-gen Veloster found nearly 20,000 Australian buyers across a six-year run. Research suggested almost half of them didn't even consider another car.
The Veloster outperformed modest expectations to such a degree that when a second-generation car was locked in, Hyundai Australia managed to secure right-hand-drive production all on its own. For a car targeted mainly at the enormous, left-hook US market, this was a big deal.
The second-gen Veloster has been on sale in the United States for a year, reaching Australia in the midst of a range expansion for Hyundai. This month also heralded the local release of the new Venue SUV – a subcompact crossover that is now Hyundai's entry car in Australia. Hyundai are now well-sorted for small cars and SUVs – giving the Veloster some breathing space to be a more emotional choice.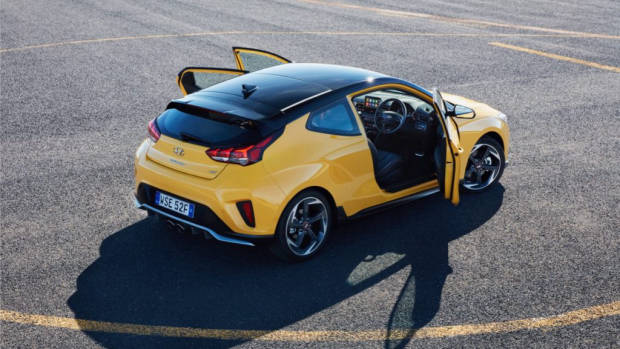 That's the goal, anyway – senior Hyundai executives speak to research that shows Australians don't really think this brand stands for anything in particular. Cars like the new Veloster, the lauded i30 N hot hatch, and a number of more out-there future releases, are designed to change that. But while the Americans also get this new Veloster as a fully-fledged N car, it's unlikely that will come to Australia.
If the first Veloster laid the groundwork for this type of car, the second-generation is very much a variation on a theme. The styling has been tightened up and modernised, with creases replacing many rounded edges. Important improvements have been made to address dynamic shortcomings in the old car – rigidity is up 28%, for a start. And a new multi-link independent rear suspension is designed to improve compliance across the range.
However, there's plenty that marks this car out as a Veloster. That includes the unusual, but somewhat appealing, styling. It includes the quirky door layout that was re-engineered for our right-hand-drive market at vast expense, so rear seat passengers do exit onto the kerb – not into traffic. It also includes a range split between an impressive turbo engine, and a pretty lacklustre intro motor.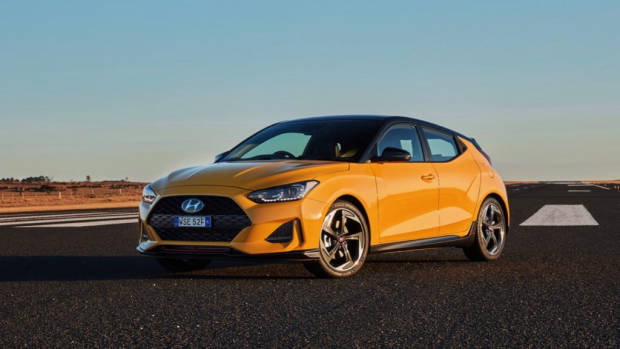 The base engine is a naturally aspirated two-litre – up in displacement over the old 1.6-litre, but this is still an ageing, non-direct injected motor. Power is now 110kW at 6,200rpm while torque measures 180Nm at 4,500rpm. This mix is fine in town and cruising is no problem, but the two-litre struggles on hills, becoming breathless quickly.
Teamed with the two-litre engine that half of buyers will opt for, the six-speed automatic ($31,790, $35,480 driveaway) feels off-kilter, with a tendency to chase high gears when this modest unit needs revs the most. A six-speed manual is $29,490 ($33,111 driveaway) and choosing it helps to make the most of the engine.
The upgrade to the 1.6-litre turbo unit is night and day. It costs $6,000, but we'd do it. Power and torque are substantially increased – by 36% and 47% respectively, to 150kW and 265Nm – with the key difference being that the torque is produced at far lower engine speeds. Peak twist occurs over a plateau from 1,500rpm to 4,500rpm.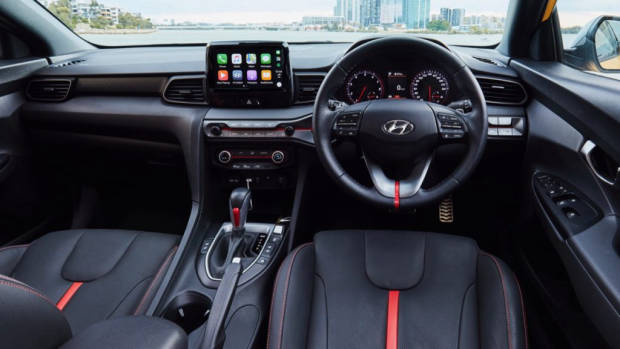 Matching the turbo engine with the neat six-speed manual 'box ($35,490, $39,291 driveaway) is a particularly effective combination. The clutch is easy and light; the pedals are spaced just closely enough for heel-toeing, while the throw is moderate but satisfying. The $3,000-dearer seven-speed dual clutch is also a decent fit for the turbo engine, though we'd go for the manual.
Like other Hyundai models brought to Australia, the Veloster has had the full works in Australian ride and handling tuning. The result is a coupe that feels settled, at home on patchy Australian tarmac. Only the worst mid-corner bumps threaten to disrupt its composure and flat-footed cornering character.
Our favoured variant – the mid-spec Turbo manual – also delights in its particularly light weight. At just 1,320kg without a driver, the Veloster is about 75kg lighter than the equivalent i30 hatch, and it feels that way when stringing corners together.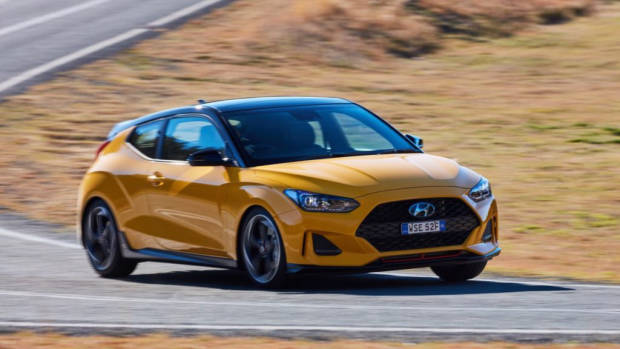 Turn-in is smart and crisp enough but engaging drivers will particularly enjoy the Veloster's excellent balance and adjustability. Adding steering lock – or alternatively dabbing the brakes – sees the independently-suspended rear end delicately dance around behind you. This feels great until the point where the ESC tune grabs at the brakes quite aggressively.
We wish the steering wasn't so artificially heavy; as the low weight figure suggests the Veloster is a fairly dainty little car, and the meaty rack feels a bit out of place. This felt exacerbated on automatic variants, which lets drivers select from three steering weights, but the manual has just two.
The ride is firm but fairly compliant – especially on the base car, which is softer than the turbo. Both turbo and non-turbo run 18-inch wheels wrapped in 225/40 rubber – Michelin Pilot Sport 3 for non-turbo, and Pilot Sport 4 for turbo.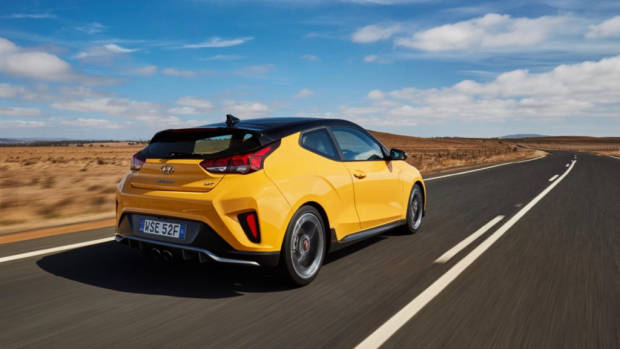 You do feel the bumps but in a car like this, that isn't out of character. You certainly hear the road, though; there is substantial road noise on coarse chip roads and on highways when travelling at the national speed limit.
Pulling over to check out the Veloster's interior is where cracks start to open up, with clear examples of where costs have been cut. For starters, steering wheel, seats, armrest and shifter aside, virtually every surface inside is built out of hard plastic – some of which is really quite harsh. Long-legged drivers will find their limbs pressed up against the hard sides of the centre console.
Thankfully the seats are comfortable, hewn from cloth in the base and mid-tier car and leather in the top-shelf Turbo Premium ($38,990, $42,836 driveaway in manual, add $3,000 for dual-clutch). The steering wheel drops lower than in the previous car and the driving position feels fairly sporty, though we think the seats could be set even lower in the car.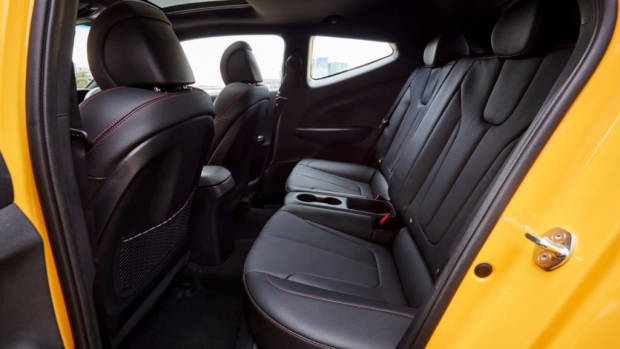 The dashboard layout is fine, with a seven- or eight-inch central screen depending on variant, controlled by touch or hard keys beneath it. The turbo models have integrated navigation but all cars sport Android Auto and Apple CarPlay capability. Climate controls are easy to locate; everything is in its place. Storage space is pretty good, too.
We're pleased to see that the Veloster has kept its weird-and-wonderful three-door layout: the driver's door is long but the two shorter doors on the passenger side mean access to the back is possible. Watch the low roofline, though: there's not much headroom here for adults, but two kids will be totally okay and as an occasional four-seater – there is no fifth perch – it works.
The 303-litre boot is a little smaller than the previous model but not by much; the compact but deep cargo area is accessed by a hidden release under the rear wiper. Two midsize suitcases will sit side-by-side with little fuss.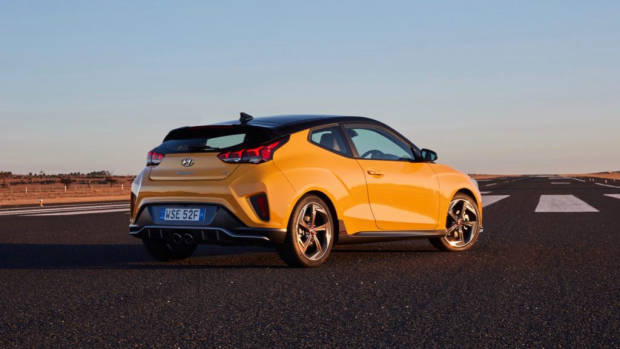 Ownership is likely to be pretty fuss-free, too. There is a five year warranty with unlimited kilometres. Service intervals differ between the engines. On the entry-level two-litre car, it's annual or every 15,000km, with the first five visits totalling $1,661. The turbo is more inconvenient with 10,000km intervals, with the first five visits amounting to $1,571.
While it's still a curio among small cars, we're glad the Hyundai Veloster exists, and that it has been renewed for a second generation. Hatches in the small car segment tend to look pretty similar so the coupe-cross Veloster is an interesting point of difference.
We'd avoid the subpar entry engine and head straight for a turbocharged manual variant – a combination that really suits this car, which sits on a well-resolved chassis. While we're concerned to see interior quality take a step back in the Veloster, for many this will be largely unimportant.
If you're seeking a second car with an occasional back seat and a form factor unlike anything else on the road, the 2020 Hyundai Veloster acquits itself well.