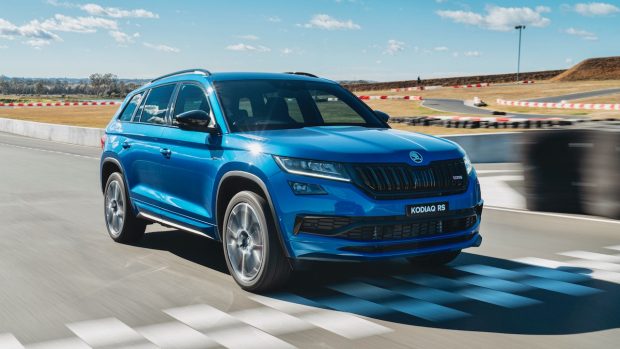 If a world-record Nurburgring lap time is right up there with built-in front door umbrellas on your list of seven-seater must-haves, then the Skoda Kodiaq RS has almost filled in your rego papers for you. It's the Czech brand's new flagship SUV, sporting a twin-turbo diesel engine, an RS-tuned chassis and a 'fastest seven-seater' title (for the time being, at least) to bolster its impressive credentials.
The quick Kodiaq's engine transplant comes courtesy of Australia's reclassification as a 'moderately hot' country rather than a 'hot and dusty' one by the VW Group – finally stamping the resident visa of the 176kW/500Nm 2.0-litre twin-turbo diesel that has been powering cars like the Passat Alltrack for some time overseas. In the seven-seat Kodiaq, it's muscular enough to lower the claimed 0-100km/h time to a class-leading 7.0 seconds and raise the top speed to an esoteric 221km/h.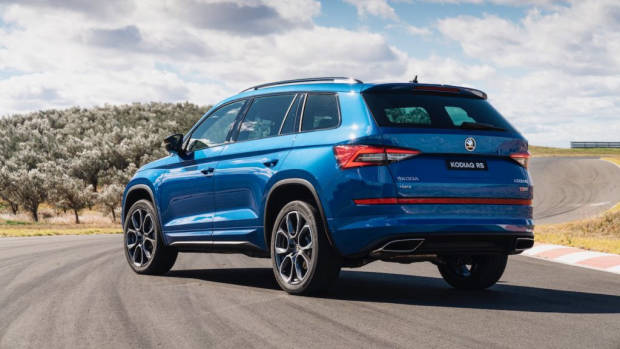 You'll need a moment to take in the Kodiaq RS on first acquaintance because it looks uncannily similar to the 20-inch-wheeled Kodiaq Sportline sitting beneath it. Same size rims (with Skoda's trademark 'cookie-cutter' design on the RS) and doppelganger blacked-out grilles, LED headlights, and body-colour side mouldings feature on both, though the RS's deeper front bumper design adds visual toughness, as does its larger twin-pipe rear treatment. But you'll need a keen eye to spot the front and rear RS badges, the red brake calipers and the slightly naff full-width red reflector strip on the tailgate.
On the inside, the changes are more worthwhile, if similarly moderate. Carbon fibre-effect dashboard trim, a red-stitched steering wheel, diamond quilting for the Alcantara door inserts and seat upholstery, and Golf R-derived carbon fibre-effect leather skirting the edges of the excellent tombstone front buckets and expansive rear bench increase the feeling of expense. There's also RS-specific design graphics for the 'Virtual Cockpit' instruments and large centre touchscreen, and a top-shelf Canton stereo.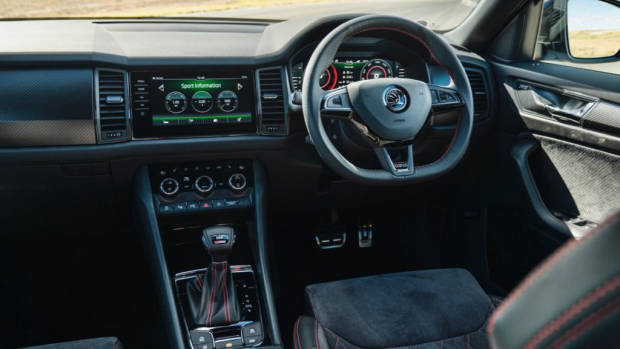 It's the bits that matter, however, that have received the lion's share of RS attention, and that's what Sydney's Luddenham Raceway is intended to highlight.
The cars we're driving are New Zealand spec – identical to Aussie versions, which can be ordered now but won't arrive at Skoda dealerships until early next year – though the law says they aren't allowed to be driven on public roads. Never mind because the tight Luddenham track somehow flatters the Nurburgring-savvy Kodiaq RS.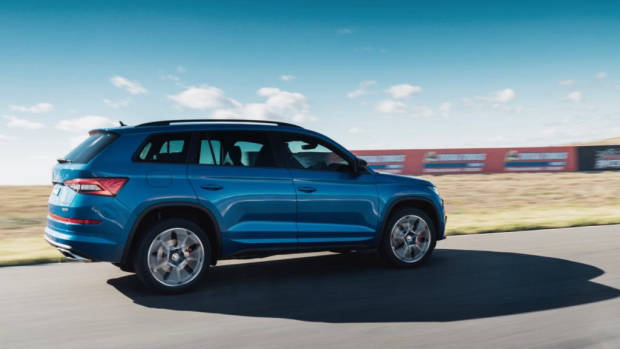 With retuned suspension, standard adaptive dampers, larger 310mm ventilated rear disc brakes (complementing 340mm front discs) and an all-wheel-drive system that can send up to 85 percent of drive to an individual wheel, the Kodiaq RS does a terrific job disguising its SUV height and 1700kg-plus weight.
Enhanced by Continental ContiSportContact 5 tyres, it hangs on gamely and corners neutrally, with surprisingly little body roll and even some oversteer if you trail the brakes into faster corners, which the ESC then curbs. This all bodes well for the amusement to be had with the drive-mode and ESC each set to Sport on a decent twisty road.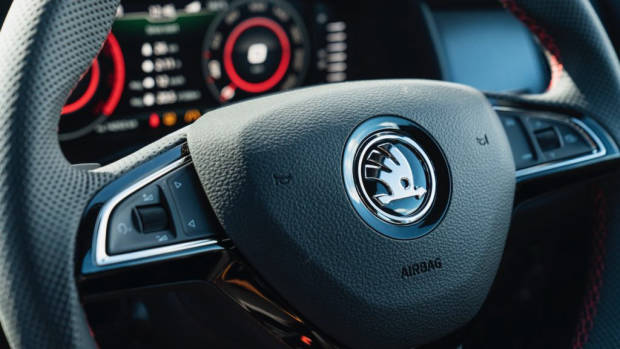 Crucial to the RS's feeling of agility is its steering set-up. Not only do you guide a beautifully tactile perforated leather steering wheel, you also get a 'progressive' steering rack like a Golf GTI, with a variable ratio and just 2.1 turns lock-to-lock (down from 2.7 in the regular Kodiaq). It greatly reduces the amount of arm-twirling without making the sporty Kodiaq feel nervous.
Finally the engine. It's the familiar 1968cc EA288-series diesel introduced on the Mk7 Golf in 2012 but with two sequential turbochargers – a bigger one for low-down torque and a smaller one to bolster the top end – as well as a considerable amount of strengthening, a forged crankshaft and a new cylinder head for improved flow and cooling. With 176kW at 4000rpm and a beefy 500Nm from 1750-2500rpm, it finally delivers the grunt the Kodiaq has been crying out for.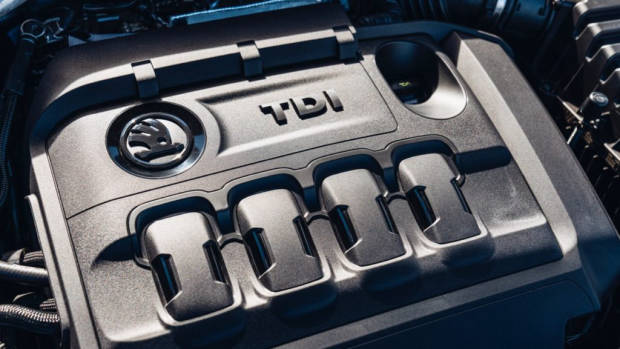 It also features 'Dynamic Sound Boost', which artificially overlays the diesel's grumble with additional induction meat. It operates both inside the cabin (through the stereo speakers) and outside the car (via a unit mounted near the left rear exhaust pipe) to sweeten the Kodiaq's acoustic experience, and it ain't half bad. There are three stages of intensity, yet even the most strident isn't offensive. That said, a decent turbo-petrol donk would be nicer to extend, though few could argue with the diesel's combined L/100km number in the mid-sixes.
The price for being able to turn your entire family pale in faster-than-normal time? A more than reasonable $65,990, which includes everything apart from a panoramic glass sunroof ($1900), metallic paint (including the unique Race Blue hue pictured) and side steps, not to mention a three-year/45,000km service pack for $900 or a five-year/75,000km pack for just $1700.
Given that a fully optioned regular Kodiaq sits somewhere in the mid-50s and the now-discontinued 140TDI diesel would be closer to $60K, there's genuine value in the Kodiaq RS's $66K sticker. Especially when you take into account its hugely impressive seven-seat versatility, myriad of clever storage solutions, the quality of its design and the left-of-centre appeal in owning an SUV that's neither boring or predictable.