Australia loves the Subaru Outback. Those who have seen the current model's 'Australiana' advertising will understand: you see these pumped-up wagons almost everywhere, in town and country. The current Outback's incredible sales success has bucked the trend for wagons, and further cemented Subaru's reputation as a lifestyle vehicle specialist – even if the Outback's sales are down slightly compared to last year. However, the arrival of a mid-life facelift of the current fifth-generation Outback should change this, with the 2018 Outback adding new technology to the interior like Apple CarPlay and Android Auto integration, a more comfortable suspension tune, and subtle styling upgrades.
So why is Subaru's wagon so popular? Well, the Outback is a capable tourer with a comfortable ride, a spacious interior, all-wheel-drive famed Subaru reliability, and it's good value for money. Plus, because it's really a raised station wagon and not a tall SUV, it's more dynamic and practical than many cars shoppers also consider. We've already reviewed both four-cylinder Outback variants, and you can read our Outback 2.5i Premium review here, and our Outback 2.0D Premium diesel review here. This time around, we're looking at the top-specification, six-cylinder 2018 Subaru Outback 3.6R, which sells for just under fifty grand, at $49,140 (currently $53,731 driveaway).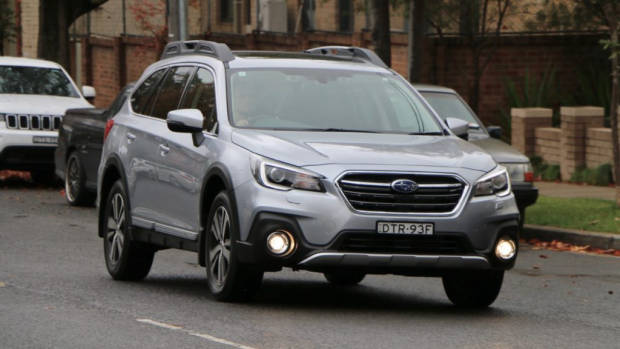 Before getting to the engine, let's look at what's changed across the range for the facelifted Outback. The existing car was already very competent and didn't need major changes, but a few of our bigger complaints from the 2017 car have been resolved. This includes the ride quality, which was previously a bit lumpy – the suspension is now more refined and stable. The dated, small old touchscreen has been ditched for a bright 8-inch unit with Apple and Google smartphone integration. The steering has a lot more weight to it, and the entry-level 2.5-litre petrol version has seen its CVT automatic transmission tuning fixed up.
But sitting atop the Outback range is this 3.6R model, which uses a large, 3.6-litre six-cylinder petrol engine. Like all Subaru cars, this is a Boxer engine, or a 'flat six'. Offering a big six-cylinder petrol in 2018 is rare for a family car, given most of the Outback's SUV competitors offer turbocharged four-cylinder petrols or diesels. Subaru's flagship 3.6R produces healthy outputs, as you'd expect from a six: 191kW of power and 350Nm of torque – 81kW more than the four-cylinder petrol. Like the diesel, the six-cylinder 3.6R feels very torquey from low revs, and you don't have to rev this engine to get it moving, unlike the underpowered 2.5-litre four.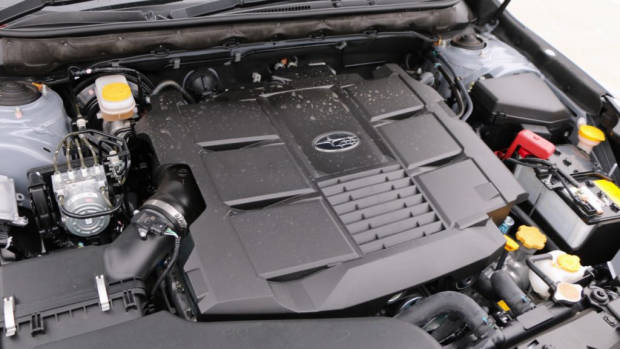 The 3.6-litre engine is a real peach. It's powerful, smooth, and it sounds great as well, which is something you can't say of four-cylinder diesel rivals. It also goes noticeably harder than its four-cylinder siblings – Subaru claims its acceleration time to 100km/h in the seven second range. It's also unexpectedly easy to match its claimed fuel consumption – our purely urban consumption of 10.6L/100km is only 0.7L/100km above the car's 9.9L/100km combined claim – we also remember the days of old Outback 3.0Rs using 15L/100km, so 10.6 in town is very respectable. That said, if economy is the goal, the diesel version used less than 7L/100km in town in our testing, but the 3.6R offers a desirable blend of acceptable consumption with strong performance.
One thing that hasn't changed over last year is the way the Outback remains a satisfying, competent car to drive. The revised suspension, however, makes the drive experience more cohesive. The Outback now wafts over most surfaces, only allowing its 18-inch wheels to be unsettled over really sharp bumps in the road. The Bridgestone Dueler Sport tyres provide acceptable grip when pushed on tarmac and have a little more tread than a road tyre for gravel tracks, and the symmetrical all-wheel-drive system distributes torque evenly between the two axles. The Outback is soft, as you'd expect, but it handles well and the retuned steering offers more feel than before. It isn't a sports car, though, and if you push too hard the Outback becomes confused and you feel its 1,673kg mass. It's no third-generation Outback, which was smaller and significantly more dynamic.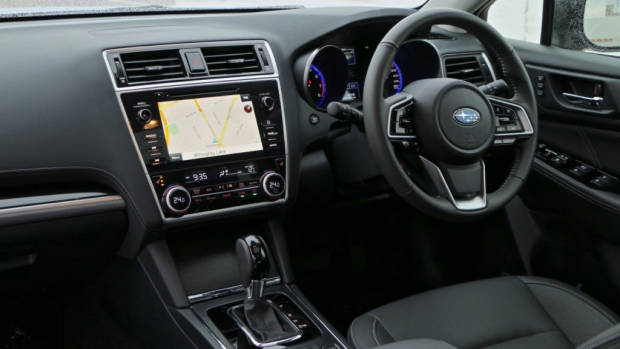 The 2018 Outback's cabin is a nice place to spend time. Soft touch materials abound on the dashboard and door tops and for this year, Subaru have used more use leather across the cabin. The dashboard now features white stitching across its facia, which gives a classy impression and a quality feel, while the soft ambient lighting and piano black trim elevate the ambience. The seats are comfortable enough, but their shaping is too flat: they need extra under-thigh support and side bolstering to be truly great. Thankfully, you can see plenty from a seated position, thanks to thin pillars and a 270-degree parking camera – though we're confused as to why Subaru wouldn't offer a 360-degree camera as used in similarly-priced rivals like the Mazda CX-5 Akera.
The centrepiece of the Outback's dashboard is a new eight-inch infotainment system, borrowed from the Impreza. The screen now includes Apple CarPlay and Android Auto smartphone mirroring, as well as inbuilt satellite navigation – though, keep in mind only the Premium four-cylinder and 3.6R models get the good screen and nav. No variant gets DAB+ digital radio, but on the whole, this is an impressive system, with quick operation and big, colourful graphics. There are also four USB ports in the front of the cabin (plus two in the back, for a total of six USBs) to keep devices connected and charged. The Outback 3.6R also gets an 11-speaker Harman Kardon sound system – it is superior to the six-speaker unit in lesser models, though it does lack clarity.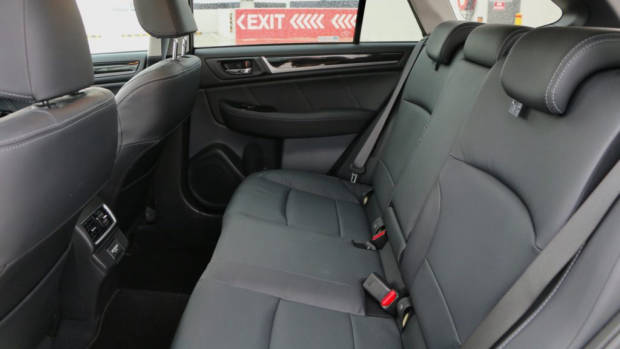 Key to the Outback's existence is practicality. The whole cabin is very roomy, with ample room in all directions for four occupants, while a fifth will fit without too many complaints. The rear seat of the Outback features dedicated air vents, two USB ports, reclining rear seats with a centre armrest with cupholders, soft door coverings, and reasonable door pockets with space for 600mL bottles. It would be nice if heated rear seats from the US-spec model made their way here, but it's an otherwise impressive back seat.
The Outback's boot is large, with 512 litres of cargo space. Fold the rear seats flat – which can be done quickly with levers in the boot itself – and you get 1,801 litres. In the boot there are plenty of clever touches with room underneath the boot floor for the cargo cover, shopping bag hooks and tethering points. The boot floor is at the same height as the opening with no lip to lift heavy suitcases over, whilst the Outback also includes a full-size alloy spare wheel. That's rare.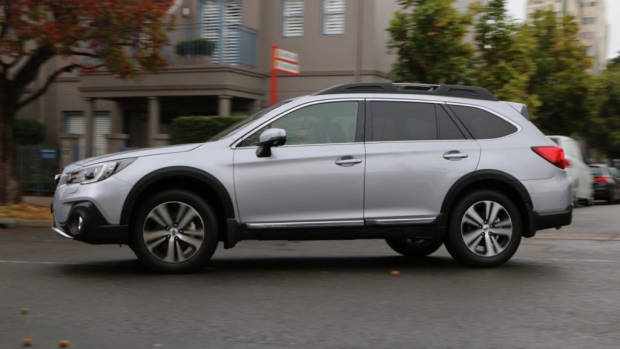 So the Outback is practical and it drives well, but how much will it cost you? The 3.6R is the highest spec Outback you can buy, priced at $49,140 – the range starts with the fairly basic 2.5i model at $36,240. Premium models sit in between in the early $40,000s range and four-cylinder engines. The 3.6R comes fully loaded: you get black or cream leather upholstery with 8-way front electric seat adjustment, with memory and lumbar adjustment for the driver. Up front eh seats are heated; there are six USB ports, an electric sunroof, power tailgate, 18-inch alloys, auto wipers and cornering bi-LED headlights.
Adaptive safety tech is well taken care of. The entire range includes autonomous emergency braking with pedestrian detection, adaptive cruise control, lane keep assist, and traffic sign recognition. Premium models add blind spot monitoring and rear cross traffic alert, while the 3.6R gets all of that, plus the 270-degree (front, rear and left-side) camera to aid parking. On the whole, Subaru's safety systems work well although the forward collision warning is very sensitive, and we can't understand why the cruise control has to 'beep' every time a car moves away from its range. It's annoying.
We do lament the omission of a few extra features that would make the Outback 3.6R a true all-rounder, including audible parking sensors, a true 360-degree parking camera, a full-length panoramic sunroof, cooled front seats, heated rear seats, and digital radio. But we're nitpicking here.
The only serious negative in the Outback's value equation are the expensive servicing costs. Over the first three years or 75,000km of motoring, the Outback 3.6R requires seven services (once at 5,000km, then at 12,500km and every increment of 12,500km afterwards) for a total cost of $2,711.42, which equals an average of $903.80 per year. Ouch! After this period, capped price servicing ends. Add in the Outback 3.6R's fuel costs and it won't be a cheap car to run – not that Subarus ever have been. Though they have a strong reputation for reliability, Subaru persists with an only-average warranty of three years, unlimited kilometres: we'd recommend negotiating an extended warranty with the dealer for added peace of mind.
The Subaru Outback is an accomplished car with deserving success in the Australian market. It's well made, spacious, good to drive, reliable and it represents strong value for money, unlike some SUVs it competes with. While the 2018 updates may be subtle, the changes are enough to increase its score here, mainly thanks to the retuned steering and revised suspension settings that make it superior to drive than before. The creamy 3.6-litre engine goes hard, but on the whole, the 2.0D Premium diesel remains our Outback of choice. Regardless of engine choice, though, the Outback is a great family hauler; a wagon sneakily stealing many sales from SUVs – something that we really like.