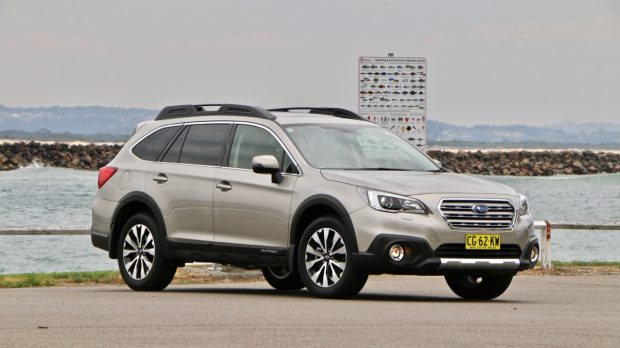 The 2017 Subaru Outback 2.5i Premium is all the car most families will ever need. It's large and practical, well-equipped but not expensive, economical and fairly cheap to run, and with its stocky, rugged proportions, the current Outback shape is pretty good to look at, too.
But the Outback is a station wagon – and don't all car journalists say that Australian families continue to buy large, high-riding SUVs at an alarming rate? Well, they are – but large wagons are making a comeback. The Subaru Outback was a quiet success story in 2016, accruing more than twelve thousand sales, outselling all large SUVs bar the Toyota Prado, and competing strongly against the hot medium SUV class too.
So how is the Outback making SUV buyers think again, and instead spend their money on something as old-school as a wagon? I borrowed the popular 2.5i Premium model and drove it around for 800 kilometres – and I found out.
First, the Subaru is designed as a family car through and through, and the Outback makes no apologies for that. This car isn't designed to be sporty. Instead, the Subaru Outback is a reminder of why the best family cars are usually not engineered for speed, but for comfort. Like the old Volvo wagons that invented this recipe, the Outback is designed for one purpose: the task of carting five people and their stuff around in safety and comfort.
The Outback channels the Volvo wagon reputation in another way: safety. Subaru have emerged as a real beacon of safety tech in the past few years, and the Outback is a proper standout at this price point. Every model alerts you to a potential crash before it happens and will apply the brakes if you don't react to the warning. The Premium model adds more helpful stuff, like blind spot warnings, reversing cross-traffic alert, and auto high beam.
However, the Outback isn't like a Volvo wagon when it comes to price. Here, Subaru strikes a huge blow against SUVs of a similar size. As a buyer, you pay a real premium for a high-riding vehicle – but at $42,240, the Outback 2.5i Premium is a great buy, with a list of standard features rivalling much more expensive models from European manufacturers.
Naturally, the Subaru's driving characteristics – which could be called laid-back at best – won't be for those that want to have fun behind the wheel. But as a family workhorse that will spend most of its life between school and the shops, do you need that?