Time on test: 6 weeks
Total test time: 12 weeks
Mileage on test: 1,500km
Fuel economy on test: 6.2L/100km
The latest Toyota RAV4 burst onto the SUV scene earlier this year, sporting better driving dynamics, a more plush interior, and an emphasis on fuel-saving hybrid engines. We were so impressed with the RAV4 that we've brought one into our long-term fleet.
Wearing three hybrid badges – one on the tail, two on the flanks – the new 2019 Toyota RAV4 certainly doesn't shy away from demonstrating its fuel-saving cred. And so it should: hybrid power is the RAV4's major unique selling point in the crowded Australian car market. You'll find a plethora of decent choices with petrol or diesel engines, but the RAV4 is the first really affordable hybrid SUV to be brought to Australia.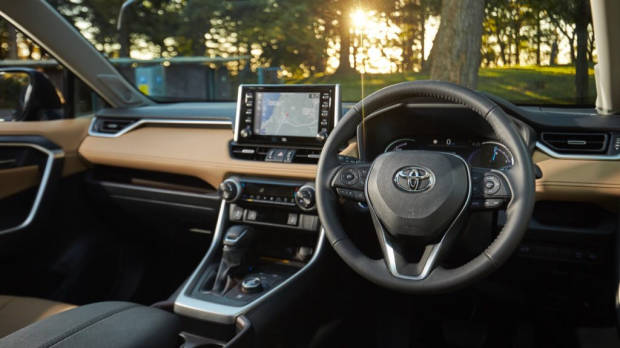 If that results in real fuel savings at the bowser, then hybrid tech is likely to be embraced by a much larger cohort of Australian car buyers. The low running costs of hybrid Toyotas have long made them a mainstay of this country's taxi fleet but making hybrid engines appeal to the substantial number of private SUV buyers out there is a big priority of the new RAV4.
We're six weeks into a twelve week run at integrating the new Toyota RAV4 into our lives, where it's doing diverse duties – some weeks as a commuter, some as a long-distance road tripper and even some as a light off-roader.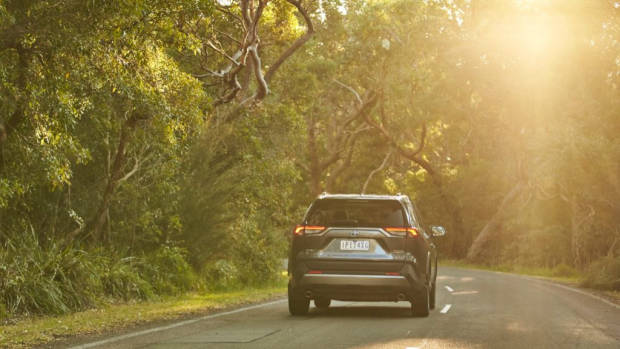 From the RAV4 range, We chose the high-specification but remarkably affordable RAV4 Cruiser AWD grade, which goes for $39,140 with a conventional petrol two-litre, while adding the hybrid battery pack (that also beefs up the petrol engine to 2.5-litres) costs another $2,500. AWD adds a further $3,000. Wearing graphite grey metallic paint and a contrast sandy leather interior, our RAV4 hits the road at $49,624 driveaway.
Given this SUV weighs in at a hefty 1,710 kg before you load passengers and cargo, we were a little sceptical that a small electric motor and battery would provide enough motivation in the RAV4 to prevent the old-school, non-turbo petrol engine from carrying most of the load most of the time.
After all, the RAV4 AWD's battery capacity is fairly modest – 1.9kWh, with the two electric motors mounted on the front axle producing 88kW and the rear electric motor – added if you opt for AWD – producing 40kW. It's fascinating to compare those stats to the cheapest all-electric SUV offer – the $60k Hyundai Kona Electric, which has 64kWh of capacity and produces 150kW of power.
If our first month-and-a-half of motoring is a guide, though, these concerns were unfounded. The hybrid system is more than powerful enough to take over during significant tracts of driving – especially at town speeds, where the RAV4 takes off from a stop in pure-EV before the engine kicks in, usually around 25km/h. We're finding that once we have built up to about 50km/h, a lift of the throttle re-engages EV mode where it is happy to mostly maintain pace with the engine off.
The real beauty of hybrids over their more sophisticated full-electric counterparts is that this system requires no management from the driver. Charging the battery is done mostly by braking, with the occasional use of the petrol engine as a generator.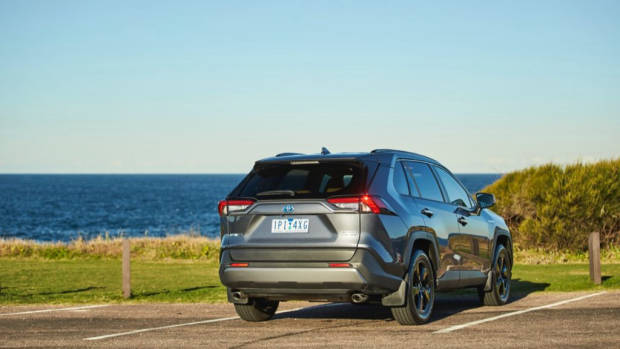 With around 60% of our first 1,500km being spent in-town, our current fuel economy of 6.2L/100km is very low for this segment and is within a reasonable margin of Toyota's official claim of 4.8L/100km. Also impressive is the fact that town economy doesn't seem to suddenly blow out with four passengers and cargo aboard.
This sort of economy figure is achievable by the most frugal of turbo diesel SUVs, but the petrol engine used by the RAV4 produces cleaner emissions and doesn't actually require a particularly economical driving style to reproduce. We haven't been deliberately light on the throttle!
We're looking forward to the second half of our test, where we'll continue to monitor our RAV4's fuel consumption and resulting CO2 production, but also delve into more depth about this SUV's upgraded interior, how practical the new RAV4 is, and whether you actually need a Cruiser grade – or if the cheaper GX or GXL are a better buy.