Mercedes-Benz has unveiled the fully-electric 2022 EQB midsize SUV which will join its petrol-powered GLB sibling here in Australia in 2022.
The EQB is the fourth entry into the EQ lineup, following the launch of the EQS luxury sedan last week, the inbound and EQA small SUV and the EQC midsize SUV that is already available here in Australia.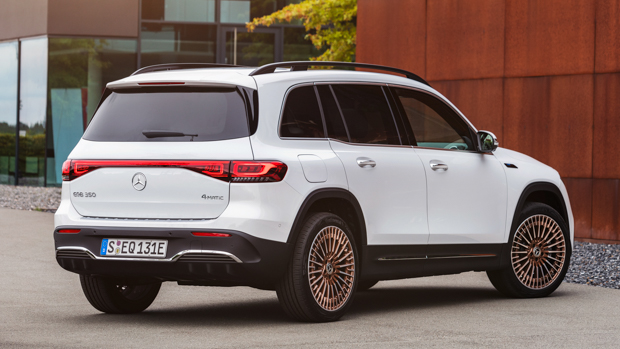 While the local specification is yet to be confirmed, Mercedes-Benz said it will offer various grades with both front and all-wheel-drive matched with power outputs that will top out at more than 200kW.
Mercedes-Benz says the usable battery size will start from a healthy 66.5kWh with a long-range focused version on the cards.
While the claim may change depending on the grade, the European version of the all-paw EQB 350 4MATIC has a range of 419km according to conservative WLTP-testing.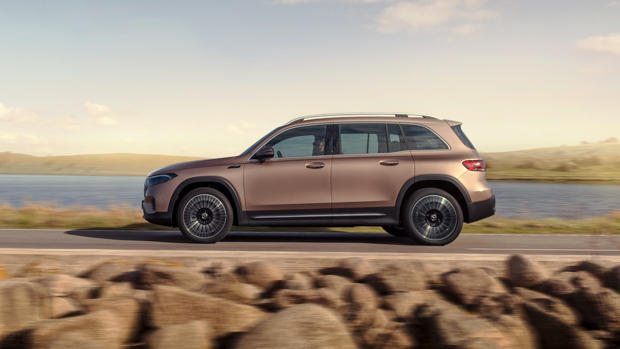 That figure is slightly less than the 426km (WLTP) offered by the EQA small SUV that is coming to Australia this June, which employs a single motor setup sending 140kW/375Nm to the front wheels.
With promises of front-driven options on the horizon, the EQB could adopt this layout in the future but nothing has yet been confirmed.
When the power runs out, drivers can locate a charger using the in-built navigation system and recharge the battery at speeds of up to 100kW – enough to top up the battery from 10 to 80 per cent in 30 minutes.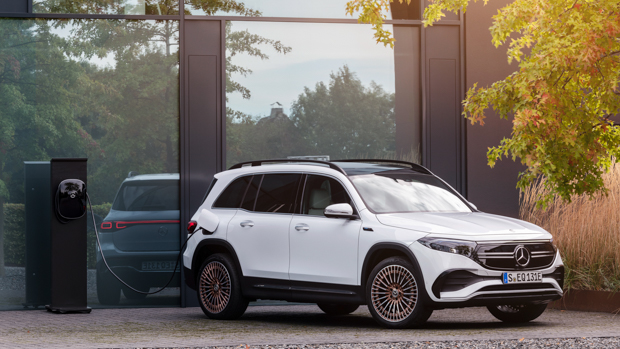 Despite the addition of a large battery the EQB still looks to be a promising cargo hauler with either five or seven seats, with the latter able to fit people measuring 1.65-metres tall in the third row.
In a five-seater configuration, the EQB has a maximum boot space of 1710 litres with the second row down and 495 litres with the seats up, the seven-seat option is slightly down with a maximum space of 1620 litres.
The outer appearance of the EQB appears to follow a similar formula as the EQA with the electric variant adopting aero wheels that can be had in rose gold and up to 20-inches in size.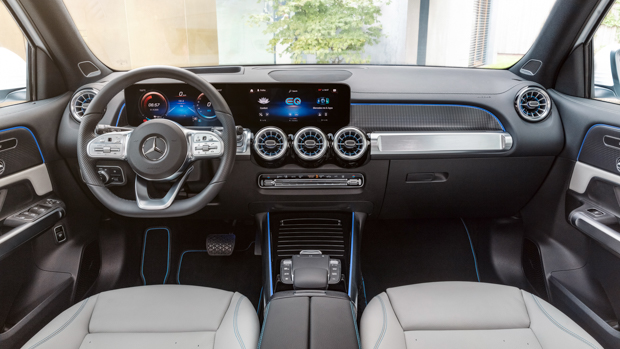 Mercedes-Benz increased the aerodynamics of the SUV by filling in the grille with a single black panel, completely enclosed the underbody and tweaked the rear spoiler to get the drag coefficient down to 0.28.
Distinguish the EQB significantly from its petrol-powered counterpart is the single LED rear taillight running across the boot that, along with the thinning LED headlights, create an EV SUV with a sleeker take on the boxy styling of the GLB.
Mercedes-Benz will release more information on the exact price and specification of the EQB closer to its launch in 2022.