Hyundai's Ioniq 6 electric sedan has today been fully unveiled to the public and in doing so has made it abundantly clear that it has the Tesla Model 3 and Polestar 2 in its sights.
With an estimated maximum driving range of 610km and a price predicted to start at around $70,000 in a mid-spec grade here in Australia, the Ioniq 6 seemingly has enough going for it to take on these two popular EVs in an increasingly populated segment.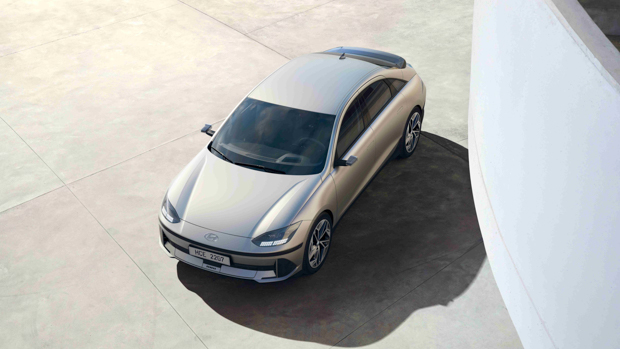 Here we compare everything including the size, the range capacity, the estimated charging time and how much you can expect to pay – before we settle on a final verdict.
The Ioniq 6 won't arrive in Australia until early in the first half of 2023, but with stock likely to be thin on the ground in the first few months after launch, it will pay to make up your mind and get your order in sooner rather than later.
Dimensions
The Ioniq 6 might share its e-GMP platform with the Ioniq 5 midsize SUV but its dimensions are noticeably different, with the sedan armed with a slightly shorter (but still very long) 2950mm wheelbase – though it's slightly longer from top-to-tail at 4855mm.
Adding to its sporty credentials is a width of 1880mm (making it slighter wider than a Nissan Z coupe) which combined with the 1495mm height and the floor-mounted batteries should provide a noticeably lower centre of gravity than the Ioniq 5.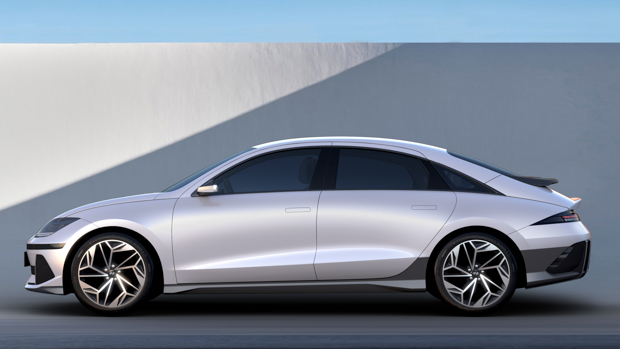 In comparison, the Model 3 is a slightly more wieldy 4694mm long with a 2875mm wheelbase, it also measures 1443mm tall and 1933mm wide.
The Polestar 2 sits slighter higher than the Tesla at 1479mm but is still shorter than the Ioniq 6 at 4606mm long. Elsewhere, it measures 1985mm wide and has a wheelbase of 2745mm.
So with the Ioniq 6 bigger in every dimension other than width, it remains to be seen if the Hyundai pays off by offering more internal space in exchange for its larger footprint.
Powertrains and Range
Hyundai 6 will likely offer both a rear- and all-wheel-drive layout with the powertrains and other hardware underneath almost certain to mimic that of the Ioniq 5.
This means an AWD, dual-motor setup that produces 239kW of power and 605Nm of torque, and a 168kW/350Nm single-motor, RWD variant.
Australia is expected to receive the Ioniq 6 fitted with the larger 77.4kWh lithium-ion battery, which Hyundai estimates can propel the sedan for up to 610km, according to WLTP standards. This is likely with the lighter single motor, RWD setup; we estimate Ioniq 6 AWD will be limited to around 570km.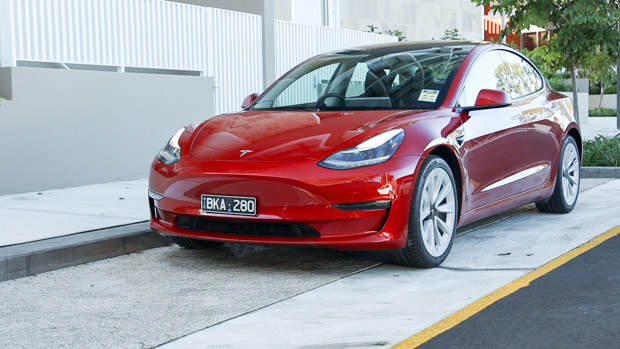 The Tesla Model 3 is available with an entry-level 190kW/375Nm single-motor RWD or in a dual-motor configuration in the 258kW/510Nm Long Range and 335kW/638Nm Performance grades.
A recently enlarged 62.3kWh battery means the standard Model 3 has a range of 491km while the 82kWh battery in the Long Range sees it clock in at 602km and the Performance at 547km (WLTP).
The Polestar 2 range kicks off with a 165kW/330Nm in the FWD Standard Range grade which utilises a 67kWh battery to travel 440km (WLTP). Buyers can also opt for a larger 75kWh battery in the 170kW/330Nm FWD Long Range grade which stretches the maximum distance to 540km (WLTP).
Sitting at the top of the range is the 350kW/680Nm Polestar 2 Long Range Dual Motor, which has the same battery but a slightly more limited range of 480km (WLTP).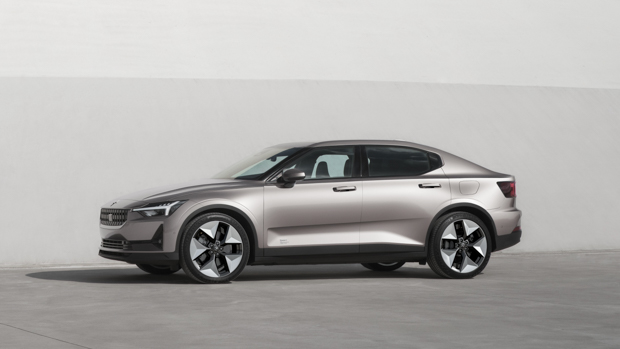 Efficiency
After much hard work and innovation, Hyundai estimates the energy consumption of the Ioniq 6 has been limited to under 14kWh in combined conditions, when tested according to the typically more accurate WLTP standard.
This figure likely relates to the RWD model equipped with the smaller and lighter 53kWh battery destined for Europe, meaning consumption could be slightly higher in Australian models with the larger battery.
Hyundai's estimated consumption figure slightly edges out the Polestar 2 for efficiency, with the Standard Range Single Motor grade recording an average efficiency rating of 15.2kWh (WLTP).
However, both are still a fair way off the mark of Tesla, with the Model 3 Standard Range RWD using just 11.6kWh in combined conditions (WLTP).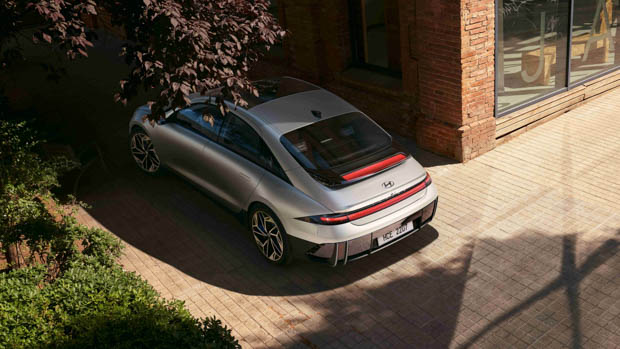 Performance
While all three of these cars are sensible commuters first and foremost, it's certainly nice that they are all pretty bloody quick right out of the box.
Tesla can be a bit cheeky when it comes to acceleration times and only quotes a 0-100km/h time of 3.3 seconds for the Model 3 Performance – however, this is only after one foot of rollout has been excluded. But private testing still suggests a time of around 3.5 seconds is possible.
In a true sign of the times, Polestar recent put out an over-the-air update which saw the 2 Long Range Dual Motor gain an extra 50kW and 20Nm and trimmed its 0-100km/h sprint time down from 4.7 to 4.4 seconds.
But what of our newcomer, the Ioniq 6? Currently, the fastest version available is the 239kW/605Nm dual motor with a 0-100km/h time of 5.1 seconds – which certainly isn't slow but does place it dead last in this company.
Hyundai is expected to introduce an Ioniq 6 N in the coming years, which will almost certainly use a variation of the ballistic 430kW/740Nm dual-motor setup in the Kia EV6 GT which sees that midsize SUV accelerate from 0-100km/h in 3.5 seconds.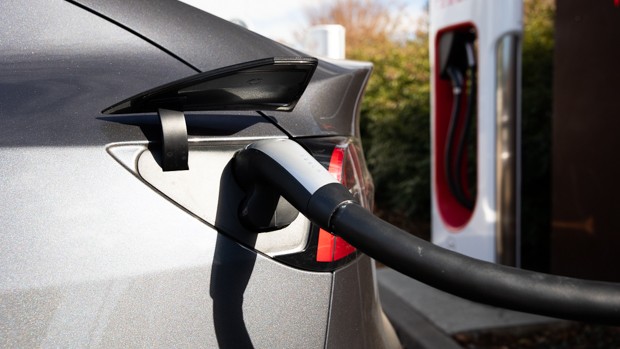 Charging speeds
When looking at our three competitors using their largest available batteries, the Ioniq 6 is a clear winner here with its 800-volt capable e-GMP platform capable of DC charging speeds of up to 350kWh.
This means the Ioniq 6 is capable of charging from 10-80 percent in just 18 minutes – a feature which made Chasing Cars' recent petrol VS electric race from Sydney to Melbourne in its Ioniq 5 sibling rather quick.
Tesla has the next quickest charging times of up to 250kW, meaning a 10-80 percent battery top-up takes slightly longer at 27 minutes.
The Polestar 2 is the slowest here with a maximum DC charging speed of 151kW but this only is the peak figure, and the time to charge the battery from 10-80 percent is quite close to the Tesla's at just 32 minutes.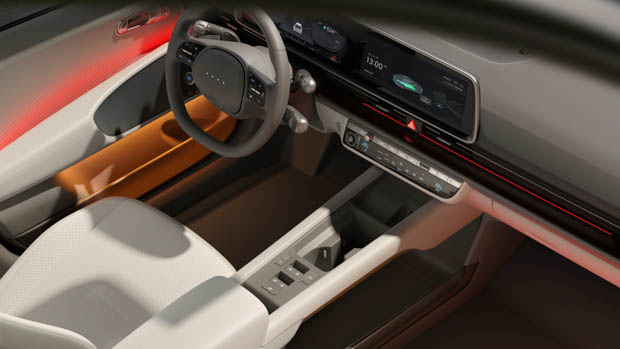 Specification
While a final specification for each grade is yet to be finalised, the Hyundai Ioniq 6 will likely come with features like dual 12.3-inch infotainment screens, heated leather seats. Top-spec models are likely to receive a Bose stereo system, cooled seats with full-recline mode and aerodynamic digital mirrors.
Tesla equips every Model 3 with a huge 15.0-inch touchscreen, a dual wireless phone charger and heated electric front seats. Higher grades net a more premium 14-speaker sound system, heated rear seats and the Model 3 Performance receives sports suspension and brakes.
Standard features on the Polestar 2 include an 11.2-inch touchscreen and cloth seats, with higher grades and packages adding a 13-speaker Harman-Kardon stereo, a panoramic sunroof, Nappa leather interior trim and much more.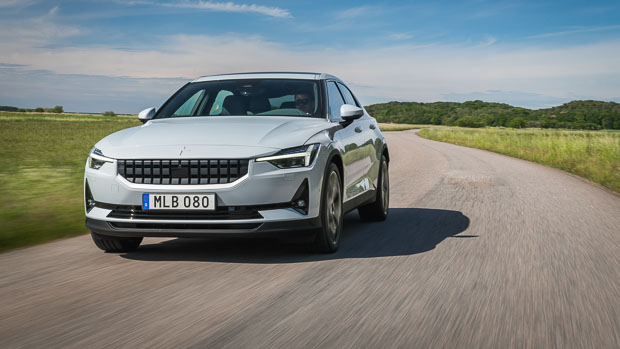 Price
The Ioniq 6 is expected to start around $70,000 (before on-road costs) and top out around the $80,000 range; pricing broadly in line with what an Ioniq 5 costs today.
Tesla has increased the price of the Model 3 multiple times in the last few months, with the Model 3 now starting at $65,500 (before on-road costs) for the base model and topping out at $91,600 for the Performance.
An entry-level Polestar 2 is a bit cheaper with a starting price of $63,900 (before on-road costs) for the Standard Range Single Motor grade and tops out at $73,400 for the Long Range Dual Motor – though this ignores the additional cost of equipment packages that many buyers will want to add.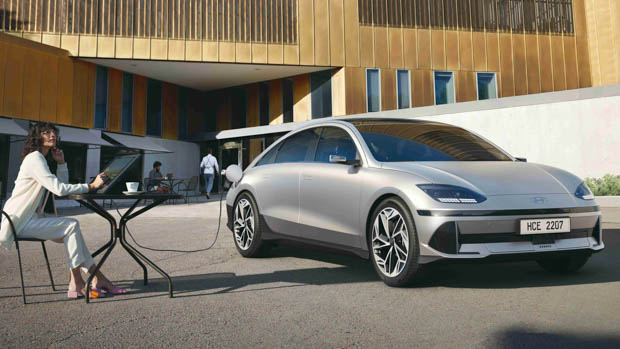 Verdict
To be clear, this is a comparison test based on figures only and a proper Chasing Cars throw-down between this trio will have to take place at a later date but still, the results here do matter.
The new Hyundai Ioniq 6 looks to be a fierce contender with its segment-leading maximum range and fast charging ability matched with its segment-leading 350kW DC charging speed.
Tesla and Polestar both have a lower price entry than the Hyundai as the Ioniq 6 lacks a true low-spec model in Australia. But historically speaking, we Aussies are generally drawn towards top-trim models – we like to buy once, and do it right.
Until the N model arrives, however, the Ioniq 6 line-up remains incomplete, so if you're looking for performance the Model 3 and Polestar 2 have it beat, but if all you want is a capable and visually striking EV in this segment, then it's hard to look past the Hyundai.