Ford Australia wants its right-hand-drive F-150 to "knock it out of the park" as local deliveries of the full-size pickup are set for early November.
The Detroit-built and Melbourne-remanufactured F-150 XLTs and Lariats join a burgeoning full-size truck sector, with Ford Australia expecting its "iconic" giant to become a success story.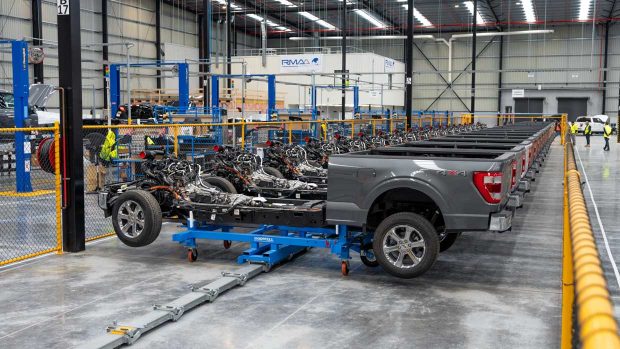 It will rumble against the established Chevrolet Silverado (from $121,000) and RAM 1500 (from $98,950), which have enjoyed impressive sales since factory-backed remanufacturing to RHD has been conducted by the Walkinshaw Automotive Group.
Conversions of Toyota's Tundra full-size pickup trucks are also underway at Walkinshaw, but Toyota Australia has said its initial examples would be available only on a lease deal to handpicked customers. 
When the Tundra goes on full sale here, likely in the second half of 2024, there's the possibility it will land with sharper pricing than the above, as it's less well-known than the American brands in the segment.
How many F-150s will Ford Australia sell?
Ford Australia's president and CEO, Andrew Birkic, made it clear they don't discuss expected sales volumes.
But the RMA Automotive facility north of Melbourne (close to Ford's former assembly line at Broadmeadows) where F-150s are remanufactured for RHD, has capacity to produce around 5000 annually.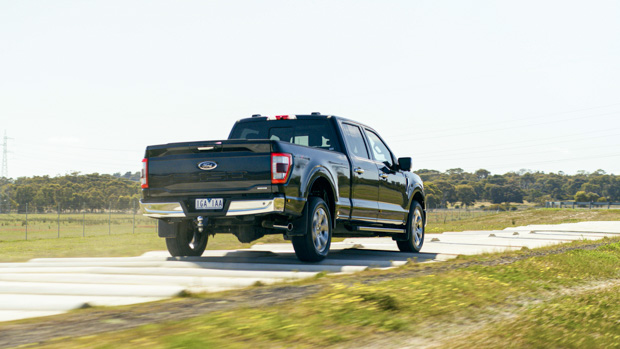 In certain quarters, Ford in Australia has become known as the 'Ranger and Everest' company,' and it's not hard to argue when sales figures are digested.
Latest 2023 figures show almost 38,000 Rangers have been delivered, alongside 8400 Everests. Next best is the Transit a long way behind at 2250 units, then the soon-to-be discontinued Escape midsize SUV with 1800.
With the introduction of F-150, and the potential for around 5000 units shifting per annum, it would be a mighty sales boon for the Blue Oval.  
For the year so far, RAM has sold an impressive 5075 units of its 1500, 2500 and 3500 full-size trucks – putting it on course for around 8000 total sales for 2023.
To the end of August 2023, just over 2000 Chevrolet Silverados found new Australian homes for the year.
With the Ford F-150's arrival, plus these solid figures from RAM and Chevrolet, over 10,000 sales for the full-size truck segment will happen long before the year's out. Incredible for a sector that barely existed a few years ago.
"It's going to be interesting when we start hitting the dealerships (with F-150)," said Birkic with a confident smile. "Let's go, let's see what happens."
Will the full-size pickup truck demand continue?
Ford playing in this ever-expanding segment can't come quickly enough for the brand, but is there a risk of market saturation?
"What we know is that RAM and Walkinshaw have done a really good job," said Birkic. "They've opened up the segment. We think we've got a pretty good truck, so it's about to get interesting, the market, isn't it?"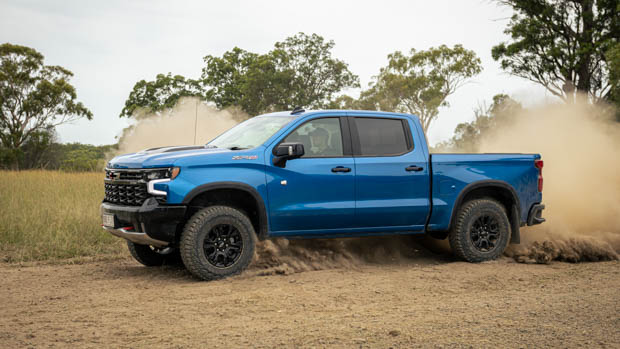 No doubt. But when pressed on how many pre-orders Ford Australia had for the new RHD F-150 ahead of launch, Birkic refused to give numbers. "We're in a pretty strong place," he said about the order bank.
There's obvious interest in where RHD F-150s could ultimately go in Australia – hybrid, Raptor and full-electric Lightning are all in sale in the US and would be of huge interest here – but for now focus is on the two grades about to launch.
Offered are a $106,950 F-150 XLT and $139,950 F-150 Lariat – both using Ford's 298kW/678Nm 3.5-litre EcoBoost twin-turbo V6 petrol engine.
Each variant can be bought as a short wheelbase (SWB) with a 3683mm wheelbase, or for an additional $995 over the above prices, as a long wheelbase (LWB) with 3987mm wheelbase.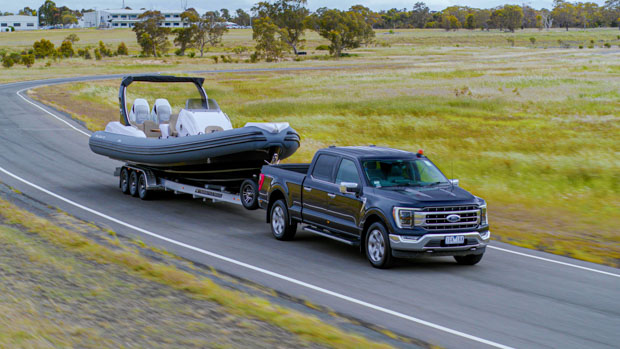 The latter increases the styleside box by 300mm (there's no change to cabin dimensions), allowing loading of motorbikes with the tailgate closed. All F-150s have a tow rating of 4500kg.
"We know what we have is a pretty strong formula," said Birkic. "We think we've got the right product and the right spec with XLT and Lariat; the shorter bed and the longer bed. It's about understanding the customer and what they want."
The F-150's non-hybrid 3.5-litre EcoBoost V6 was also singled out for praise by Birkic, saying "it gives you the sweet spot between performance and efficiency."
The RAM 1500 (291kW/556Nm) and Chevy Silverado (313kW/624Nm) rivals employ petrol V8 engines, but the F-150's V6 678Nm torque figure eclipses both.
Toyota's Tundra will use a 3.5-litre hybrid V6 twin-turbo petrol when it hits the market, its combined petrol and electric outputs good for a segment-bashing 325kW and 790Nm.