An inordinate number of car journalists are station wagon tragics. I'm one of them.
Quite objectively, though, the Volvo V60 Polestar was always going to be one of the most interesting new cars of 2015. Nothing demonstrates Volvo's resurgence as much as their Polestar Racing division's growing success in turning solid Swedish products into monstrous road and track bruisers.
In 2013 Australia was first to get the S60 Polestar sedan, competing against the Audi S4. In 2014, the sedan-only package was tightened up even further. We reviewed it, and found it entertaining and ambitious – despite dynamically trailing – though not by that far – the likes of the Mercedes-Benz C63 AMG, and BMW M3.
It's been available overseas before now, but the 2015 'refinement' of the S60 Polestar range saw in more minor performance and aesthetic updates for the sedan. But much more exciting was the addition of this – the V60 Polestar station wagon. Identical outputs (257kW and 500Nm); damn-near identical performance numbers (5 seconds to 100, rather than 4.9 in the S60); more practicality; and, in our eyes, captivating looks.
The Rebel Blue V60 is the sexiest Volvo in Australia, both to look at, and to live with.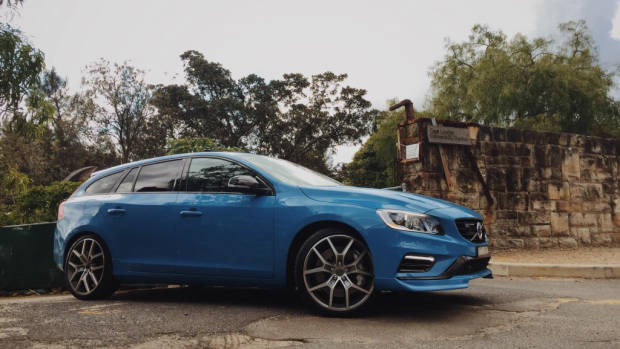 Sure, it ain't perfect. At $127,000 on road, it's actually a touch dearer than the Audi S4 Avant that is its closest competitor. Answer: it's 0.1 seconds faster than the Audi to 100. The twin-scroll turbocharged six guzzles petrol. Answer: petrol is currently cheap. Room in the back is limited by that seductive, sloping roof. Answer: don't be a hoarder, and instruct your kids not to grow past 5'10".
Get past the lunacy of spending nearly $130,000 on a Volvo and what you'll find is simply spectacular 'family' motoring. The Polestar delights in winning (nearly) all traffic light drag races. In frequent visits to petrol stations it is adored by teenagers and envied by X5 and M-Class drivers. The potent all-wheel-drive system means handling is hot hatch-sharp. The mid-range torque is absolutely brutal. And for 2015, it finally sounds like a serious performance car should, courtesy of some valves that Polestar found they could open up in Sport mode, providing this ride with the nasty growl it needs to accompany that electric-blue paint.
There's a Chasing Cars road trip in the mix this weekend for the V60, and by the end of our week with it, we'll be able to answer the most serious question hanging over this ride. Does the fun you have driving it, and the uniqueness of owning it, justify that price tag?