Buyers of the new Mazda CX-90 in the United States will be able to spec an entry-level variant with smaller wheels and plastic exterior wheel arch cladding when it launches.
In the American market, the Mazda CX-9 is being discontinued immediately and replaced by the CX-90 – so a more affordable model to help CX-9 buyers step up was required.
In Australia, the CX-9 will continue for at least another year, but after that point, a true base model CX-90 like this could be required to bridge the gap, priced at around $60,000.
The seven-seat CX-90 large SUV is confirmed for an Australian release in around September 2023.
Mazda has said that the CX-60 and CX-90 will be more luxury focused vehicles as the brand looks to keep buyers in-house rather than seeing them leave for the likes of Audi, BMW and Mercedes-Benz.
We've already taken a look at what the CX-90 model could cost in Australia, so check out our calculations here. In the US, the new CX-90 will start from USD$39,595.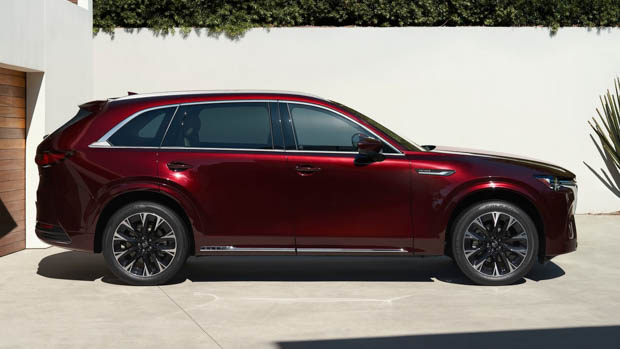 What sort of standard equipment could the base model CX-90 have?
A cheaper entry-level CX-90 grade has appeared on the Mazda US configurator and is called the CX-90 3.3 Turbo Select.
The select model rides on smaller 19-inch alloy wheels, rather than the much larger 21-inch units fitted to higher trim levels.
Also standard for this model will be leatherette/vinyl seats, seven or eight passenger seating capacity, wired Apple CarPlay and Android Auto, a 10.25-inch central touchscreen and a 7.0-inch instrument cluster.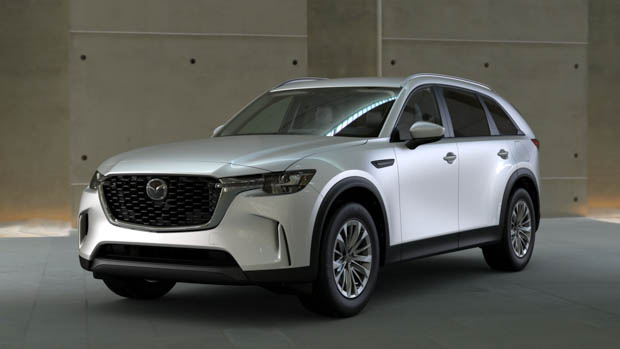 The Select grade will utilise a 208kW/450Nm 3.3-litre turbocharged straight-six. The top spec Premium Plus will be powered by the same 3.3-litre turbo six, but with 253kW/500Nm.
American buyers do not benefit from the option of a 3.3-litre turbo-diesel that will be offered in Australia, producing 187kW and 550Nm.
It's understood that the naming structure of the CX-90 is likely to change when the large SUV launches in Australia.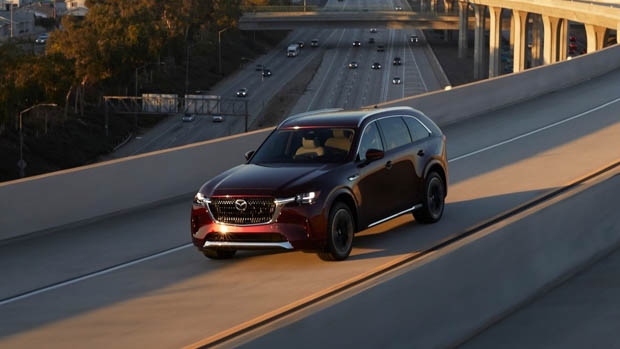 Because the existing CX-9 will continue for at least the next 12 months in Australia, it's possible that the CX-90 will launch without a true base model at first.
However, a variant akin to America's Turbo Select grade could be added to the range later.
Evolve, GT and Azami names are likely to be the names used to identify the different variants, as has already been done for the CX-9 and upcoming CX-60 SUVs.