Hyundai Motor Group (HMG) has announced plans to massively expand its use of hydrogen fuel systems in an effort to make it a commonplace technology by 2040.
The multi-pronged plan will see the multinational corporation, which includes Hyundai, Kia and Genesis, launch cheaper and more compact hydrogen fuel cell systems that will be used in a range of personal and commercial vehicles along with other creative ambitions.
Announced as part of the group's Hydrogen Wave Forum today, HMG said it would first focus on the commercial vehicle sector by becoming the first manufacturer to offer its entire lineup with hydrogen powertrains by 2028.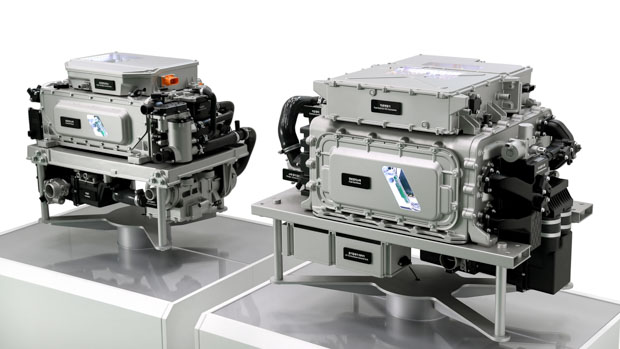 Third generation hydrogen fuel cells on the way
Pivotal to this shift is the launch of the third generation of HMG's hydrogen fuel cell system which is roughly equivalent to a combustion engine in a car, but it's supplied with hydrogen instead of petrol or diesel. The revamped modules are in the final stages of development and are due for introduction in 2023.
The system will be manufactured in two sizes with the smaller 100kW system designed primarily for cars and lower power uses while the 200kW system is designed for commercial vehicles.
Engineers have managed to create the more powerful 200kW system without increasing the size when compared to the second-generation system found in the Hyundai Nexo midsize SUV, while the 100kW system is 30 per cent smaller than its predecessor.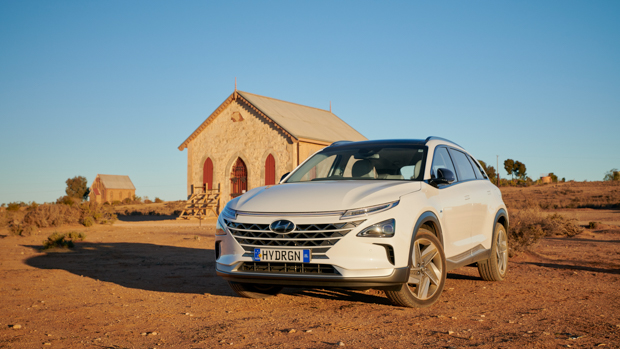 Importantly, this has not come at the cost of durability with HMC claiming the fuel cell systems within its commercial vehicles will last at least 500,000km.  
This redesigned hydrogen system are also cheaper than before, thanks to the continual refinement of the technology and the use of cheaper materials such as stainless steel within the fuel cell stack.
The group believes it can continue this trend of cost reduction and by 2030 believes its fuel cell electric vehicles (FCEV) will cost the same as an equivalent battery electric vehicle.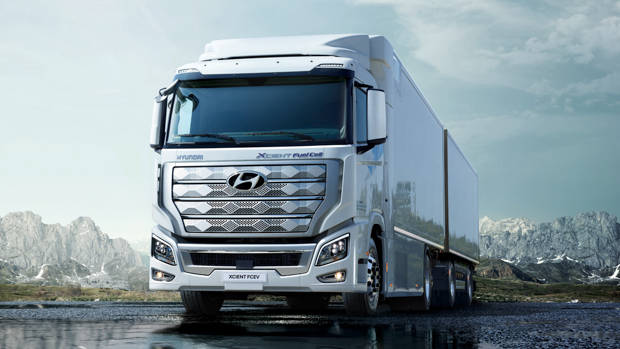 A larger focus on commercial vehicles
After debuting the heavy-duty Xcient Fuel Cell Truck last year in Switzerland, HMC will continue to target the commercial vehicle sector and will soon expand its trials to North America and China.
By 2023, it plans to expand its reach by releasing a hydrogen-powered tractor along with a five to seven-metre light-duty commercial truck and new full-size buses planned for production at some point.
As previously reported by Chasing Cars, the group will not just focus on vehicles and expand its reach into other areas such as boats, both large and small, along with aircraft and even robots – following its purchase of Boston Dynamics earlier this year.
Away from commercial vehicles, Hyundai will release a second-generation Hyundai Nexo and a hydrogen-powered Staria along with hydrogen Kia and Genesis to follow later in 2025.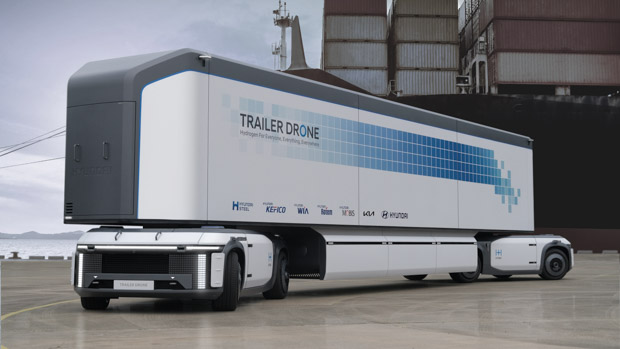 Potential uses of HMC hydrogen technology
Keen to show off the true potential of hydrogen technology HMC shares a number of concept vehicles and ideas that could be used if its plan comes to fruition.
The most eye-catching of these was the Trailer Drone, which borrows its basic design from train cars with a fully autonomous four-wheeled 'Fuel Cell e-Bogie' on each end.
Equipped with four-wheel steering, the Fuel Cell e-Bogies are capable of incredible maneuverability that far surpasses current trucks.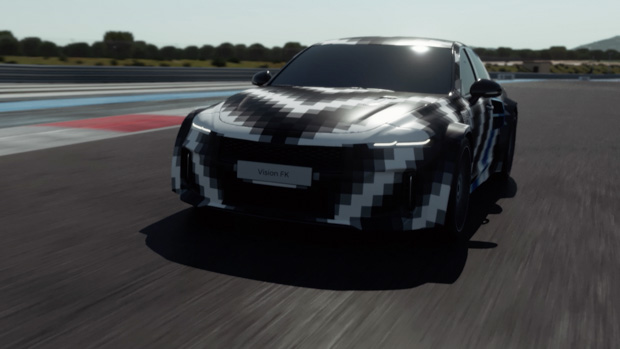 Hydrogen storage tanks are housed within the bottom of the attached trailer to provide the Trailer Drone system a range of 1,000km, a figure comparable to existing diesel trucks.
HMC has also partnered with electric supercar manufacturer Rimac to produce the Vision FK, which is a rear wheel drive coupe with 500kW of power and 600km of range.
Another simple but effective idea is to combine these hydrogen fuel cell systems in mass as a single Power Unit Modeual capable of producing outputs of anywhere from 500kW to 1MW by stacking 100kW units together.
This setup could see use as a backup system for large ships of IT sectors or even emergency relief purposes.